H
i friends!
November and December should be officially commemorated as the "Dessert Months". So many festivals and celebrations that requires desserts.
And I desperately need to go on a sugar cleanse. Soon. Especially since dentist appointment is just around the corner ;D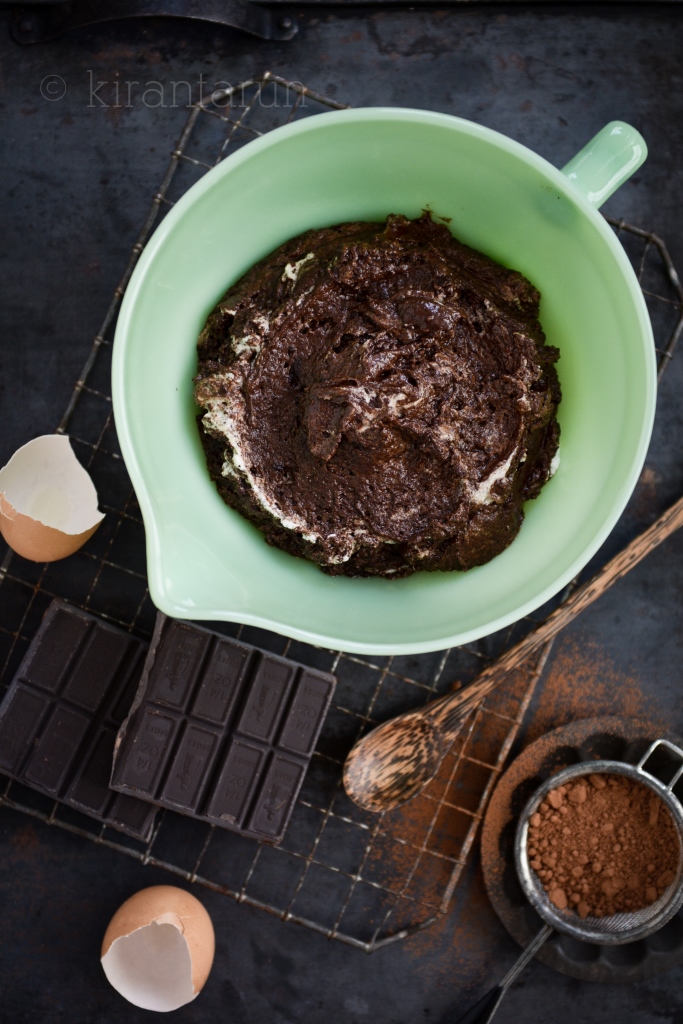 But before I go on a sugar cleanse, let's just talk about "death by chocolate"… Because it truly exist, you guys. Figuratively, of course.
Eliminate all the unnecessary flours and what you have? A whole chocolaty goodness! Unfortunately, sugar cannot be eliminated here.
Yikes.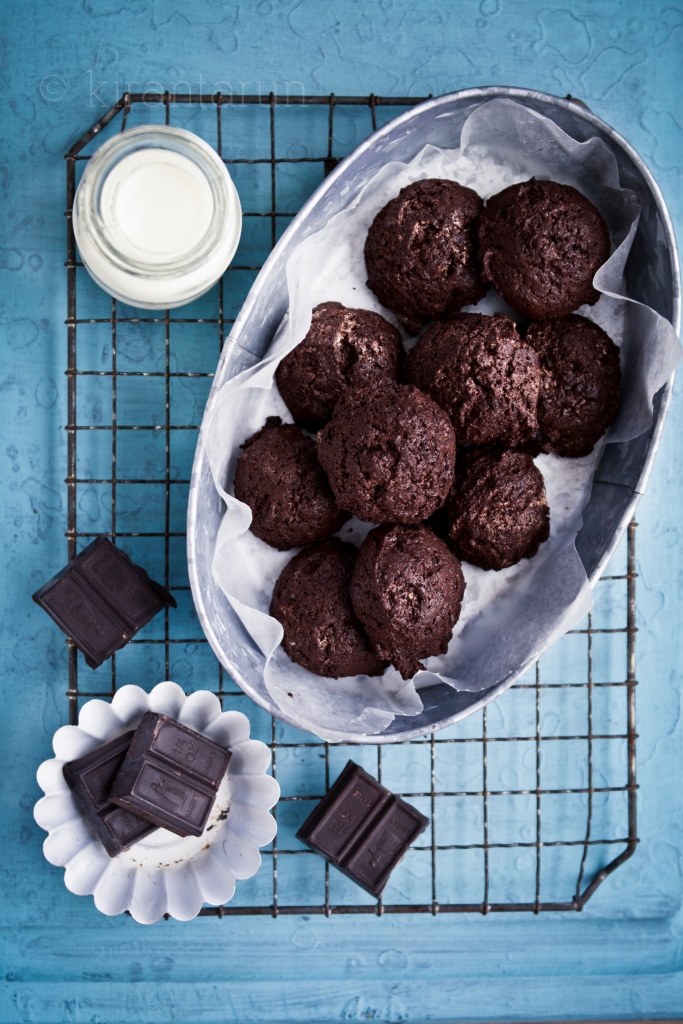 Every inch of bowls were licked in the process of making these delectable flourless fudgy chocolate cookies. When there's possibilities of flourless chocolate cakes, why not cookies, right?
Dunk into cold milk, it's the perfect ending to sugar cleanse before the impending dentist meeting. Ugh.

If you are like me and are planning to go on a short sugar cleanse in preparation for more during Thanksgiving and Christmas, end it all on a sweet note.
Bake up these dark and fudgy goodness.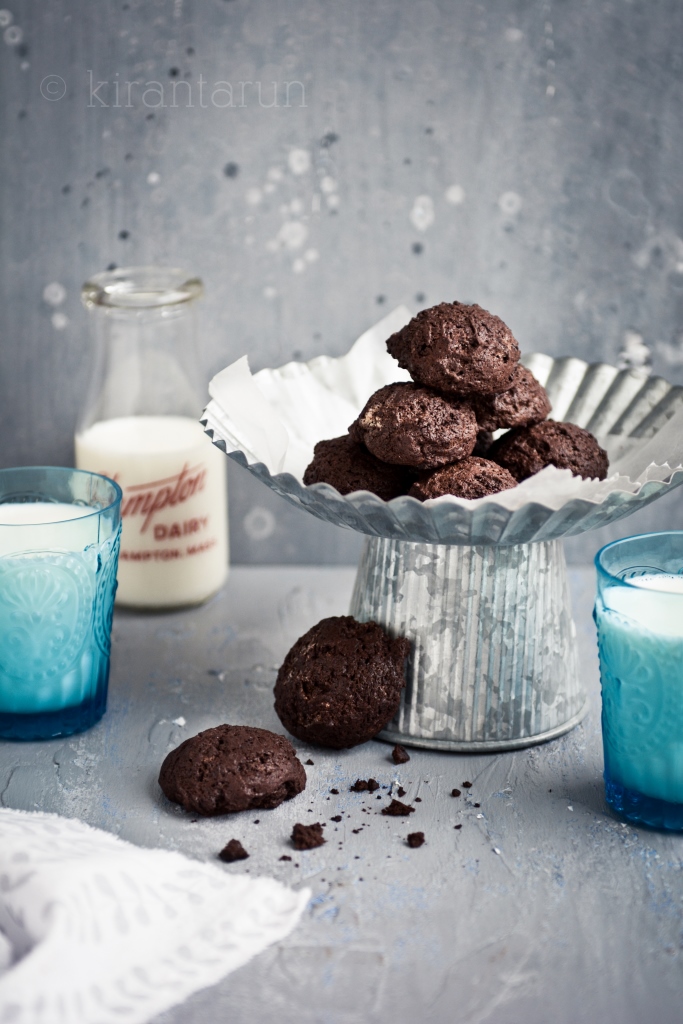 Print This Recipe
Yields 20 cookies
Ingredients:
4 oz bitter sweet chocolate, 70% cacao, chopped
6 tbsp butter, at room temperature
4 eggs, at room temperature & separated
1/8 tsp cream of tartar (optional)
1/2 cup sugar
1/2 cup cocoa powder, unsweetened
1/4 tsp salt
1 tsp instant espresso powder
1 tsp vanilla extract
Directions:
In a small and deep saucepan, simmer some water. As soon as water begins simmering, set a glass bowl over the saucepan and ensure the bottom of the glass bowl doesn't touch the hot simmering water.
Add chopped chocolate and butter into the glass bowl. With a spatula, stir to melt chocolate and butter. Once chocolate is almost all melted, remove the bowl and set it aside to cool. Avoid over-heating chocolate. You can also use the microwave to melt butter and chocolate but do it in increments.
Stir melted chocolate in between to allow to cool before adding vanilla extract.
In a separate bowl, sift cocoa powder with salt and espresso powder. Set aside.
In a stand mixer fitted with a whisk, add four egg whites. Beat on low speed until frothy. Add cream of tartar and gradually increase speed to medium.
Once egg whites forms thick foam, increase the speed to medium-high and carefully sprinkle in sugar. Do not dump in all at once. Do it gradually and slowly to allow the sugars to dissolve and avoid deflating the egg whites.
Increase the speed to high an whisk egg whites until sugar dissolves. Do not over-beat it to stiff peaks. Just enough until meringue holds soft, glossy peaks.
Combine four egg yolks into cool chocolate. Gently fold in 1/4 of the meringue into chocolate. Fold in sifted cocoa powder too. Be patient and keep folding everything, gently.
Carefully fold in the rest of egg whites without deflating the batter. Its perfectly fine if batter has little streaks of egg whites. DO NOT OVER-FOLD.
Cover thick cookie batter bowl with a cling wrap and refrigerate for at least 30 minutes.
Preheat oven to 275F. Line two large cookie sheets with parchment paper. Set aside.
Scoop chilled cookie batter with a small ice cream scoop, place it onto baking sheets, leaving enough room between scoops.
Bake cookies between 10 to 12 minutes, remove cookie sheet from oven and allow cookies to cool on baking sheets for 10 minutes before cooling it off completely on a cooling rack.
Enjoy this fudgy-centered, death by chocolate cookies with a tall glass of cold milk!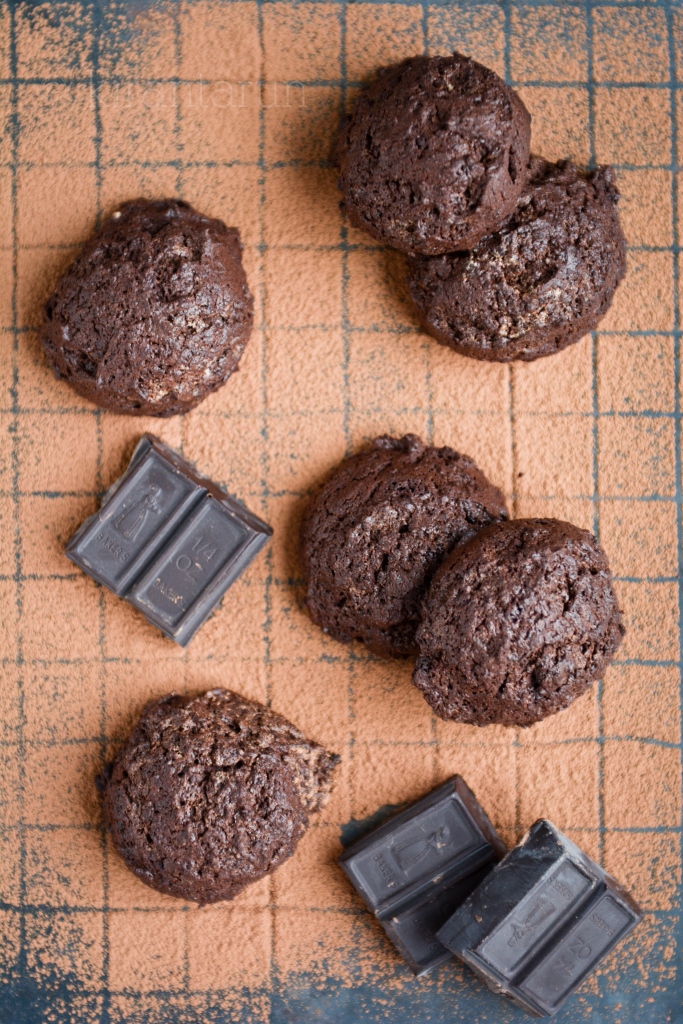 Have a great and guilt-free weekend, my friends. Off to floss, religiously 😉
Tried any flour-less recipes before?