Makes 16 cookies
Ingredients:
1 cup runny peanut butter, organic and unsalted
1 cup of powdered sugar
3 tbsp of ground flax seeds
9 tbsp of water
1/2 tsp fleur de sel
1/2 tsp vanilla extract
Directions:
In a small bowl, stir in ground flax seeds and 9 tbsp of water. Set it aside to coagulate into "flax eggs".
Preheat oven to 325F. Line two baking sheets with parchment paper. Set aside.
In a large bowl, stir in powdered sugar, fleur de sel, flax eggs and vanilla extract. Drizzle in runny peanut butter and stir with a wooden spoon to combine everything into a dough. It will take some elbow grease here, but keep stirring until the dough comes together.
Scoop cookie dough with a small ice cream scoop, roll it between your palms to form a smooth ball and lightly flatten it onto baking sheets, leaving enough room between scoops. Using a fork, gently press down onto cookie dough to form a disk. Imprint horizontally and vertically.
Bake cookies between 12 to 15 minutes or until cookies begin to lightly color at the bottom. Remove cookie sheet from oven and allow cookies to cool on baking sheet for 20 minutes before cooling it off completely on a cooling rack.
Enjoy it with a tall glass of cold milk, hot tea or coffee!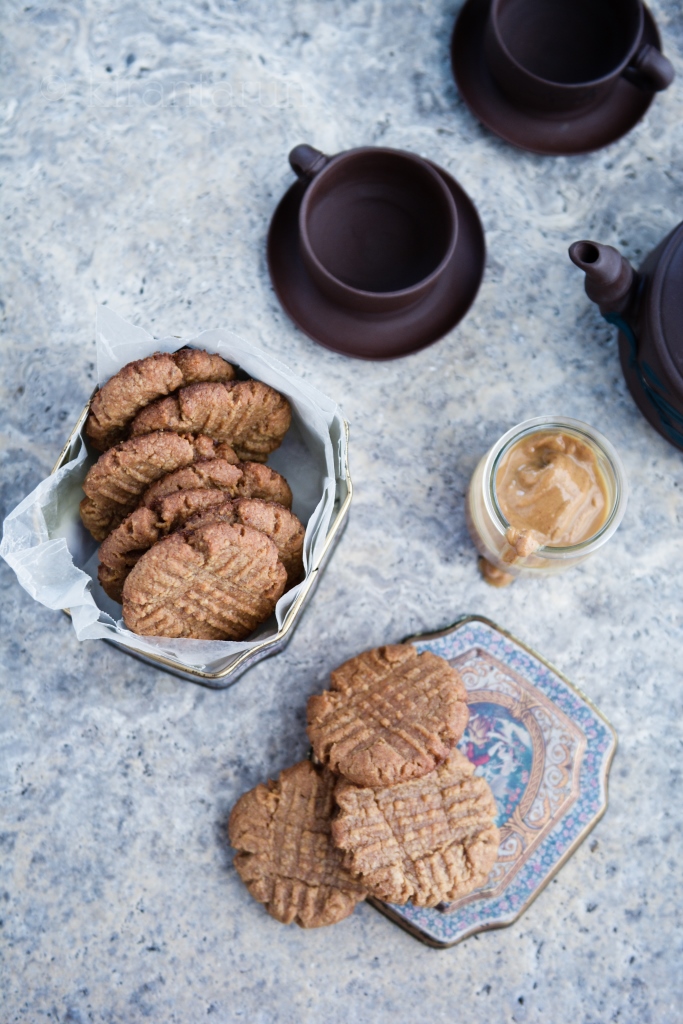 I've done the experiment for a gluten-free, flourless and eggless cookie for you all, so now you just have to go and bake! Simple! No science experiment in the kitchen 🙂
Do you have any favorite gluten-free, eggless or flourless dessert recipes? Do share!