B
aking is possible without flour and eggs these days. It's incredible to see our expansion of knowledge about foods and substitutions.
But thread lightly my friends, because these "less" territories are riddled with baking science experiments. Substituting a familiar ingredient used for generations will take a lot of testing.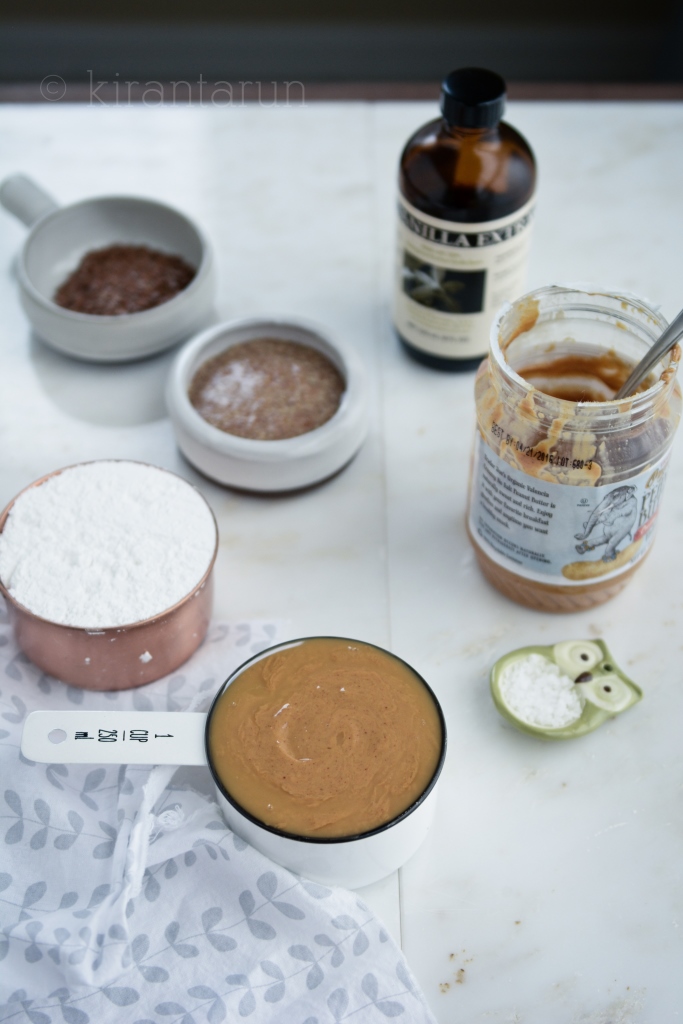 Growing up, peanut butter was scarce. It was one of the most expensive condiment. In the East, local condiments triumph from the imported West goods, but the intrigued minds didn't stop from further intriguing about the taste or the unknowns such as peanut butter.
We powdered peanuts and baked light peanut butter cookies for special occasion. Nothing fancy, and it wasn't made out of the bottle, runny and delectable peanut butter, but it was just as tasty!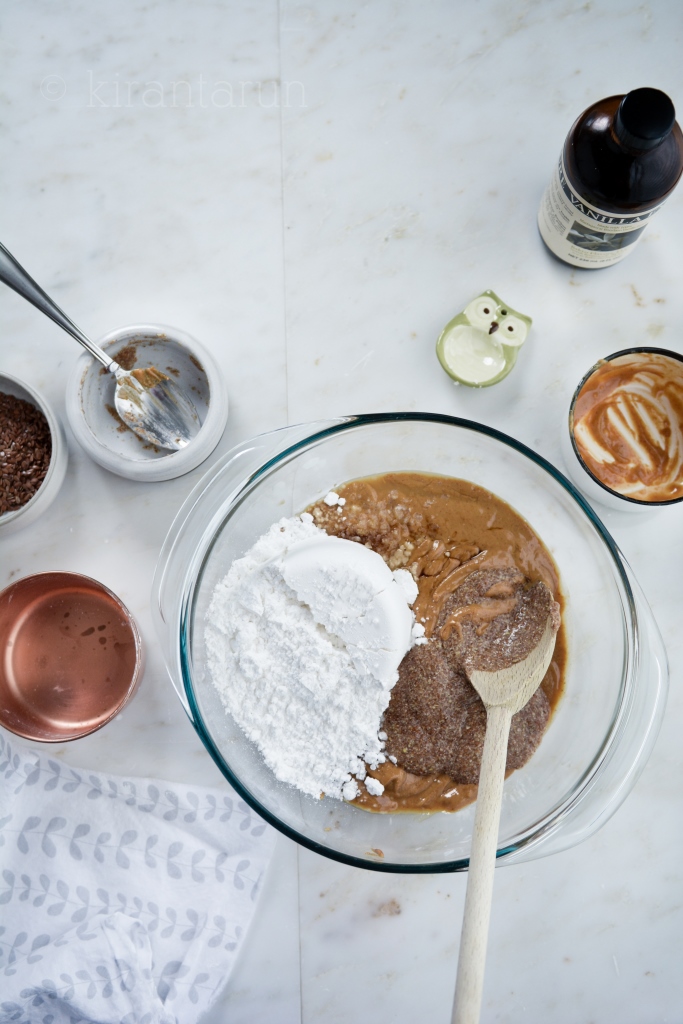 These cookies are delectably soft and slightly chewy, all at the same time. For binding, I've made an eggless version concoction by congealing flax seeds and water, creating "flax eggs".
And trust me, those flax eggs aren't deceiving at all 🙂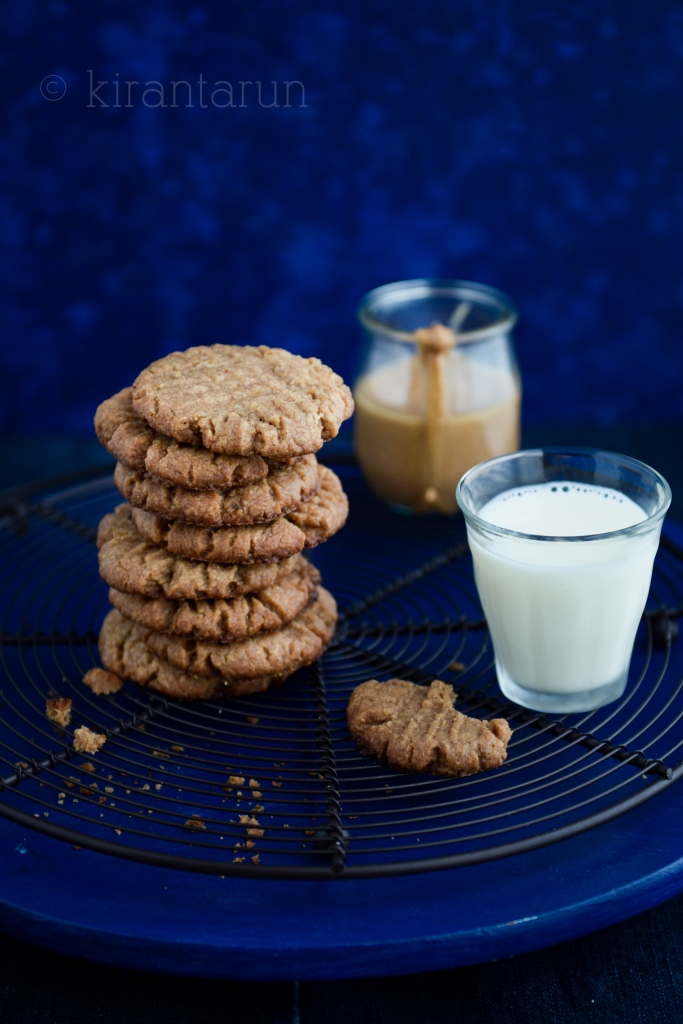 Print This Recipe
Makes 16 cookies
Ingredients:
1 cup runny peanut butter, organic and unsalted
1 cup of powdered sugar
3 tbsp of ground flax seeds
9 tbsp of water
1/2 tsp fleur de sel
1/2 tsp vanilla extract
Directions:
In a small bowl, stir in ground flax seeds and 9 tbsp of water. Set it aside to coagulate into "flax eggs".
Preheat oven to 325F. Line two baking sheets with parchment paper. Set aside.
In a large bowl, stir in powdered sugar, fleur de sel, flax eggs and vanilla extract. Drizzle in runny peanut butter and stir with a wooden spoon to combine everything into a dough. It will take some elbow grease here, but keep stirring until the dough comes together.
Scoop cookie dough with a small ice cream scoop, roll it between your palms to form a smooth ball and lightly flatten it onto baking sheets, leaving enough room between scoops. Using a fork, gently press down onto cookie dough to form a disk. Imprint horizontally and vertically.
Bake cookies between 12 to 15 minutes or until cookies begin to lightly color at the bottom. Remove cookie sheet from oven and allow cookies to cool on baking sheet for 20 minutes before cooling it off completely on a cooling rack.
Enjoy it with a tall glass of cold milk, hot tea or coffee!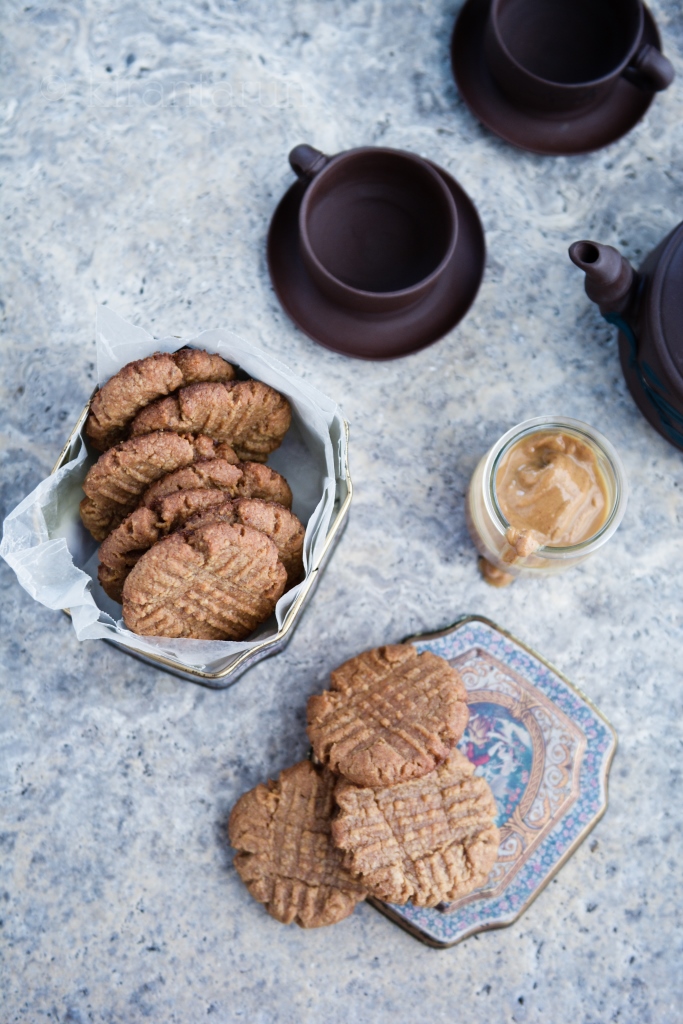 I've done the experiment for a gluten-free, flourless and eggless cookie for you all, so now you just have to go and bake! Simple! No science experiment in the kitchen 🙂
Do you have any favorite gluten-free, eggless or flourless dessert recipes? Do share!