I
'd love to begin by saying, "there's nothing better than chocolate".
Nope. Never.
Especially when it involves a flour-less recipe. Heck, you only get to taste CHOCOLATE.
What's not to love?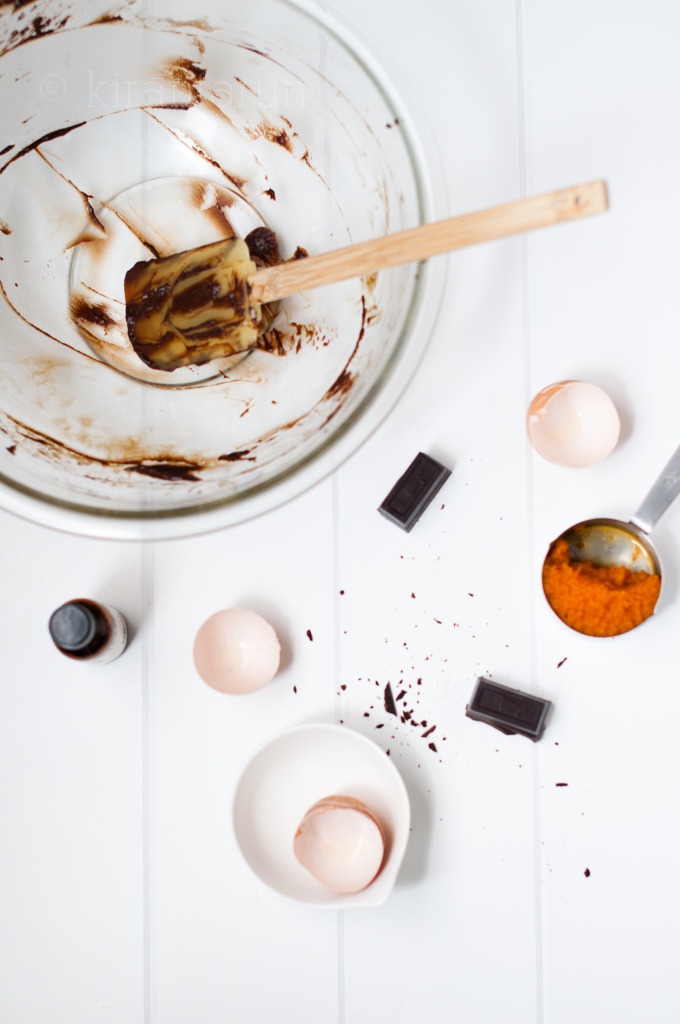 Another best part?
There's no added dry ingredient measurements! Life is already so hectic with weighing scales — there's no need to add more "weighing" into your schedule with this recipe.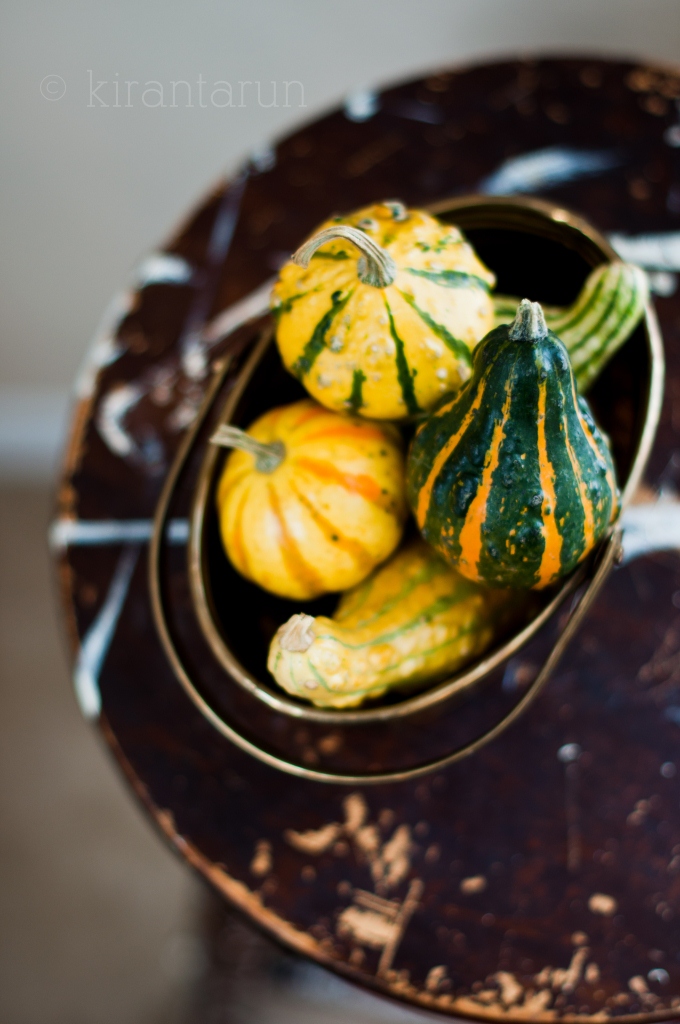 There would be, however, a few steps added. Like melting chocolate over a double-boiler, whisking the heck out of two eggs into a custardy concoction over double-boiler, and water bath to slowly and gently bake the torte.
But you wouldn't mind all the elbow grease in the name of flour-less chocolaty goodness, right?
Tell me I'm right about this.
And oh, before I forget — this recipe requires a 6″ cake pan. You can easily double the recipe to use it in a 9 inch cake pan instead. But since it's flour-less, the height and density would play a key role.
Trust me. You wouldn't want to slice into a thin chocolate sheet torte.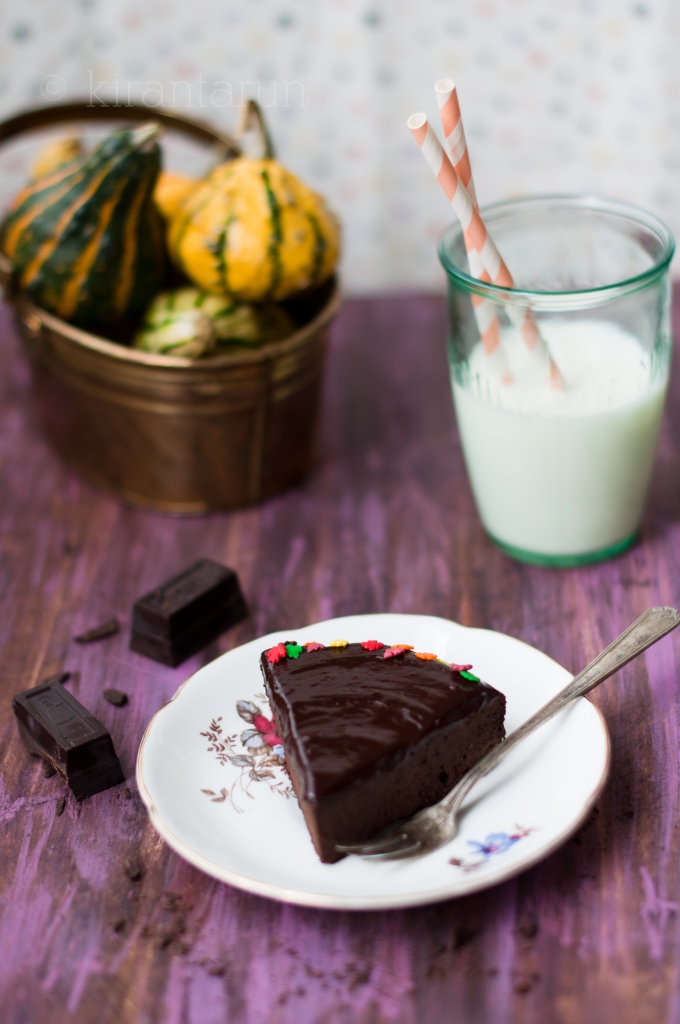 Print This Recipe
Ingredients:
2 eggs
4 oz semi-sweet chocolate
2 tbsp freshly brewed strong coffee
1/4 cup agave nectar / honey
1/2 tsp vanilla extract
1/3 cup pumpkin puree
pinch of salt
Simple ganache:
2 oz semi-sweet chocolate
2 tbsp almond oil / milk
Directions:
Preheat oven to 350F. Line and butter a 6″ cake pan with parchment paper.
Heat a saucepan on low with some water.
Set a glass bowl with 4 oz chocolate over heating saucepan/double boiler to melt. Stir to melt chocolate and remove it from the double boiler as soon as it's melted. Add freshly brewed coffee, agave nectar, vanilla extract, pinch of salt and pumpkin puree to the melted chocolate. Stir and set aside.
Using another glass bowl, add 2 eggs. Whisk the eggs over the same double boiler and continue whisking to avoid scrambling the eggs. The eggs should double it's quantity and appear airy, pale and ribbony. This should take between 5 to 7 minutes of continuous whisking. Remove from double boiler.
Gently fold airy egg "custard" into chocolate "batter". Do not over-mix at this point. Just fold 3 to 4 times in total.
Gently pour "batter" into lined and buttered cake pan. Smooth top of "batter" with a spatula and tap cake pan gently to remove any unwanted air bubbles.
Set cake pan onto a tall baking tray and add hot water in the baking tray to create a "water-bath". Add until half the side of cake pan.
Using oven mitts, transfer the hot baking tray safely into oven to bake for 50 minutes.
Once baked, remove baking tray safely from oven. Remove cake pan from water bath to completely cool on a cooling rack.
Once cooled, invert chocolate torte onto a plate or cake stand. Don't forget to remove the parchment paper 😉
In a small glass bowl, melt chocolate and almond oil in microwave for 30 seconds to 1 minute intervals. Stir chocolate ganache until smooth and spread it over cooled torte. Spruce it up with your favorite sprinkles and/or edible flowers.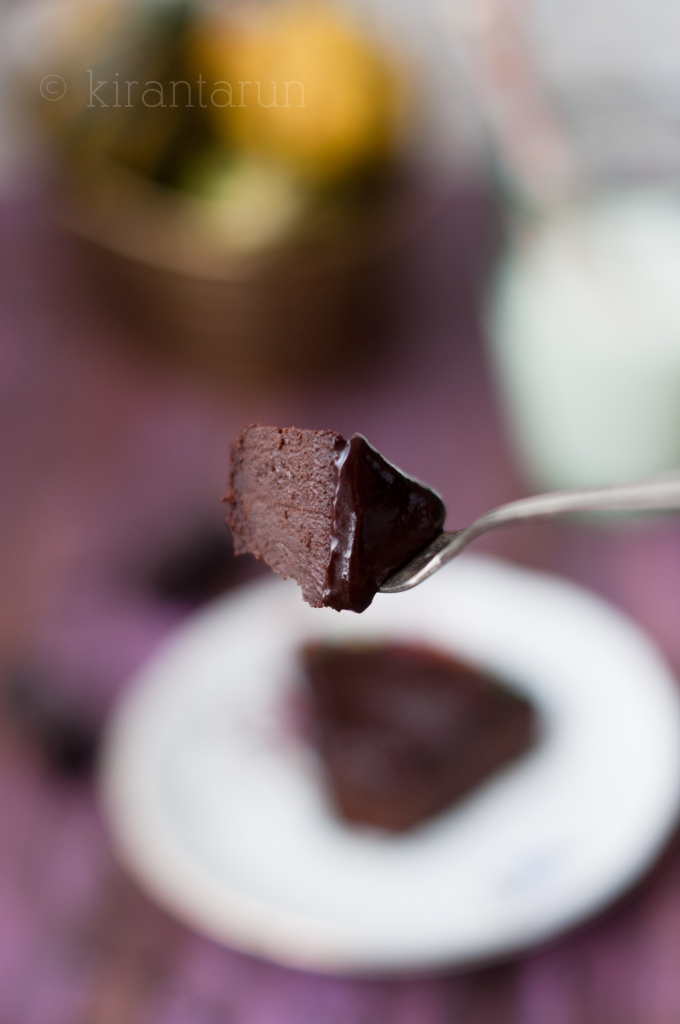 For those who sent us emails, messages or comments about Hurricane Sandy — we cannot thank you enough for your concerns. We were not directly impacted by her. It was super windy in Orlando but no major disaster whatsoever.
Our thoughts and prayers definitely goes out to our families, friends and every one who was and is disastrously impacted during Hurricane Sandy. We pray for your well-being and recovery.
Thought of the day:
"You've gotta dance like there's nobody watching,
Love like you'll never be hurt,
Sing like there's nobody listening,
And live like it's heaven on earth."
― William W. Purkey