One 9-inch cake
Ingredients:
8 oz bitter-sweet chocolate, 70% cacao
6 tbsp (4 oz) unsalted butter, at room temperature
1 tsp instant espresso powder
1 tsp vanilla extract
1/8 tsp salt
4 eggs, separated
1/3 cup granulated sugar
optional toppings: confectioners sugar, sweetened whipped cream, chocolate curls and red currants.
Directions:
Preheat the oven to 275F. Lightly grease and line a 9 x 3 spring form pan with parchment paper. Set aside.
Set a glass bowl over heating saucepan or double boiler to melt softened butter and chocolate. Remove chocolate from double boiler as soon as chocolate begins melting. Avoid over-heating chocolate. You can also use the microwave to melt butter and chocolate but do it in increments.
Stir heated chocolate and butter in between and allow to slightly cool before adding instant espresso powder, vanilla extract, salt and four egg yolks. Stir until smooth. Set aside to completely cool.
In a stand mixer fitted with whisk, add four egg whites. Beat on low speed until frothy. Gradually increase speed to medium.
Once egg whites forms thick foam, increase the speed to medium-high and carefully sprinkle in sugar. Do not dump in all at once. Do it gradually and slowly to allow the sugars to dissolve and avoid deflating the egg whites.
Increase the speed to high and whisk egg whites until sugar dissolves. Do not over-beat it to stiff peaks. Just enough until it holds soft, glossy peaks.
Gently fold in 1/4 of the egg whites into cool chocolate. Carefully fold in the rest of egg whites without deflating the batter. Its perfectly fine if batter has little streaks of egg whites. DO NOT OVER-FOLD.
Gently pour batter into greased and lined spring form pan. If needed, smooth top of batter with an offset spatula. Do not over-do it and risk further deflating the batter.
Bake cake for 50 minutes or until cake begins to pull away from the sides and the mid appears to set.
Allow the cake to completely cool in the pan before un-molding.
Serve at room temperature, dusted with confectioners sugar and suggested toppings.
Important notes:
Its crucial that you use a spring form tin for this cake. It's a very fragile cake and there's no way to un-mold without creating a delicious mess.
Do not pour batter into springform pan from a height. This can cause the batter to deflate further.
The cake will rise while baking and gradually sinks a little, once cooled.
Crisp and crackly top and sides are expected with flourless cakes. It adds to a very delicious texture and charm.
Please be patient and allow the cake to completely cool in the pan before serving. The cake is best eaten a day after it's allowed to cool and set.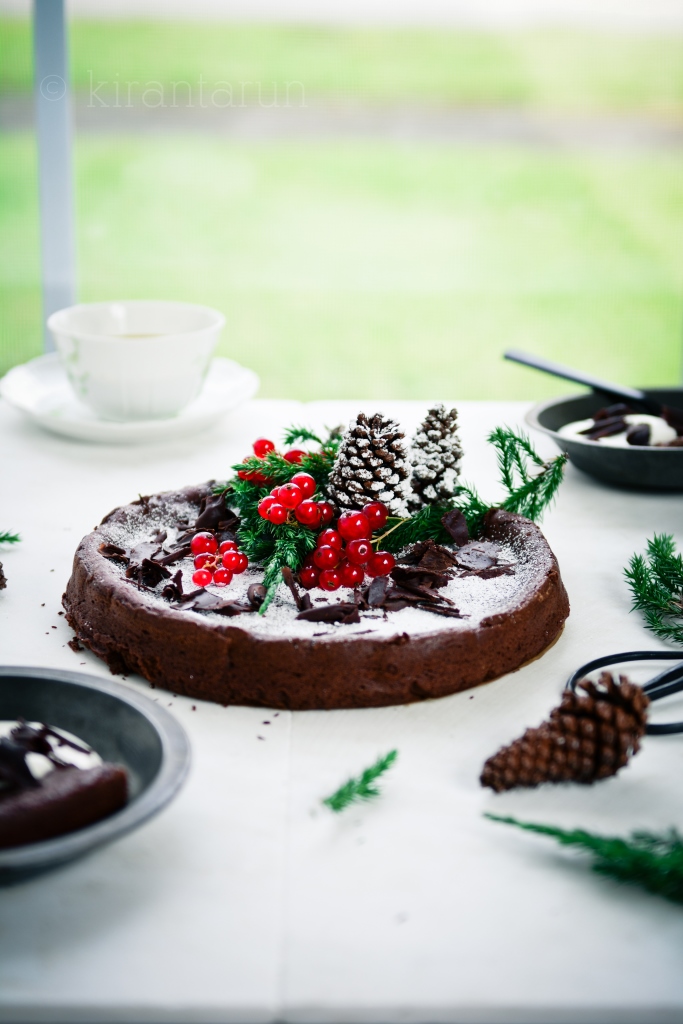 About to have a slice (or two!) for lunch. Happy a Merry Christmas and a Happy New Year!!!
Have you baked a flour-less cake before? Any favorite recipe(s) you're willing to share? 😀