H
ello.
Looks like the blog is up today. Gasp! I better knock-on-wood now. There has been so many issues lately, but it looks like everything is fine so far. If you had issues earlier, I apologize for it.
Perhaps I can treat you to an ice cream? Hmm?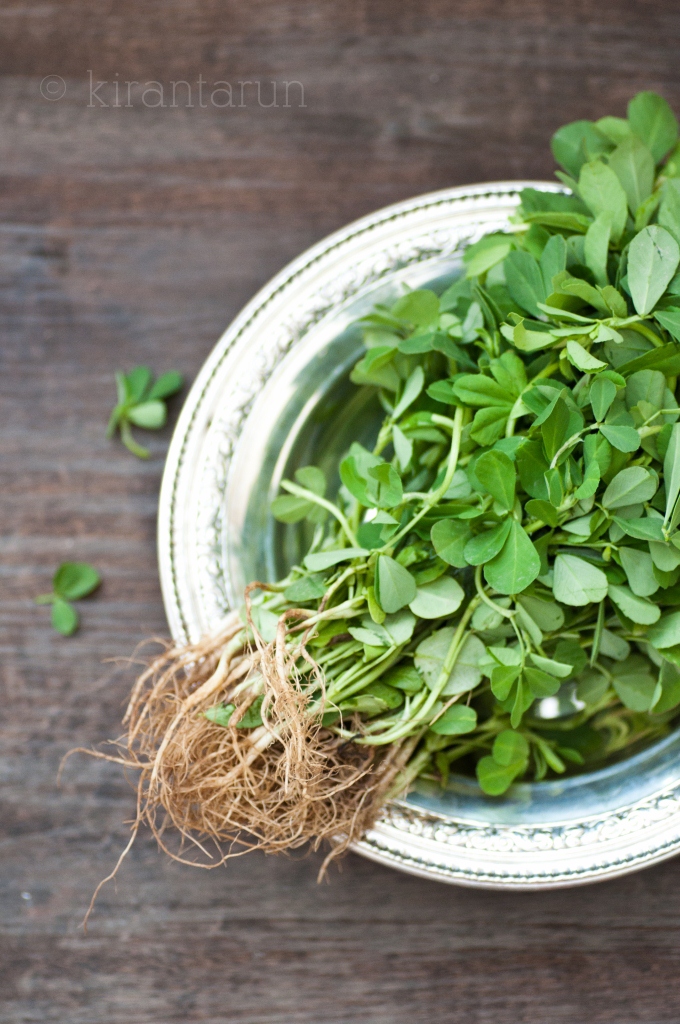 Let's talk Lentils. From moong dal (yellow lentils) to split peas, we often indulge in different lentils every week. Surprisingly, it took me all this while to post a recipe, especially since I am  married to a guy who LOVES his dose of lentils & fenugreek deliciousness. Seeds are not enough to satiate long-time favorite foods.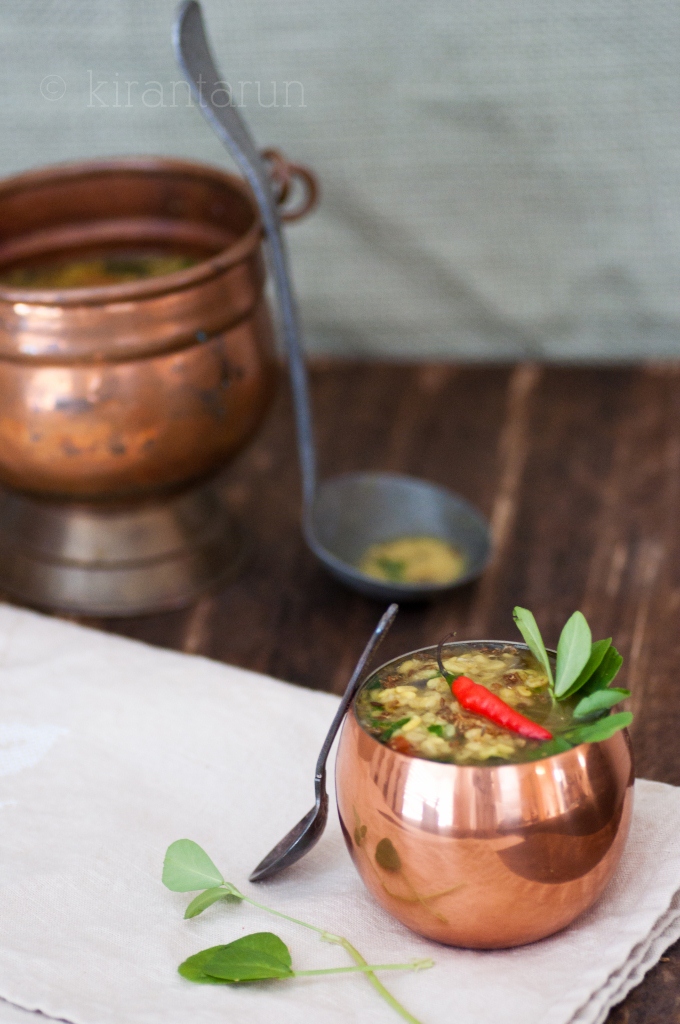 Fenugreek leaves are so tender and bursting with flavors. Source out fresh fenugreek leaves from your local Indian grocery or specialty food stores. They would most definitely have fresh fenugreek leaves. I guess dried leaves would work, but nothing beats a fresh bunch.
If you really can't find any, substituting it with fresh spinach leaves is definitely permissible. I've made lentils with spinach as well, and guarantee it would taste as good.
The word "guarantee" is loosely quoted over here. Please don't sue me over it.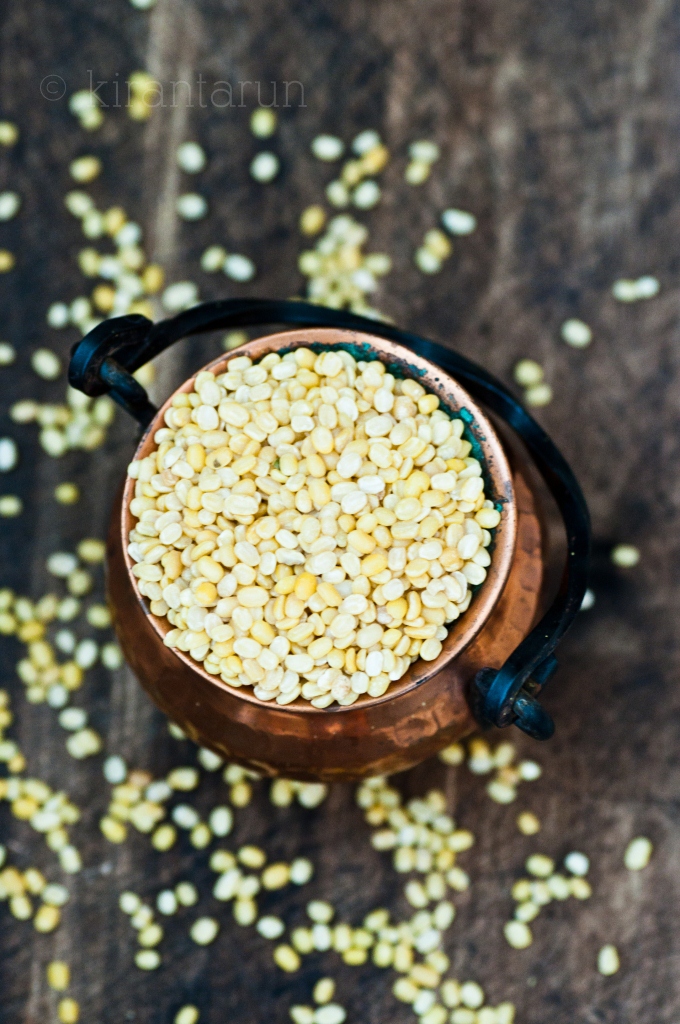 If you love lentils as much as we do (or even more!), investing in a pressure cooker is definitely worth the effort, time and price. I don't use canned beans. It's expensive, overly processed and the list of ingredients are often difficult to pronounce. I am not suggesting every can is contaminated and dangerous to consume. But for a huge pack of dry lentils at $3.99, we could easily prepare lentils for 10 meals or more.
Not a joke. I don't kid about $.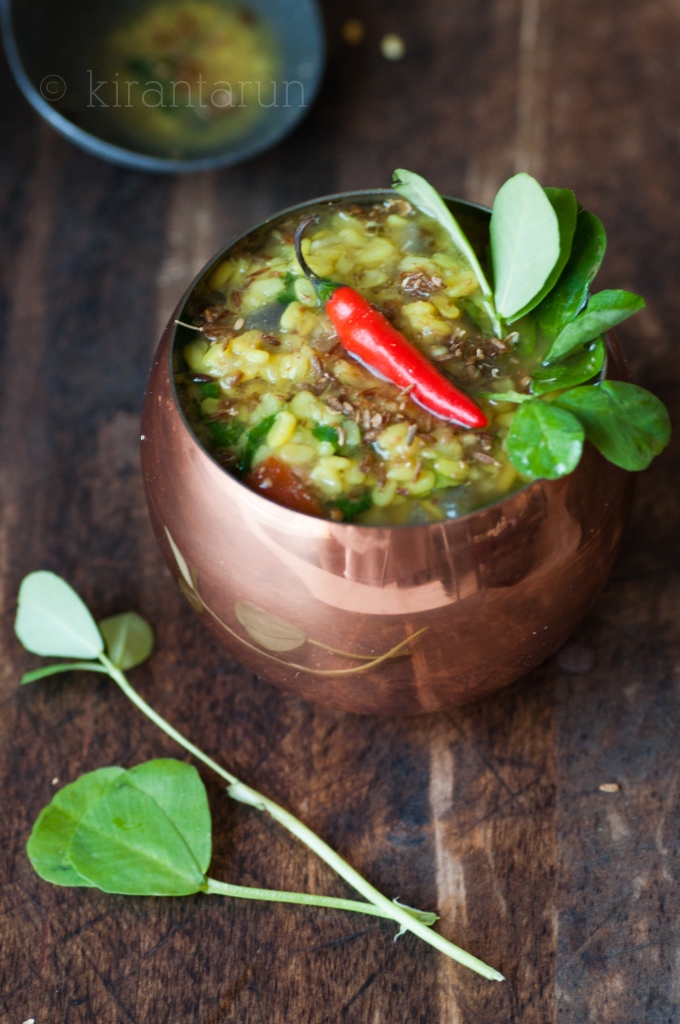 Print This Recipe
Ingredients:
3/4 cup lentils
1 cup water
1/2 tsp turmeric powder
1 tsp salt
a pinch of asafoetida (hing)
For tempering:
1 tsp ghee
1/2 tsp whole cumin seeds
1/2 medium onion, chopped
2 – 3 red/green chili's, slit lengthwise
2 cloves garlic, grated
5 – 6 curry leaves
1/2 tsp toasted ground cumin powder
1/2 tsp toasted ground coriander powder
1 ripe tomato, chopped
3 cups fenugreek/spinach leaves*
2 tsp lemon juice
Directions:
**Wash lentils until water runs clear. Add lentils into pressure cooker with 1 cup of water, turmeric powder, salt & a pinch of asafoetida powder.
Pressure cook lentils for only 1 whistle. Remove pressure cooker from heat and put it aside.
For tempering, heat a small nonstick skillet on medium. Once hot, add ghee.
Sprinkle in cumin seeds and allow to sputter for a few seconds before adding chopped onions. Fry till translucent & fragrant.
Add chili's, garlic, curry leaves and tomatoes. Mix to combine and cook for 2 minutes or until tomatoes soften.
Sprinkle in toasted cumin + coriander powder and fenugreek leaves. Cook for 2 – 3 minutes.
Add tempered ingredients into lentils. Drizzle in some lemon juice and mix to combine.
Best serve hot with crusty bread/chapattis or rice 🙂
*Only pick leaves & tender stems from a bunch of fenugreek. Discard tough stems and roots.
** Cooking time would vary if not using pressure cooker. Suggest pre-soaking lentils to help reduce cooking time.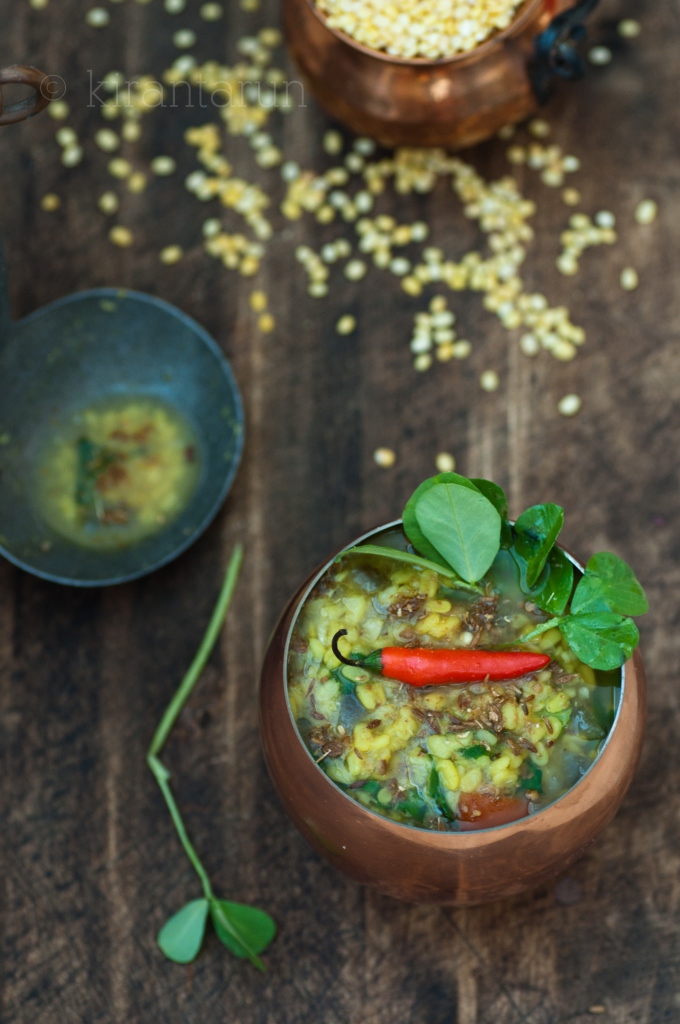 I'm excited to participate in a month long event aptly named Indian Food Palooza, brought to you by the blogging community to celebrate Indian food and cooks like you + me. Join in the fun.
Off to look into the refrigerator for lunch inspiration. That box of homemade strawberry ice-cream is calling my name. Literally.
Have a happy weekend. What's your favorite method of enjoying lentils?