H
ello, Hello and a very Happy Tuesday!!
Tuesday, Wednesday… its the same when the blog is down.
I just got up from a long nap because the blog was down intermittently for the last 4 days. That's what you do — eat ice cream and take a long nap to avoid sulking over blog downtime.
But it's up and running now, and that matters. And let me clear the air — I did not nap for 4 days, straight.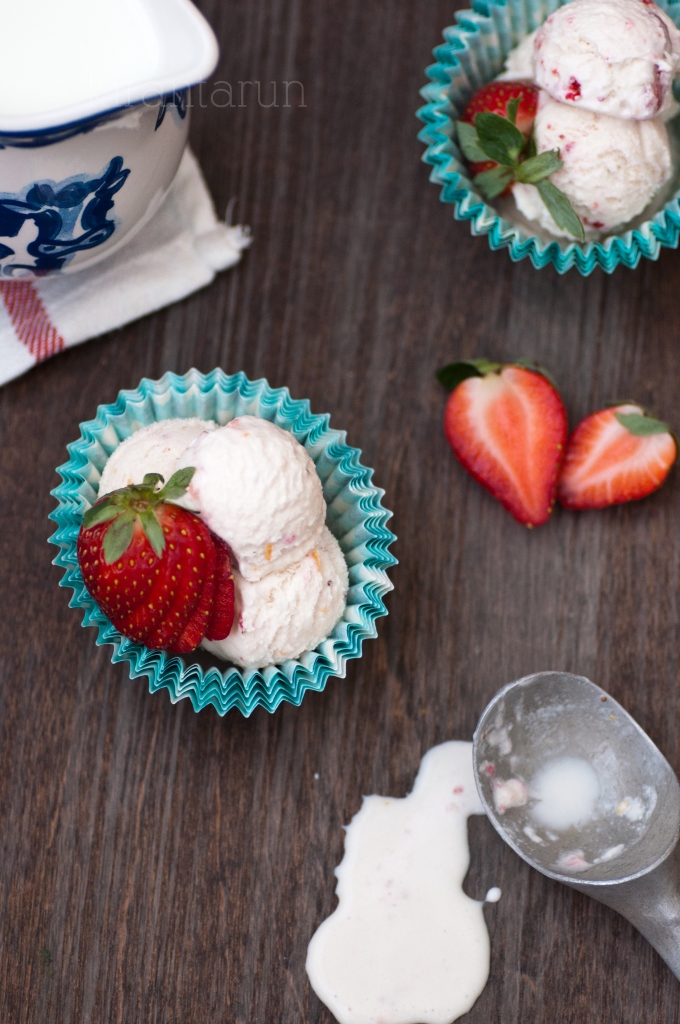 While the blog was down, I took it as an opportunity to make ice cream. Not only it tastes delicious, but I think we can never buy ice cream again.
Wait.
Never sounds too harsh, no? I can NEVER part with B & J's coconut ice cream. It's dreamy.
After sampling boat-load of homemade ice cream, off I went to begin the food styling process with a recuperating brain freeze.While doing all that, I realized how it became a tedious, time consuming, back breaking and tempting task.
Temptations are huge here whenever there's ice cream involved. It only takes a scoop to bribe me. I had to reach deep within myself to muster enough determination to stop salivating and not reach over to lick the ice cream scoop.
Yup, I reached a new low.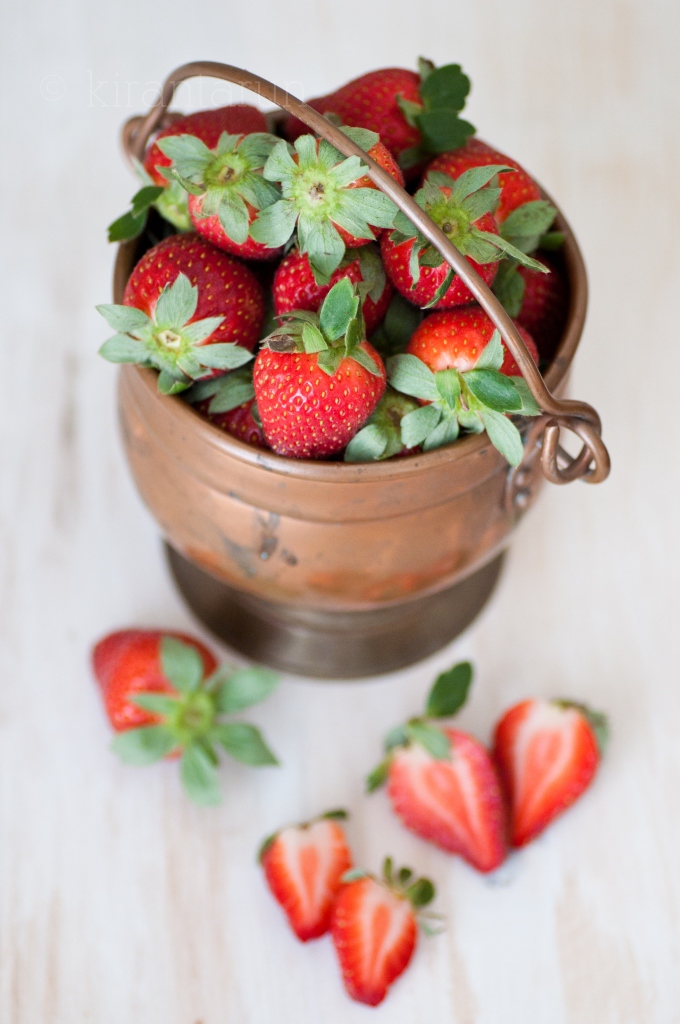 It's difficult to maintain creativity & speed while praying that the ice cream doesn't melt faster than the shutter speed on my camera. Here are some of my tips on how I gained some extra time while speed-shooting ice cream.
Chill everything ahead, including scoops, spoons, bowls, produce etc. I even chilled the cupcake liners!
If you have a marble board, this is the time to use it. Marble keeps everything cool, so use it as your styling station.
Design, plan and draw your styling ideas ahead of time.
Do not shoot in hot weather or direct sunlight. Cool down the temperature before scooping.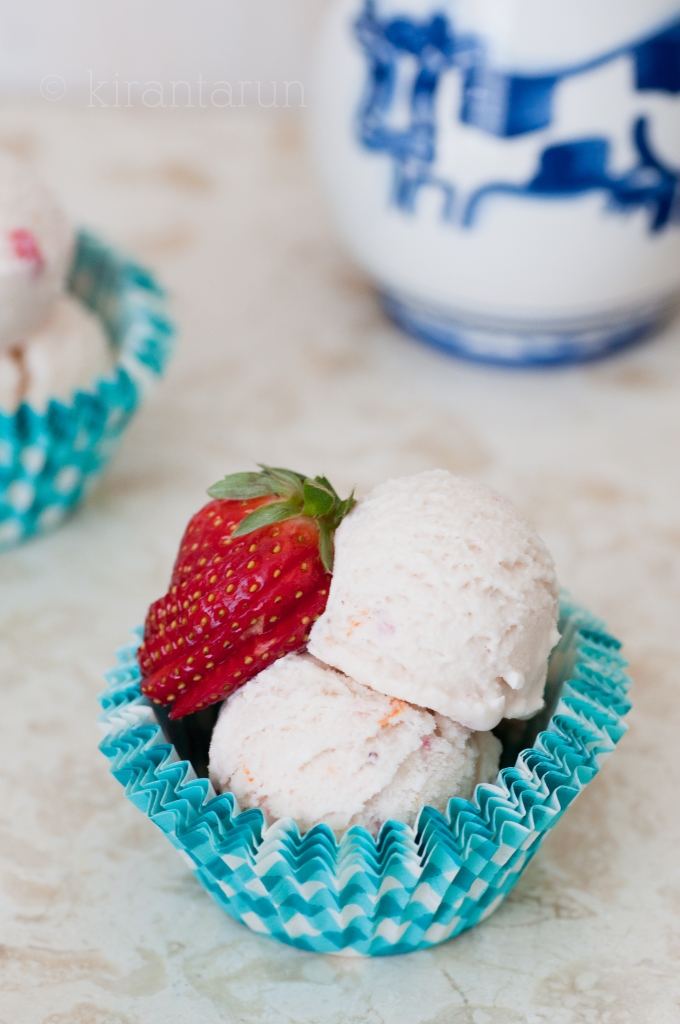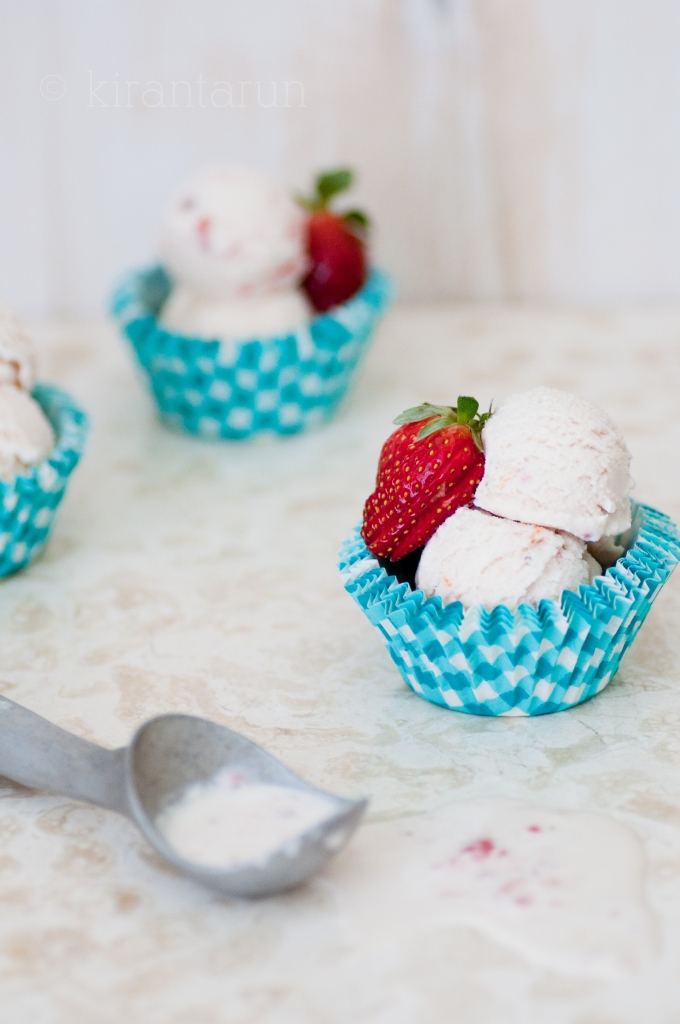 Print This Recipe
Adapted from Cuisinart recipe booklet
Ingredients:
3 cups strawberries, stemmed and sliced
4 tbsp orange juice
1 tbsp orange zest
2 tbsp balsamic vinegar
2 tbsp agave nectar/sugar
1.5 cup whole milk
1.5 cup heavy cream
1/2 cup agave nectar/sugar
1/2 tbsp pure vanilla extract
Directions:
Freeze freezer bowl as per manufacturer instruction.
In a small bowl, combine strawberries with orange juice, zest, balsamic vinegar and 2 tbsp agave nectar/sugar.
Stir gently and allow strawberries to macerate in the juices for at least 2 hours, refrigerated.
Strain the berries, reserving juices. Mash or puree half the berries.
In a medium bowl, combine agave nectar/sugar with whole milk until sugar is dissolved.
Stir in heavy cream, reserved strawberry juice, mashed strawberries and vanilla.
Place freezer bowl into ice cream machine, turn it on. Pour the mixture into ice cream machine and let mix until thickened, about 20 to 25 minutes.
Five minutes before mixing is completed, add the reserved slices strawberries and let mix in completely.
Ice cream will have soft, creamy texture. Transfer the ice cream into an airtight container and place in freezer for at least 4 hours or more.
Remove from freezer about 15 minutes before serving.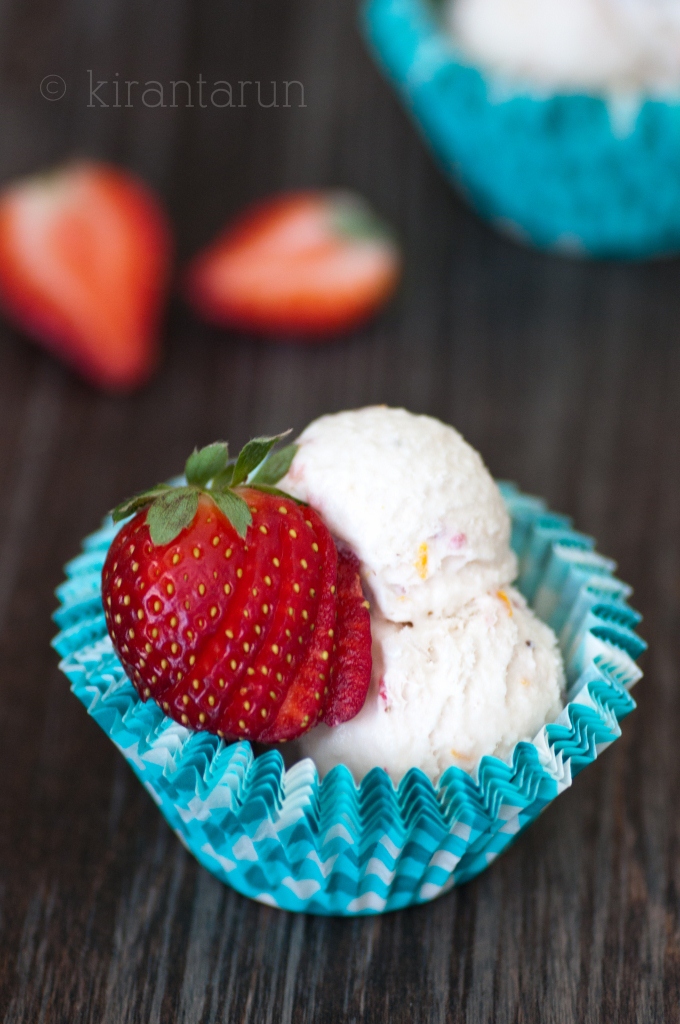 Until coming Friday, here's hoping the blog would still be up and running. If not, send me some love will ya? Or ice cream? 😉
So, tell me. What are your temptations? What makes you salivate & drool?