Ingredients:
1/3 cup of white vinegar
1 whole knob of ginger, peeled & sliced lengthwise into matchsticks
15 large cloves of garlic, peeled & sliced lengthwise into matchsticks
10 fresh green chilies, top removed & slitted
8 large chuhara (dried dates), pitted & sliced
1 tsp kalonji (onion seeds)
1/2 tsp salt
Directions:
Add all ingredients into a clean bowl. Stir and allow to marinade for a few minutes or at least an hour. Store in an air-tight, sterilized jar.
Keeps well for up to 2 weeks, refrigerated.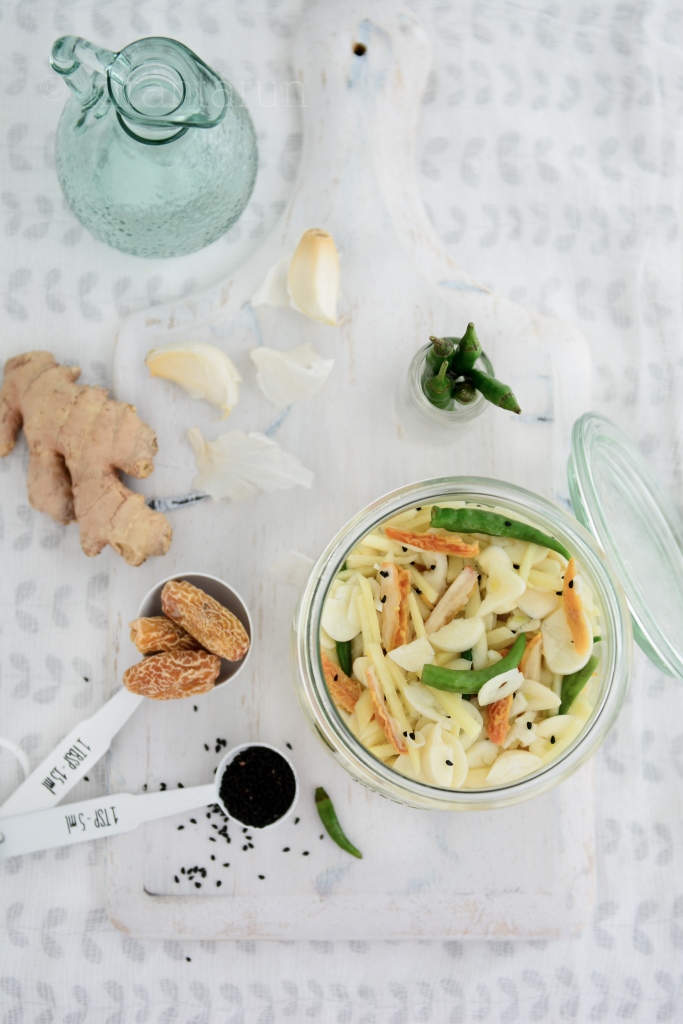 Disclaimer: This sweet, salty, spicy and garlicky goodness comes with a warning. There's raw garlic in this, a copious amount of garlic. So if you are planning a date thereafter, good luck getting rid of that garlicky breath.
Personally, I'd postpone all my appointments and just enjoy what ever this jar of garlicky goodness has to offer.
Do you like homemade pickles? What are some of your favorite pickling ingredients?