H
ello and Happy Tuesday 🙂
Thank you so much for the birthday wishes over here, on Twitter, Facebook etc. I was literally on moon and the Husband had to bring me back to reality, a few times.
For those who voted and continued your support towards my nomination at Saveur — you mean the world to me. I owe you cookies & hugs.
Seriously.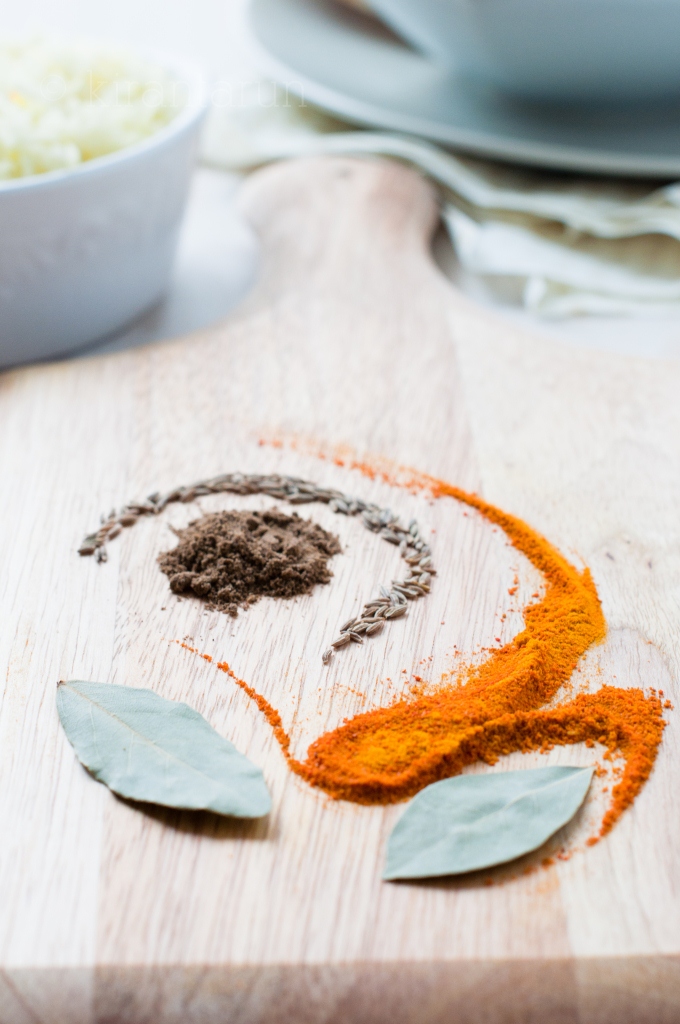 Back to regular recipe programming — and today is all about making curries. How many times have you spotted a delicious recipe and left frustrated with a long list of ingredients that either you've never came across before, ever — or sourcing it in your local grocer was almost impossible?
I've been there and done that — and its perfectly natural to feel overwhelmed, especially with unknown spices. Many would take the easier route and skip over yummy recipes.
Well, I'm here to dispel the myth about curries. It can be simple to make with common ingredients from your pantry.
I promise.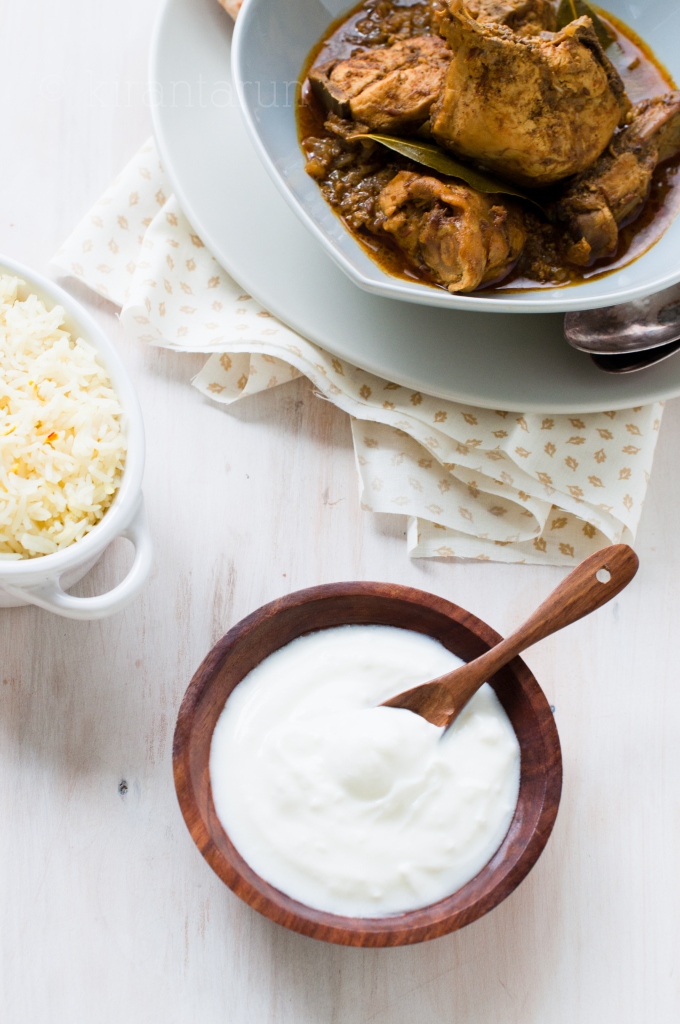 I bet many hoard on garam masala and have never used it more than a few times. The versatility of this spice is often overlooked.
Garam masala is made with a handful of spices, all toasted and blended to create delightful aroma and flavors. Garam masala is often made with spices that are vastly found all across India such as: peppercorns, cloves, mace, cumin seeds, cardamom, star anise, nutmeg, coriander seeds etc. Its the individual selection of spices that eventually transforms it into an aromatic blend of personalized garam masala.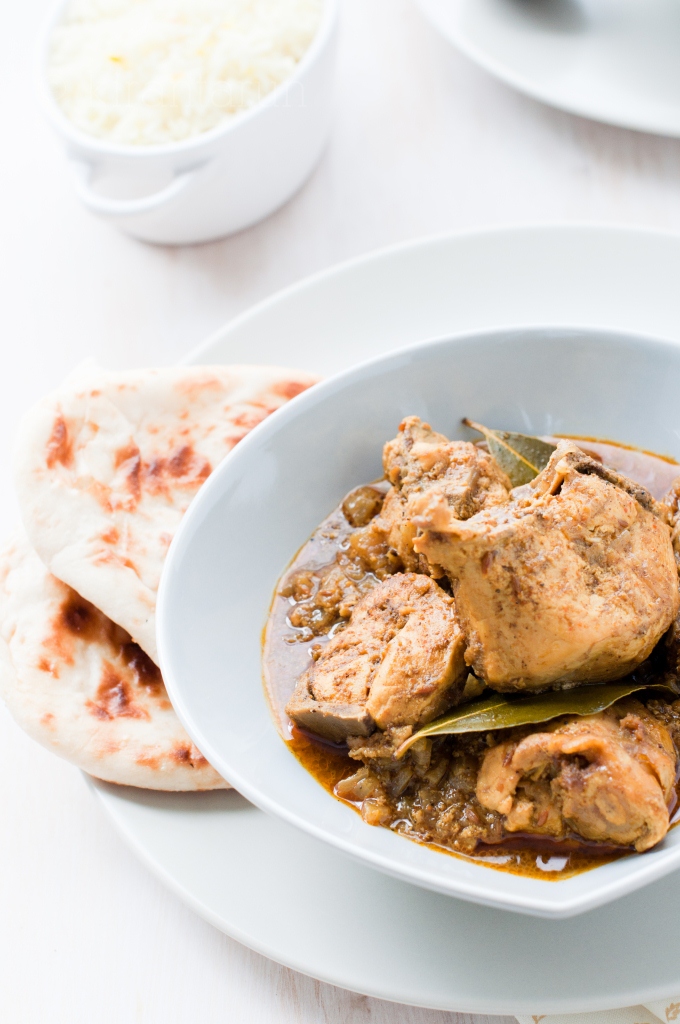 Print This Recipe
Ingredients:
3 tbsp cooking oil
1 medium red onion, finely chopped (yields 1 cup)
1 tsp cumin seeds
1 tsp salt
3 bay leaves
1/2 tsp turmeric powder
1 tsp red chili powder
2 heaping tbsp garam masala (store-bought or homemade)
1 cup hot water
Marinade
1 lb of bone-in, skinless chicken
2 tbsp fresh ginger, grated
1/2 cup yogurt
Directions:
Add the marinade ingredients in a medium non-reactive bowl. Mix to coat chicken with yogurt and grated ginger, thoroughly. Refrigerate overnight.
Heat a medium saucepan on medium-high. Add cooking oil. Once oil is hot, add cumin seeds. Wait till seeds sputter before adding onions. Sprinkle salt and cook until onions are fragrant and translucent.
Once onions are lightly browned and fragrant, add turmeric + chili powder. Stir to combine.
Add marinated chicken + bay leaves, and stir until everything is combined. Fry for a few minutes.
Add garam masala and hot water. Mix and cover to cook on medium heat for 40 minutes, until oil separates and chicken is fully cooked.
Serve hot with naans, saffron scented basmati rice or chapatis.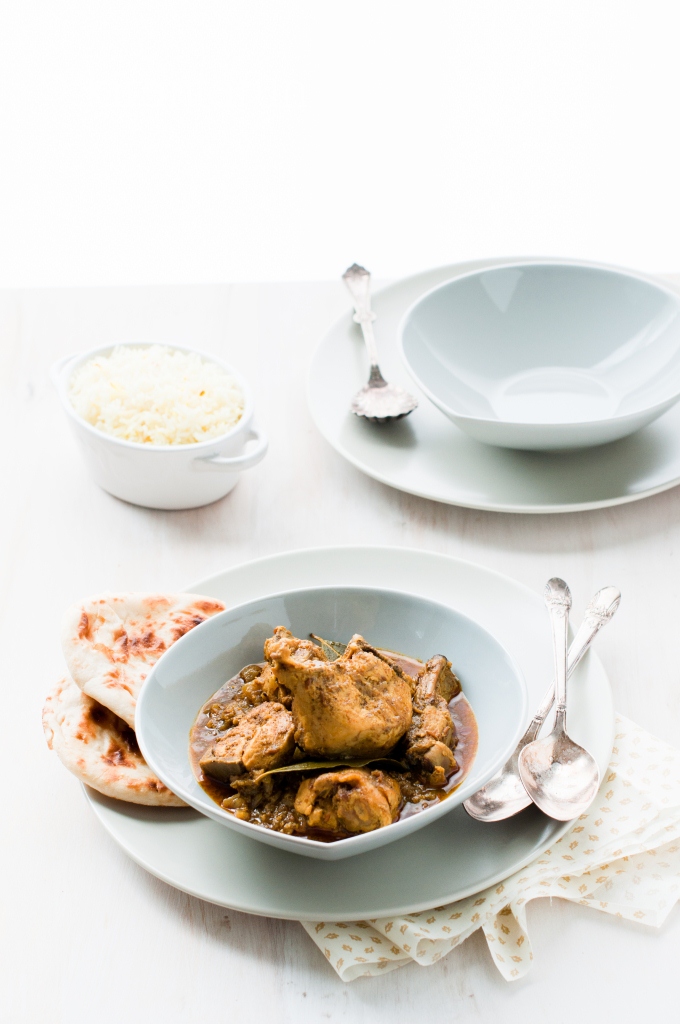 Off to catch up on emails, comments and menu planning for next week. It's been crazy busy ever since I returned from Food Blog Forum — Have a great day 🙂
What intimidates you more about curry? The spices, method or long list of ingredients?