I
t's Diwali.
House is cleaned from top to bottom, fresh and new linens are on display, cobwebs are not in sight (hopefully), oil lamps are brought out from storage and new clothes are laid out for the festivities.
We are keeping it low key this year. No parties, just the celebration of traditions between us two. Something that definitely makes us miss our families the most. Reminiscing the celebration of Diwali back home, where women are generally busy cooking feasts of yummy foods and desserts, while the mens chatting away with guests and friends alike. This definitely ticks my mom, but I'll rant discuss about it some other day 😉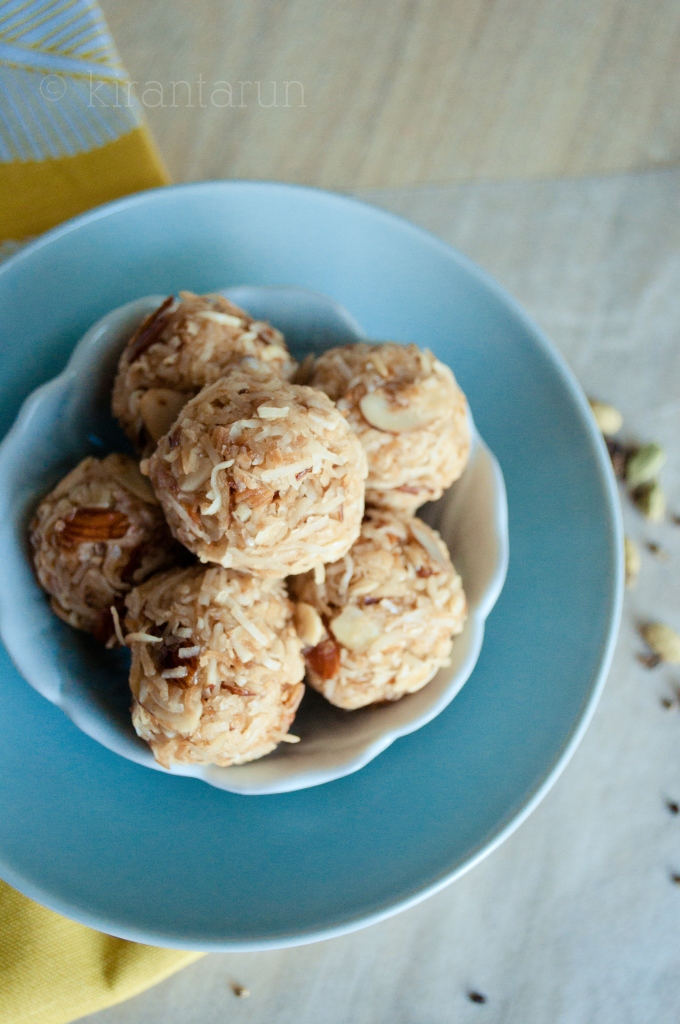 I made this laddu's yesterday using simple and readily available ingredients. I've never made laddu's before but this turned out to be one of the easiest and delicious laddu's you can ever make far away from your loved ones. The Husband taste-tested and gave me a seal of approval 🙂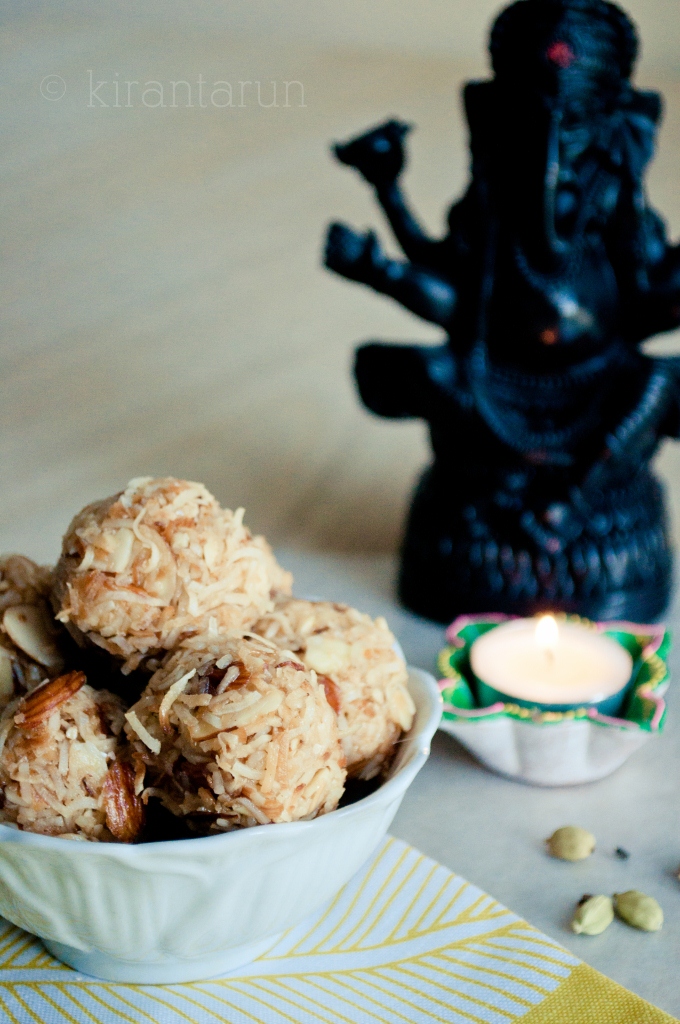 Laddu's are ball-shaped sweets/desserts in India that is generally made with chickpea flour, semolina or coconut. It's often feasted upon during marriages, festivals or religious occasions.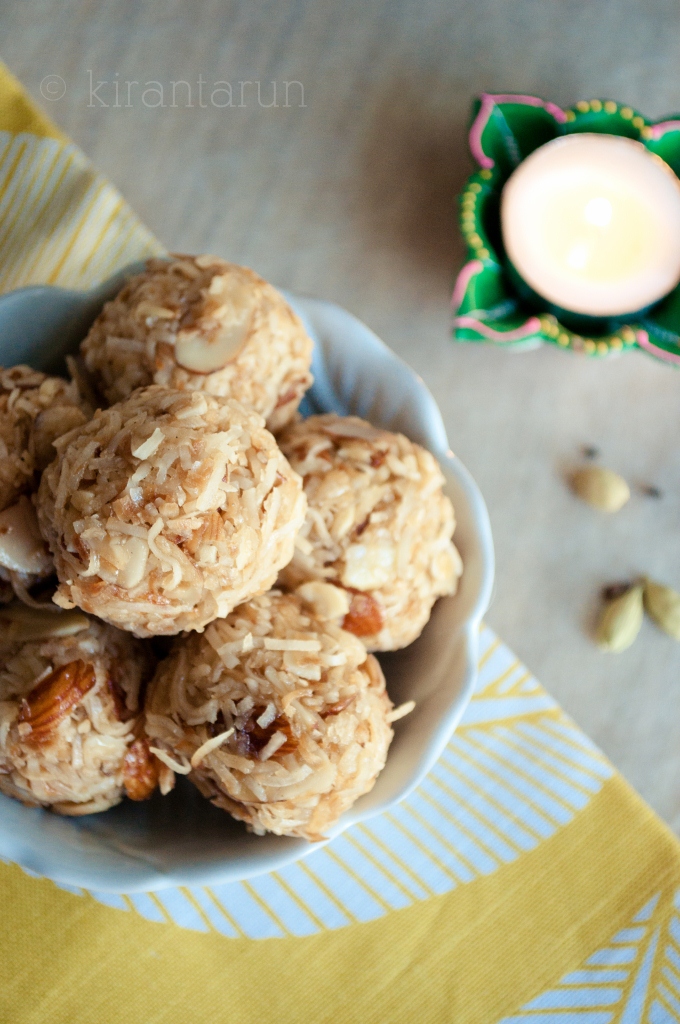 Happy Diwali to those celebrating! And for the rest, enjoy the festivities and try this simple and healthy version of laddu's.

Print This Recipe
Ingredients:
2 cups shredded coconut (fresh is the best)
1/2 cup sliced almonds
3/4 cup brown sugar
1/3 cup water
2 heaping tbsp of ghee (clarified butter)
1 tsp vanilla extract
1/2 tsp spice mix (a mix of cardamom, cinnamon, cloves & nutmeg powder)
Directions:
Heat a non-stick skillet on low and dry roast shredded coconut and almonds until lightly toasted (should take about 3-5 minutes). Stir often to avoid burn.
Heat a separate saucepan on medium-high. Add water and brown sugar. Stir to combine and slowly bubble till mixture thickens a little (around 7-10 minutes).
Mixture should resemble thick and dark caramel like consistency. Lower heat and add toasted coconut and almonds. Stir continuously to combine.
Add ghee, spice mix and vanilla extract. Continue stirring to combine.
Ensuring mixture is nice and sticky at this point, remove from heat to cool for 5 minutes.
Wrap hands with saran or plastic wraps and form ball-shaped laddu's while the mixture is still warm. Press the mixture between hands to form tight ball-shaped laddu's.
Cool completely in room temperature. Serve to your Husband for taste test 🙂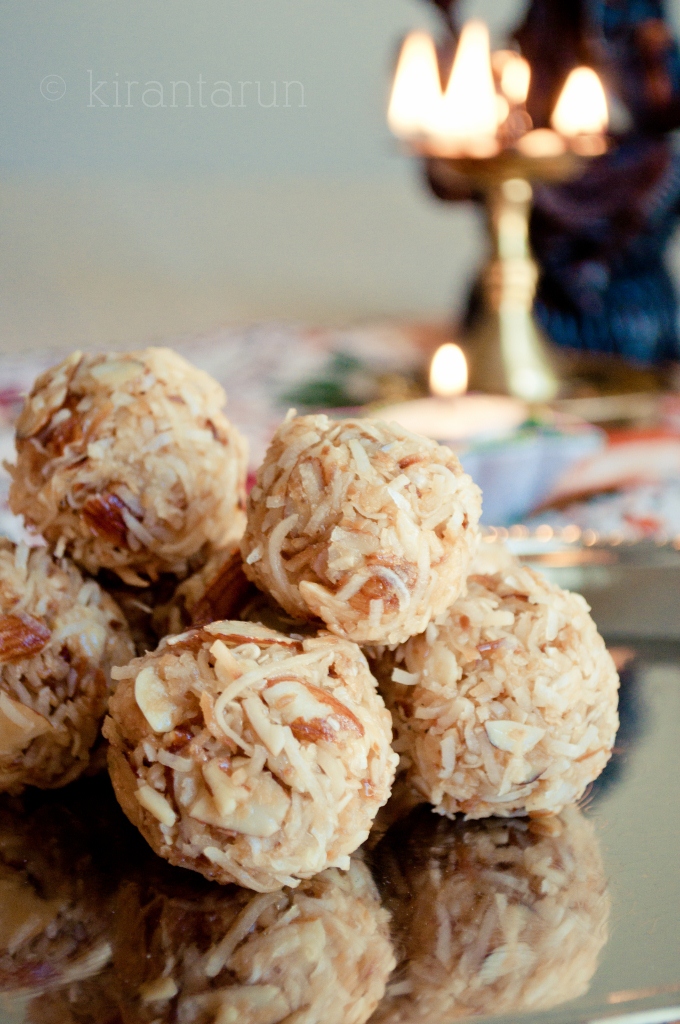 Where are you celebrating Diwali? And what sweets are you sampling or intend to sample during this Festival of Light's celebrations?