T
GIF!!!
Today's rambling is brought to you by the letter "M", that stands for a mish-mosh of topics!
There's a point in everyone's life where slaving for hours in the kitchen to prepare a feast makes absolute sense and worth every drop of sweat.
I'm a firm believer that spending time in the kitchen, cooking up fresh foods to nourish your family is so important. But it doesn't have to be difficult and complicated. It should be easy, fresh, comforting and delicious.
Especially if it involves the use of a handy-dandy food processor.
Can you sense my love for gadgets?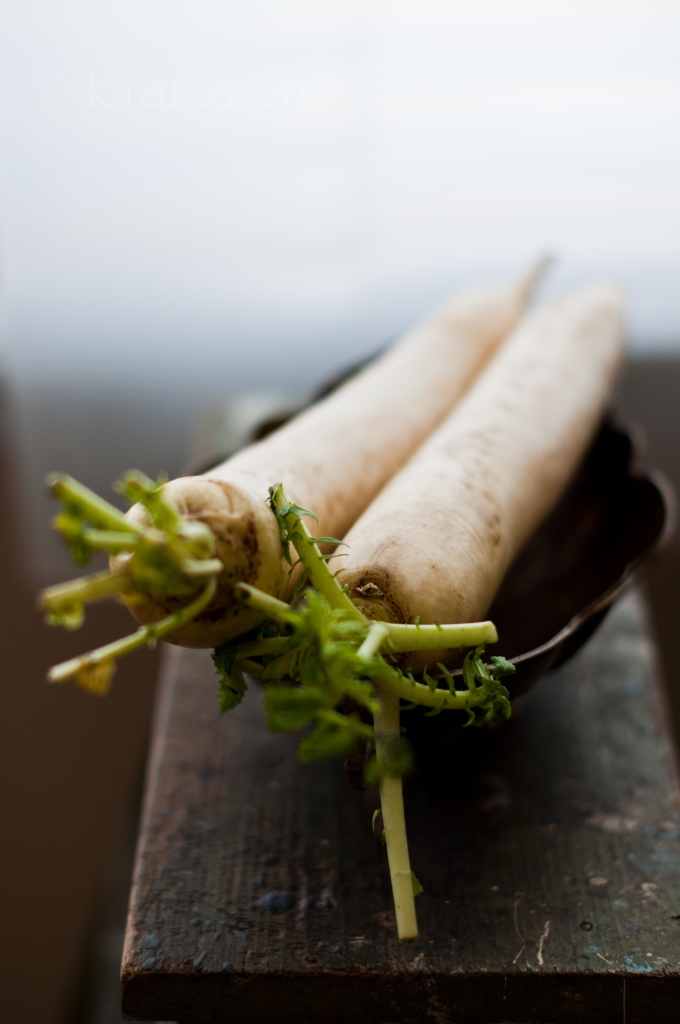 Let's talk about gadgets — how many of you have a counter-top that is filled to the brim with every kitchen gadget or appliance out there?
I hate clutter but I think the collection in my kitchen is getting out of control. Some of the gadgets that I cannot live without:
Knives
Peelers
Rolling pin
Zester
Juicer
Stand-mixer
Blender….. etc… too many to list.
I wonder how I would've survived during stone-age?!?!?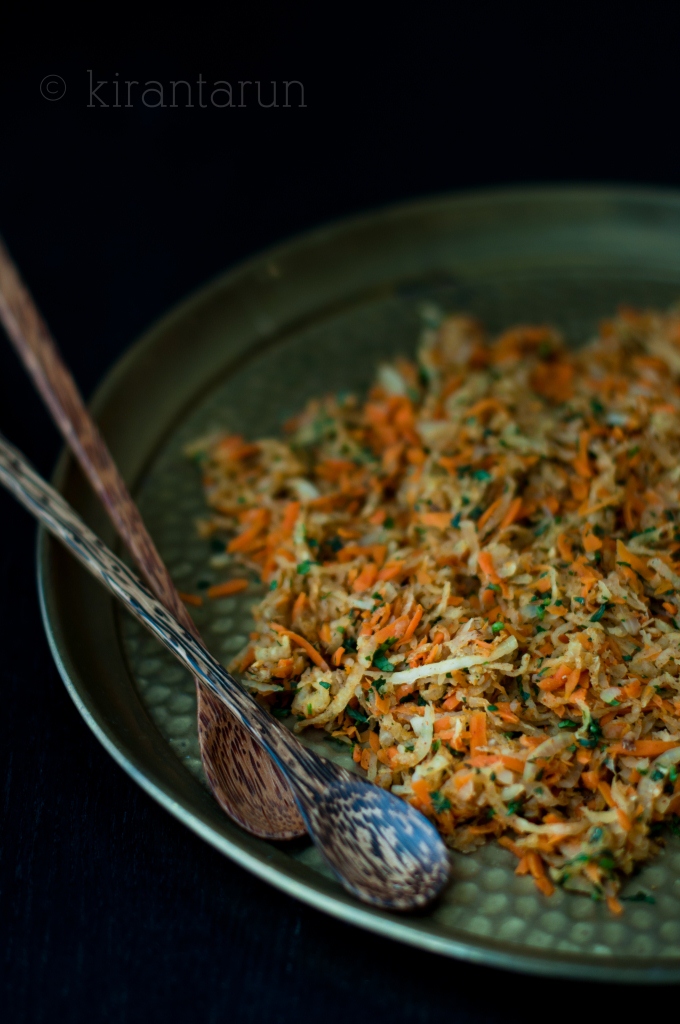 OK, let's get out of the stone-age era and talk about Indian flat-breads.
Paratha's are Indian version of whole wheat flatbread. Paratha's comes in many forms, stuffed or plain with different fillings to choose from.
This daikon looked so intimidating in the market, that I had to have it. But was not at all interested in making a salad so I chose the stuffed paratha route.
It's an easy route, I promise 🙂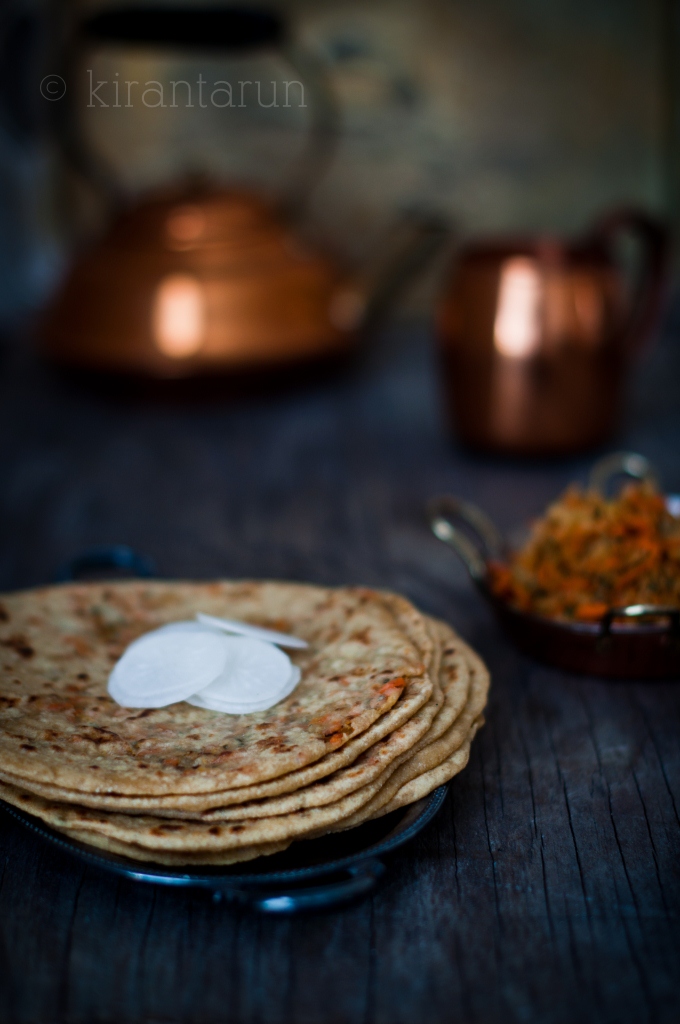 The myth that Indian foods can be so spicy and difficult, completely boggles my mind. There are so many recipes from around the world that are intricate and involves a lot of steps but that shouldn't stop anyone from trying.
Like, right about now. Go, do it 😀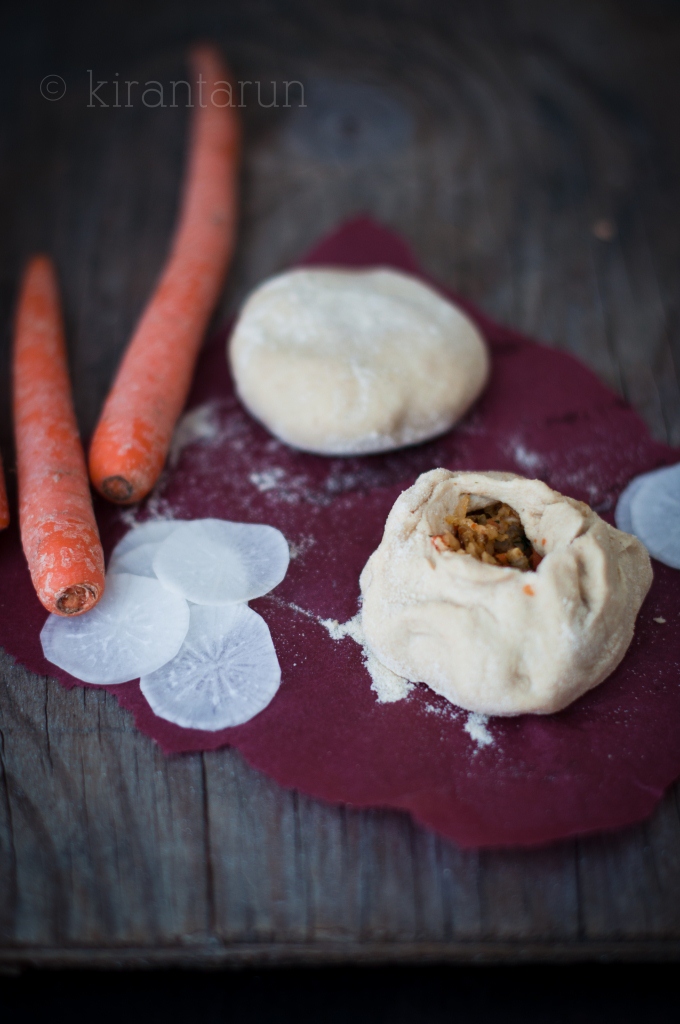 Print This Recipe
Ingredients:
2.5 cup shredded daikon (about 1 huge daikon)
1 cup shredded carrot (about 4 small carrots)
1 tsp salt
1/2 tsp cumin powder
1/2 tsp coriander powder
1/2 tsp garam masala
1/2 tsp cinnamon powder
1/4 cup finely minced fresh cilantro
1.5 cups whole wheat flour
1/2 cup warm water
some flax seed/almond oil/ghee for oiling
Directions:
Peel daikon and carrots. Add it into a food processor to shred finely.
Add everything except for whole what flour and warm water, in a large non-reactive bowl. Mix well and taste for seasonings. Keep aside.
In a separate bowl, add whole wheat flour and drizzle in some warm water. Knead until it combines into a semi-soft dough. Make sure the dough is not too dry or too soft. Keep dough aside to rest for a few minutes.
Heat an iron skillet on medium.
Divide dough into equal portions, roughly the size of a golf ball. Roll between palms and apply gentle pressure till the balls are smoothly rounded. Make as many to keep ready for filling and rolling out.
Flour surface and rolling pin.
Roll dough ball into 2 to 3 inch circle. Add a tablespoon of spiced daikon and carrot filling. Gather the sides neatly and make sure to seal the dough so that the filling doesn't leak.
Flour the filled dough ball, roll dough into 6 inch circles or as thin as possible without tearing. If the dough begins sticking on surface and rolling pin, lightly dust with some whole wheat flour on both sides.
Place paratha on hot skillet for a few seconds before flipping over. At this point, some brown spots would begin appearing. Brush on some flax seed/almond oil and flip it over again. Using a spatula, lightly apply pressure to the puffed areas all around.
Flip again and lightly apply pressure making sure paratha is golden brown on both sides.
Serve hot with fresh lentils, yogurt, hot pickles and salad.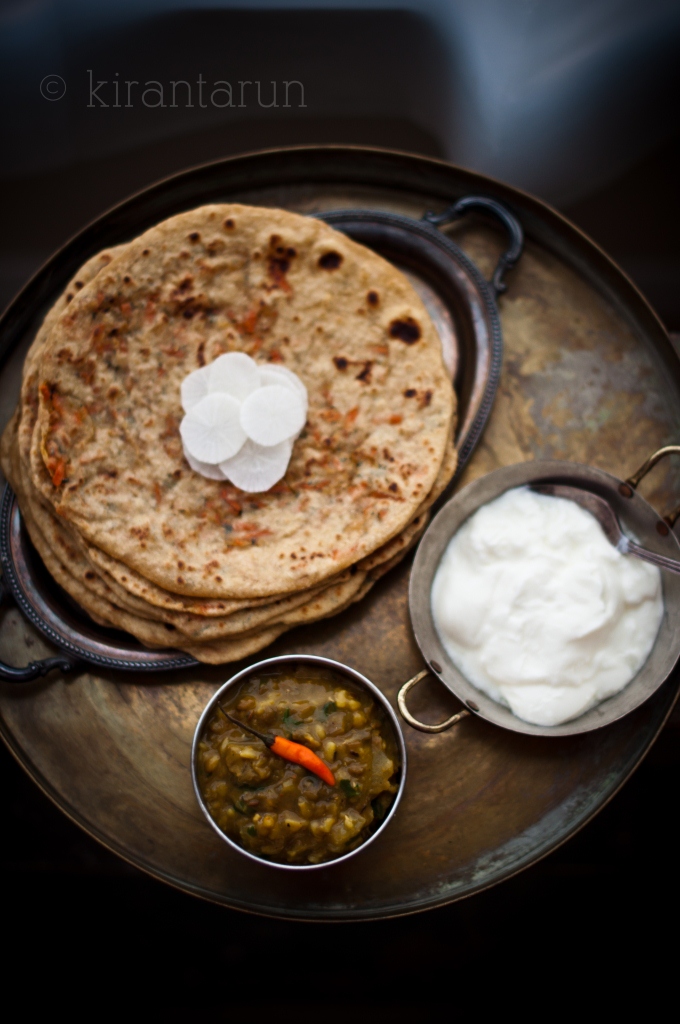 Off to make some sangria. So appropriate on a Friday 😉 Have a great weekend!!!
A few questions to ponder:
What is your go-to easy, fresh and delicious family recipe?
What's your favorite kitchen gadget that you can't live without?
What's your definition of Indian cuisine?