Serves 6 to 8
Ingredients:
1/2 cup rice
1/2 tbsp coconut oil
2 cups thick homemade coconut milk
2 cups low fat (2%) milk
1/4 cup sugar
pinch of salt
1/2 tsp vanilla extract
1/4 cup fresh coconut meat
optional: 2 tbsp coconut rum
Garnish: Chopped raw pistachios
Directions:
Soak rice with some water for 15 minutes. Rinse and add rice in a heavy-bottomed saucepan with 1/2 tbsp coconut oil. Heat saucepan on medium.
Lightly toast rice for 2 minutes. Drizzle in coconut, low fat milk and sugar. Stir to combine, cook until rice softens and thickens. Stir every now and then. Coconut rice pudding should take about 30 to 40 minutes to swell and thicken, on medium-low heat.
Once rice pudding swells, season with a pinch of salt.
Remove pudding from heat and drizzle in vanilla extract. Stir to combine.
Serve at room temperature or chilled, topped with chards of fresh coconut meat and chopped raw pistachios.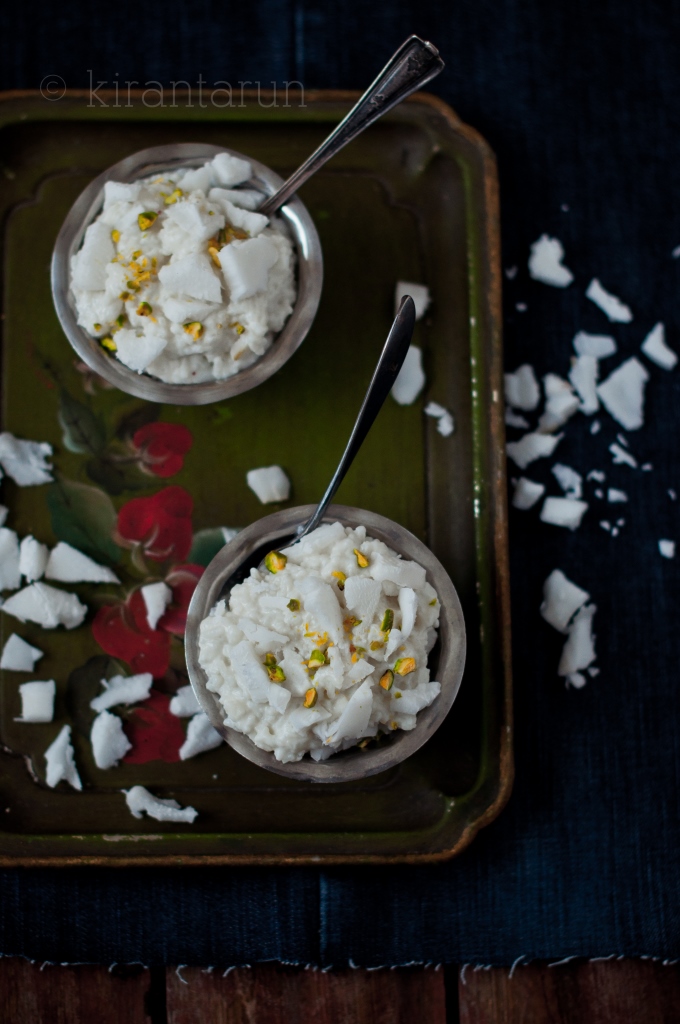 Off to meditate and center with my "zen". While I indulge into this creamy coconut kheer in preparation for tomorrow's fasting, you'd want to make it for yourself and your loved ones. Especially if you have a very soft spot for coconut. This will serenade tropical paradise on your tastebuds 🙂
Do you observe fasting? How regular and how does fasting contribute to your lifestyle?