H
elllllllllloooooo….
Sounds dramatic on a weekday. Right? But I have a simple explanation for it.
We are finally visiting our families and friends back in Malaysia & India!!!!!!!!!!!
And my flight is next week!!!!!!!!!!
Wohoo!!!!!!!!
I've never over-used exclamation points that many — ever.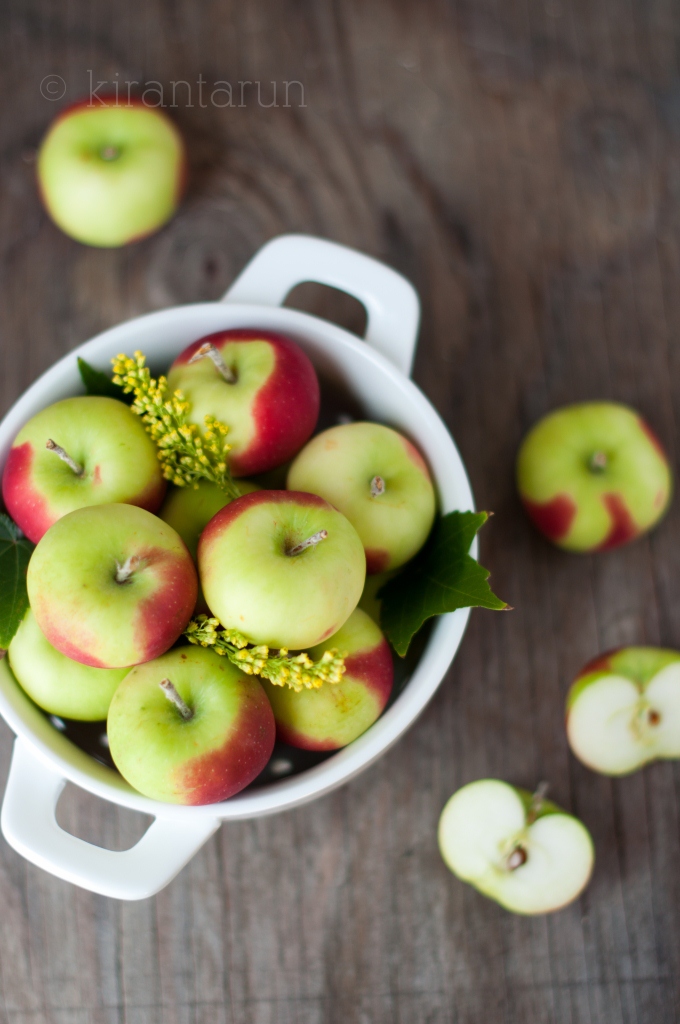 To kick-start the excitement of a long-awaited vacation, I wanted to share with you a recipe I made for Thanksgiving last week. We did not celebrate it ourselves, but I made it to celebrate with our friends who were so gracious to invite us for a feast!
There's nothing better than cute little crab apples smothered in rich brown butter, baked into a bread pudding.
Just thinking about it makes me salivate. Mmmmm…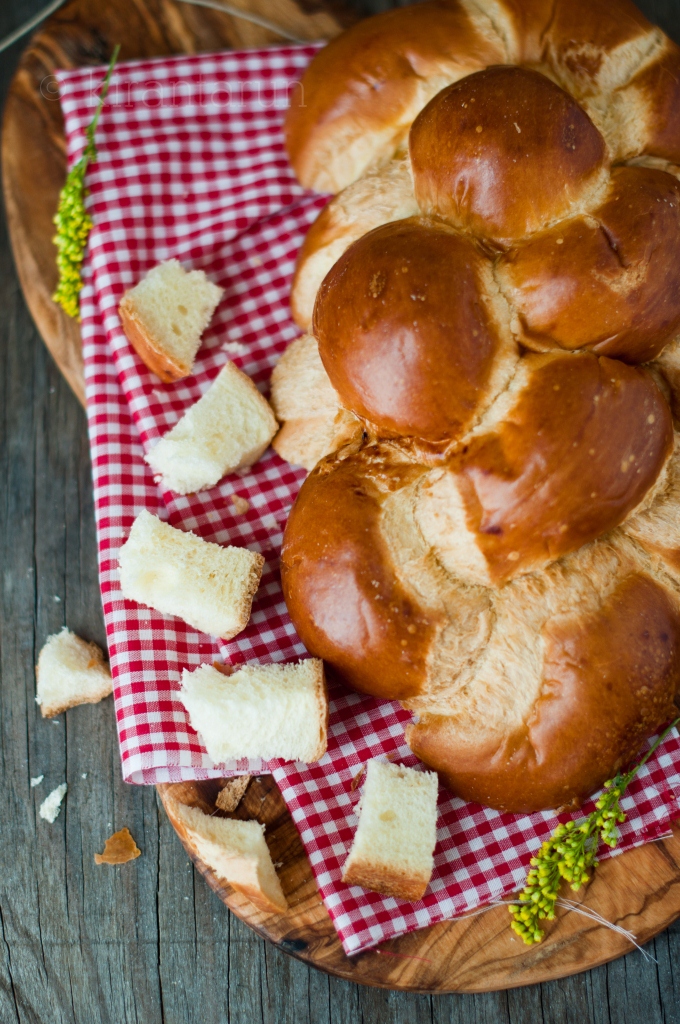 To top it all of, I'm feeling so exhausted!!!
I've been SOOOO busy testing, baking, cooking, styling and photographing upcoming recipes for you guys.
All the blood and sweat is gonna be worth it. It's for you guys 🙂
So, if I've been slacking on visiting your blogs, replying to comments and emails — I hope this post would explain it all. It's been crazy busy ever since we confirmed our travel plans. But I hope to wind down and return to normalcy soon.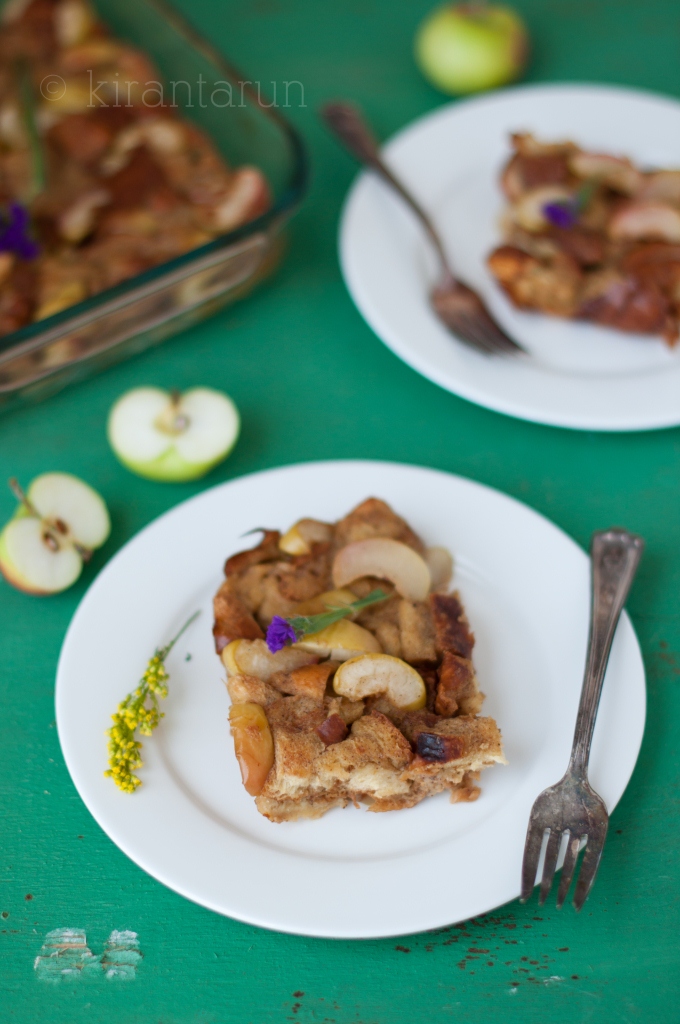 And since I'm working so hard (triple the effort!) to continue bringing yummyness while I'd be away for 2 months (eeeep!) — I hope you'd continue to support my efforts.
I'm counting on your guys to keep this space – oh, how do I put it – Alive. I'd continue to blog and definitely return to normalcy in the commenting and email department as soon as my flight takes off from here next week.
Pinky promise 😉
Are you still with me?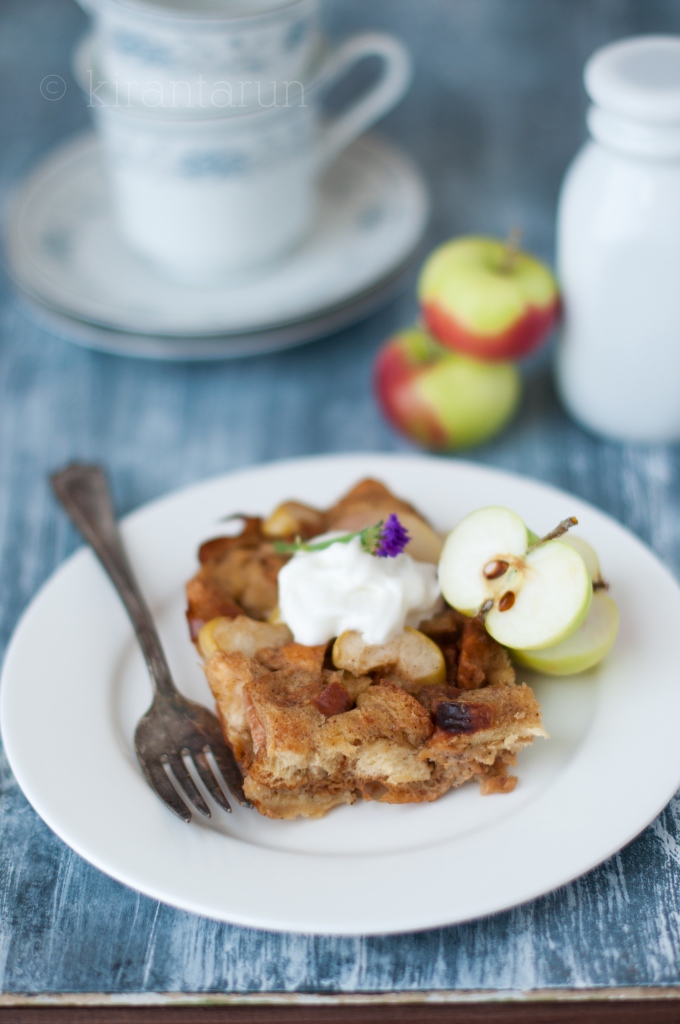 Print This Recipe
Ingredients:
1 medium challah bread, cubed
12 crab apples (or 3 medium regular apples)
2.5 cups pure organic apple juice, unfiltered
2 tbsp butter
2 eggs
2 tbsp agave nectar/honey/raw sugar
1.5 cup coconut milk
1/4 tsp salt
1 tsp cinnamon powder
1 tsp cardamom powder
1/4 tsp freshly grated nutmeg
1 tsp vanilla extract
Directions:
Add apple juice in a saucepan. Bring it to boil on high heat until reduced to 1 cup. Keep stirring in between.
Core and slice crab apples.
Heat a large non-stick saute pan on medium. As soon as it's really hot, add butter. Stir until butter browns. It should not take more than a minute.
Once butter has "browned", add sliced apples. Saute for at least 10 minutes. Apples should remain slightly crisp, but tender.
Preheat oven to 375F. Lightly grease a 10″ rectangular baking dish with a non-stick baking spray.
In a large bowl, add the rest of the wet ingredients. Stir until thoroughly combined. Continue stirring while adding slightly cooled reduced apple juice and warm brown buttered apples. Add cubed challah bread to soak in the batter.
Immediately transfer bread pudding into the greased baking dish. Use your hands to gently press in the corners and center to level the bread pudding.
Once the challah bread has soaked in all of the batter, transfer the baking dish on a baking sheet and into the oven to bake for 30 minutes or until top is golden.
Serve at room temperature with some whipped cream.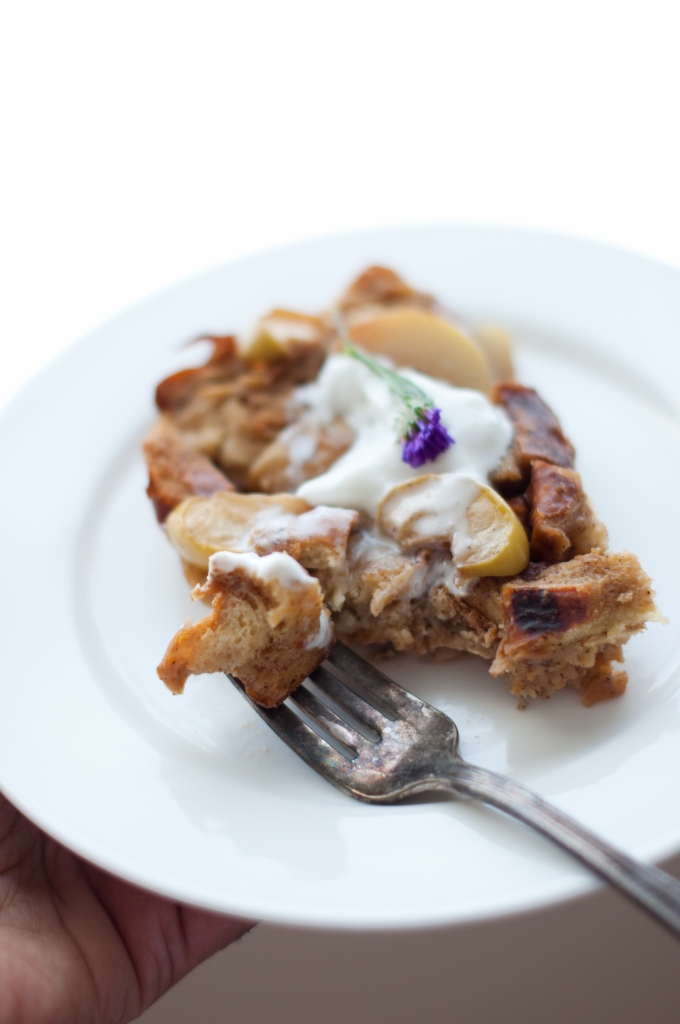 Off to continue baking — chocolates is in my agenda today. Yay!!
On a side note, please expect more exclamation points in upcoming posts as well.
What's on your cooking or baking agenda this week? Have a great weekday my friends <3