I
f there's one ingredient that I can't live without, that has to be COCONUT!!
I can't and won't imagine my life without coconut. Ever.
There's just something about this milky nectar that instantly transports me to the tropics. Somewhere in the lines of Hawaii, Bora Bora, Seychelles… you get the drift, right?
Either that, or it's time for a tropical getaway *hint: the Hubby* 😉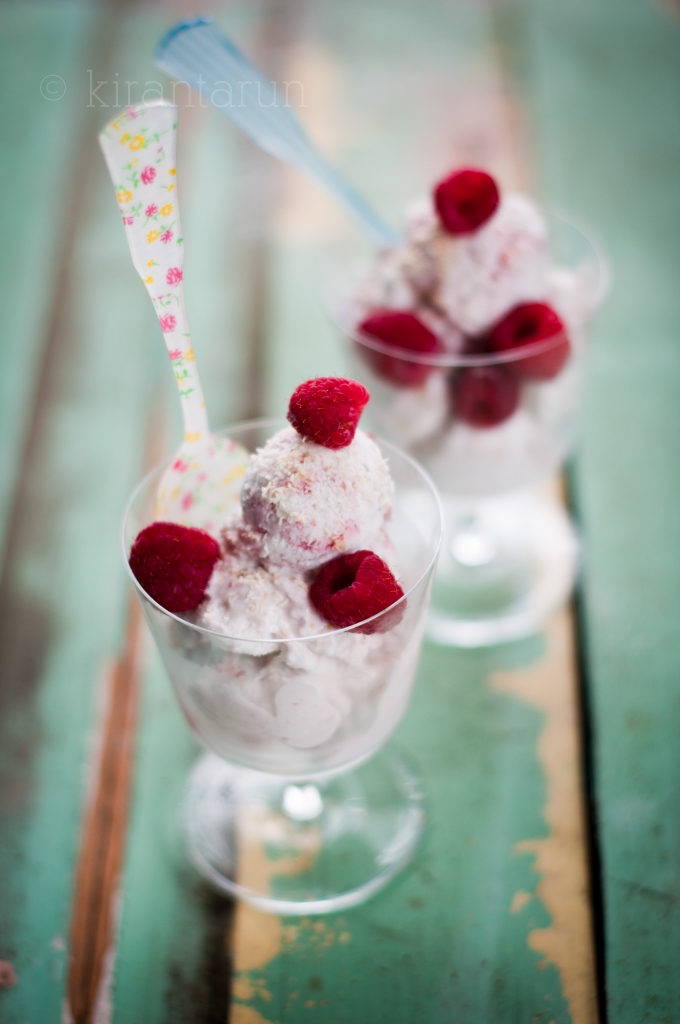 Ice cream can't be any simpler. There's no whisking egg yolks with sugar, heating milk, tempering eggs with hot milk, stirring custard over a hot stove, then cooling the custard etc… it's just pure vegan, gluten free and healthy indulgence.
All made with readily available ingredients and easy-to-follow method.
Again, can't be any simpler.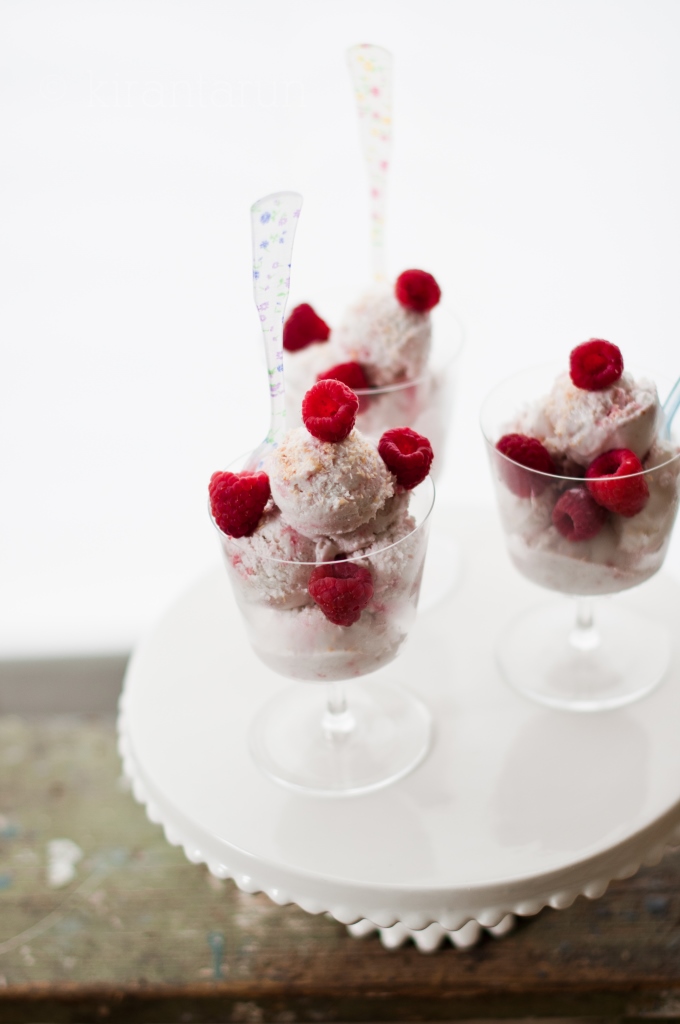 Of course, the tougher work is to convince the Hubby that it's time for a tropical getaway.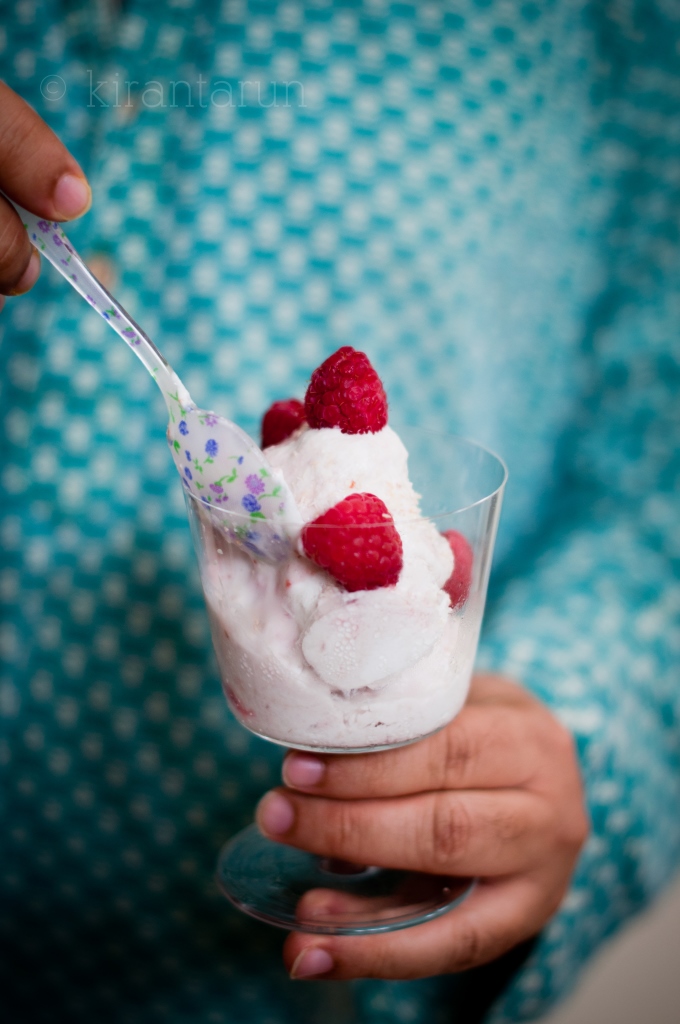 Print This Recipe
Ingredients:
2 cans of full-fat coconut milk (13.5 oz /400ml each), chilled overnight
1/3 cup confectioner sugar
2 tbsp coconut rum (optional) or 1/2 tsp vanilla extract
6 oz fresh raspberries
2 tbsp confectioner sugar
Directions:
Freeze ice cream bowl overnight.

Add coconut milk, 1/3 cup confectioner sugar and 2 tbsp coconut rum into a blender. Blend until smooth.

Pour this mixture into an ice cream maker and churn according to the manufacturer's instructions.
While the ice cream churns, make raspberry puree. Add raspberries and 2 tbsp confectioner sugar into a small blender. Blend away until smooth.
Strain raspberry puree to remove seeds.
While ice cream continues to churn, slowly drizzle in raspberry puree.
Transfer ice cream into a freezer-safe container and freeze for a few hours (until solid) or overnight.
Serve ice cream topped with toasted coconut flakes and fresh raspberries!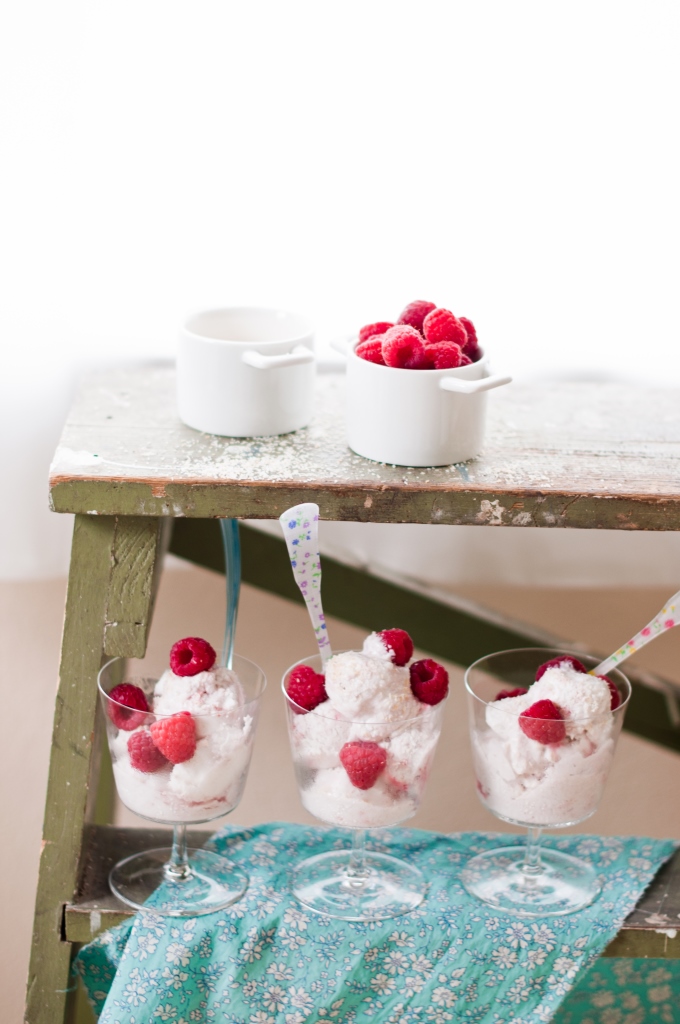 Have a great weekend friends. And if you are going or planning for a tropical getaway and told me about it — just be warned, I might be jealous.
Any ingredient that reminds you of beautiful tropical island?