S
eafood holds a special place in my heart. To be specific, I have a serious liking for fish. This is probably why I can never bring myself to be a vegetarian.
Nope. Never. Sorry.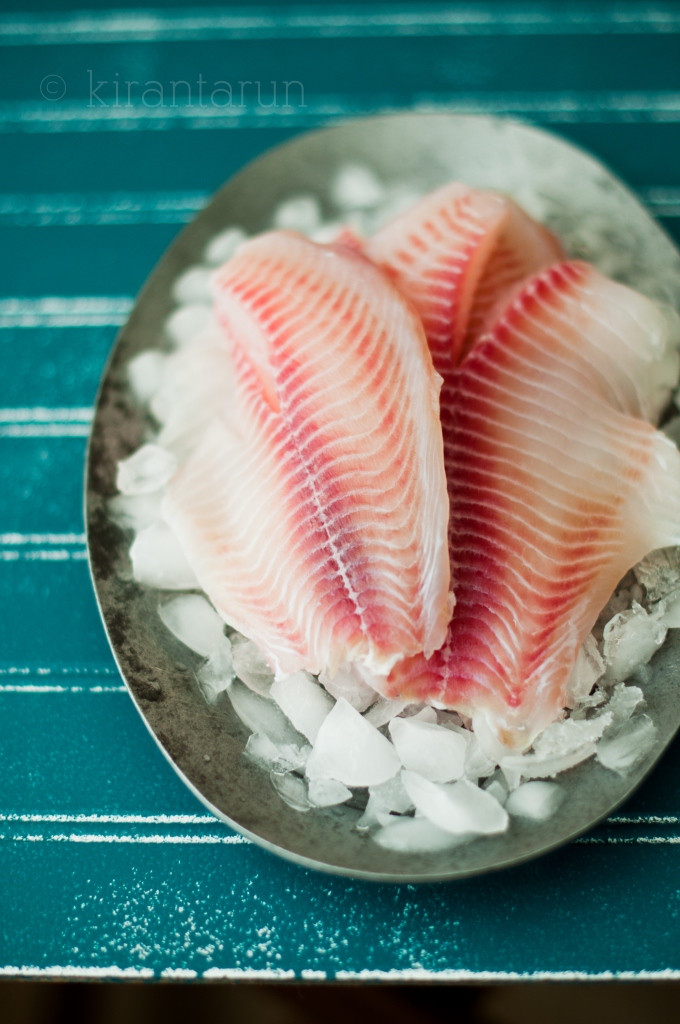 I have fond memories of how seafood played an important role on my palate. It all begins with fishing.
I was 8. And he was…. well, older of course.
We grew up in our hometown, living side-by-side as neighbors. Our backyard came with the smallest river you can imagine.
Some refer to it as creek, but I'd rather use the term river.
My uncle had a knack for anything and everything fishing. He was so good at it, he'd caught fishes with bare hands. Magic I tell ya.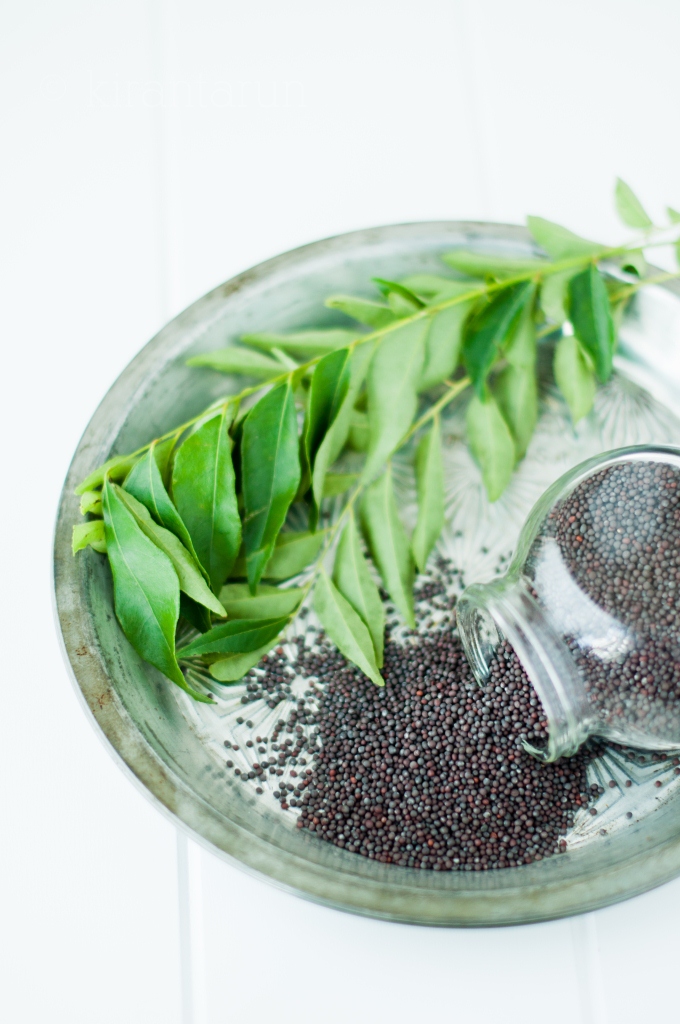 With a river in our backyard, life was pretty much set. We had fresh fish right at our beck and call. And to top it off, we even had a small area where my mom and aunt would prepare a makeshift fire pit or grill.
Those days, having a grill was definitely unheard of. So, you do what you have to in order to indulge in delicious, moist and freshly baked or grill fish.
There were days where we practically begged my mom to make her famous coconut fish curry. No fancy schmancy makeshift fire pit of sort. Just simmering curry on the stove top with fragrant spices and meaty fish, drenched in coconut spiced curry.
The feeling was indescribable. Well, until now 🙂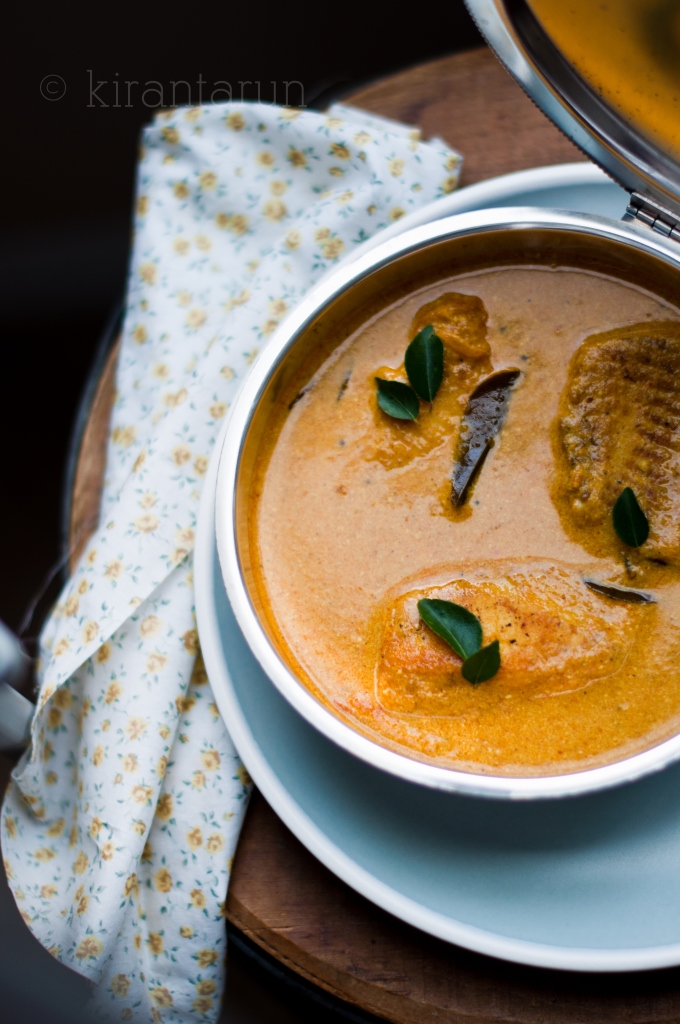 Print This Recipe
Inspired by my Mom 🙂
Ingredients:
Marinate
3 fillets of firm fish — i used tilapia
juice of 1/2 lemon
1/8 tsp salt
1/4 tsp turmeric powder
Fish curry
2 tbsp coconut oil
1/2 tsp mustard seeds
1/8 tsp turmeric powder
8 to 10 curry leaves
1/2 tsp garlic paste
2 small green chilies, slitted
1 medium red onion, grated
2 small tomatoes, quartered
2 heaping tbsp fish curry powder*
1/2 tsp chili powder
2 tsp tamarind*
1/2 tsp salt
1/4 tsp black pepper
1 cup coconut milk
1 cup water
Directions:
Cube fish fillets to desired size. Marinate with juice of 1/2 lemon, 1/8 tsp salt and 1/4 tsp turmeric powder. Set aside for at least 15 minutes.
In large saucepan, heat coconut oil on medium. Once oil is heated, sprinkle in some mustard seeds. Wait for seeds to sputter a little before adding turmeric powder, curry leaves, garlic paste and green chilies. Cook for a minute.
Add grated red onion and cook until fragrant and everything comes together as a paste. This should take about 5 minutes.
Throw in quartered tomatoes, fish curry powder, chili powder, tamarind, salt and black pepper. Fry for a few minutes until oil separates.
Heat a separate non-stick skillet on medium high, add 1 tbsp coconut oil and fry marinated fish cubes for 2 minutes on each sides until lightly golden.
Once the paste is nice and golden, add coconut milk and water.
Add skillet fried fish cubes in the gravy, cover and simmer on low for 15 to 20 minutes or until oil separates and gravy thickens.
Serve coconut fish curry hot with a serving of rice and salad!
*Note: You can purchase fish curry powder from any ethnic Indian grocery store. It is not the same as regular "curry powder". As for tamarind, it usually comes in paste form. If not, fresh tamarind needs to soak in some warm water a few minutes before adding into curries.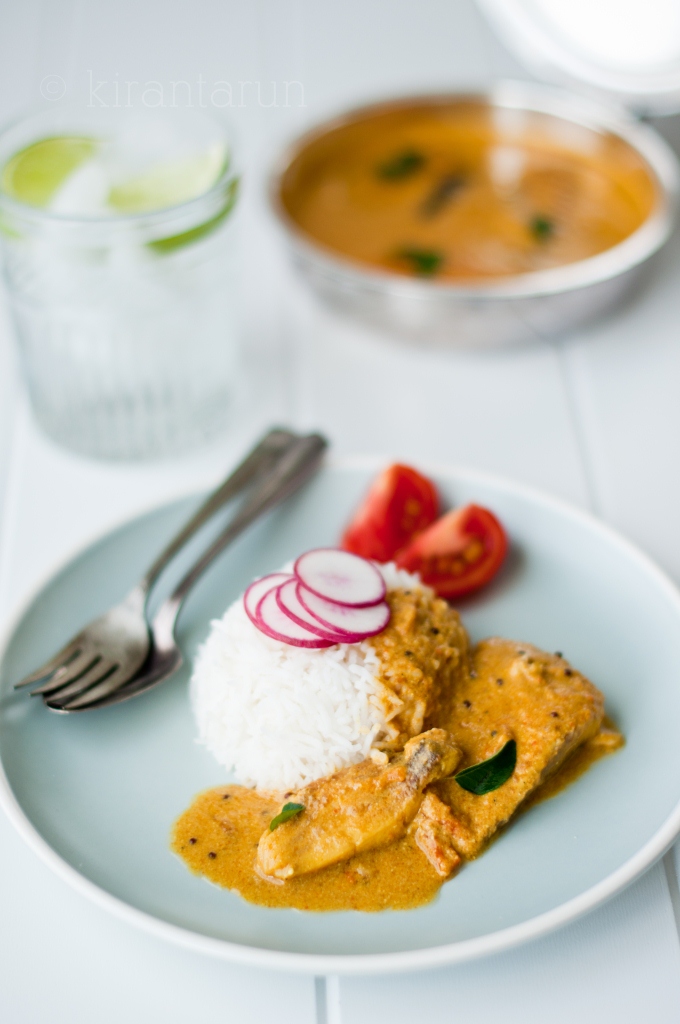 I'm off to the farmer's market to menu plan for the upcoming week. Sounds fun? And hey, long weekend is coming up. Any plans?
Have a great day!
Any fond childhood fishing memories? Care to share? 🙂