Makes 8 scones
Ingredients:
1 cup all purpose flour
1/2 cup coconut flour
1/2 cup unsweetened coconut flakes
1 tbsp baking powder
1/2 tsp salt
1/4 cup turbinado sugar
heaping 1/3 cup chilled coconut oil, scraped*
1/3 cup thick coconut milk, chilled
1 egg, beaten
1 tsp coconut rum
1/4 cup dried cherries, chopped
1 egg & 2 tbsp coconut milk = egg wash
some sparkling sugar + coconut flakes
Directions:
Preheat oven to 375F. Line a large baking sheet with parchment paper.
Sift flours, baking powder and salt into a large bowl. Combine coconut flakes and turbinado sugar. Add scraped cold coconut oil and using a pastry cutter, work through the flour to resemble course crumbs.
Transfer coarse crumbs into a stand mixer fitted with a paddle.
With the stand mixer on low speed, drizzle in thick coconut milk, one beaten egg and coconut rum. Fold in dried cherries and work the dough only until it comes together. Do not over-mix.
Scoop out dough onto a clean surface, lined with parchment paper. With clean hands, work the dough forming it into a thick circled disk. Place another piece of parchment over the disk and using a rolling pin, roll out a nice even circle and to desired thickness.
With a very sharp knife, divide scones into 8 thick wedges. Place scones on prepared baking sheet lined with parchment. Lightly brush on some egg wash, generous sprinkling of sparking sugar and coconut flakes.
Bake scones between 15 to 20 minutes.
Remove scones from the oven and allow to cool for 10 minutes on the baking sheet, before cooling off completely on a cooling rack.
Serve it up with your favorite tea!
Leftovers can be kept fresh for 5 days, in an air-tight container.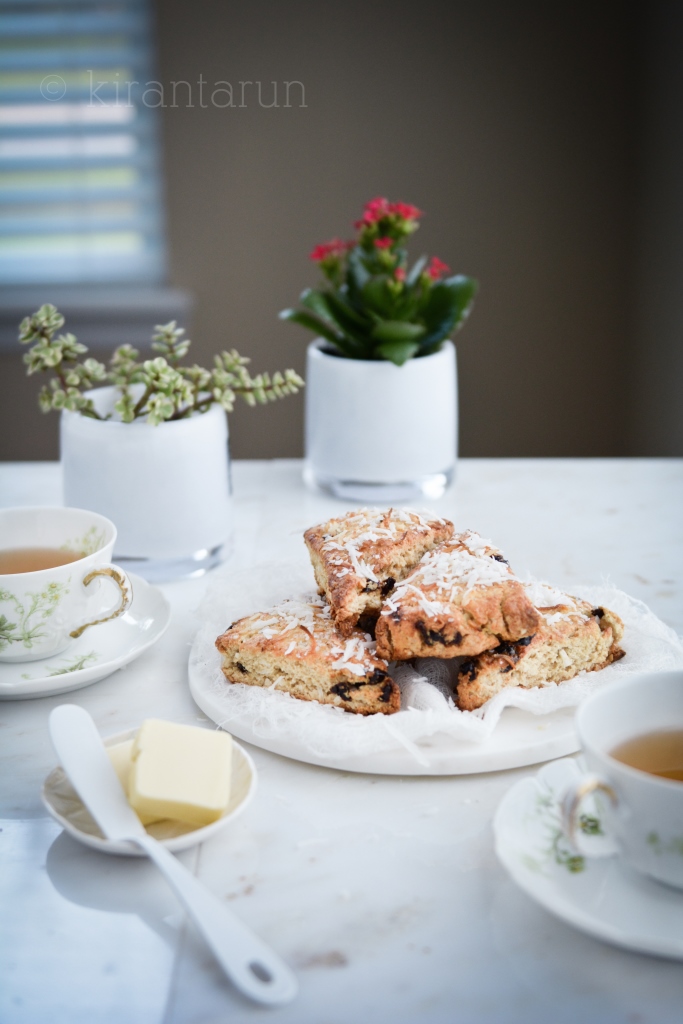 Off to have scones for breakfast. Sacrilege, I know 😀
What's your favorite time of the day?