D
onuts or Doughnuts?
Baked or Deep-fried?
Either way, it's simply irresistible! I'm talking about you, Krispy Kreme. Your "hot and fresh doughnuts" store signs are so tempting. It's almost impossible to resist every time we catch a glimpse of your iconic neon "trap".
And it's totally OK to publicly admit succumbing to those "traps" in a few occasion 😉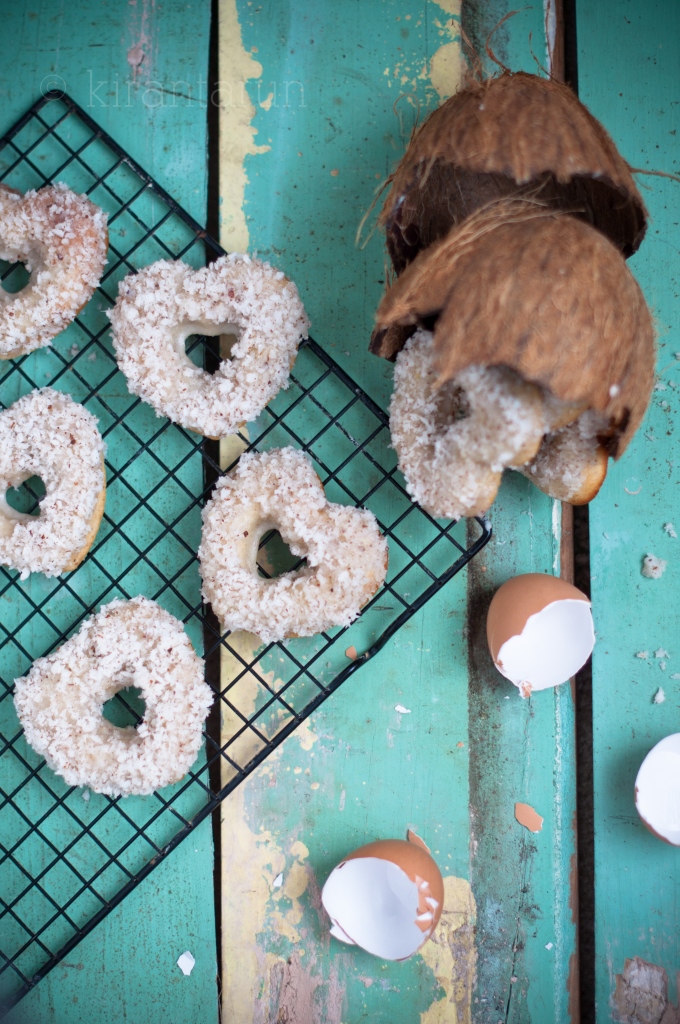 There's no problem in self-indulgence once a while. But why just stop at one store-bought doughnut when you can have more than one, in a healthier baked version?
Two to be exact. Gluttony is not good 😀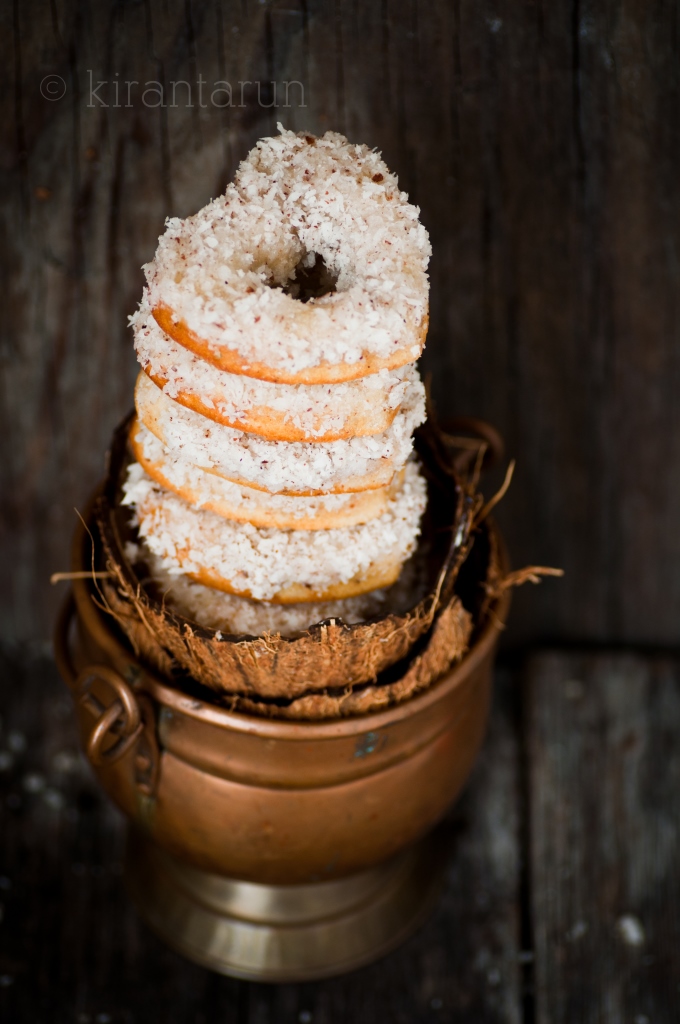 If you haven't noticed already, my love for anything and everything coconut related is getting out of control. And for this recipe, I'm requesting each and every one of you to please use freshly grated coconut.
Do not dare to even attempt using the store bought stuff. I'm sure it'll end up tasting like some saw-dust.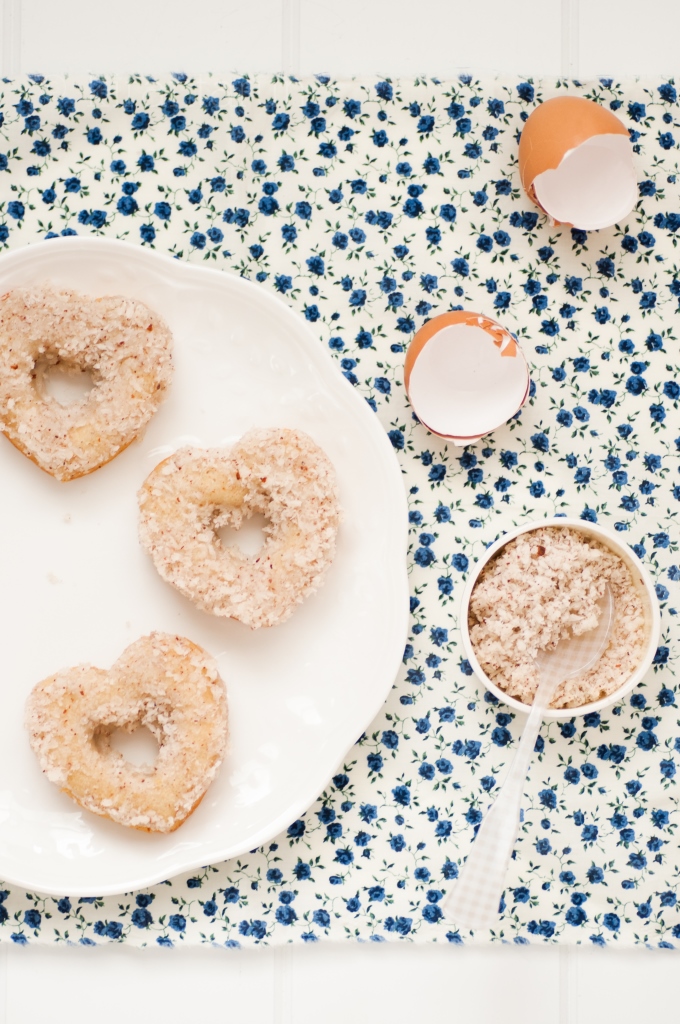 How do you get your hands on freshly grated coconut? I purchased mine from Publix and I've seen it at Whole Foods too. Get the produce guys to help crack it open for you.
Get home and safely dig out huge chunks of fresh coconut flesh. Wash, pat dry and dump it all into a food processor. Pulse until coarse crumbs.
And there you have it — freshly grated coconut for good eats!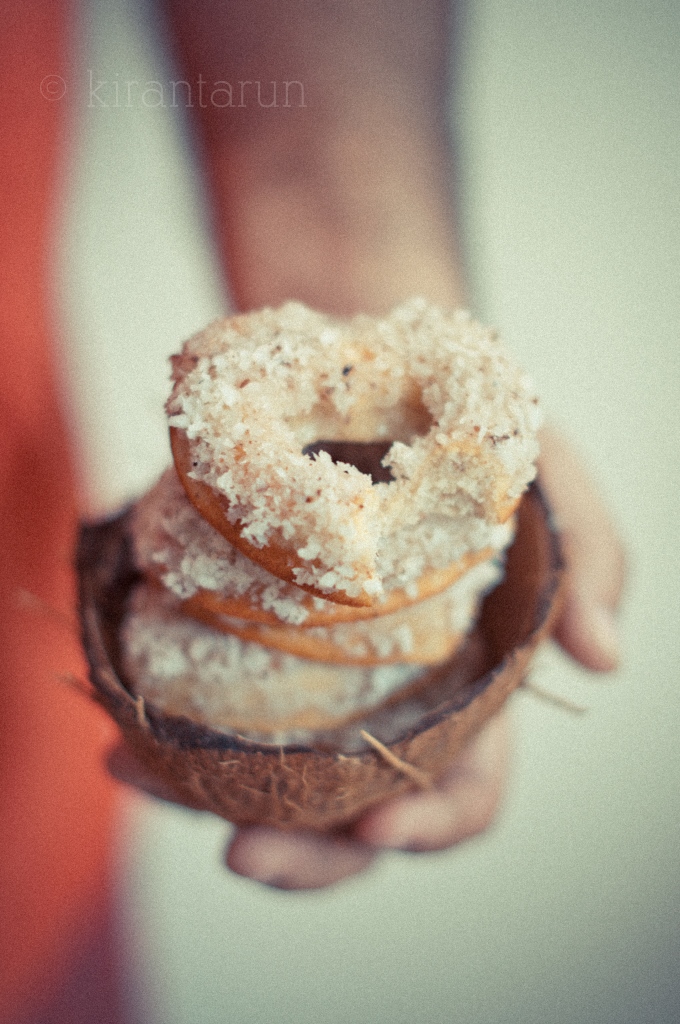 Print This Recipe
2 organic egg whites
1/4 tsp cream of tartar
Dry Ingredients:
1/2 cup almond meal
1/2 cup all purpose flour
1/4 tsp salt
1/2 tsp baking powder
Wet Ingredients:
1/2 cup thick coconut cream
1/4 cup agave nectar or local honey
1 tsp coconut rum/extract
1 small meyer lemon, zested and juiced
1/2 cup freshly grated coconut
Icing:
2 tbsp thick coconut cream
1 tsp coconut rum/extract
1/2 cup powdered sugar
Topping:
1 cup of lightly toasted grated coconut
Directions:
Preheat oven to 375F. Grease donut pan with some non-stick cooking spray.
In a stand mixer fitted with a whisk, add egg whites and beat on medium speed until foamy. Add cream of tartar, increase speed to  high and continue whisking to form stiff peaks. Set aside.
Sift all dry ingredients into a medium bowl.
In a separate bowl, whisk all wet ingredients until combined.
Pour all liquid (wet) ingredients at once into dry ingredients and gently stir just until combined. Do not over-mix.
With a spatula, scoop half of the whipped egg whites and gently fold into batter. Don't over-mix. Fold in the rest of egg whites.
Fill batter into donut pan, half full.
Bake donuts in the oven for 12 minutes.
Meanwhile, prepare icing by whisking coconut cream, rum and powdered sugar in a bowl. Set aside.
Lightly toast some freshly grated coconut in a large, clean and dry skillet on low heat for 2 minutes. Stir often and watch closely to avoid burn. Remove toasted grated coconut into a bowl to cool.
Remove donuts from oven and pan. Allow it to completely cool on a cooling rack.
Once cooled, dip each donut into icing, swirl to allow excess icing to drip and sprinkle on some toasted grated coconut. Arrange iced donuts back onto cooling rack to set the icing.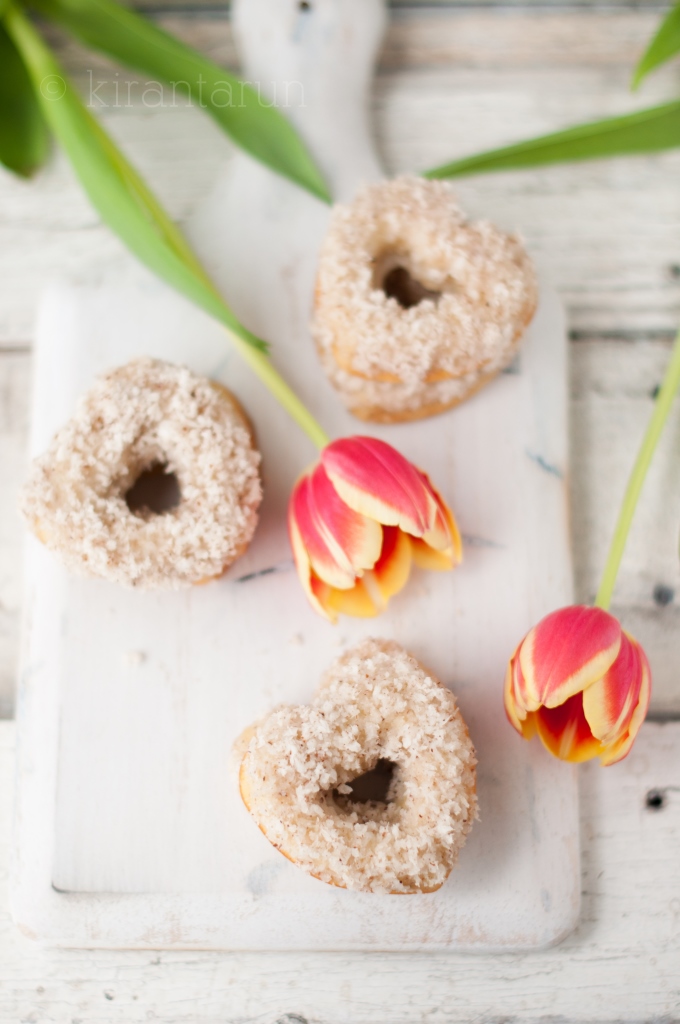 Off to devour what is left from this recipe. I'll consider myself "lucky" if I can come across more than just a few crumbs!
What would be your preference? Baked or traditional deep fried doughnuts? And can someone please educate me on the difference (if any!), between donuts and doughnuts? 😀