H
ello and Happy Tuesday!!
The Husband turned a year wiser yesterday. And I baked him a 6 inch coconut cream cake. My few baking disasters happened last weekend, but I won't dwell too much into it. This is after all, a post about the Husband and his birthday celebration.
He'd be the center of today's blog post. Not the failed baking macaron attempts last weekend.
Two, to be precise.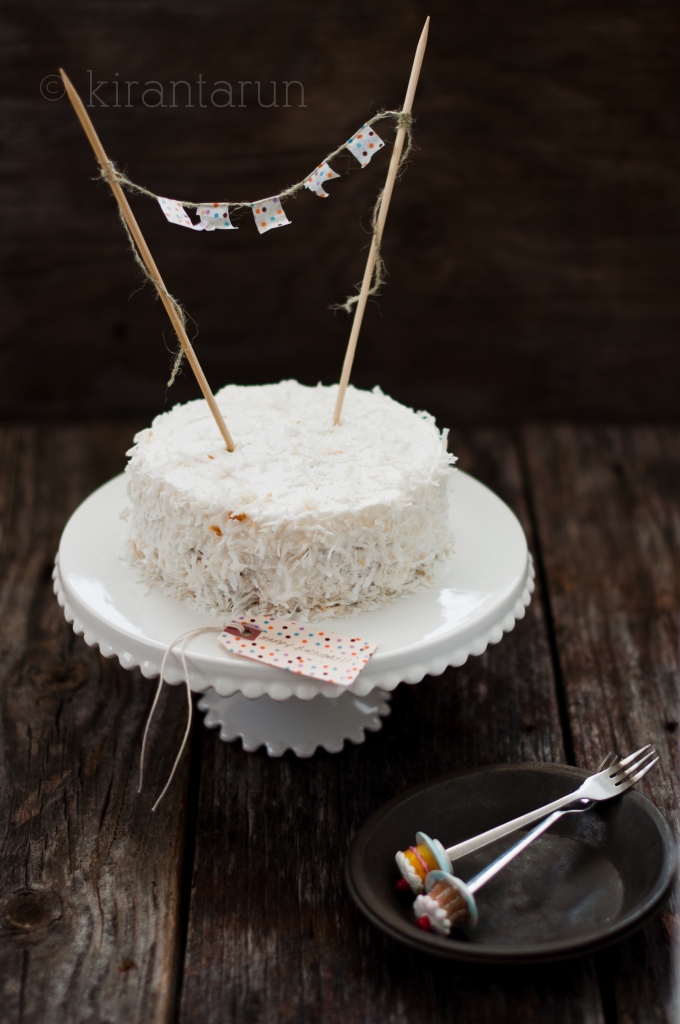 My husband and I don't like store-bought cakes. The frosting is usually thick and super sweet! And a whole cake for the two of us wasn't enough to justify a purchase.
Though after the failed at baking attempts, I silently wished my horrid baking skills would have nudged us more into store-bought birthday cakes. Seriously, I'm a failure in the baking department.
But I'm known to always try again and again.
And again.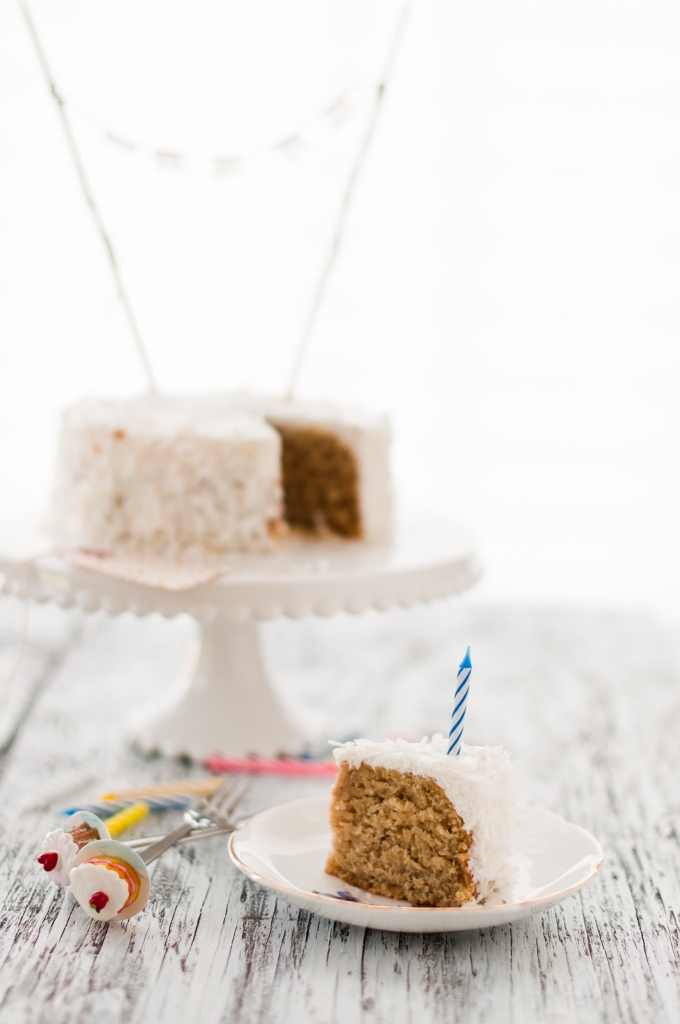 Looks like I wheeled off the topic — back to the Husband.
It took every ounce of me to NOT overdecorate this cake. I was envisioning a couple of spring flowers, but that would totally freak the Husband out.
I would've gotten "the stare", if you know what I mean 😉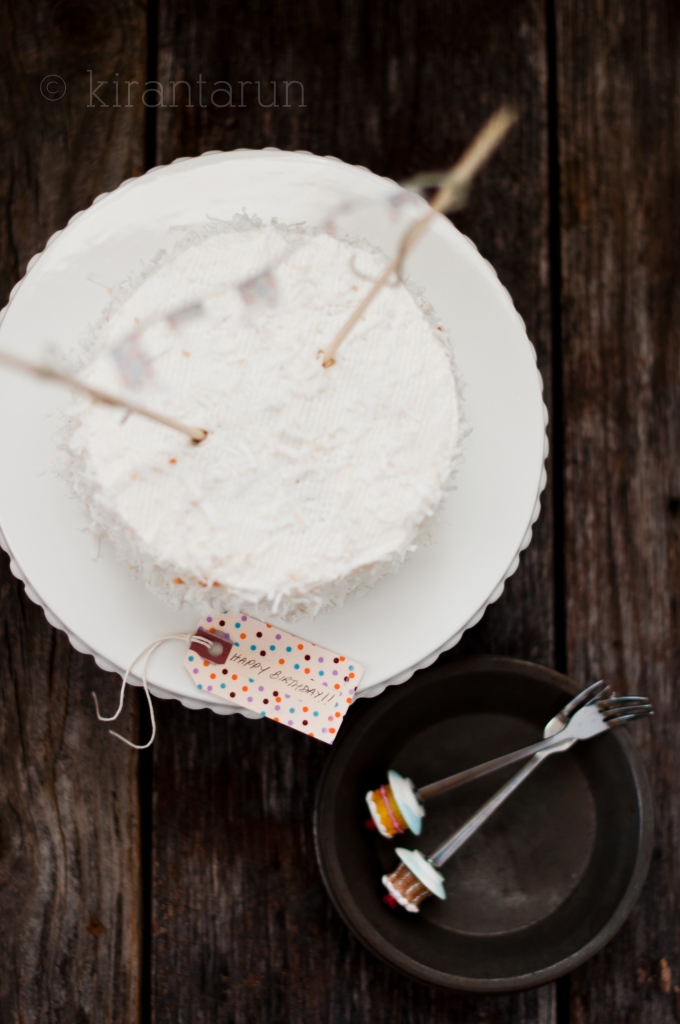 So I kept it simple, light and easy. We both love coconut and without a doubt, coconut flakes cannot bruise any male ego in the cake decorating department. That's a guarantee.
I got my satisfaction of decorating the cake and the Husband had his by eating.
A win-win situation.

Print This Recipe
Ingredients:
Cake
1+1/3 cup of whole wheat pastry flour
1/2 tsp baking powder
1/8 tsp salt
1 cup thick full fat coconut cream
1/3 cup sugar
2 eggs
2 tbsp coconut rum
Meringue frosting
1 large egg white
1/4 tsp cream of tartar
1 oz agave nectar or honey
1/2 tsp coconut rum
Garnish : Lightly toasted coconut flakes
Directions:
Place oven rack in the middle of oven. Preheat oven to 350F.

Butter and flour the cake pan. I used coconut oil here, instead of butter. Set the pan aside.
In a stand mixer fitted with a beater, add thick coconut cream and sugar. Beat on medium until fluffy, for a minute.
Add eggs on at a time. Beat to combine.
Drizzle in coconut rum and stir just until incorporated.
Sift all the dry ingredients in a bowl. Add the dry ingredients into wet ingredients. Remove the stand mixer bowl and using a spatula, make a few folds to combine all ingredients. Try not to overmix. Just enough until combined.
Spread batter evenly into prepared 6 inch cake pan. Bake for 30 to 35 minutes or until tooth pick inserted, comes out clean.
Remove cake pan to cool on counter for 15 minutes. Invert cake on a cooling rack to completely cool.
To prepare frosting, add egg white into stand mixer fitter with a whisk.
Gently whisk egg white on medium low for 1 minute or until frothy. Increase speed to medium and whip for 1 minute or until soft peaks.
Add cream of tartar and continue to whip on medium. Meantime, heat agave nectar or honey in the microwave for 45 seconds. Make sure agave nectar doesn't bubble over!
Increase the mixer speed to medium-high, and slowly drizzle in very hot agave nectar. Continue to whip for a minute.
Drizzle in coconut rum and increase the speed to high and continue to whip for 2 minutes until thick and glossy.
Frost cooled cake with prepared meringue. Gently scatter toasted coconut flakes on the sides and top.
Gobble it up immediately.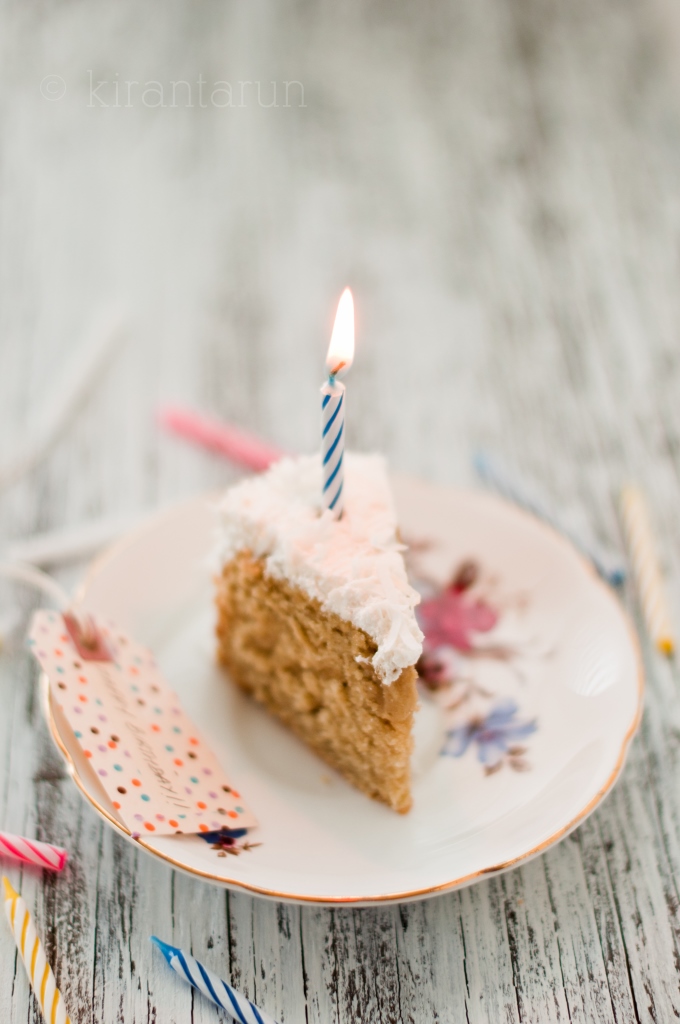 Happy Birthday to the love of my life! Wishing you more happiness, great health and prosperous years ahead — including renewed attempts on my behalf to better my baking skills 😉
Yours truly,
A foodie who is still learning how to pipe macarons. Yikes!
Any baking wreckers out there? Don't tell me I'm all alone in this department.