I
t's the month of chocolate. The month to celebrate love. And it's so appropriate to make churros, dipped in a bowl filled with velvety chocolate sauce.
Oh, churros.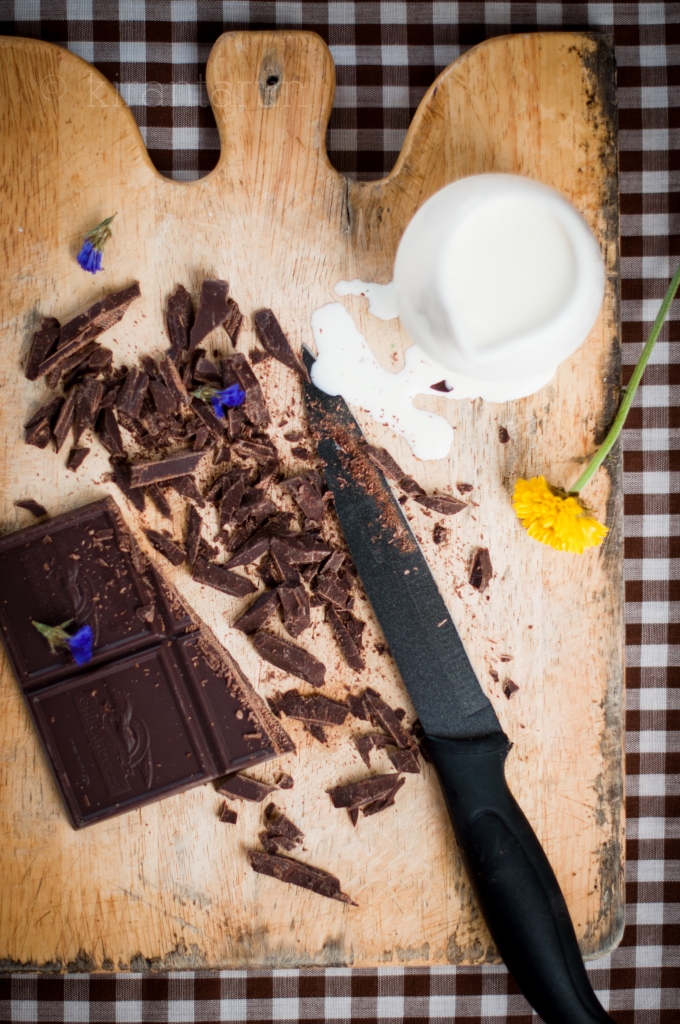 If you are not head over heels over churros, well, that's just weird. Because, what's not to love about the crunchy exterior and soft centers of a crisped fried churros, which by the way, tastes out of this world.
Coupled with decadent dark chocolate sauce, do I need to convince you anymore to try churros?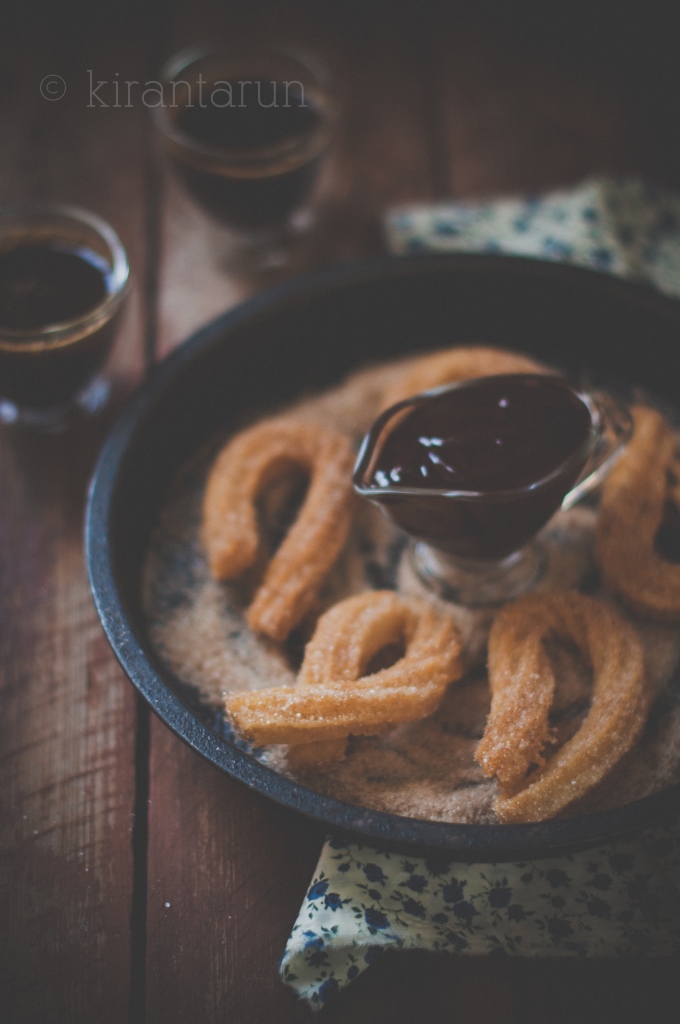 Whenever we travelled, scouting for foods has to be one of our favorite way of enjoying a new city. Especially for churros, since it's not available on every menu in every restaurants.
Phone apps like Yelp almost always comes to the rescue. But reviews like this definitely makes you wonder the risk of tasting churros at unfamiliar territories:
Churros so good, they're worth risking your life for….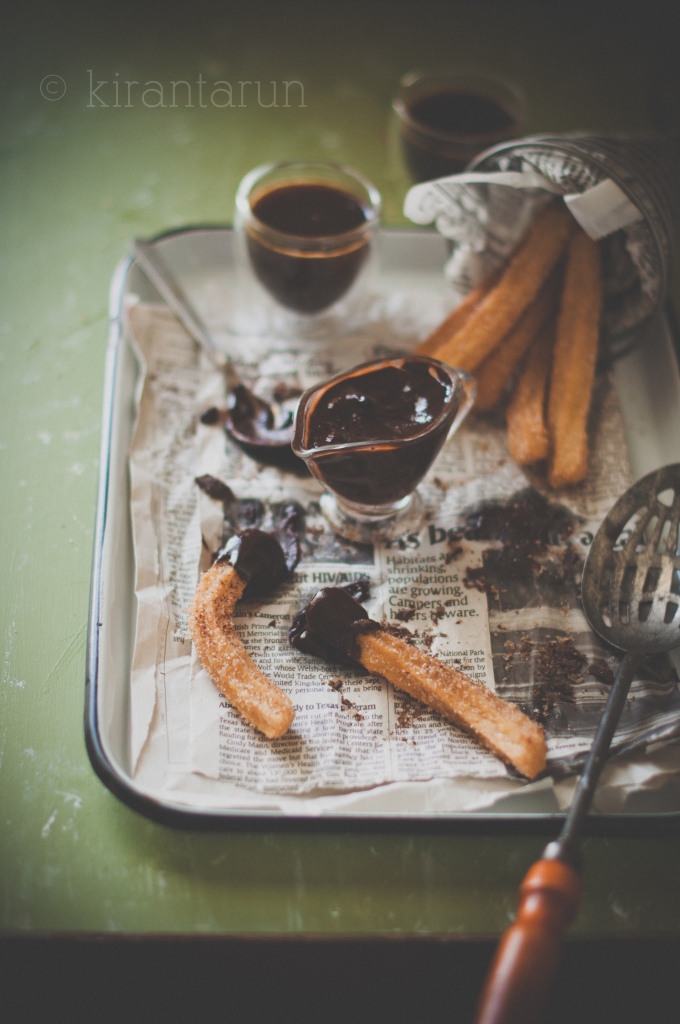 Whether you are a risk-taker or lucky enough to have one of your best friend willing enough to share her recipe for churros — either way, have fun eating out or making it yourself 🙂
Just don't risk your life while doing it.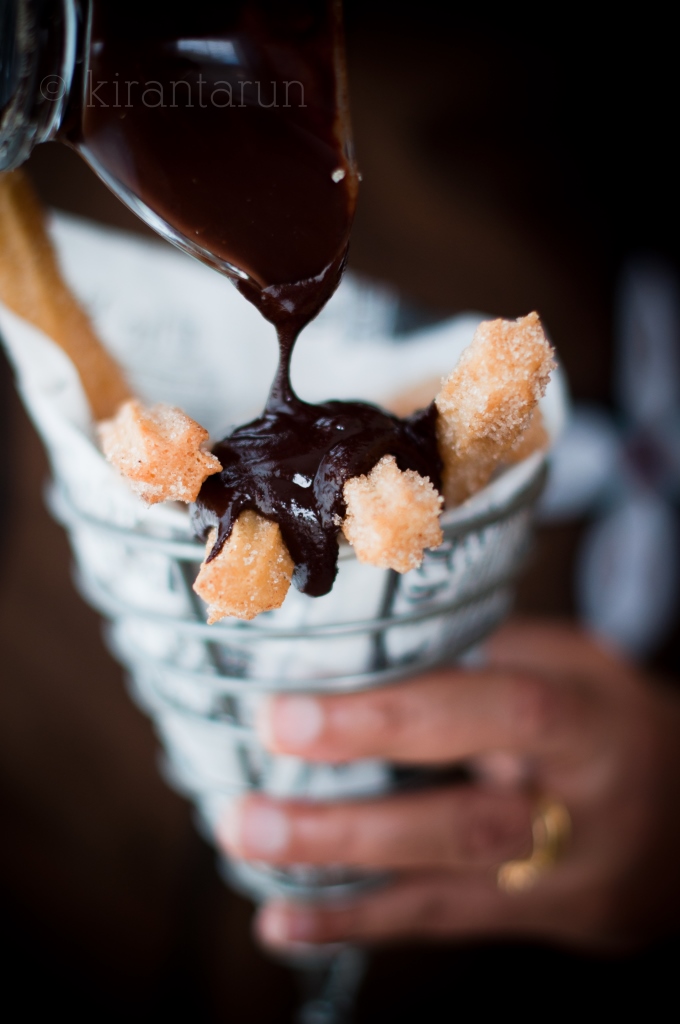 Print This Recipe
Recipe inspired from Andrea (BFF).
Ingredients:
Vegetable oil for deep frying
Churros Batter
1 cup all-purpose flour
2 tbsp unsalted butter
2 tbsp sugar
1 tsp salt
1 cup water
1 egg, room temperature
1 tsp vanilla extract
Cinnamon Sugar
1/2 cup sugar
1 tsp cinnamon powder
1/4 tsp cardamom powder
Chocolate Sauce
4 oz bitter sweet chocolate
1 tbsp butter
2 tbsp cream
Directions:
Heat a deep non-stick saucepan on medium. Once pan is hot, add 2 tbsp butter, sugar, salt and water. Wait for it all to melt and simmer.
In a small bowl, lightly whisk egg and vanilla extract until combined.
Heat a large deep saucepan on medium-high. Add vegetable oil to heat for deep frying.
Once butter melts and simmers, stir in flour. With a wooden spoon, stir vigorously. Remove pan from heat. Continue stirring to cook off the raw taste of flour.
While stirring vigorously, add egg and vanilla extract liquid. Continue to stir until dough is soft and thoroughly mixed.
Using a pastry bag and a large fitted tip, add lightly cooled soft churros dough.
Once oil is hot enough for deep-frying, begin pipping out the soft churros dough into oil. Snip dough to desired length with a scissor.
Fry churros until lightly browned on all sides. Drain hot churros over paper towels.
Onto a flat plate, stir ingredients for cinnamon sugar until thoroughly combined.
Roll drained and hot churros over cinnamon sugar. Keep aside and fry up the rest of churros.
To make chocolate sauce: combine all ingredients in a microwavable bowl. Heat on high for 30 seconds or more, until chocolate begins to melt. Stir to combine and serve.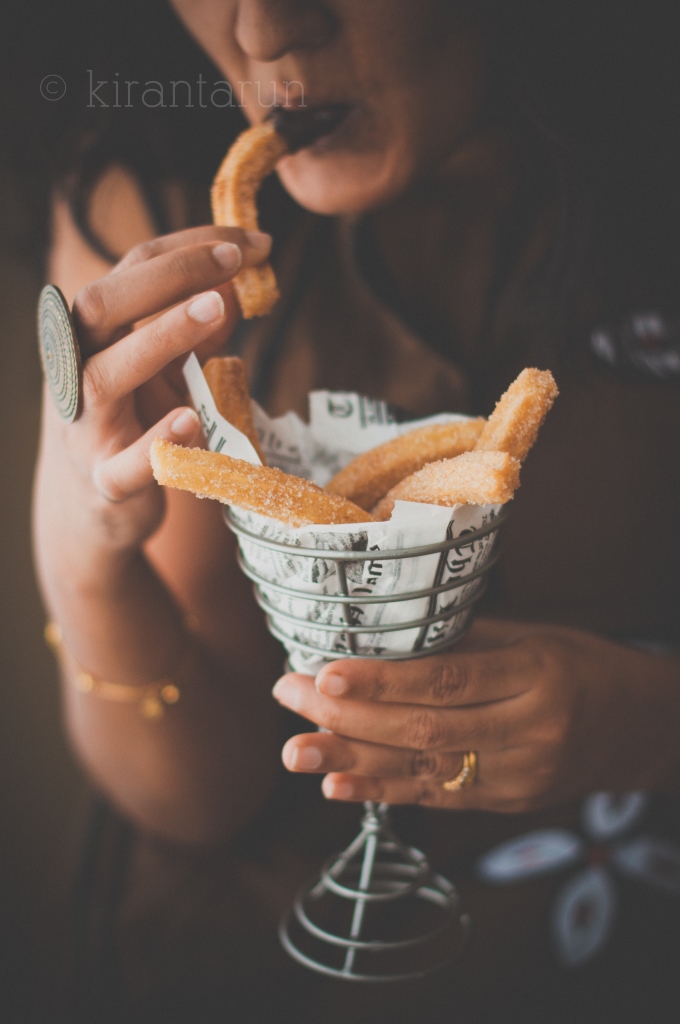 Happy Valentines Day, my friends. Don't forget to add churros on your to-make list. Just because its so easy to make and hey, there's chocolate.
No more convincing. I've done my part.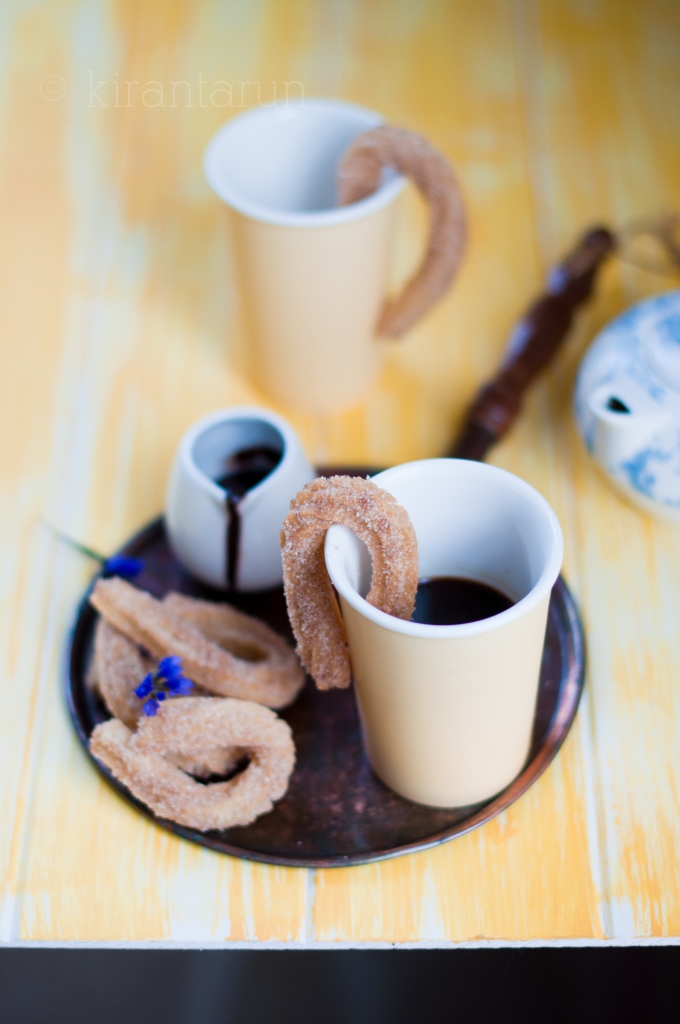 Do you love churros? Or chocolate? Or both?