I
'm not going to lie. This salad was made and devoured last winter. And it has been sitting all this while in the back-burner of an unorganized recipe folder on my computer.
So, I'm totally taking the blame for it. To be precise, I'm blaming my organizational skills.
And the fact that we devoured this cold salad in winter, boggles my mind until this day.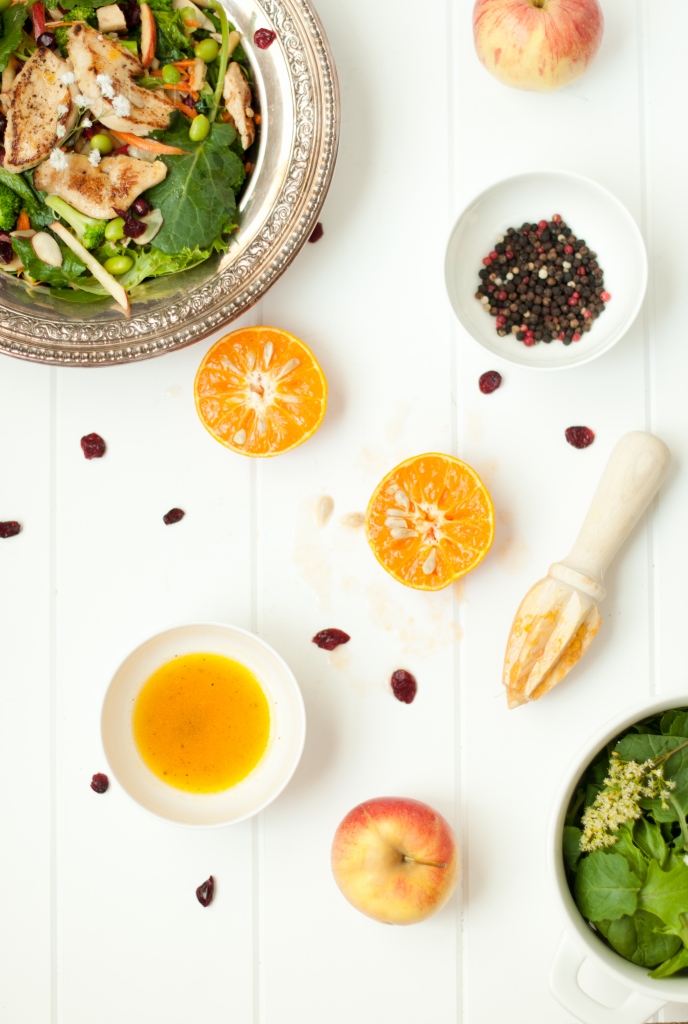 The salad was inspired by a salad I had while visiting LA a few months ago. The Husband brought me lunch one day from this fantastic salad bar, that serves the freshest chopped salad with all the fixins imaginable.
And unfortunately, we can't rake our brain enough to remember the name of that place. Of course, the food can never be forgotten. There were layers or flavors, textures and ingredients. I could literally eat this salad everyday and I was itching to recreate this bounty at home — and took so much time to post about it.
Duh.
Better late than never, right? Just trying to console myself here. While I do that, can you please eat your weight in this salad?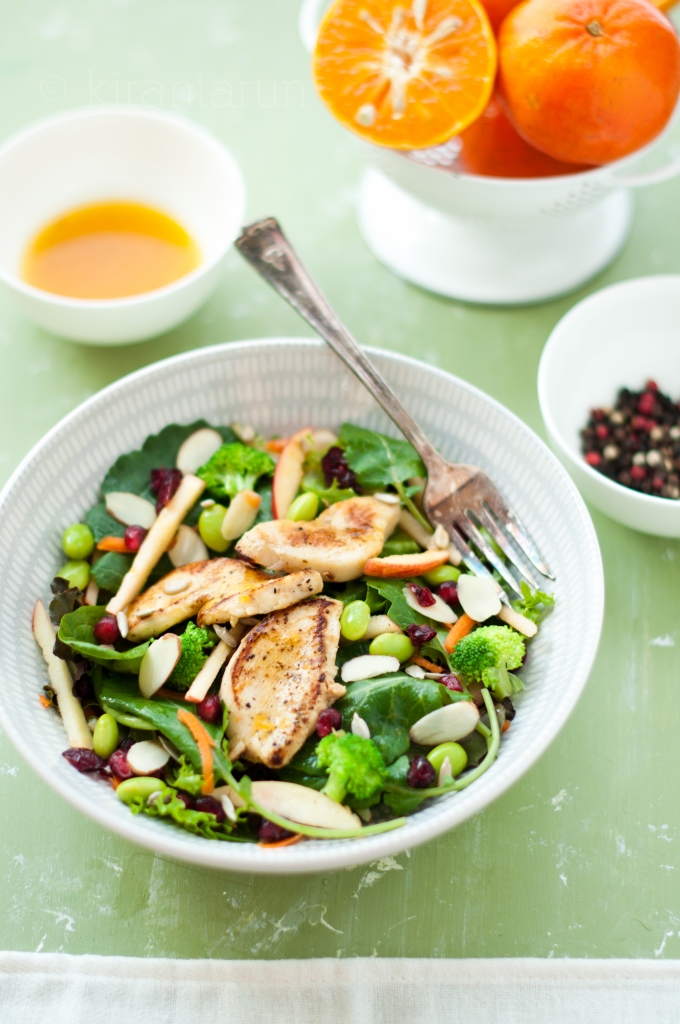 Obviously it's almost impossible to hunt down honey crisp apples or clementines this time of the year. I'd recommend going for any sweet apples, cara cara oranges, grapefruit and hunker down those pomegranate arils that is sold in the fruit aisle.
While you are "at it", swallow the pride and look for pre-sliced veggies and grilled chicken breasts because let me tell you something — let's not waste anymore precious time making this salad. You would need all the help you can get from your grocer.
Do I really need to stress on the urgency here, people?
Make it. Pronto.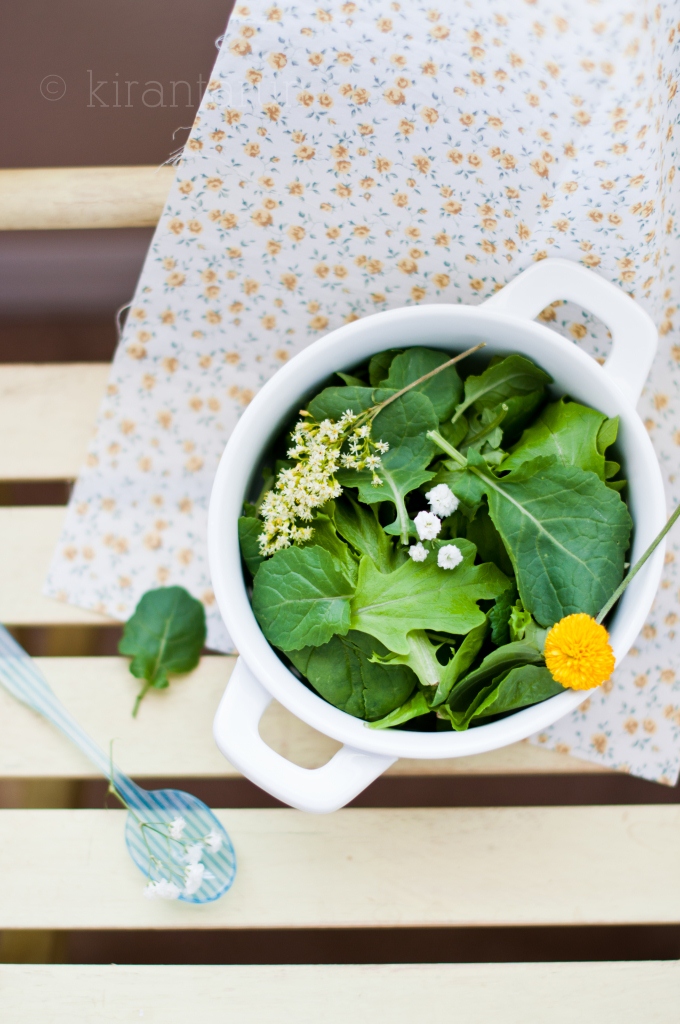 Print This Recipe
Ingredients:
3 oz baby romaine mix
3 oz baby kale leaves
2 carrots, sliced
3 honey crisp apples, sliced
1 small head of broccoli, sliced and steamed
2 grilled chicken breasts or rottiserie chicken, sliced
1 cup fresh edamame, shelled
4 oz fresh pomegranate arils
2 oz dried cranberries
1/2 cup toasted raw, unsalted sliced almonds
1/2 cup toasted raw, unsalted sunflower seeds
Dressing:
1 tsp clementine zest
2 small clementines, juiced
2 tsp mustard
1/2 tsp salt
1/2 tsp black pepper
1/4 cup walnut or extra virgin olive oil
Directions:
Dump all ingredients in a huge salad bowl. Toss everything.

Prepare dressing by adding all ingredients in a mason jar, twist the cap on and shake it until the dressing emulsifies.
Drizzle dressing over salad. Toss and serve immediately.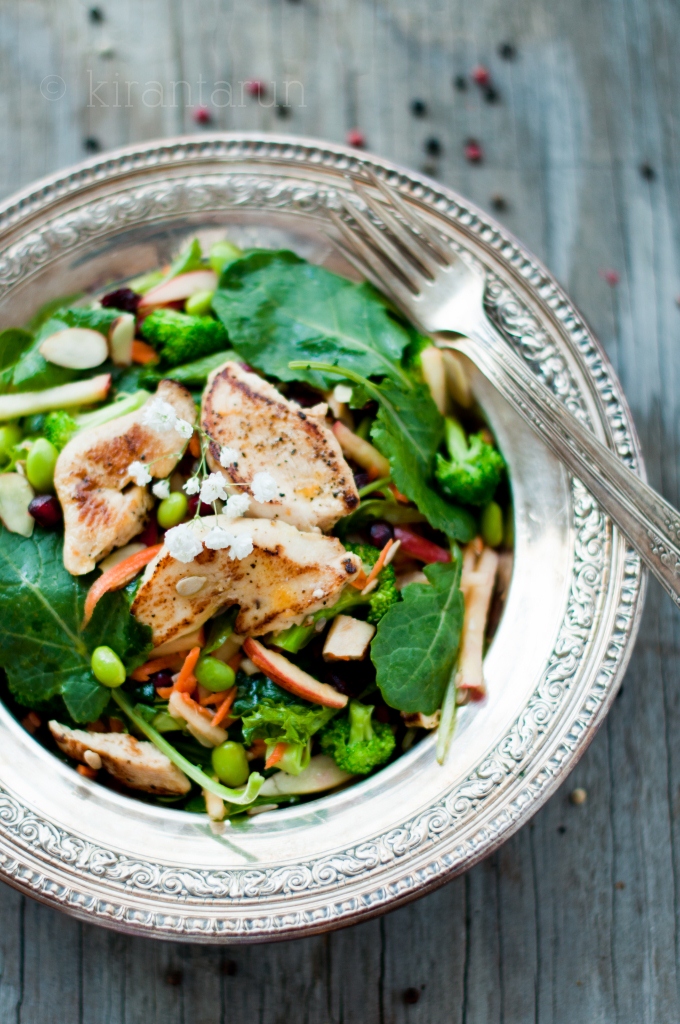 Love it when a recipe calls for "dumping, drizzling and tossing" all in 3 simple steps! Can't get any easier than that. Have a great week my friends 🙂
What is your favorite "off season" produce that you are missing right now?