Makes 6 large meringues
Ingredients:
3 egg whites (about 4 oz in total weight), at room temperature
3/4 cup superfine sugar
1/4 tsp cream of tartar
1/2 tsp vanilla extract
2 oz dark chocolate, melted and cooled
Toppings:
some whipped cream
fresh raspberries
Directions:
Preheat oven to 300F. Line 2 large baking sheets with parchment. Set aside.
In a stand mixer bowl fitted with a balloon whisk, add egg whites and cream of tartar. On medium speed, beat egg whites until foamy.
Switch the speed up to high and add superfine sugar, 1 tablespoon at a time. Beat until sugars completely dissolve and meringue is stiff and glossy. Feel meringue between your fingers to make sure there's no traces of sugar.
Drizzle in vanilla extract and beat only until incorporated.
Remove stand mixer bowl. With a chopstick or spoon, swirl in some melted dark chocolate and reserve the rest to drizzle later. Do not over-swirl the chocolate. You'd want to see some streaks of the white meringue all throughout.
Spoon meringue on parchment. Smooth the sides, make cloudy swirls and with the back of spoon, create a small "well" in the center for toppings. If you want to create "heart" meringues, used an extra-large heart-shaped cookie cutter as a guide.
Lower the oven temperature to 200F and bake meringues for 1 hour. After 1 hour, switch the oven off and leave the meringues to dry for an additional 30 minutes.
Remove meringues from oven to completely cool on baking sheet.
Drizzle cooled meringues with the remainder melted chocolate. Serve meringues topped with whipped cream and fresh raspberries.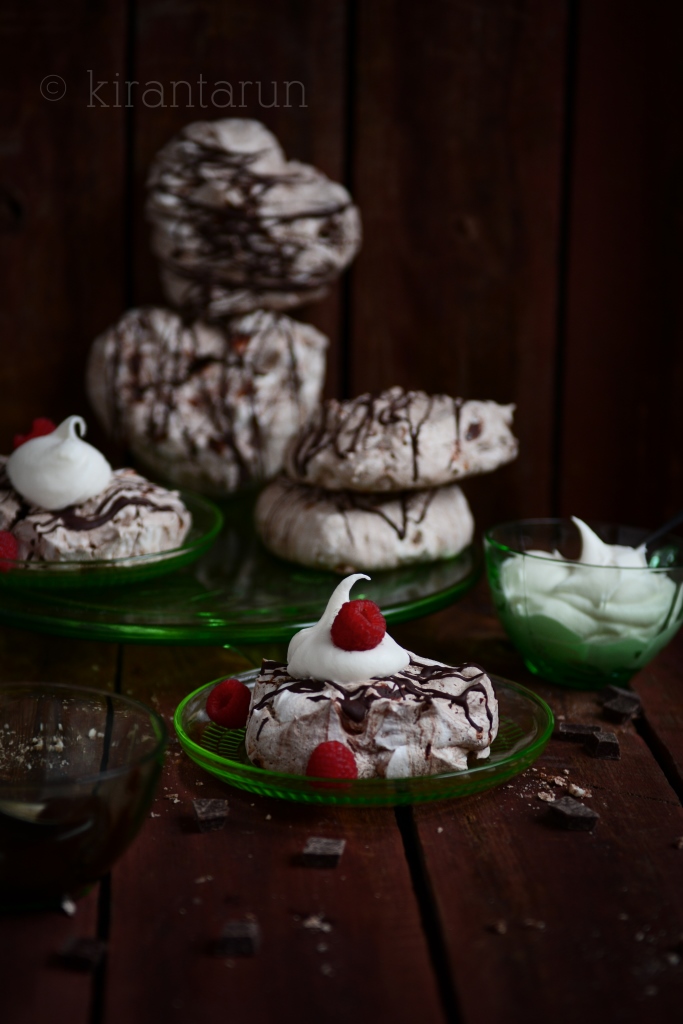 Off to lick chocolate off the bowl and spoon. No shame here, my friends 🙂 Have a delicious and Happy Valentines Day!
What's your menu for Valentine's Day?