I
'm a chocoholic. That's right, it's a confession that I'm willing to scream at the top of my lung to profess my undying love for chocolate.
More specifically, I could eat my weight into chocolate molten lava cakes. My hip and thighs wouldn't be happy about it, but my raging sweet tooth would party.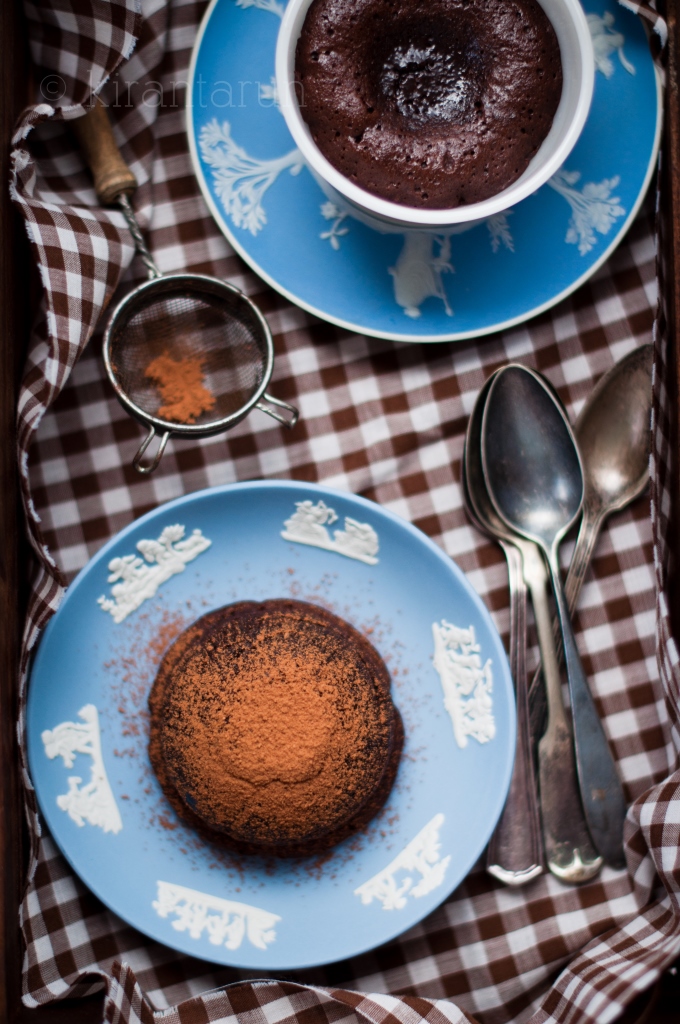 And when it comes to satisfying a raging sweet tooth, everything else shouldn't matter. Hips and thighs can wait. Easy chocolate molten lava cakes that takes only minutes to bake, is enough reason to go and make it — pronto.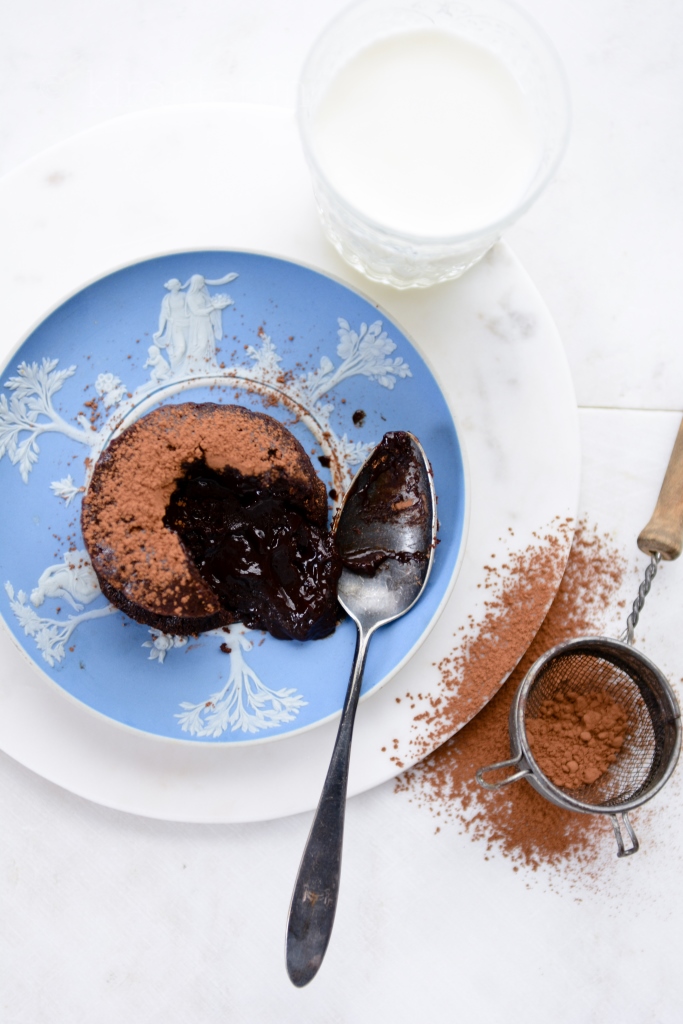 And while you anxiously await for the molten cakes to bake, don't be shy to lick off any reminisce of chocolaty batter. Nothing should go to waste, not even raw chocolate batter.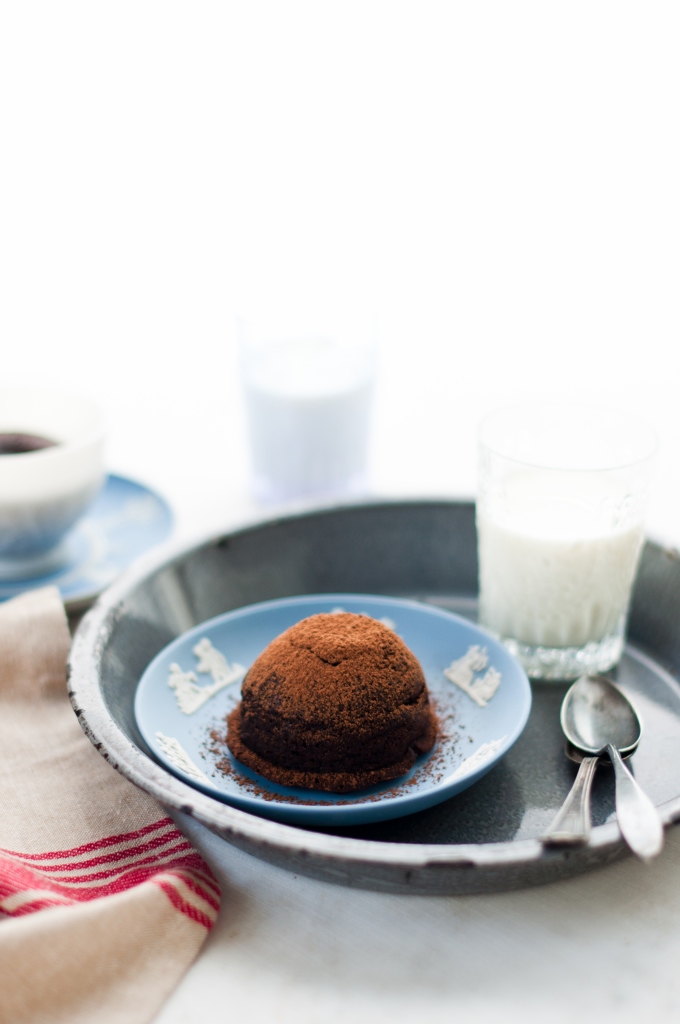 Print This Recipe
Makes 2 large or 4 small servings
Ingredients:
1/2 cup bitter-sweet chocolate chips
2 tbsp butter
2 eggs
2 tbsp sugar
1/4 tsp vanilla extract
pinch of salt
2 tsp all purpose flour
optional: cocoa powder and cold glass of milk
Directions:
Preheat oven to 375F. Lightly grease ramekins and set aside.
Melt butter and stir in chocolate chips until smooth. Set aside to cool. You can opt to double-boil or microwave. Do not over-heat.
Meantime, whisk eggs and sugar until frothy. Stir in vanilla extract.
Combine eggs into melted chocolate and stir until smooth. Sift in salt and flour. Stir only until combined. Do not over-mix.
Equally divide batter into greased ramekins and bake between 6 to 8 minutes. The longer you bake, the less molten.
Allow lava cakes to cool in the ramekins for 5 minutes before inverting onto a plate. Sift cocoa powder and dig in immediately with a glass of cold milk in tow!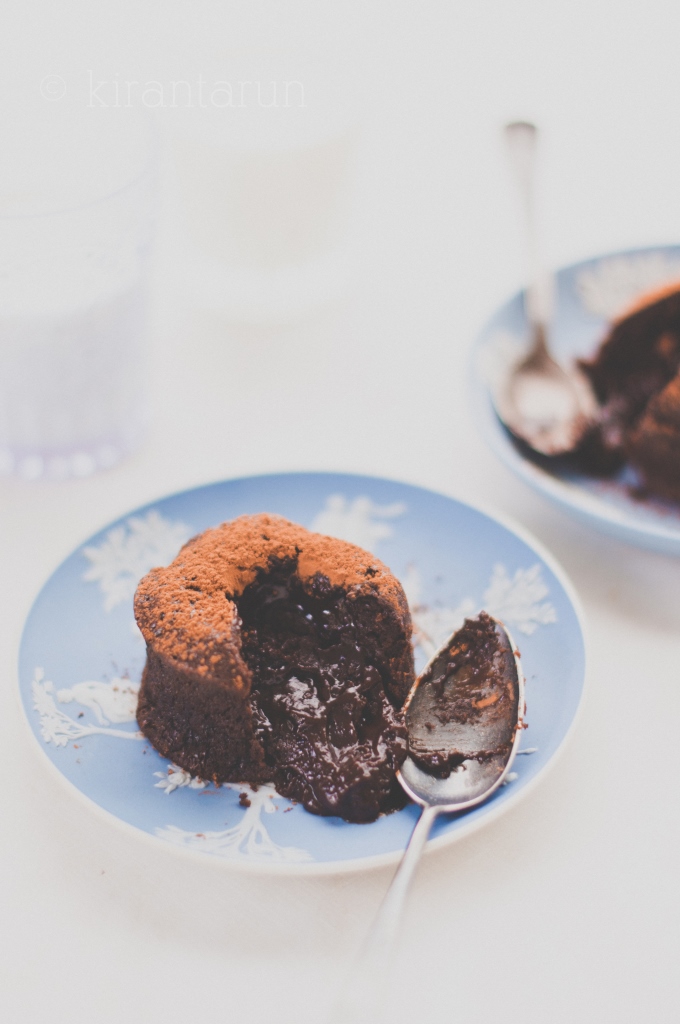 Off to thank my lucky stars that I'm in love with chocolate. If you aren't, I suggest you work on it. Or risk being "unfriend" on Facebook. I'm always looking for excuses to unfriend. Not loving chocolate is the perfect example just to do that.
Are you a chocolate fiend? How much?