T
hemed birthday parties sounds fun. But growing up with cousins, all of us living under one roof — celebrating themed birthday parties seemed like a far-fetched and a very expensive idea.
Instead, we celebrated based on our interpretation of a themed birthday party. With mediocrity and a ton of fun. While the mom's slave over kitchen stove and oven, others were responsible for games, gifts, invitations etc.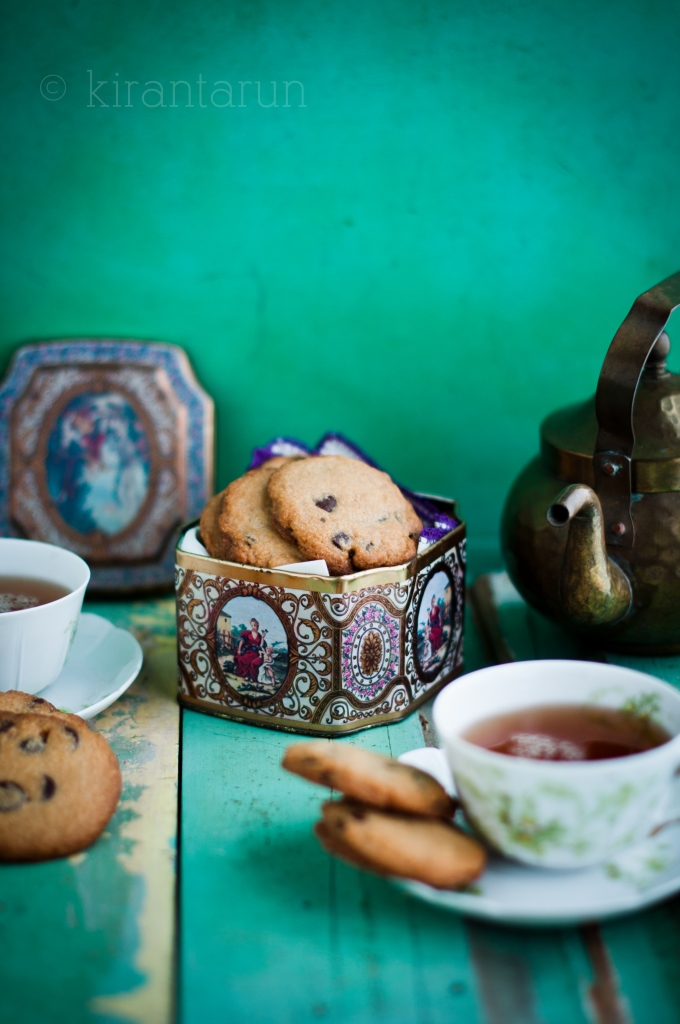 Almost everything were homemade and the invitations stayed close to home. Strictly for family members only. There's no way we could've afforded throwing birthday parties for 12 family members, all year round without breaking the bank.
Themed parties or otherwise, we were never deprived of birthday celebrations 🙂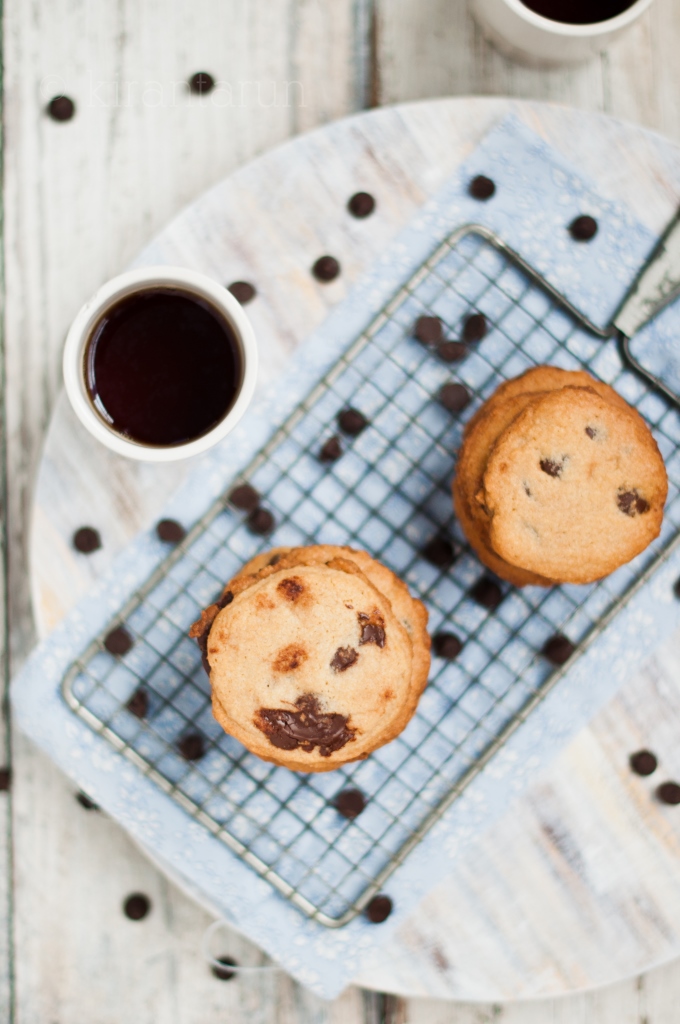 Cookie monster birthday party!! That's one themed birthday party I'd love to have — provided I'm magically turned into a toddler just to have a theme birthday party fun for a day.
All this day dreaming is due to lack of caffeine. Time to get some tea.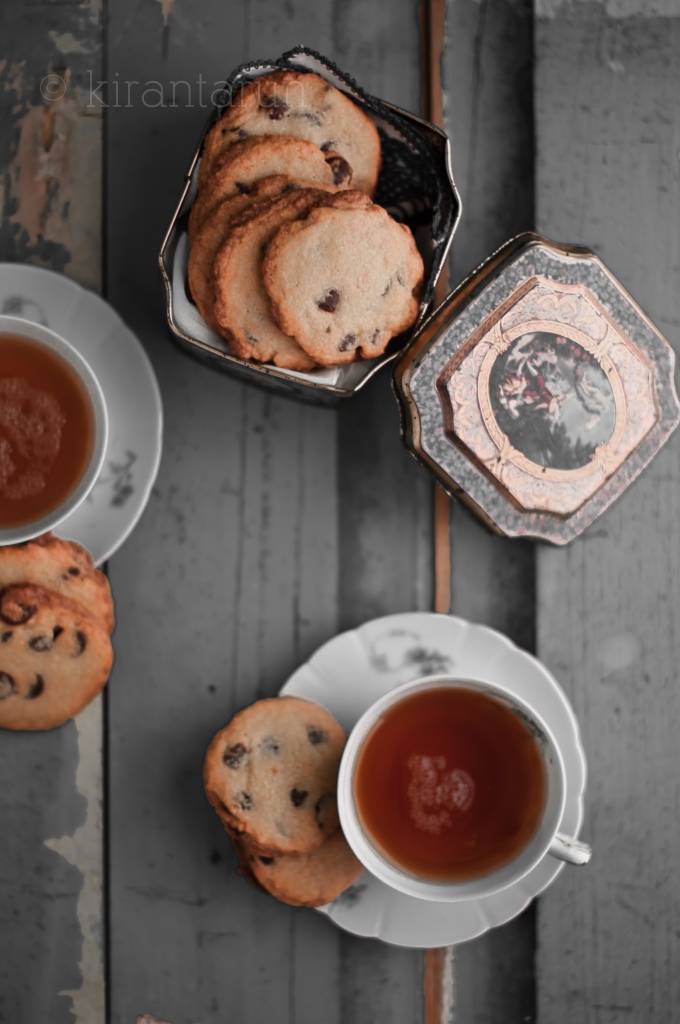 Print This Recipe
Makes about 29 cookies
Ingredients:
1/2 cup butter + 2 tbsp, softened
1/2 cup sugar
1/3 cup light brown sugar
1 large egg
2 tsp vanilla extract
1/2 cup whole wheat pastry flour
1 cup all-purpose flour
1/2 tsp salt
1/2 tsp baking powder
1/4 tsp baking soda
1 cup dark chocolate chips
Directions:
Preheat oven to 350F.
In a stand mixer fitted with paddle, add softened butter, sugar and light brown sugar. Cream on medium speed, until fluffy for 3 minutes.
Add one egg and vanilla extract. On a low speed, stir just to combine.
Sift all the dry ingredients (whole wheat, all purpose flour, salt, baking soda, baking powder) in a large bowl. Add it all into the stand mixer.
Cream cookie dough on medium speed until combined. Sprinkle in dark chocolate chips. Stir to combine on low speed.
Scoop cookie dough with a small ice cream scoop onto baking sheets, leaving enough room between scoops. Using the back of a measuring cup, gently press down onto scooped cooked dough to form a disk.**
Bake between 10 to 12 minutes. Remove cookies from oven and allow to cool on baking sheet for 5 minutes, before cooling it off completely on cooling racks.
Enjoy cookies with a side of hot tea or coffee. Milk too, if you insist 😉
**Note: if you love a thin and crisp cookie, use this method. if you love a thick and chewy cookie, do not flatten the cookie dough. it will spread a little and chewy to taste 🙂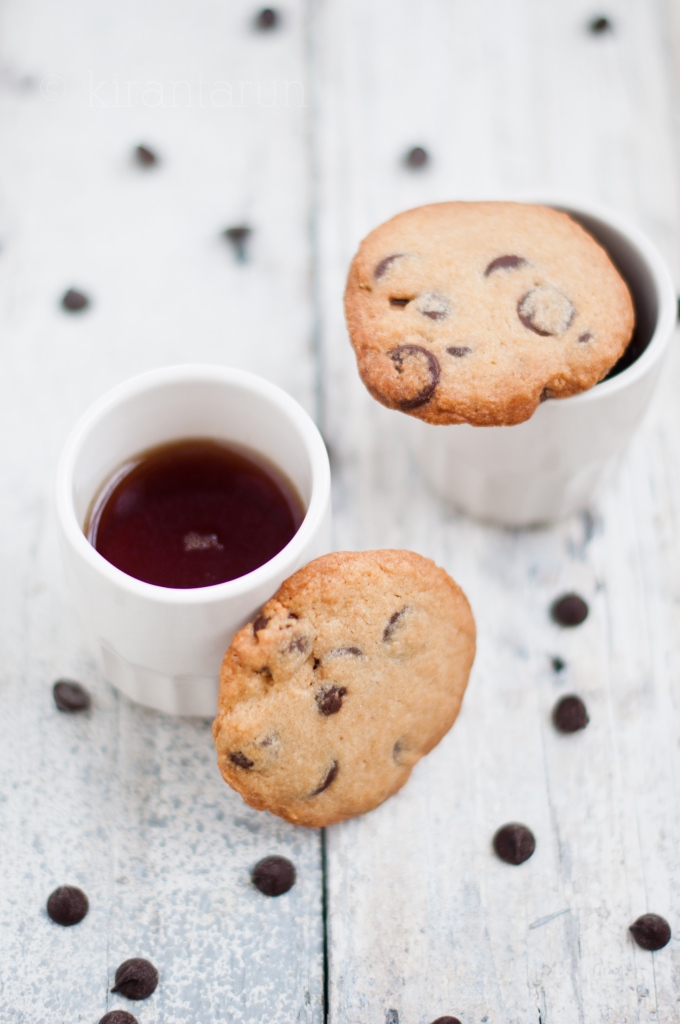 Cookies and milk is like a match made in food haven. As much as I love dunking cookies into cold milk, it's tastier in my afternoon tea. Warm tea to be precise.
What's your favorite way of enjoying cookies? Milk, tea or coffee? Any fantasy "themed" birthday party you have in mind?