T
here are times I'm unsure where and how I get the ideas for recipe testing. But the uncertainty is definitely not a deterrent when I decided that this recipe is going to top my list of all time favorite, for three very important reasons:
1- It turned out so good at first try!! I'm already giddy with excitement!!!
2- I FREAKING LOVE BAKING WITH AVOCADOS!!!
3- I have more faith on my baking skills!!! (hopefully, I don't jinx it all)
With the amount of exclamation points, need I say more? 😉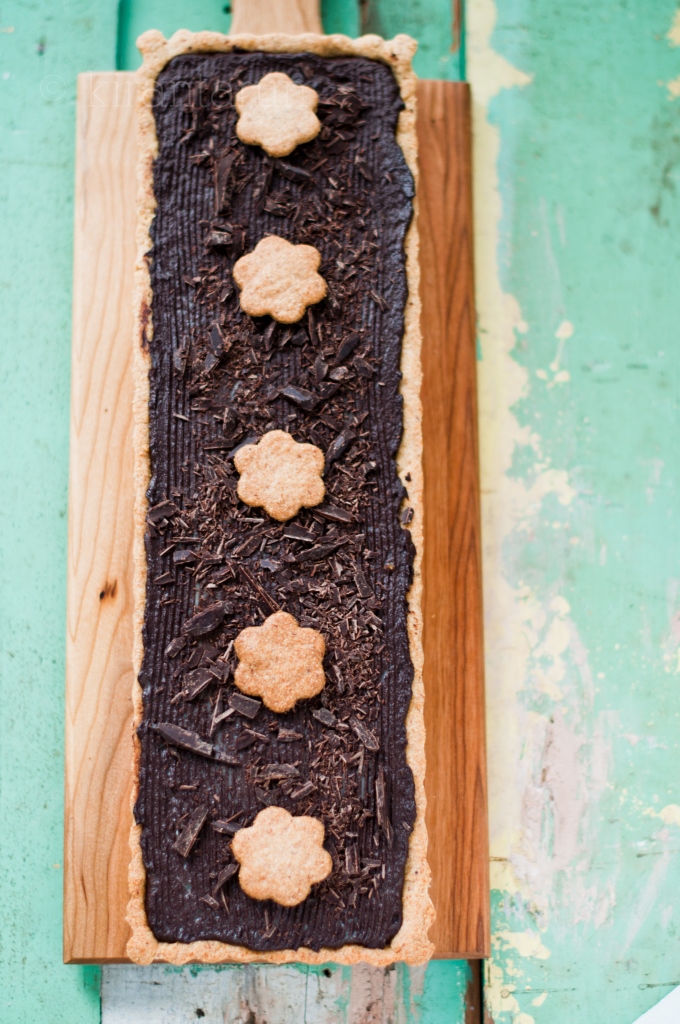 Not to forget the luscious, creaminess and velvety texture that avocado adds — which by the way is so healthy — to create a mousse like filling. Heck, I could just spoon it on everything!
Oh my.
You can't put a price on that, can you? 😀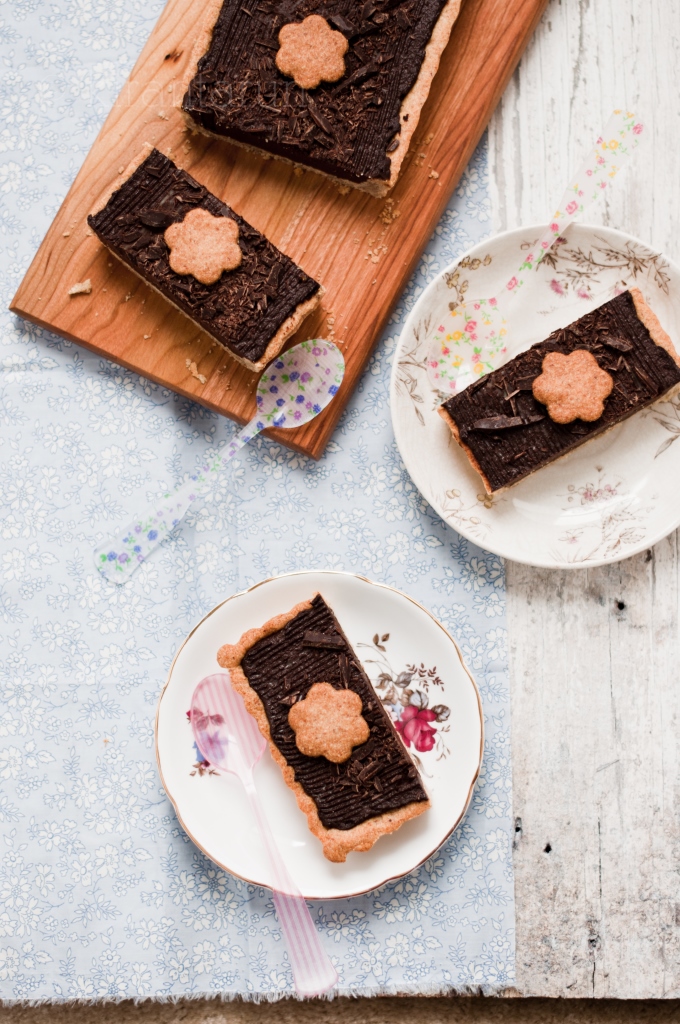 I used a cookie cutter to make those pretty cookie florets, using the very little leftover dough from rolling out the tart shell. A very last minute idea, but might worth a pat or two on the shoulder.
Well, that was not included in the initial recipe testing plan, so I'm cool with how everything turned out. Eventually.
I suggest getting your hands dirty in the kitchen this weekend. Cook or bake something special for your loved ones. Whether it's a family recipe or a creative thought — put it to work and have fun doing it 🙂
And while you are at it, spoon in an avocado or two.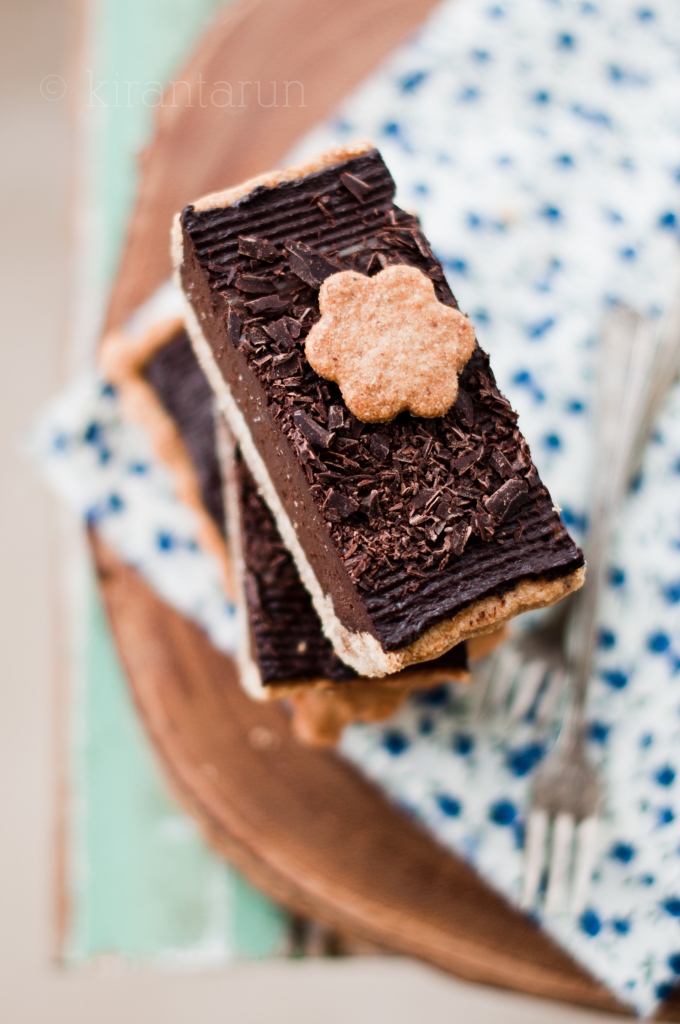 Print This Recipe
Ingredients:
For crust:
1 cup whole wheat pastry flour
1/2 cup almond meal
1/2 tsp salt
2 tbsp sugar
6 tbsp cold butter, diced
1/4 cup (+ 2 tbsp) icy cold water
Chocolate avocado mousse filling:
5 oz bittersweet chocolate
5 oz semisweet chocolate
2 small and very ripe avocados
1 meyer lemon, zested and juiced
2 tsp fresh espresso, cooled
2 tsp vanilla extract
Directions:
Sift whole wheat pastry flour, almond meal, salt and sugar into a food processor.
Add cold butter and gently pulse until flour resembles course crumbs. Do not over-pulse.
Gradually add icy cold water and pulse until dough comes together into a ball.
Lightly knead dough to form a rectangular disk, cover with a cling-wrap and chill dough to rest for 30 minutes.

Preheat oven to 375F. I used a rectangular tart pan which measures 13 3/4″ x 4 1/2″ x 1″.

Turn dough between two large cling-wraps. Roll the dough out to fit tart pan. Do this quick to avoid melting butter and overworking the dough.
Remove the top cling-wrap. Lightly flour rolling pin to pick up the rolled dough and gently lay it into a tart pan.
Gently mold the dough to the shape of  the tart pan and trim any excess dough.
Prick small holes onto tart shell with a fork. Cover/line dough with parchment paper and add dried beans to blind-bake tart shell for 20 minutes.
Remove tart shell from the oven. Discard parchment with dried beans and return tart shell to bake for another 10 minutes, or until lightly browned.
Tart shell must be completely cooled before adding the filling.
While tart shell cools, prepare filling by melting chocolate using microwave or a double-boiler. If using microwave, use the 15 seconds interval in between to stir chocolate.
Scoop out avocado flesh into a food processor and add rest of the ingredients for the filling. Drizzle in melted chocolate and pulse everything until completely smooth.
Fill cooled tart shell with chocolate avocado mousse. Serve it immediately or refrigerate for later.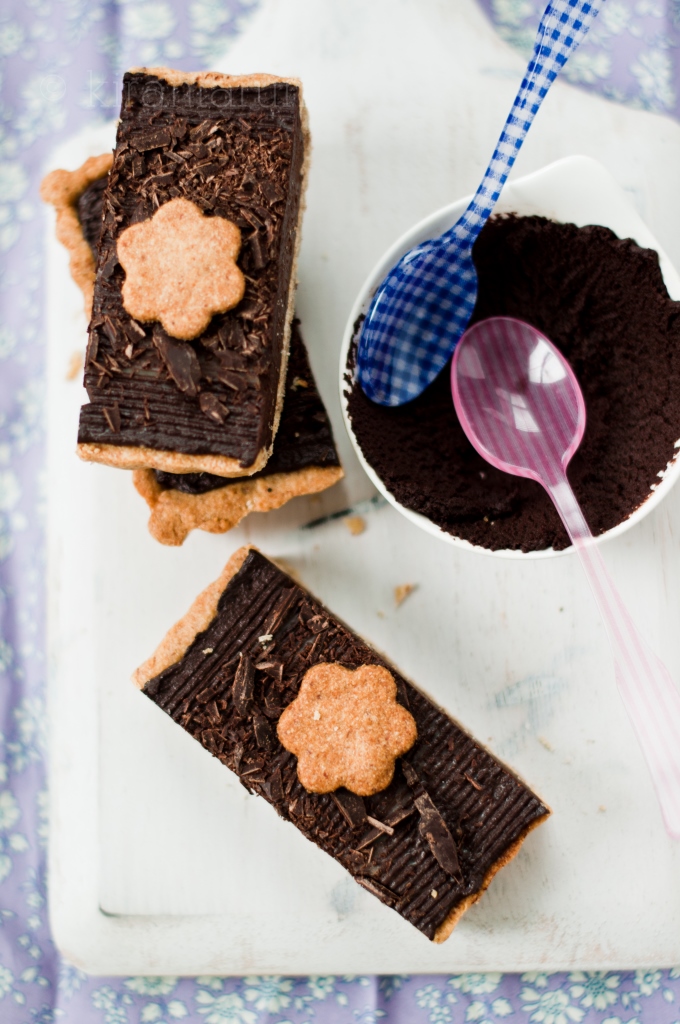 Happy Mothers Day to all mommies out there! Sleep in, don't worry about the laundry or to-do list. Let it go and allow other's to pamper you on this special day 🙂
Have you baked with avocados before? Love it or dislike?