H
i friends!!
Spring is ending soon and so far we've yet to have a taste of this season's fresh asparagus or peas.
Shocker, I know.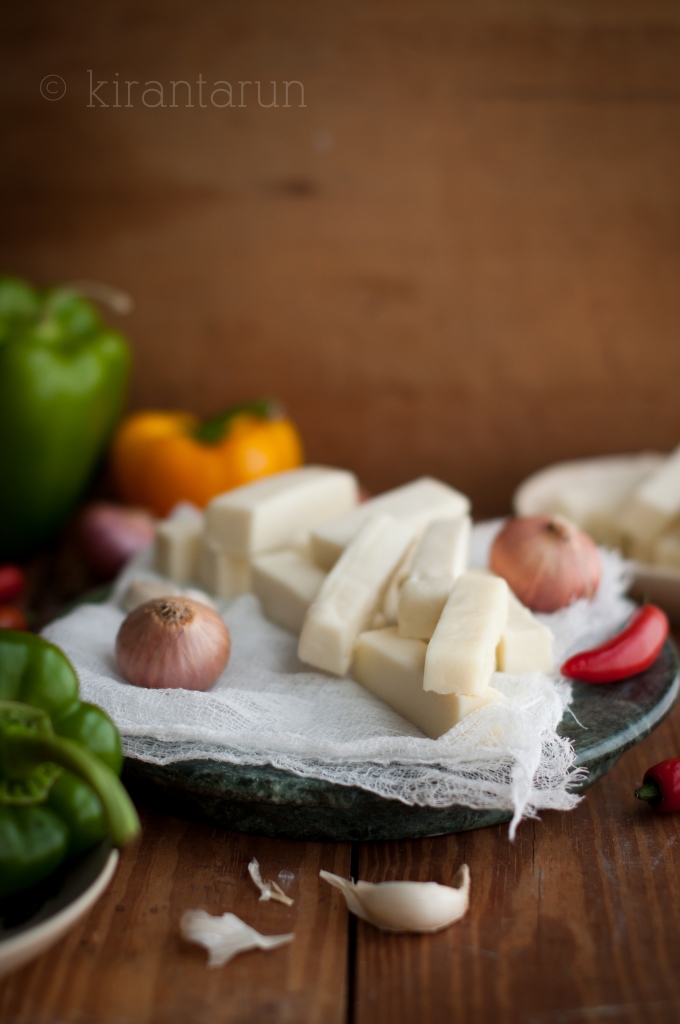 Fresh asparagus and peas are super pricey at the moment. Not that we refuse to spend money but it's just so exorbidently expensive. Seasonal eating is so important but that often follows with a very hefty price.
Hopefully, the prices of fresh asparagus and peas hit rock bottom. Soon.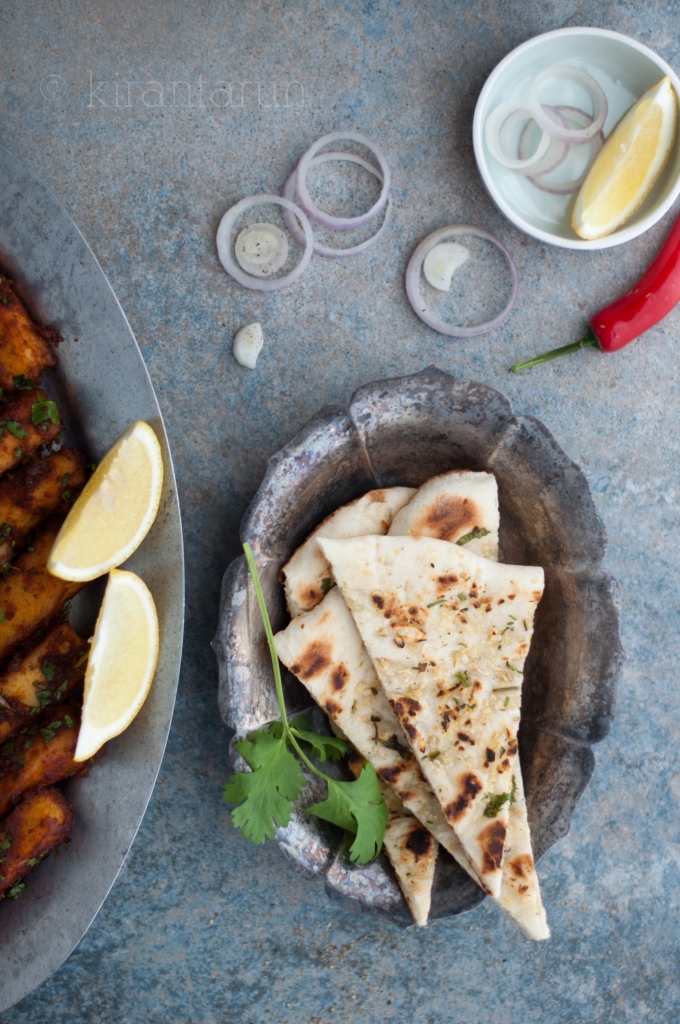 In the meantime, we are enjoying everything else that's more affordable and mostly, in season. Making fresh homemade paneer is by far the most therapeutic route I'm taking in my efforts to divert all the attention away from seasonal fresh asparagus and peas.
And to add insults to the injury, throw in rhubarb as well. Why is it so difficult to scour these delicious spring staples in Florida, affordably?!?
Send help!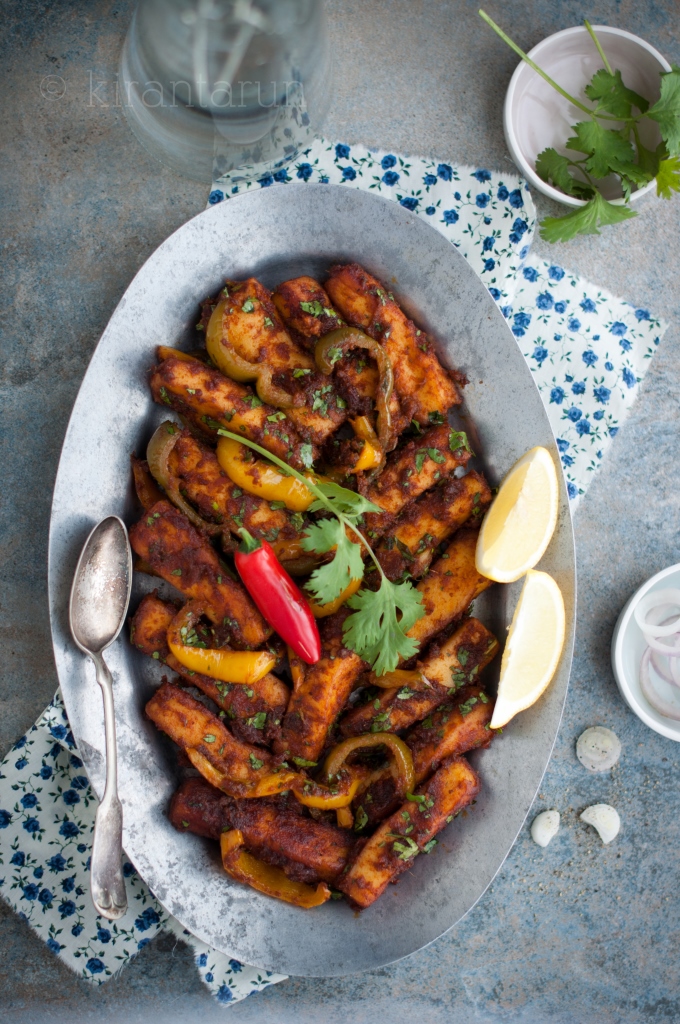 Print This Recipe
Makes 4 servings
Ingredients:
14 oz (400g) fresh paneer, sliced
2 medium bell peppers, sliced
5 tbsp cooking oil
2 inch fresh ginger
4 garlic cloves
2 to 3 fresh red chilies, seeded
2 small shallots
1 small tomato
2 tbsp water
1/2 tsp ground cumin
1/2 tsp ground coriander
1/2 tsp chili powder
1/3 cup water
1 tbsp light soy sauce
1 tbsp dark soy sauce
1 tbsp honey
1/4 tsp ground cardamom
1/8 tsp ground cloves
1 tbsp lemon juice
salt & black pepper to taste
garnish: 2 tbsp finely minced coriander leaves and sliced onions.
Directions:
In a small blender, add fresh ginger, 4 cloves of garlic, fresh red chilies, sliced shallots and chopped tomato. Blend into a paste. Add very little water (2 tbsp, if needed) to aid in blending process. Blend until smooth. Set aside.
Heat a large non-stick cooking vessel on medium. Add 2 tbsp of oil. Once oil is hot, gently add sliced fresh paneer and fry until lightly browned. Remove pan-fried sliced paneer into a bowl and set aside.
In the same vessel, add in 3 more tablespoon of cooking oil. Increase the heat to medium-high. Once hot, add blended paste and fry for a few minutes to cook off the raw flavors and moisture or until paste is very lightly browned and oil separates on the sides (this took about 5 to 7 minutes).
Sprinkle in ground cumin, coriander and chili powder. Cook for 2 more minutes before adding 1/3 cup of water. Simmer paste for a few more minutes until it resembles a thicken gravy.
Drizzle in light and dark soy sauce, honey, ground cardamom and cloves. Stir for a minute before adding pan-fried paneer and sliced bell peppers.
Squeeze in some lemon juice, stir and taste to adjust seasonings. Season well, stir and cover to simmer for 10 minutes.
Chili paneer is ready when oil separates on the sides and gravy is dry enough that it sticks to paneer and bell peppers.
Serve hot topped with finely minced fresh coriander. Best eaten with steamed basmati rice and garlic naan with a side of sliced onions. Yum!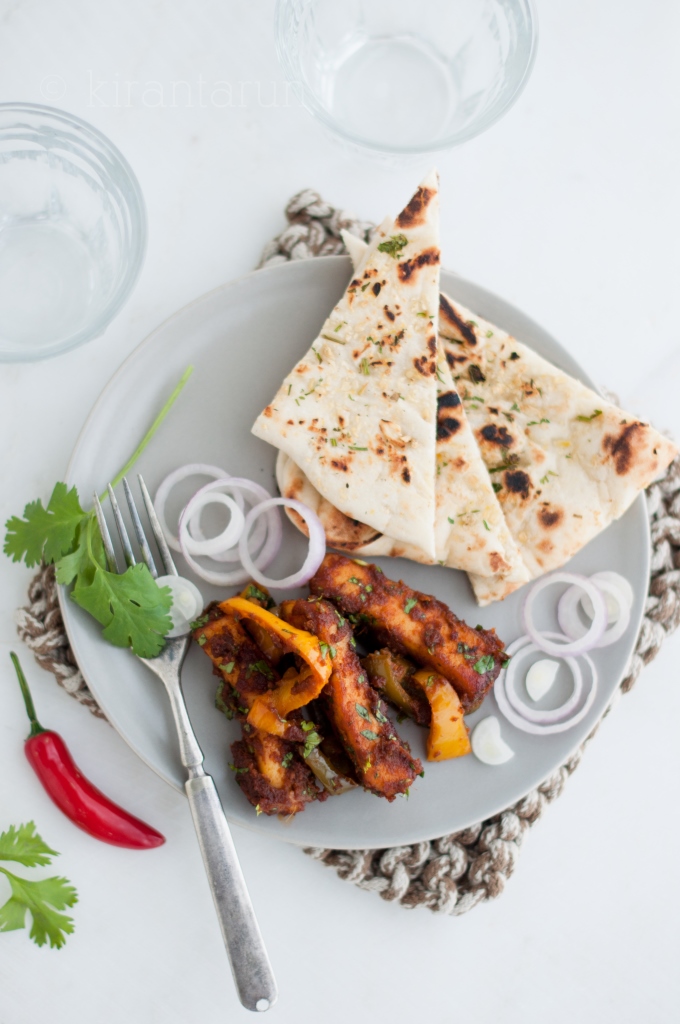 Off to bury my seasonal food woes into this delicious plate of solace.
What is your choice of seasonal must-eats?