I
'm a creature of habits. Especially when testing recipes, I love throwing in a pinch of this or a sprinkling of that and very often, forget to jot down the exact measurements.
Another reason why my mom doesn't like sharing a recipe with me. Because there's none to share since we are so used to a pinch of this and a dash of that.
Technicalities. Huh.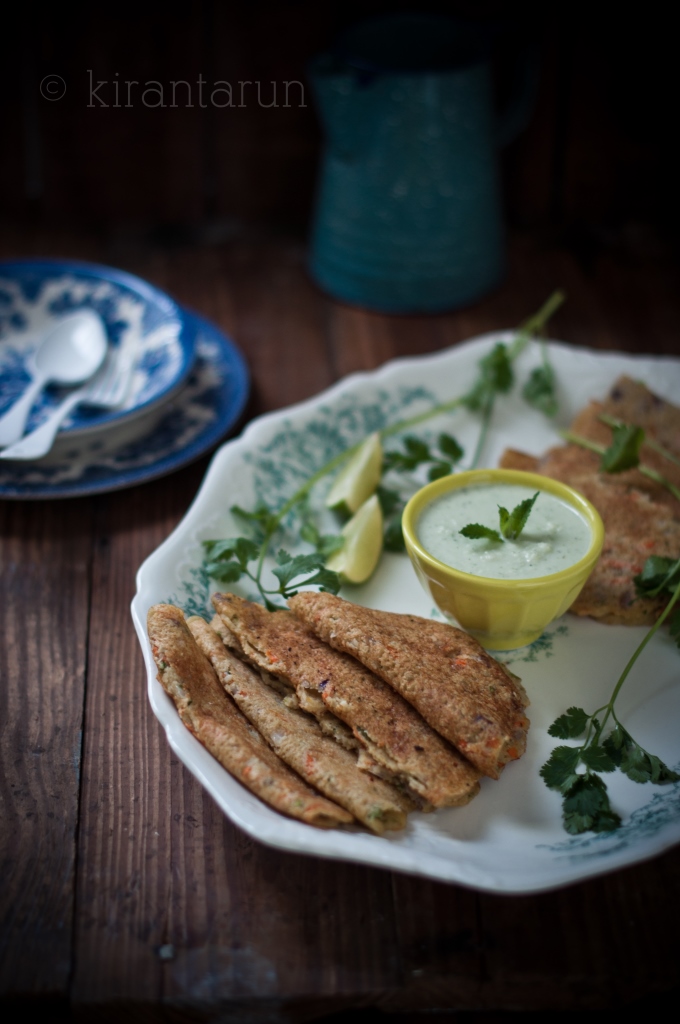 Chila is something like that. There's a gazillion version of making this savory indian crepes, your way. The batter is a little tricky though. Semolina absorbs a lot of water, so if you allow the batter to sit for a while, it'll need more liquid.
Sounds tricky but trust me, its so easy and delicious. Perfect breakfast or brunch over the weekend. With a teapot of masala tea, please?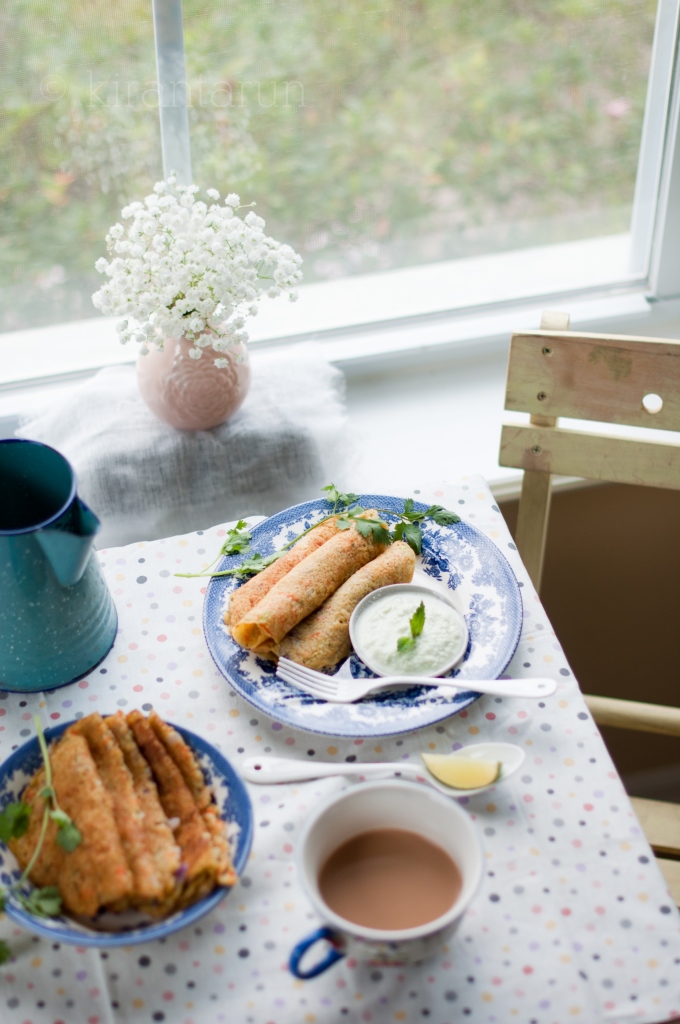 And if you have any doubts of the exact measurements, I've made it a few more times just to be sure 😉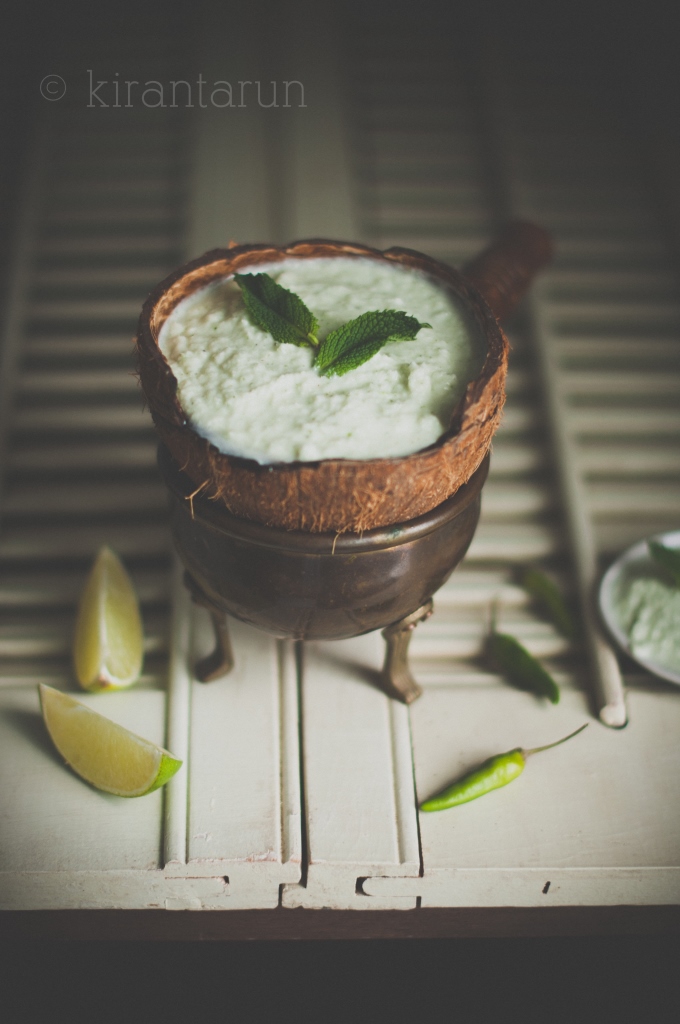 Print This Recipe
Ingredients:
Chila —
1.5 cups of semolina flour
1/2 cup of chickpea flour
1 cup yogurt, beaten
2 + 1/4 cups of water
1 cup onion, finely minced
1 cup carrot, grated
1/8 cup coriander leaves, minced
3 green chilies, chopped
1.5 tsp salt
1/2 tsp black pepper
1 tsp garam masala
Coconut Mint Chutney —
1 cup freshly shredded coconut
1/3 cup coconut milk
1/2 tsp ginger paste
1 tsp lemon juice
1 green chili
2 sprigs of fresh mint leaves
salt and pepper to taste
Directions:
In a large bowl, stir all chila ingredients until smooth. Keep aside to rest for a few minutes.
Meantime, heat a large non-stick skillet (tava) on medium. Using a pastry brush, very lightly oil the skillet.
Depending on the size of crepes, add a few tablespoons of batter. Using the back of a spoon, immediately begin spreading out the batter as thin as possible.
Allow crepes to cook on one side before flipping. Drizzle a little oil over the top and sides of crepes before flipping. Cook crepes until the sides begins to brown. Each crepe would take about 1 to 3 minutes to cook (depending on the thickness).
Continue cooking crepes until batter is done.
To make chutney, add all the ingredients into a small blender or food processor. Blend until smooth.
You can serve chila with some chili sauce, chutney's or any other savory condiments.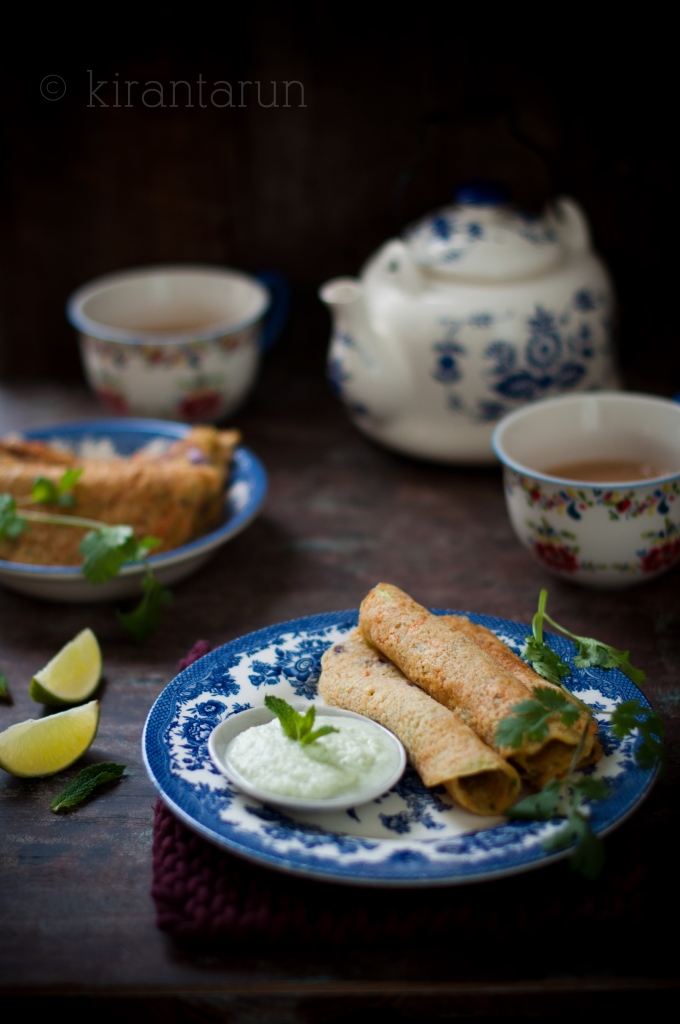 Off to plan a weekend that involves enjoying our new TV!! Super excited. I'd say our Valentine's Day celebration is off to a great start 🙂
Have you tried chila before? What's your favorite "eyeball" recipe without the exact measurements?