I
am one of those people who has not try the canned version of chickpeas. Knowing the taste and texture would still be the same – it would save so much of my prep and cooking time – I am much inclined to use the old method. Parboiling dried chickpeas from scratch. If you have a trusty pressure cooker, it's as simple as A-B-C. Let me show you how:
First soak dried chickpeas for at least a few hours (I soaked it overnight). Add water and chickpeas, season with salt and pressure cook on high for a few minutes. Or in the Indian term – 5 to 6 whistles.
When I say it's as simple as A-B-C,  it's because I have too much time on my hands. Go with the canned version, trust me.
This is one of the most easiest curries I've ever cooked in my life. Literally.
While the pressure cooker whistles away, prep the other ingredients. I love edamame. It taste tiny bit like almonds. To thaw, add frozen edamame in some boiling and salted water for a minute. Remove using a colander and cool it down immediately under some cold running water. You want to retain the bright green color and not to overcook it. Peel the pod to remove the soy beans. The pod is a great snack, don't discard it 🙂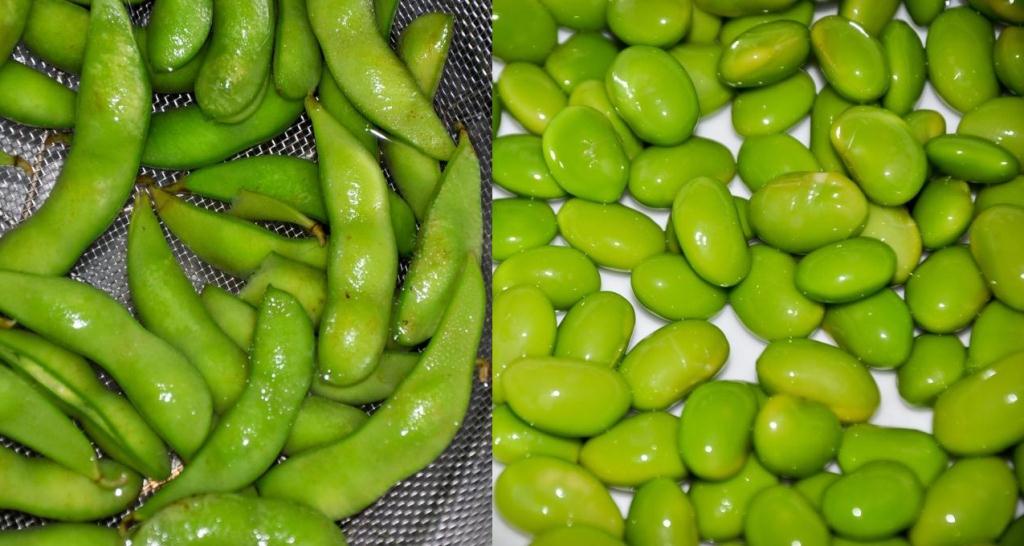 Now comes the easier portion of this recipe – putting all the ingredients to work and create a magical concoction. There is something about coconut milk and me. I love cooking with it. And not just the milk, flesh is yummy as well. Being an Asian, coconut is a staple cooking ingredient. I remember growing up with a few coconut trees around the house. We had an ancient coconut shredder. Yup, everything was available, fresh from the pulp to the milk.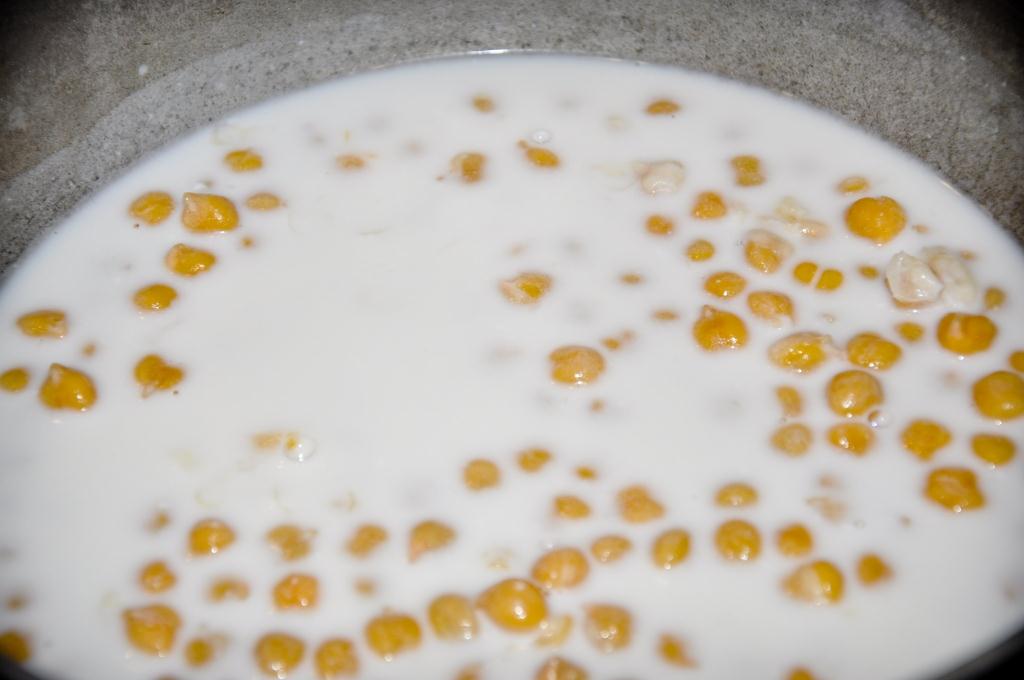 Now, you want to simmer these just till the coconut milk thickens. It would take a good 10 – 15 minutes or so. This is what a call, "a tropical experience"… Take it all in my friends 🙂
While the chickpeas and coconut milk continues its reunion, grab a skillet or small saucepan. Over very low heat, heat some oil. When I say "very low heat", you better believe it. Nothing taste worse than burned garlic. YUCK! Enough with the cursing already 😀 Add garlic and cook, stirring frequently until it begins to brown. This is a very important step. Do not neglect your stove at this point. Continue stirring the garlic to avoid burn. On a very low heat, it takes a while. Trust me, your efforts will be rewarded.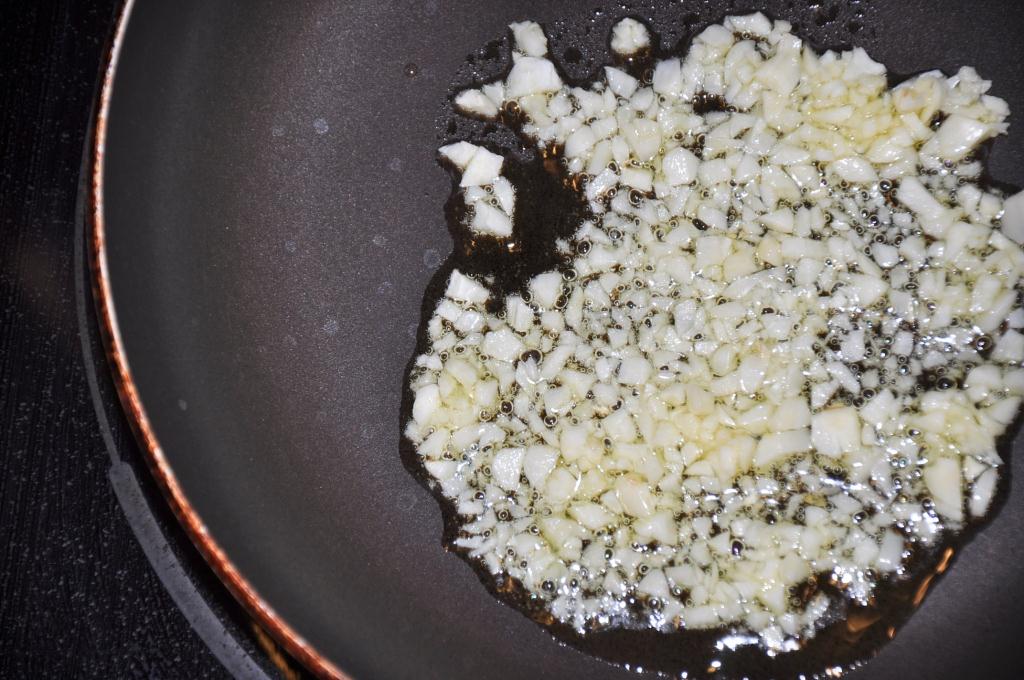 Once browned, sprinkle in coriander, turmeric and chili powder. I used fresh coriander seeds, toasted it a little and crushed using a mortar and pestle. Hmm.. Heavely aromatic oils.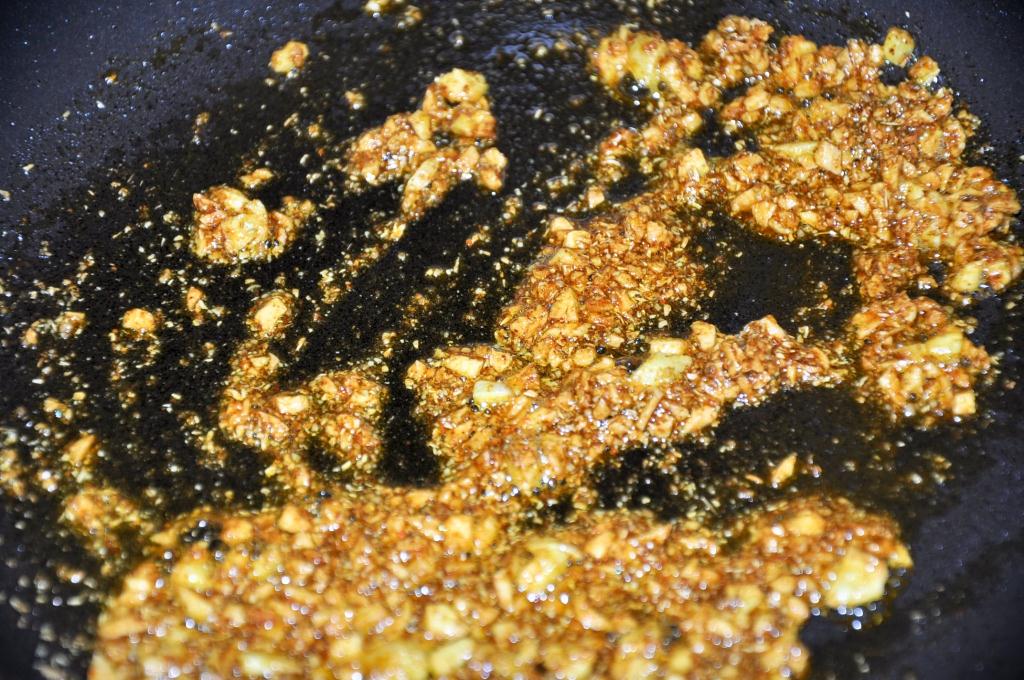 Fold the aromatic oils into thicken coconut milk and chickpeas. Stir in lemon juice and remove from heat and add soy beans. Honestly, I did not use lemon juice. I wanted the dish to remain a little sweet and spicy. Not tangy. Serve immediately and swoon how good this tastes on your taste buds 🙂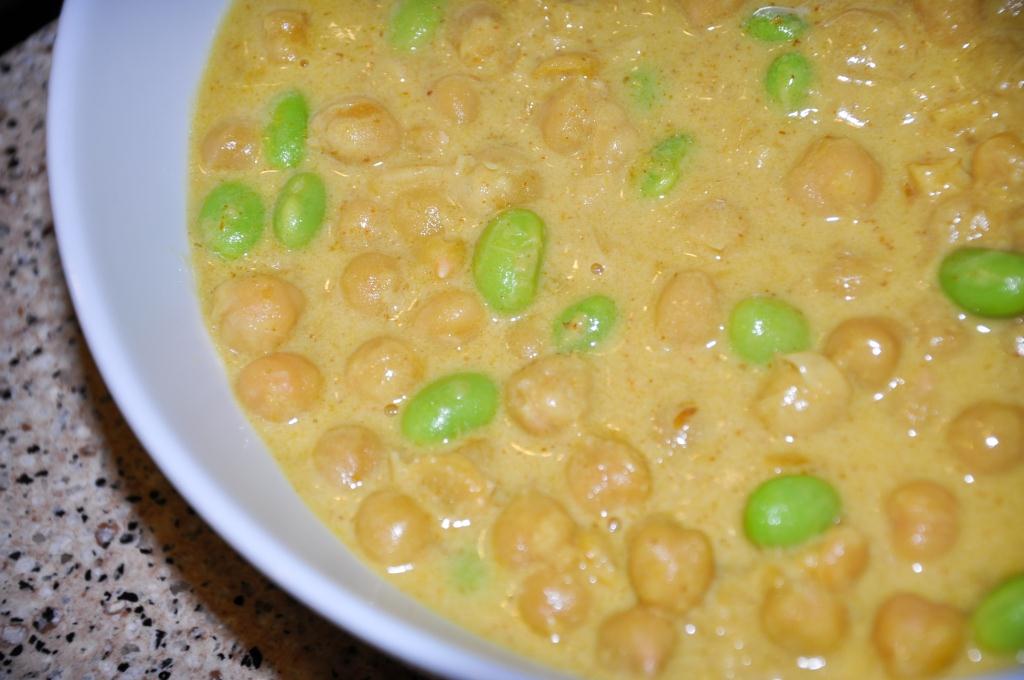 Results: A velvety, delicious, light and aromatic curry that you can prepare in minutes using canned chickpeas. Not that I am judging you 😉 Enjoy!
Adapted from Indian: a culinary journey of discovery, by Mridula Baljekar cookbook – with some personal tweaks.

Ingredients:
14 oz/400g canned chickpeas, drained and well rinsed
1/2 cup of frozen edamame, thawed – the recipe called for 10 oz of potatoes
1 cup canned coconut milk
1 tsp salt
2 tbsp sunflower or olive oil
4 large cloves of garlic, finely chopped or crushed
2 tsp ground coriander
1/2 tsp ground turmeric
1/2 – 1 tsp of chili powder
juice of 1/2 lemon
Directions:
Add chickpeas and coconut milk to a medium saucepan. Sprinkle a healthy pinch of salt and bring to a slow simmer. Cook till coconut milk is thicken.
Meanwhile, heat the oil in a small saucepan over very low heat. Add the garlic and cook, stirring frequently until it begins to brown.
Add the coriander, turmeric and chili powder and cook, stirring for 1 minute.
Fold the aromatic oil into the chickpeas.
Stir in lemon juice and remove from the heat. Add edamame (soy beans).
Serving suggestions: Serve immediately with any Indian bread or plain basmati rice.
Cook's tip: You can use greens beans or a mixture of green beans and carrots instead of the edamame or potatoes. Black-eyed peas are also excellent for this recipe.

Print This Recipe