H
i friends!
How's the week going on for you? After watching Oscars over the weekend, I hope to finally convince the Husband to watch "Life of Pi", since it has won quite a few awards.
Apart from that, I only watched it just so I could go "oohing" and "aahing" over the gowns, dresses and jewelry.
If you don't know already — I'm not all about food 😉 Its still the center of my universe but garnishes are also important. And E channel is one of them 😉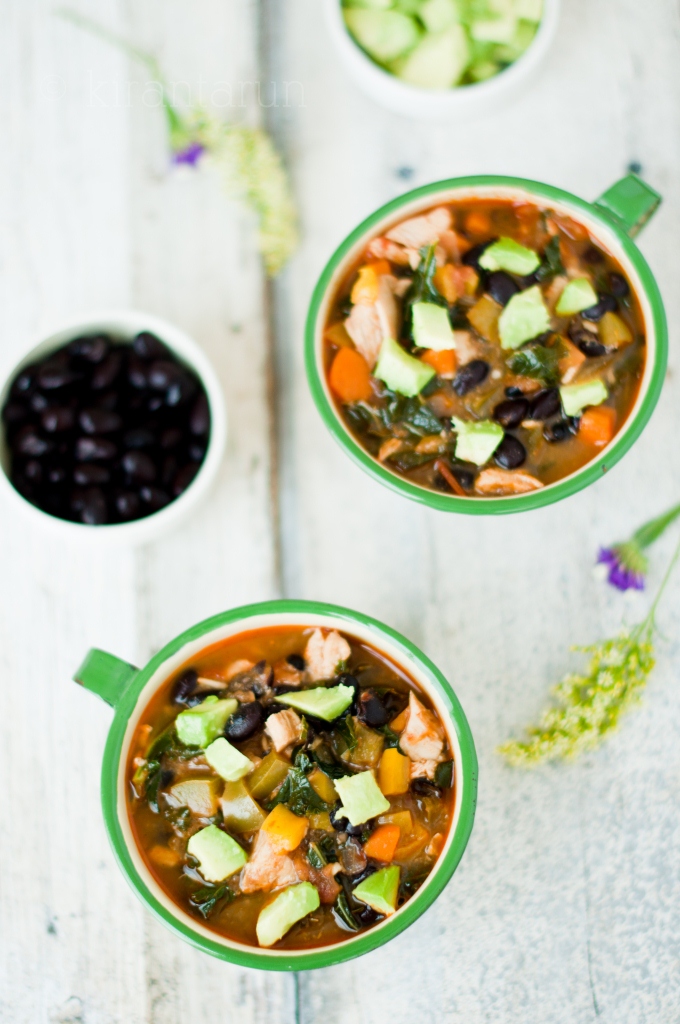 While the glamorous people strutted down the red carpet comfortably — thanks to the weather here at West coast — let's not forget what's happening in the East coast.
It's pouring cats and dogs over there — not rain, but inches of snow. And I hope the snow storm would die down soon. There's only so much weather related turmoil we can cope in a span of a few months now.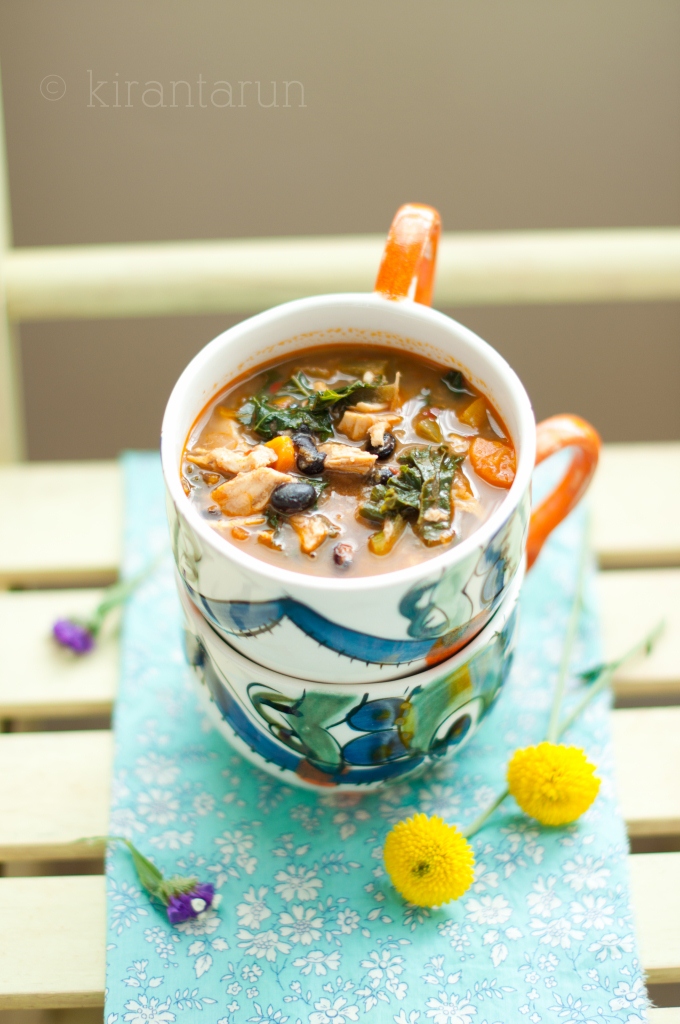 Just the thought of snow makes me shiver — another reason why soups are dominating our menu for the past few weeks. Nothing like a bowl of simple and satisfying hot soup to rid cold, horrid temperatures.
Bring on spring already. It's way overdue.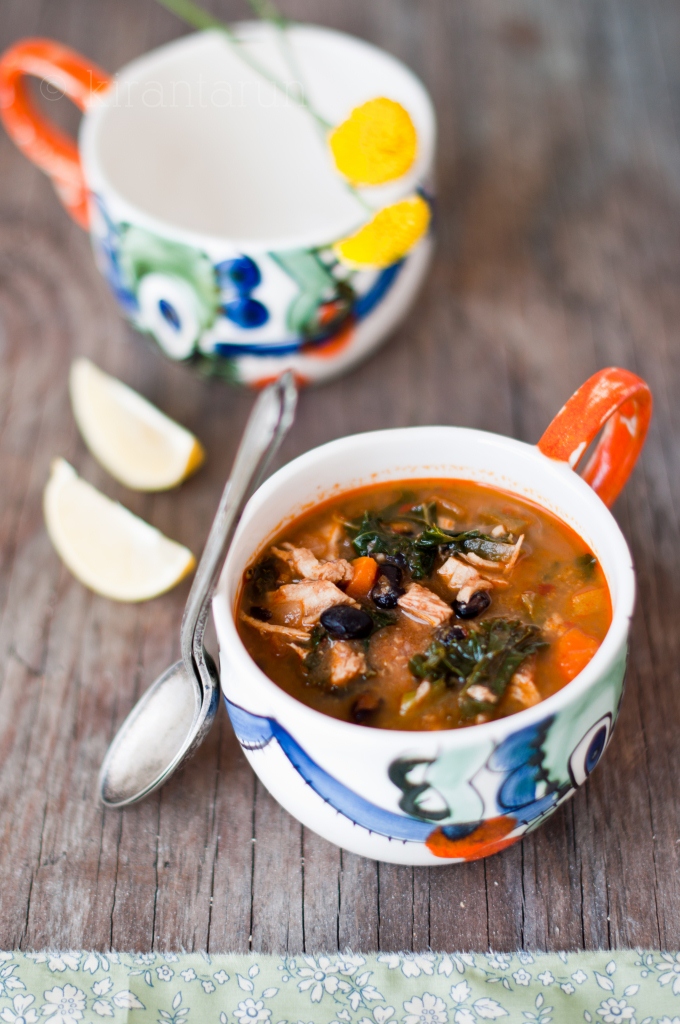 Print This Recipe
Ingredients:
1 medium onion, chopped
1 carrot, chopped
2 tbsp extra virgin olive oil
1 tsp ginger paste
1/2 tsp garlic paste
1 tomato, chopped
1 tsp tomato paste
1 oz (28g) taco seasoning
2 fillets of chicken breasts, thinly sliced
15oz cooked black beans
3 cups low sodium organic chicken broth
1 cup finely chopped bell peppers
1 cup baby kale leaves
2 tbsp lemon juice
salt (if needed)
black pepper, to taste
For garnish — chopped fresh cilantro, avocados and lemon wedges.
Directions:
Heat a large saucepan on medium. Once heated, add olive oil. Saute chopped onions and carrots until onions are fragrant and carrots, softens.
Add ginger + garlic paste with tomato + paste. Saute until tomato softens.
Add sliced chicken breasts and taco seasoning. Stir to coat chicken with seasonings and ingredients.
Dump in cooked black beans and organic chicken broth. Bring to simmer, cover and cook for 10 minutes.
Use a fork to shred any large pieces of chicken breasts. Add chopped bell peppers, baby kale leaves and lemon juice.
Stir and remove from heat. Serve it up hot, topped with chopped fresh cilantro, avocados and lemon wedges on the side 🙂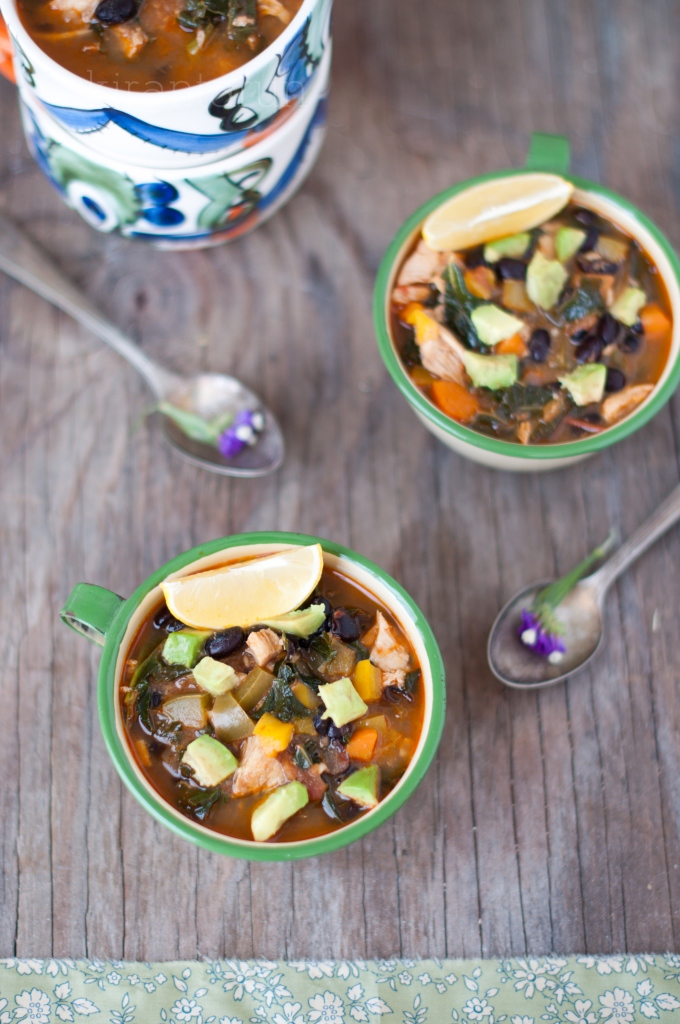 Now that we have food, covered — I want to tell you what I have in my mind these days.
Movies.
Does it have anything to do with the fact that we are traveling and temporarily camping out here in Los Angeles?
Here's hoping we are not smitten bitten by the "glamorous" world 😉
What is your guilty pleasure? Apart from "food" of course 🙂