I
've never had meatballs before. Probably because it's generally made with the combination of pork & beef. Being a lean meat eater, I try to switch up recipes to accommodate our taste buds. In this instance, my creation of chicken meatballs with broccoli. And the twist? It's made with Oriental flavors. I am so into Chinese cuisine. The recipes are usually easy, fast and healthy. My kinda drift.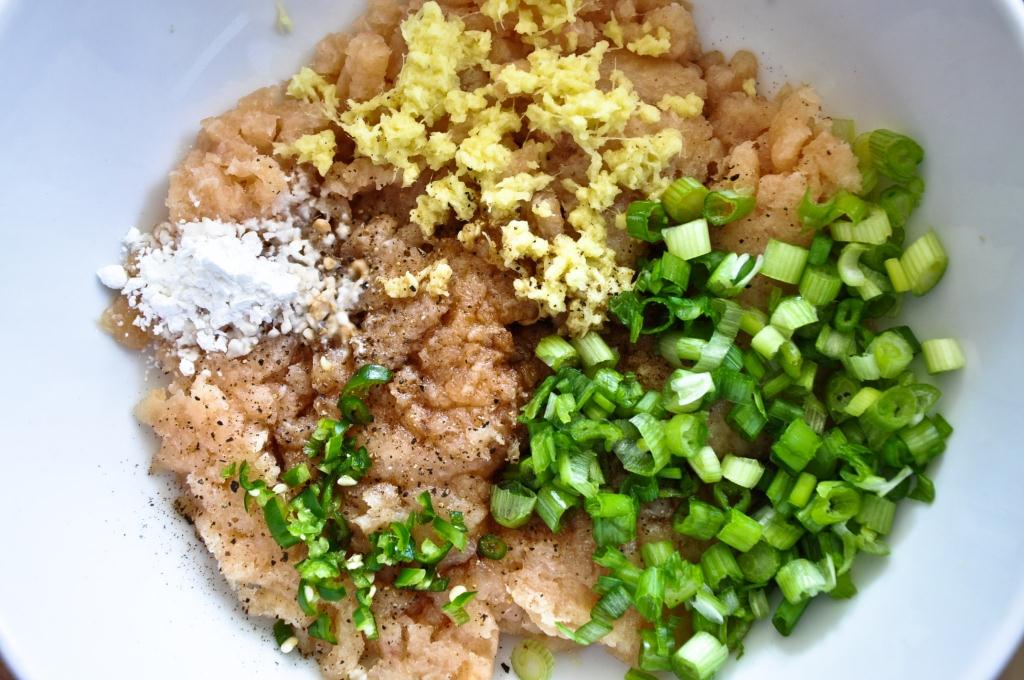 Let's begin with the marination. Add ground chicken or any meats of your choice with corn flour, scallions, grated ginger, chilies, salt, pepper and some store-bought chicken marinade sauce. If you can't find any specific chicken marinade sauce, soy sauce would work just as well. Just add a little. Mix everything in a bowl and refrigerate to marinate for at least 30 minutes.
In the mean time, begin prepping the other ingredients or if you are like me, head over to Hulu for Glee's reruns 😀 How exciting!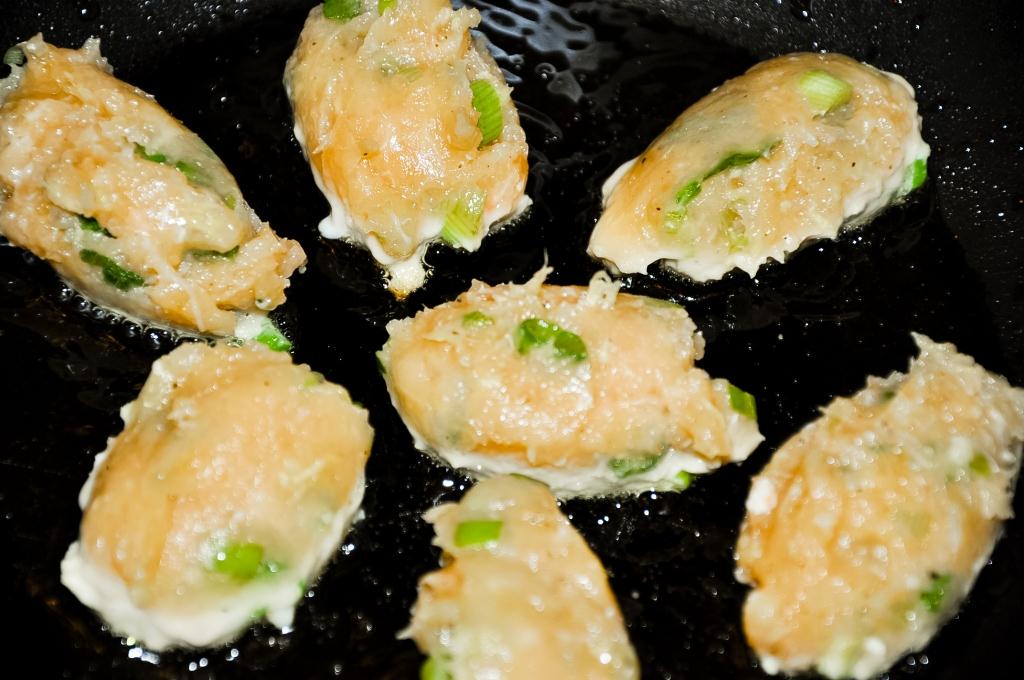 I usually cook with a non-stick skillet just so it makes clean up easier. You are free to use whatever skillet you have. I won't judge 🙂 Add some cooking oil on a medium-high heat. Shape the marinated meat in any form or shape. I used 2 small spoons as the texture is a little gooey. Just make sure it's not formed too thick.  Add a few at a time to the hot pan. Remember not to overcrowd the pan. You want to sear the meat not steam it.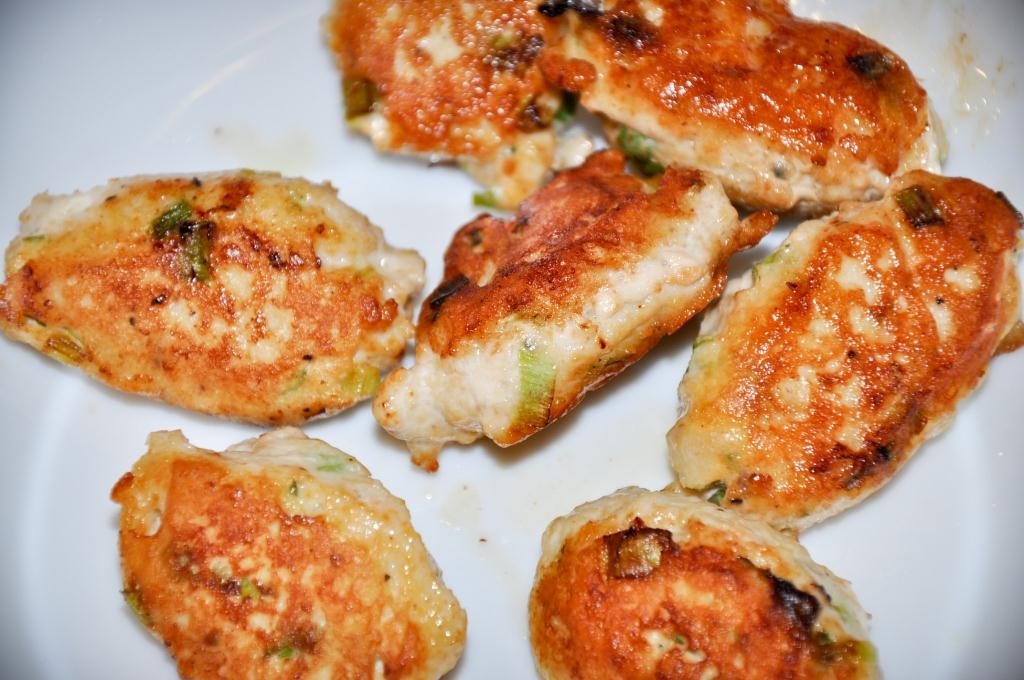 Hmm.. nice seared pieces of meat. Sear the rest of marinated meat. Line a dish with some paper towel to soak up excess grease. If you are not a healthy freak like me, skip this step.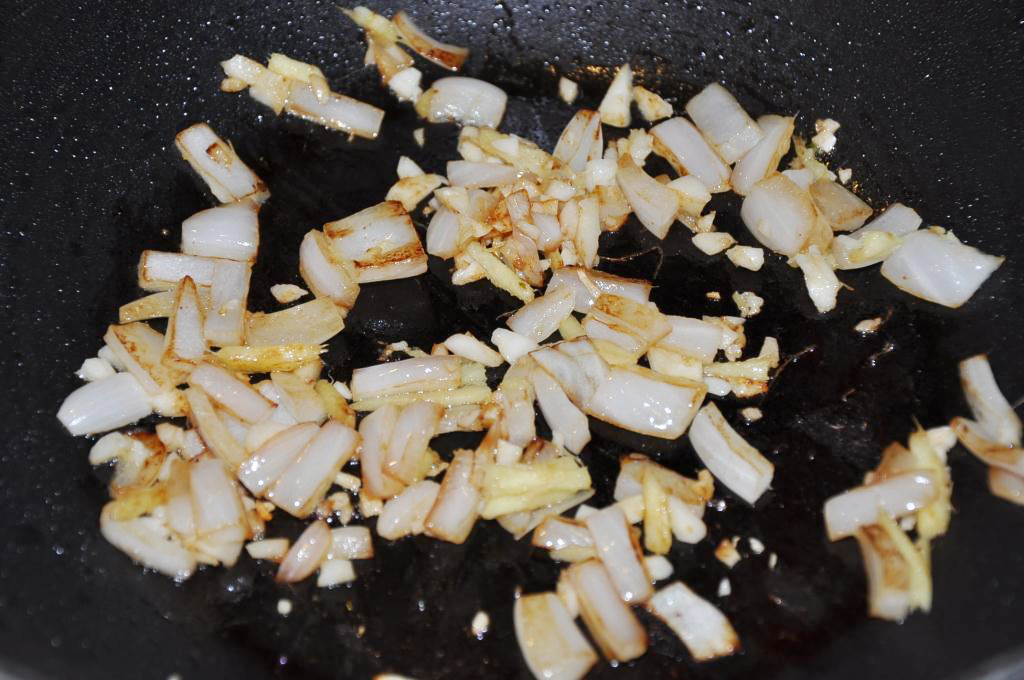 In the same skillet, skim out excess oil to add chopped onions, ginger and garlic. I know, more ginger right? But this is the base we are building to flavor the broccoli and create a delicious broth. Just fry for a few minutes till onions are translucent.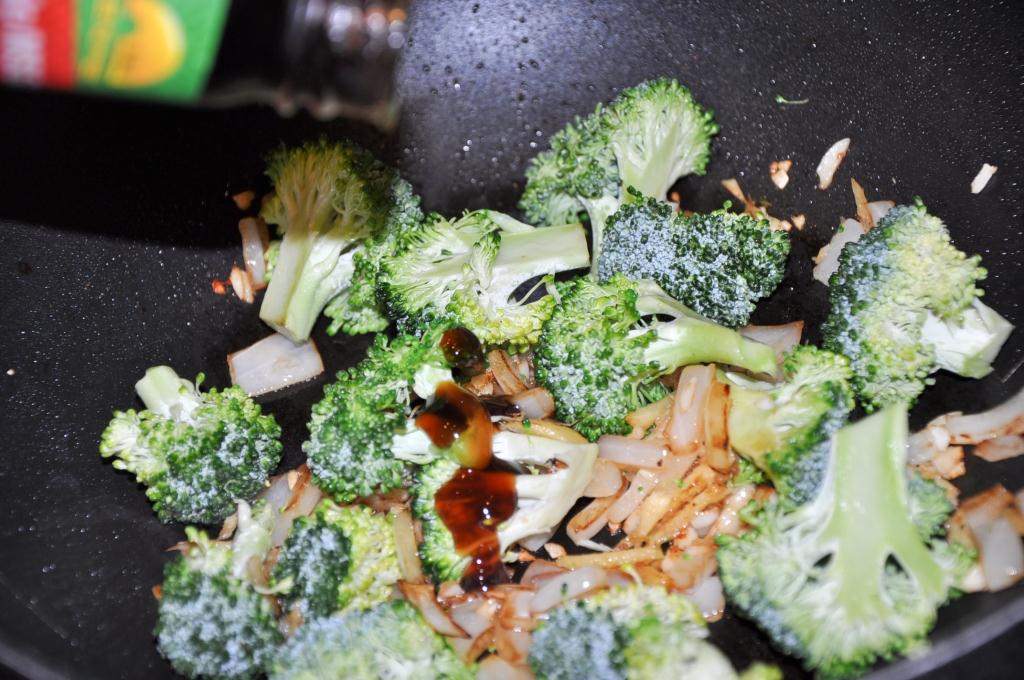 Throw in some broccoli. Or any seasonal vegetables that is available. I've tried this same recipe with mix vegetables such as bok-choy, snow peas, beans, asparagus, variety of bell peppers, napa cabbage, carrots etc. Any vegetable would taste great. Add oyster/mushroom flavored sauce. You can easily purchase this sauce from your local oriental supermarket. Personally, I like the Lee Kum Kee brand.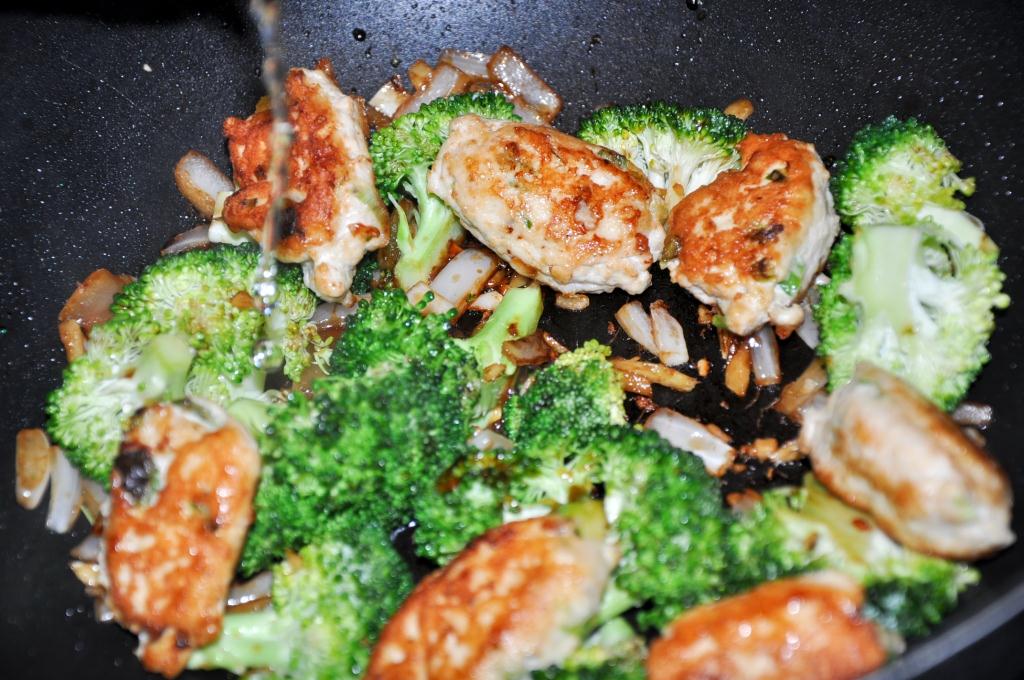 After a few minutes, add the seared meatballs. Adding Chinese rice wine and chicken broth enhances meat flavor and overall dish. You can read more about rice wine and sauces on my previous post hidden over at my blog 🙂
The verdict: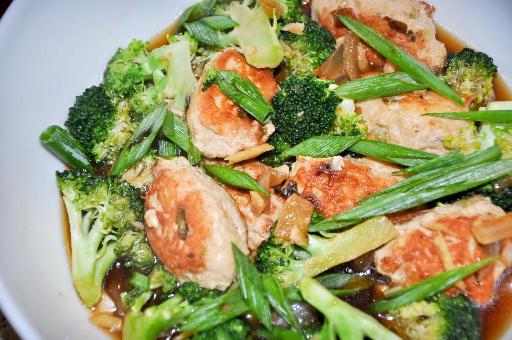 I love how simple, delicious and flavorful this recipe has turned out. The whiff of Oriental lingers in my kitchen and yours as well, if you try this recipe today 🙂
p/s: I have some exciting giveaways lined up for next week. It begins on Monday. Stay tuned 😉 Here is the handy-dandy printable recipe:
Ingredients:
1/3 cup of chopped onions
1 tsp grated ginger and garlic
1 crown of broccoli florets
2 tbsp of oyster/mushroom flavored Oriental sauce
2 tbsp Chinese rice cooking wine
1/3 cup of chicken broth
[Marinade]
1/2 lbs ground meat of choice
1 tbsp grated ginger
2 stalks of chopped scallions
1 green chili
1 tsp corn flour
1 tbsp of soy sauce
dash of salt and pepper
3 tbsp cooking oil
Directions:
Mix marinade ingredients. Cling wrap and refrigerate for at least 30 minutes.
With 2 tea spoons (or melon baller) shape the meatballs. Heat a non-stick skillet to medium high with some cooking oil. Add meatballs and sear till golden. Do not overcrowd pan with meatballs. Remove meatballs and drain excess grease on paper towels.
Skim out some cooking oil from the same skillet. Add chopped onions, grated ginger and garlic. Fry till fragrant.
Throw in broccoli florets and 2 tbsp of oyster/mushroom sauce. Fry for 2 minutes.
Return the meatballs into the skillet, add some rice cooking wine and chicken broth.
Simmer for 5 minutes.
Garnish: with chopped scallions or cilantro.
Serving suggestions: Served hot over rice, rice stick noodles or just as a main course.
The rice cooking wine and soy sauce has salt and seasonings. Unless you are using homemade marinade, you might have to taste for salt. Sprinkle some if need be

After adding broccoli, do not overcook it. A little al-dente, retains the color and taste.

Print This Recipe