H
appy Thursday friends,
Another day with an interesting twist to salmon steak recipe. And the star ingredient? Nothing out of ordinary. It's coconut with loads of whole spices.  After the recent high on coconut recipes, I am still enthusiastic about it. It doesn't take much to make me happier than usual. Just give me a bowl of shredded coconut (fresh is better), and I would be off into the kitchen, scratching my head thinking of a recipe. I don't need any coaxing or persuasion. Coconut makes a huge impact. It never fails.
Coconut is essential in major Asian recipes. South Indian recipes primarily calls for coconut, either milk or shredded coconut flesh. Fresh coconuts are so readily available in Malaysia. I recall shredding coconut husks, enjoyed eating fresh coconut pulp and gulping cool coconut water. Aaahh.. memories of childhood. It's like non other.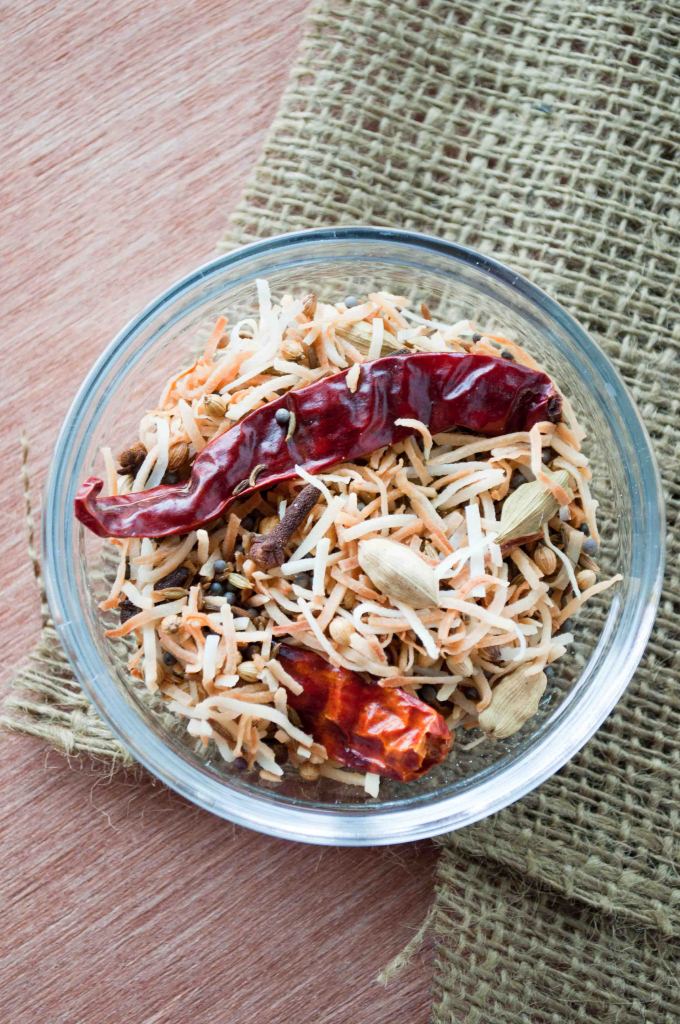 What is Chettinad?
Chettinad cuisine is the cuisine of Chettinad region of Tamil Nadu state in South India. Chettinad cuisine is one of the spiciest and the most aromatic in India. – Source
Back to the recipe. Chettinad cuisine is very new to me. Spices are not fiery hot. I don't understand why people often perceive Indian cuisine as being very spicy. Ok, I admit we use quite a lot of spices in our recipes. But that simply doesn't translate to overall heat level of the dish.
Unless you use way too much chili powder, dried chilies or fresh chilies. Either way, you are looking for trouble.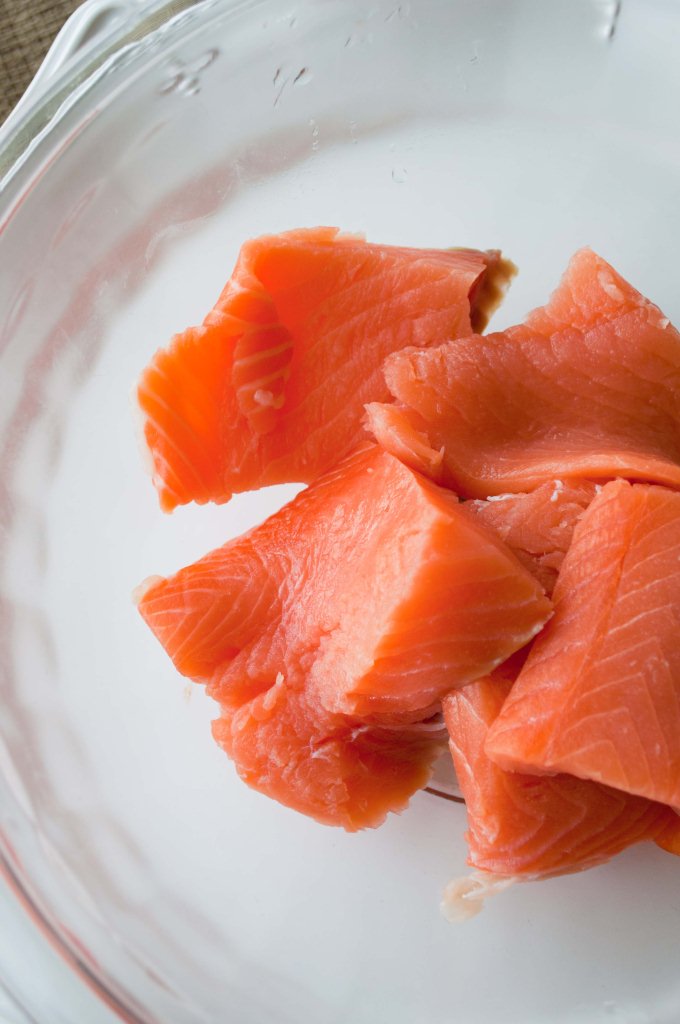 Admittedly, I am not a huge fan of salmon. Don't get me wrong – we do love seafood, primarily fish. But salmon tastes just too "fishy" for our liking. Recipe tasting as such surely broaden the horizons on how we prepare and cook salmon. You can easily substitute salmon with other seafood or meats, such as chicken, lamb etc. The idea is to experiment how well chettinad masala (spices) tastes using different cut of seafood or meat. And did I mention, coconut goes very well with seafood?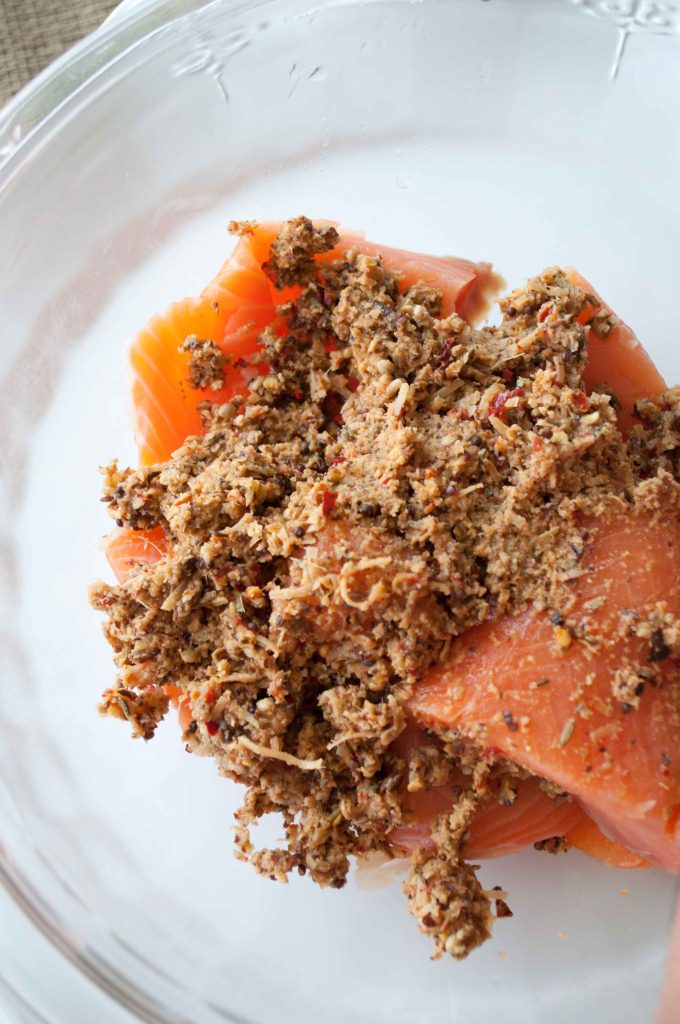 Since salmon has high Omega-3 fatty acid content and usually thick in size, a 2 hour marinade is needed in order to allow the flavors of aromatic spices to soak in. Let's face it, we'd rather tame the "fishiness" of salmon, more than anything else. Around here, we take our food very seriously.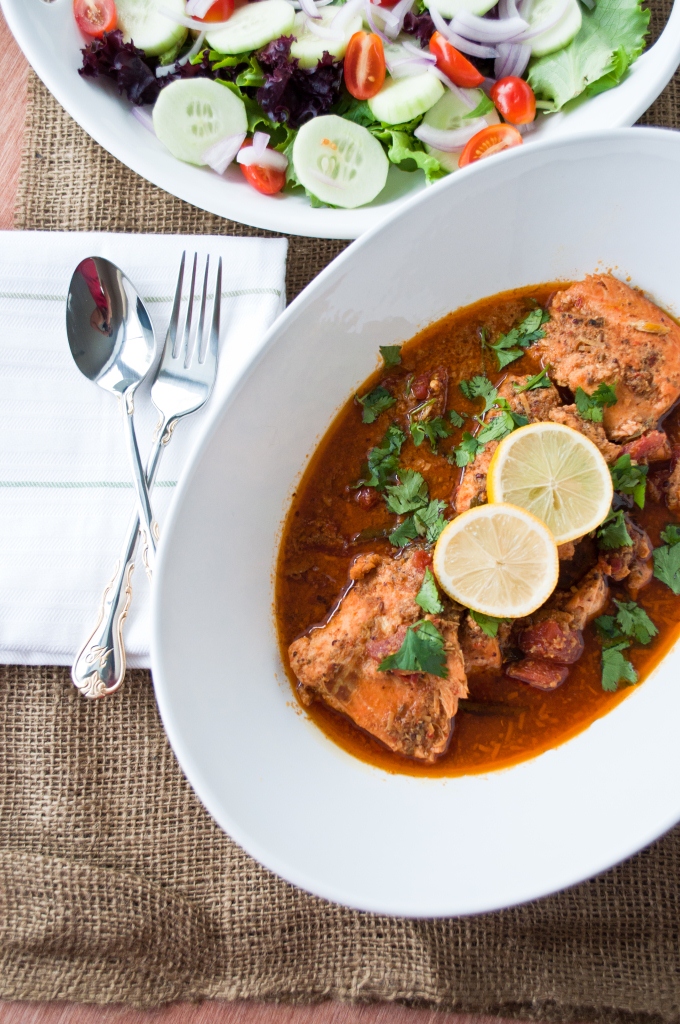 Pair it with crisp and fresh salad made with: spring mix greens, sliced cool cucumbers, grape tomatoes and onions. That ought to cool your spicy palate 🙂
Have you tried Chettinad cuisine before? What are some of your favorite coconut-ty dishes?

Print This Recipe
Ingredients:
4 medium salmon steaks
4 tbsp cooking oil
1/2 lemon, juiced
1.5 tsp salt
1 tsp black pepper
4 to 6 tbsp water, to blend
Garnish: Lemon slices and coriander leaves
Masala (spices)
1/2 cup grated/shredded coconut
1 tsp cumin seeds
1 tsp coriander seeds
1 tsp poppy seeds
1 tsp fennel seeds
3 green cardamom
3 whole cloves
1/2 tsp turmeric powder
1 inch cinnamon stick (or 1/2 tsp ground cinnamon)
3 whole, dried red chilies
2 tsp ginger paste
2 tsp garlic paste
a pinch of salt & pepper
Roast dry masala (spices) in a skillet without oil for about 5-6 minutes over low heat till slightly browned and toasty.
Remove spices from heat, allow to cool completely before adding water and blending till smooth in a spice blender.
Wash, clean and pat dry salmon steaks.
Coat spice paste on salmon steaks and allow to marinate for at least 2 hours.
Heat a heavy bottomed skillet over medium. Once hot, add oil and marinated salmon.
Cook salmon and spices till oil separates. That would take about 15 minutes.
Sprinkle salt and black pepper as needed. Squeeze in lemon juice just before serving.
Garnish with lemon slices and coriander leaves. Best eaten hot with chapati or basmati rice, with a serving of cool salad.