Makes about 20 to 25 fudge
Ingredients:
200 gms of raw cashews
1/3 cup of sugar
1/3 cup of water
1/8 tsp cardamom powder
a few drops of rose water
1/2 tbsp ghee
Directions:
Add raw cashews into a food processor. Pulse until powdered. Do not overpulse because that would draw out oils from the cashews and you don't want that.
Sift powdered cashews into a bowl and repulse the remainder course crumbs into the food processor until its finely powdered.
Heat a heavy-bottomed large skillet on medium-low. Add water, rose water and sugar. Stir until sugar dissolves.
Once sugar dissolves, add cashew powder. With a spatula, stir continuously to avoid the cashews from sticking to the pan.
Once cashew powder begins to thicken, cardamom powder. I added at 6 minutes mark. Keep stirring.
At 10 minutes mark, the dough should begin forming. Oil a clean surface and your hands with ghee, and dump the very soft dough onto a clean surface to cool slightly. Do not cool completely because it'll be impossible to knead a cooled dough for a smoother fudge.
Once it's safe enough to handle the hot dough, begin kneading for 5 minutes or until the dough is smooth. Do not over knead or put too much pressure while kneading. It will cause the dough to bleed oil and loose moisture, hence you'll end up with a grainy texture.
Place kneaded and lightly flatten, smooth, warm dough between two parchment paper. Roll out to desired thickness. I love kaju katli's on a thin side.
With a sharp knife, slice katli's to desired shapes and size. If you are going to use a cookie cutter, prepare for some muscle work. I'd say, just stick to knife to cut-out shapes.
That's it. So easy and a perfect finger food for your Holi celebrations 🙂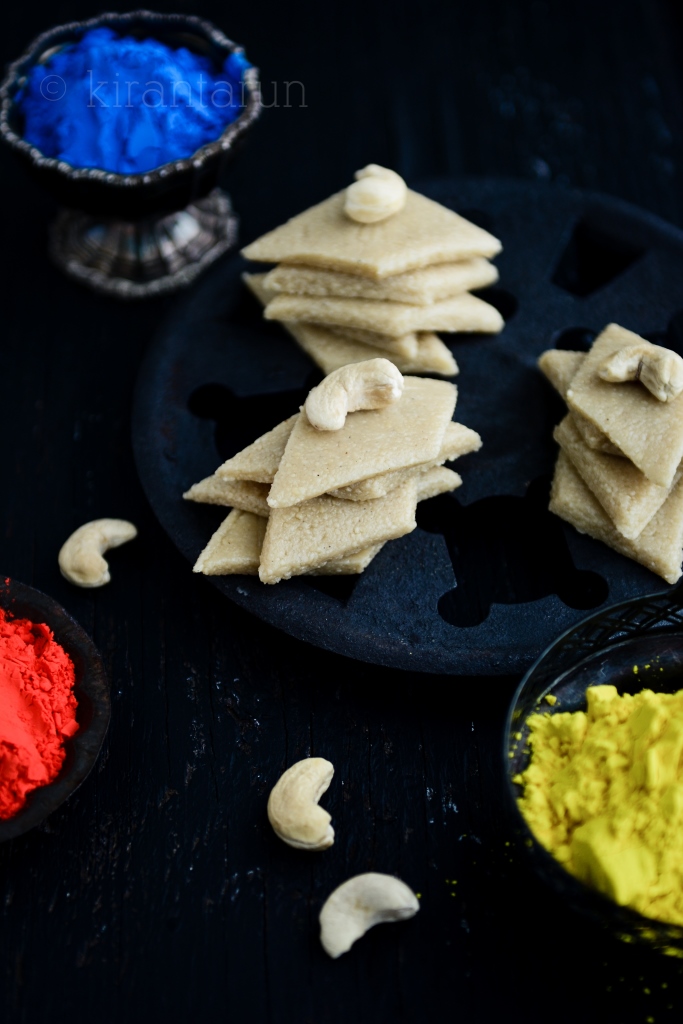 Have a very Happy Holi with your loved ones. Celebrate the colors in your life with fudge, because there's nothing better 🙂
Have you made fudge before? What's your favorite recipe?