S
ometimes, change is good.
Other times, it's a pain to catch up on ever-changing "trends". For example, watermark on images. Which is extremely important to protect the copyright of our images.
But blogging sometimes demands a lot more from us. Like the trend these days is to incorporate title of the recipe onto the images itself, using creative fonts.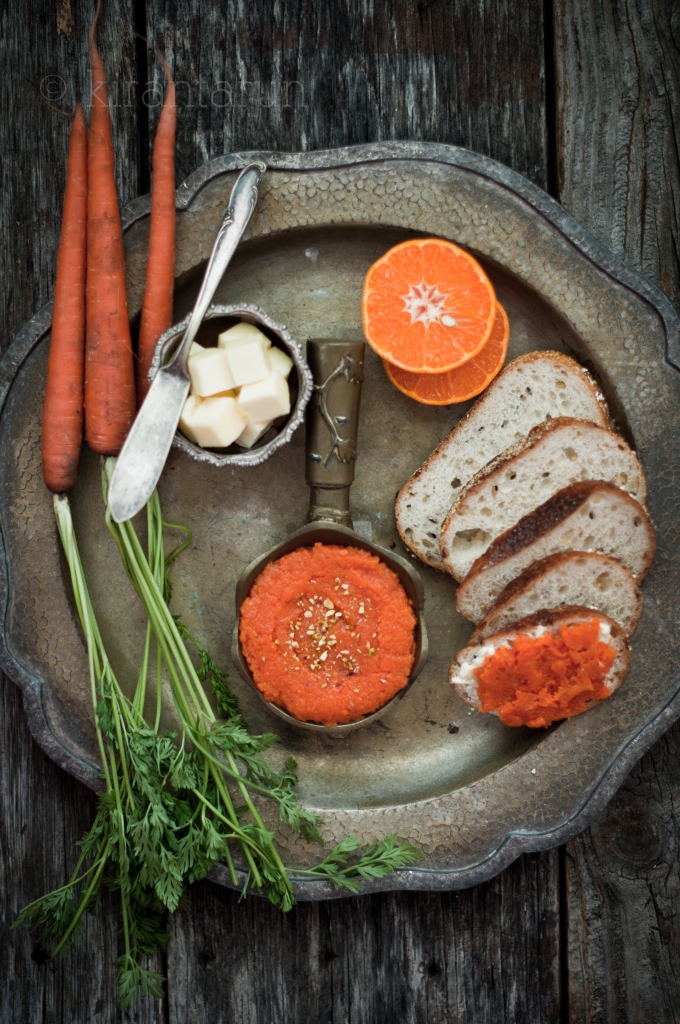 I love trends. No problemo whatsoever. But is it important to follow each and every trend out there?
Personally, I don't think so.
Admittedly, blogging can get to a point where it feels almost like a competition. Everyone is racing to follow the "trend", which in my opinion adds more work to my long list of "to-do" pile.
Am I just looking for excuse not to do it?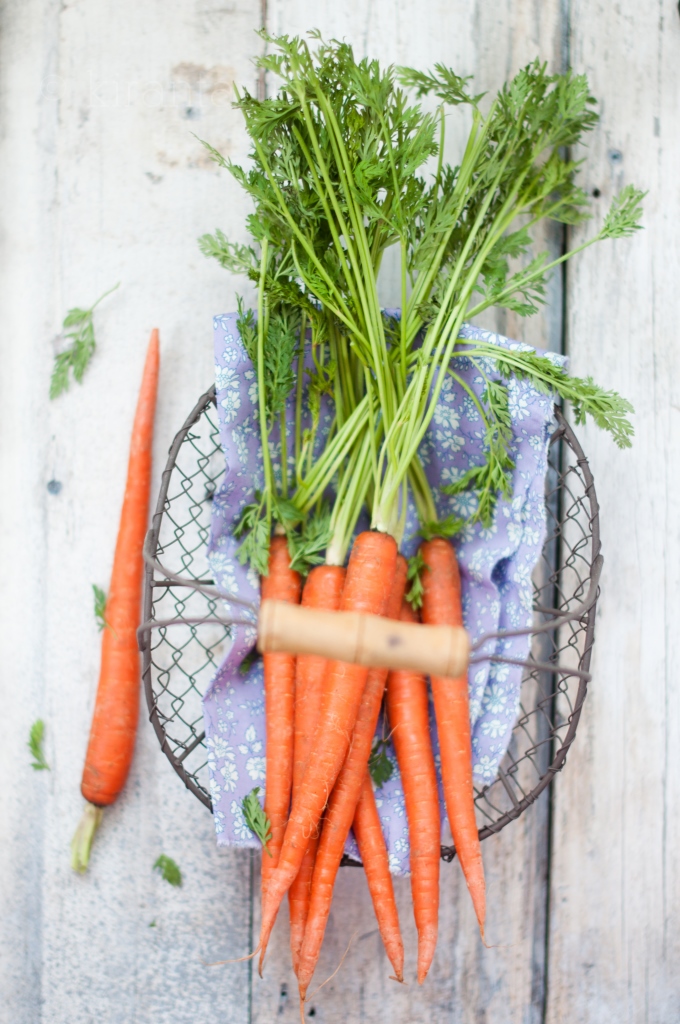 Nope.
I'm just looking for excuses not to be sucked into the "pressure" of blogging. And in no way I'm saying that my way is the best way or its wrong to follow blogging "trends".
Everyone should be happy with what they are capable to do in 24 hours. Me on the other hand, is finding it very difficult to juggle everything.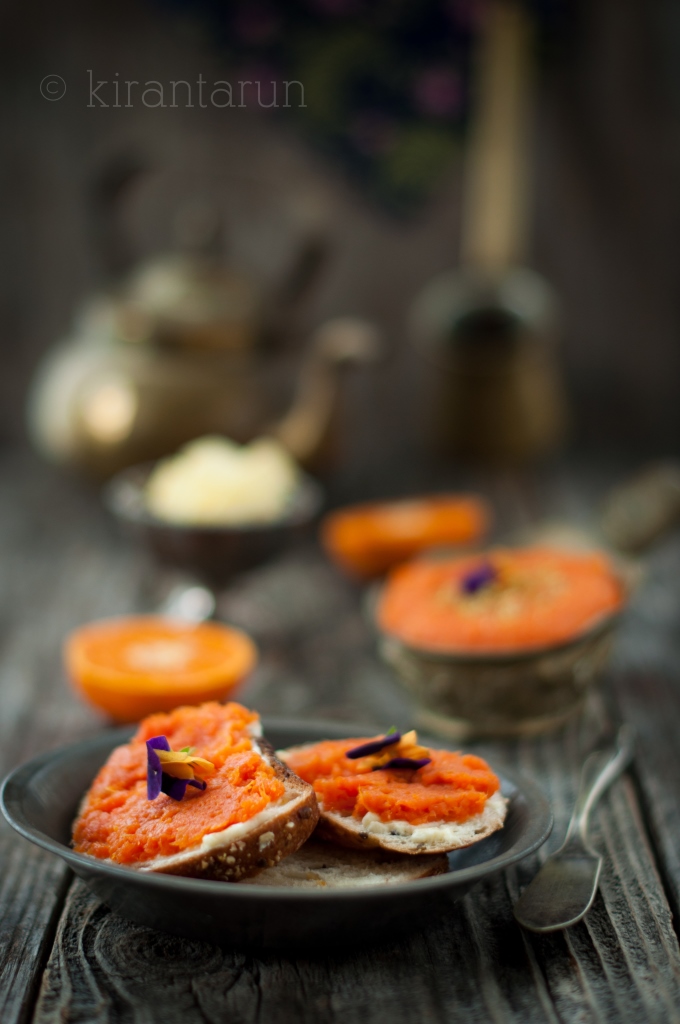 So, I tend to prioritize and try not to let "trends" bog my creativity and most importantly, question the need for my blogging. I think many of us out there feel pressured to blog and that shouldn't be the case.
Blogging should be an escape instead of obligation. So what if you can't post on the days when you should. If you can't, do it without feeling the guilt. And if you are feeling guilty, gush it all over this jam.
The process of cooking down mashed carrots into jammy consistency would make it all melt away. Trust me on this.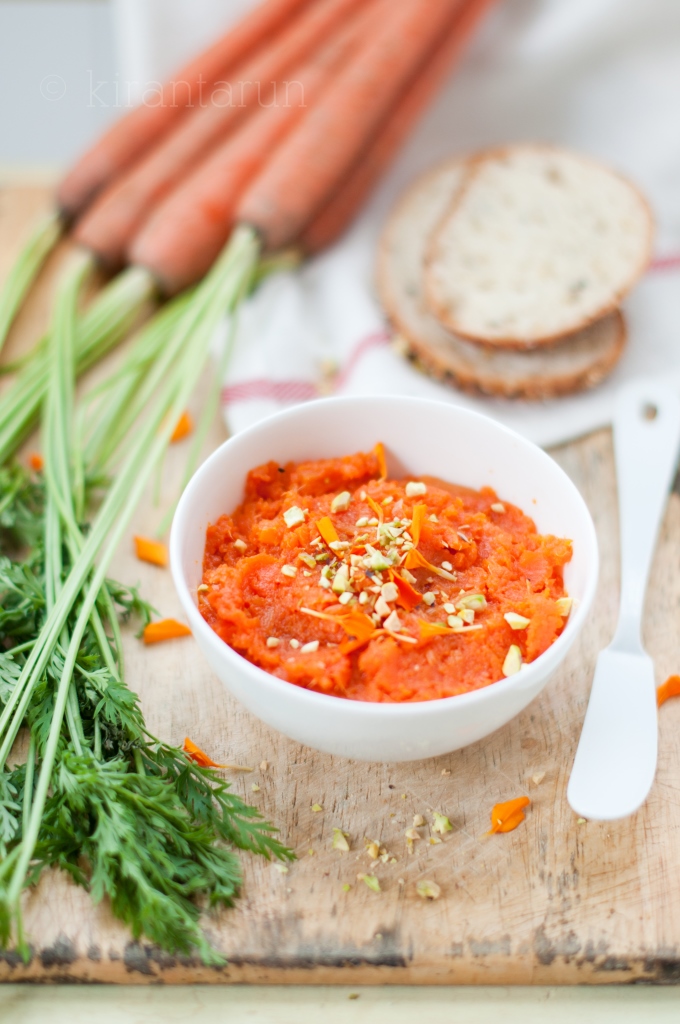 Print This Recipe
Ingredients:
1 lbs carrots, peeled and chopped
Water
1/3 cup sugar
1 clementine, zested and juiced
1/4 tsp orange blossom water
1/4 tsp cardamom powder
Garnish: ground nuts and edible flowers
Directions:
Peel and chop carrots. Add it into a large saucepan. Fill with water and heat it over medium. Bring carrots to boil and cook for 20 minutes or until fork tender.

Drain boiled carrots through a colander. Rinse with some cold water.
Add boiled carrots into a food processor to puree or use a masher to mash.
Heat saucepan on medium high. Add mashed carrots and stir every now and then to reduce moisture.
Drizzle in clementine juice and sugar. Stir to combine and cook for 15 minutes or until it reaches some jammy or spreadable consistency.
Add zest of clementine, orange blossom water & cardamom powder. Stir and remove from heat to completely cool.
Refrigerate jam in an airtight jar or container.
To serve it on a toast: spread a layer of butter & carrot clementine jam, sprinkle some chopped nuts and dig in!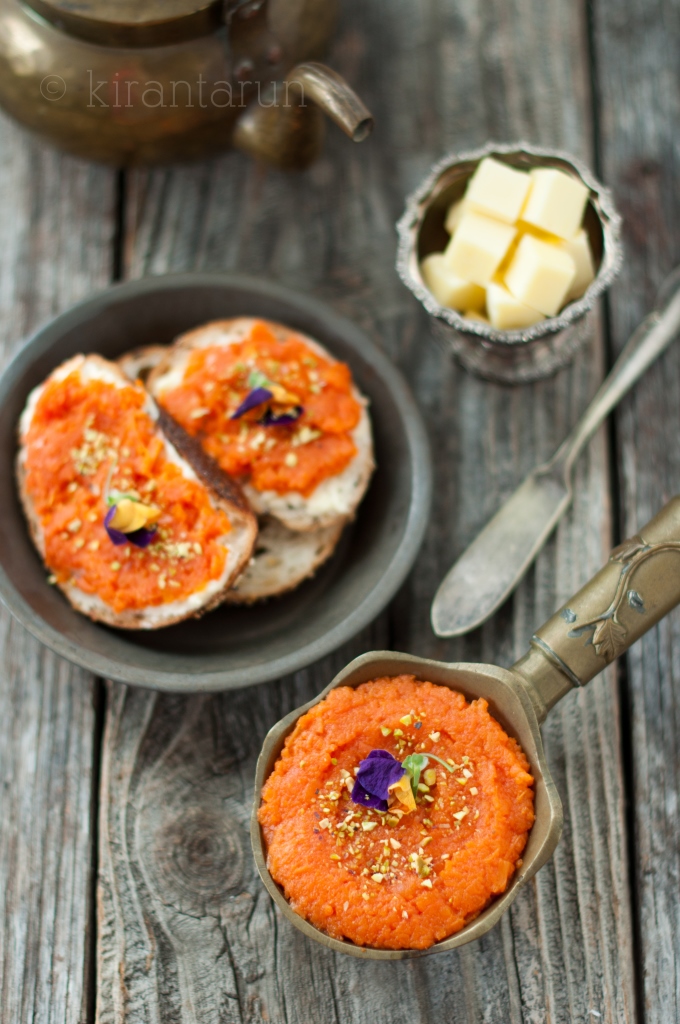 I've even stir this jam into my morning oats. Literally mind-blowing 😀 Have a great weekend, my friends.
What is your take on blogging "trends"? Anything that I'm missing? Do you add fancy fonts on your images? How do you do it ALL? Help!!