H
appy Tuesday!
I won't begin by asking about your day. I am sure it's fabulous to most of you, Apple fans out there. The iPhone 4S announcement is out, that crashed Apple.com. Do I need to say anything else?
For those of you sober phone addicts, thanks for listening to my antics.
I have a huge problem with weather. As if you don't know already, I complain too much about weather.
You are probably sick of my complaining about summer.
You are probably thinking assuming, I am easing you into another earful about how much I hate the sweltering hot weather in Florida.
You are probably thinking, "why can't she just skip to the recipe instead of trying to be a weather reporter or a novel writer of sort?"
Hmmph!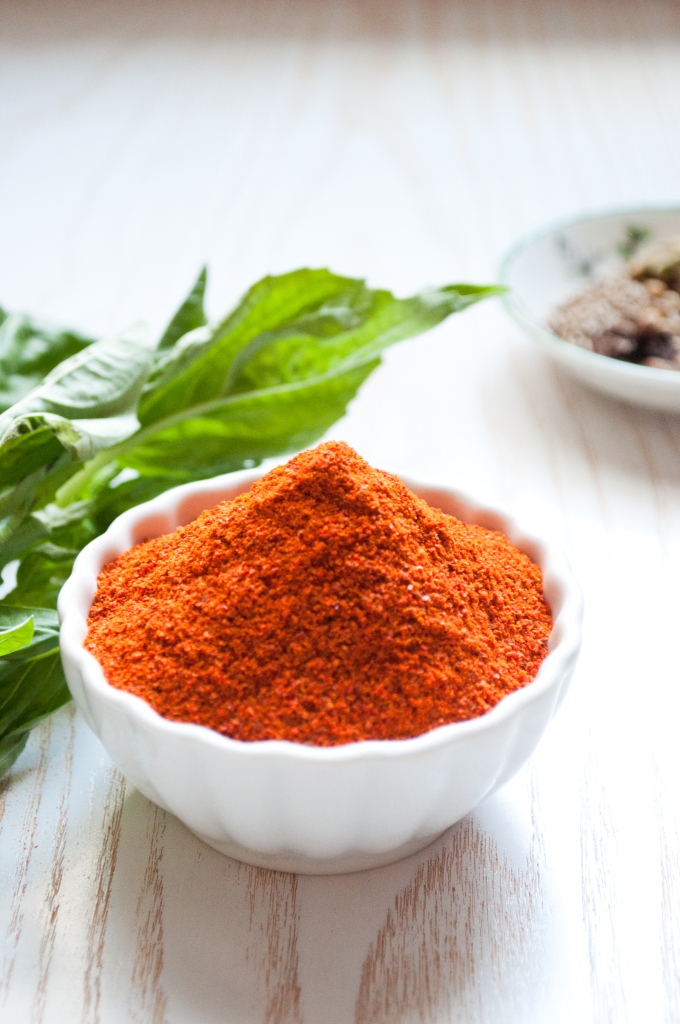 I'll cut to the chase. I am guilty as charged. Garnered I've constantly complained about the weather all summer long, but I can't stop thinking about summer produce ever since fall officially changed the season.
I can't stop thinking about how much I would miss buying boat-loads of fresh tomatoes, berries and chugging copious amounts of delicious strawberry lemonade, all day long.
I can't stop thinking about colorful blooms that brightens our days. Fall literally takes away the beauty of summer.
Ok, so admittedly I am just being a baby about fall. Or the weather, in general.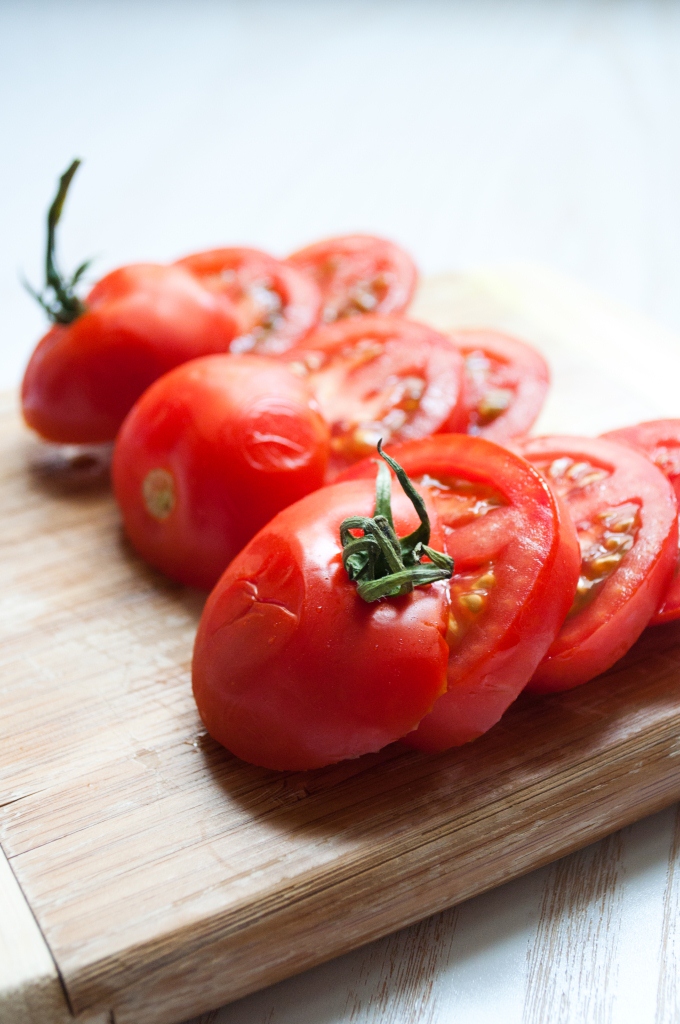 But before you beat me up, look at how sad those tomatoes are? And the nerve I have, displaying it as food prop? Not only I am beating up myself about the weather, but tomatoes are beating up themselves too! By the way, in case you didn't get it – that was meant as a pun.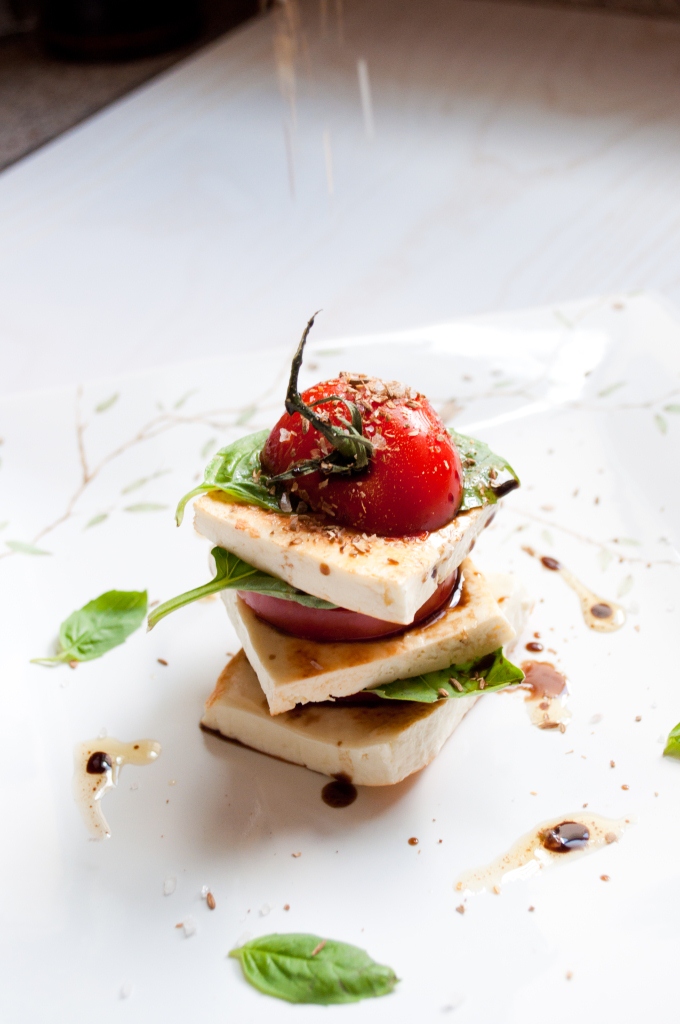 In honor of preserving what is left of summer, I present to you:
Caprese Salad with a disguised fellow.
And that fellow, my friends – is a Paneer.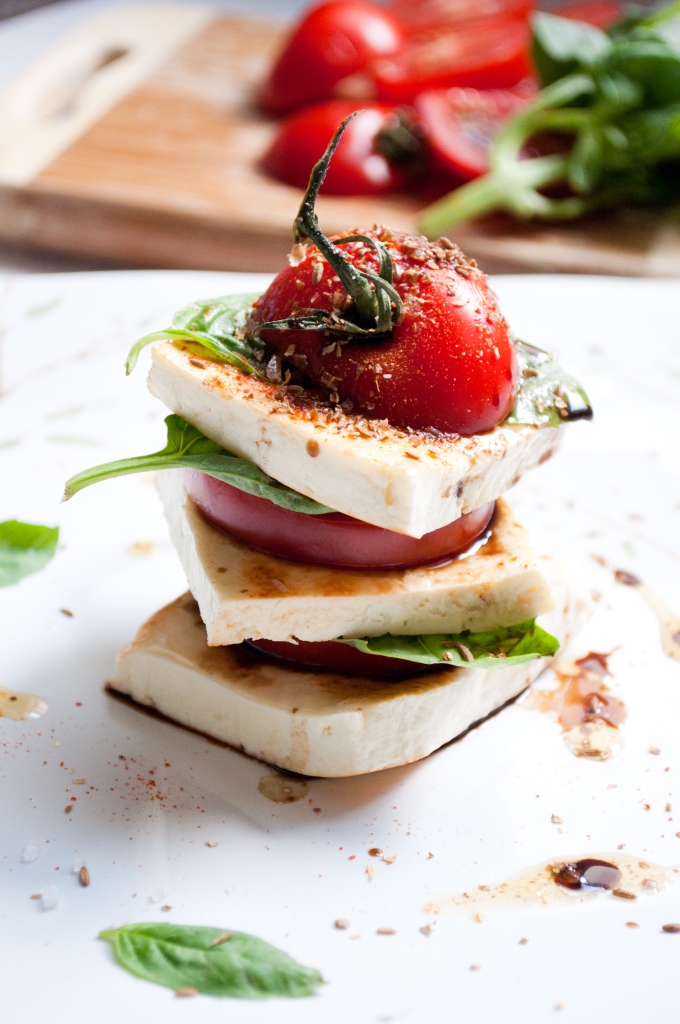 How is the weather in your neck of woods? Are you willing to let go of summer, just yet?
Bon Appétit!

Print This Recipe
 Ingredients:
6 oz paneer, cubed
2 medium tomatoes on-the-vine, sliced
a few fresh basil leaves
3 tbsp extra virgin olive oil
1 tbsp balsamic vinegar
Spice mix
1/2 tsp fleur de sel
1/2 tsp black pepper
1/2 tsp red chili powder
1/2 tsp crushed coriander
1/2 tsp crushed cumin
Prepare the spice mix by mixing all ingredients.
Cube paneer to 1/2 inch all sides. Heat a non-stick skillet on a low heat setting.
Add 1 tbsp of olive oil and slightly brown the paneer cubes on all sides. This shouldn't take more than 2 minutes.
Make the vinaigrette by adding olive oil, balsamic vinegar and a few pinches of spice mix (more/less to your liking).
Slice tomatoes and pick a few fresh basil leaves for plating.
Assemble salad by stacking a piece of paneer, topped with a tomato and fresh basil leaf.
Continue stacking to desired height.
Garnish salad with a drizzle of vinaigrette and a healthy sprinkle of spice mix.