H
appy Friday!!!
I need someone to invent a time machine. Seriously. I mean, how does time flies each day? Its mind boggling. There's many more summer recipes I want to share but summer is slowly escaping through.
Darn.
Just wish I could bottle summer up.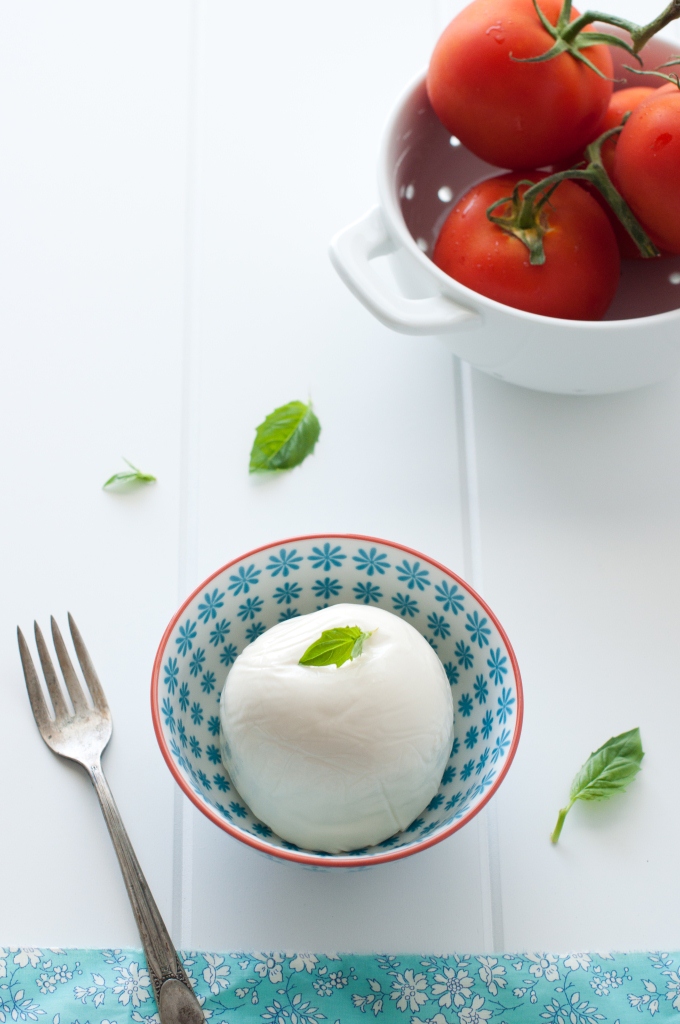 There are days where I am constantly struggling with managing my time. My daily to-do list is pretty long that includes so many un-replied emails. Yikes!
Don't blame me. Blame the time.
Ha!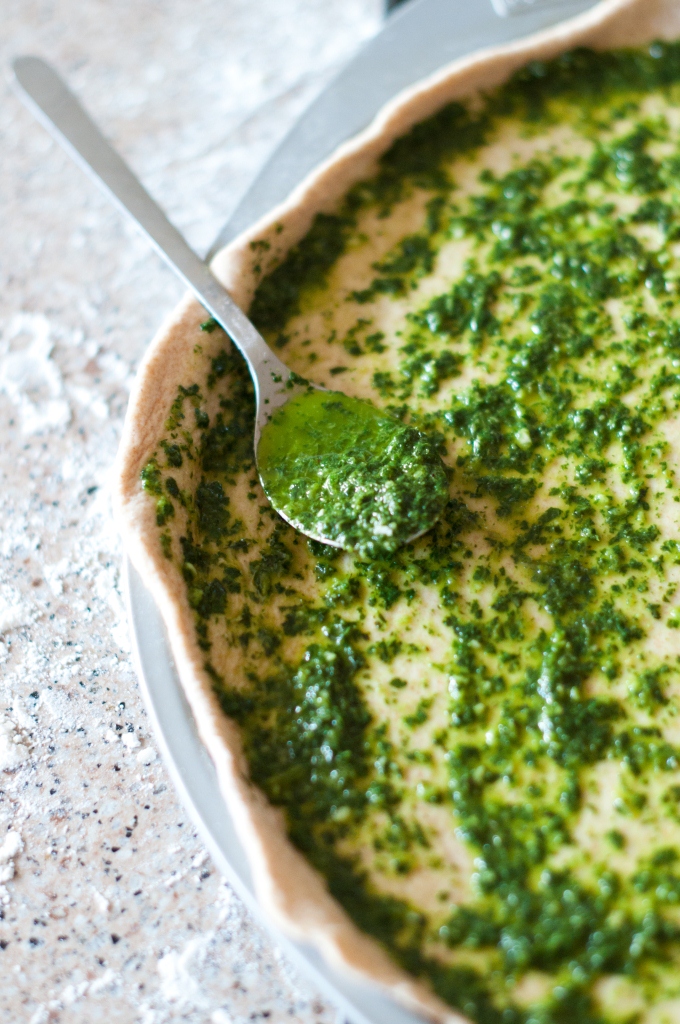 Since time is such a huge issue here, I cannot wrap my mind around the fact that I decided to spend more time in the kitchen with pizza making.
I kid myself at times. Seriously.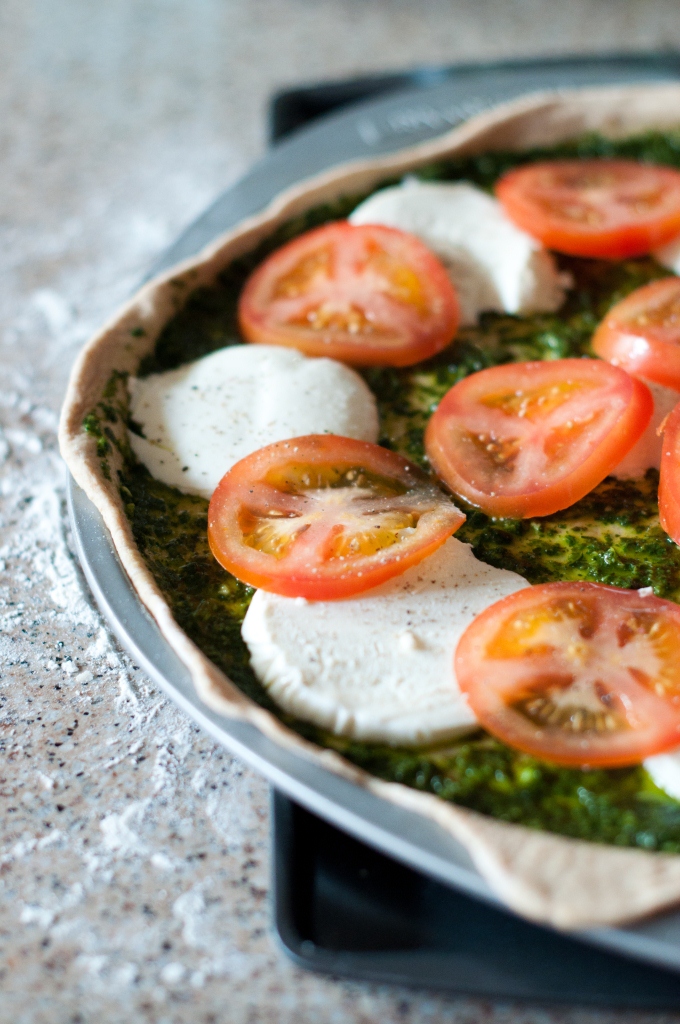 One thing is for sure, in no time you'd be able to bake a fresh pizza for dinner this evening.
Mmm.. that's sorta a lie.
But.
The only time-consuming process in this would be proofing.
Basically, puffing up the dough with help from active yeast. Now, go get the recipe and bake it 🙂
Just don't blame me if you are running out of time as well.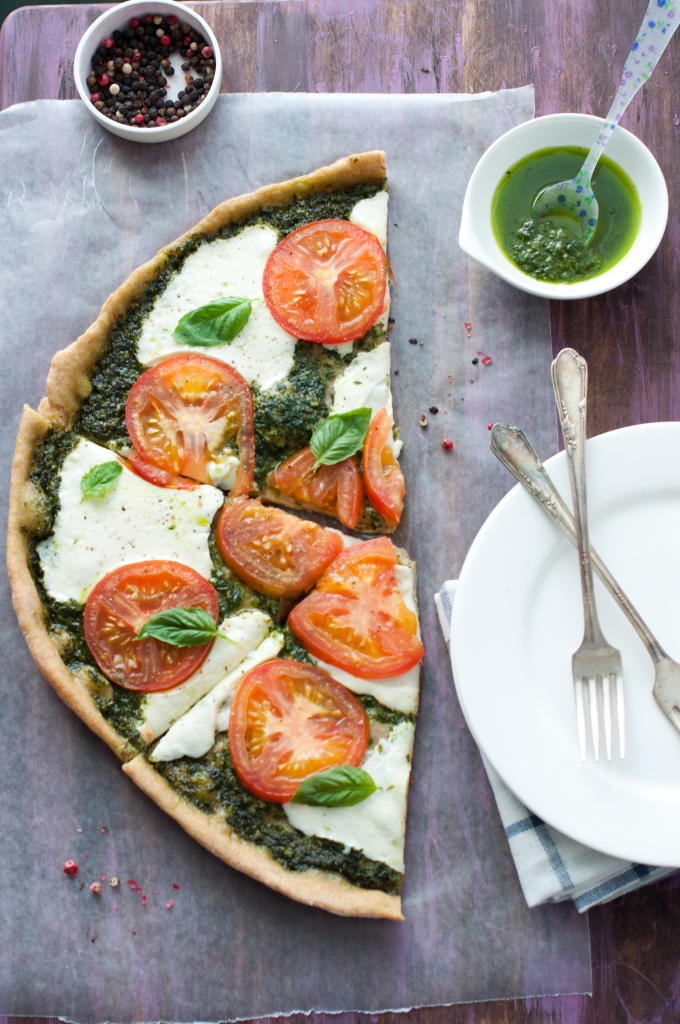 Print This Recipe
Caprese Salad Pizza : Adapted from Nicola Graimes', Whole Foods with recipes for health & healing
Ingredients:
Topping
2/3 cup fresh mozzarella cheese, sliced
2 heirloom tomatoes, sliced
Pizza Crust
1 cup bread flour
1/2 cup whole wheat flour
1/2 tsp salt
1 tsp rapid rise dried yeast
2 tbsp olive oil
2/3 cup warm water
Basil oil
2 cups fresh basil leaves, packed
2 garlic cloves
1/2 tsp salt
1/2 tsp black pepper
1/4 cup extra virgin olive oil
Directions:
For dough, place flour salt and yeast in a bowl. Make a well in the center and add oil and warm water. Mix to form a soft dough.
Turn out the dough on to a lightly floured work surface and knead for 5 minutes. Place dough in a lightly oiled bowl and cover with plastic wrap. Leave dough in a warm place for 45 minutes until doubled in size.
Preheat oven to 425F.
Knead the risen dough lightly and roll out to form any crust shape or size to your liking. Place dough on a lightly oiled baking sheet or pizza stone.
Push the edges of dough to form a shallow, even rim. Bake for 10 minutes.
Remove pizza crust from oven.
Prepare basil oil by blanching fresh basil leaves for 10 seconds in hot water and immediately cooling it in a ice bath. Squeeze out water from blanched basil leaves. Add it into a blender with remaining ingredients and blend until smooth.
Spoon basil oil onto half-baked crust base. Top it with sliced mozzarella and heirloom tomatoes. Sprinkle with some salt & black pepper before baking it for another 10 to 15 minutes or until crisp and golden.
Garnish with some fresh basil leaves and serve immediately.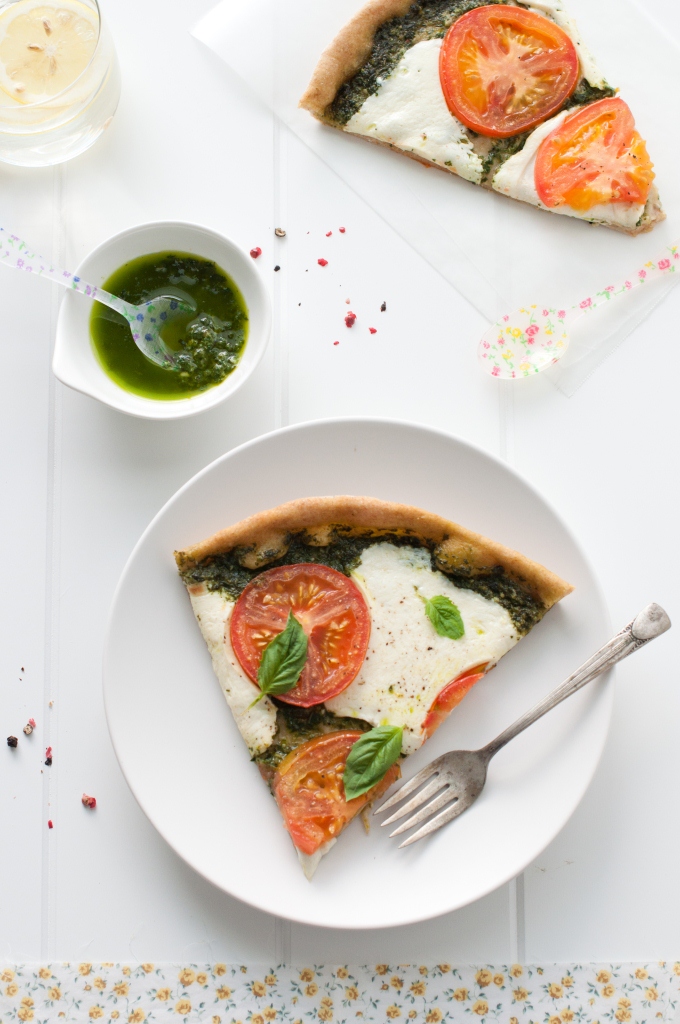 From the corners of my eyes, I could see the Husband gobbling up slices of this pizza. I better not succumbed to having crumbs for dinner. That's just worse in comparison with cribbing about time.
What about you? Any time-saving tips or recipes you have to share? 🙂