H
appy Tuesday!!
How is it July, 31st already it's beyond my ability to comprehend. I'm just not ready to bid farewell to juicy tomatoes, succulent berries, crisp melons and so much more summer delights.
I'm guessing there's a way to stop time. Only wish I knew how.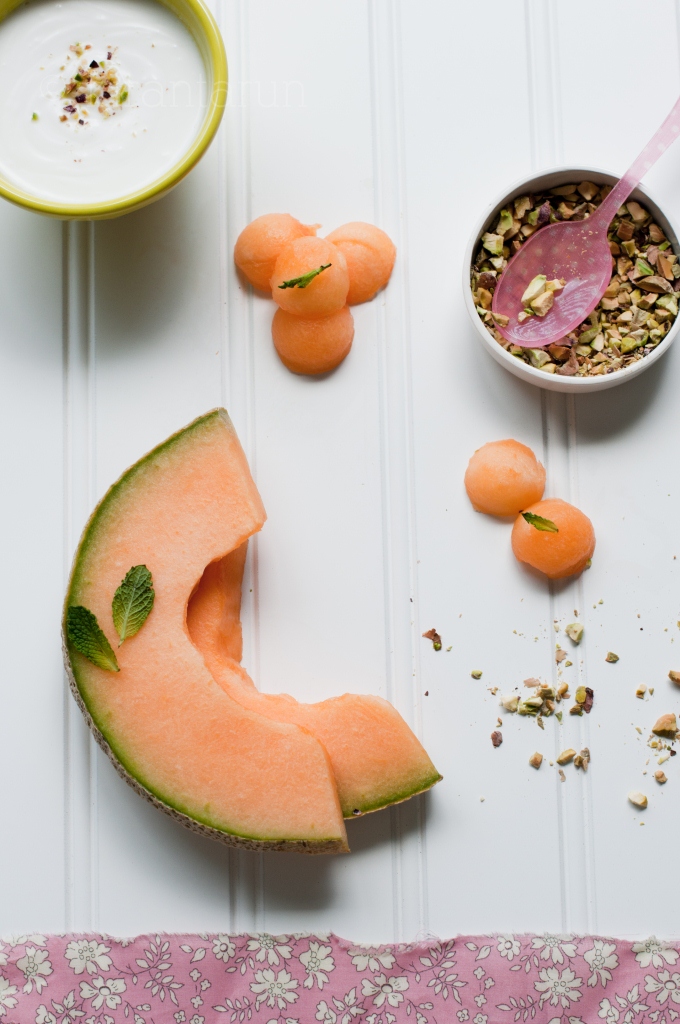 Anyhoo…
Did I ever tell you about our neighbors? How we have the best of neighbors in the world?
I'm not kidding. We are lucky like that 🙂
Our neighbors are more like family's than friends. We have them over for lunches, dinners, snacks and everything in between all the time.  There's no formality, just a knock on the door and a friendly, "hey, are you free for a cup of coffee?".
They are here for us all the time. They house-sat while we escaped into West Coast not too many weeks ago. Heck, they have plans to baby-sit if and when we have kids of our own in the future.
Not so fast, people. There's time for everything.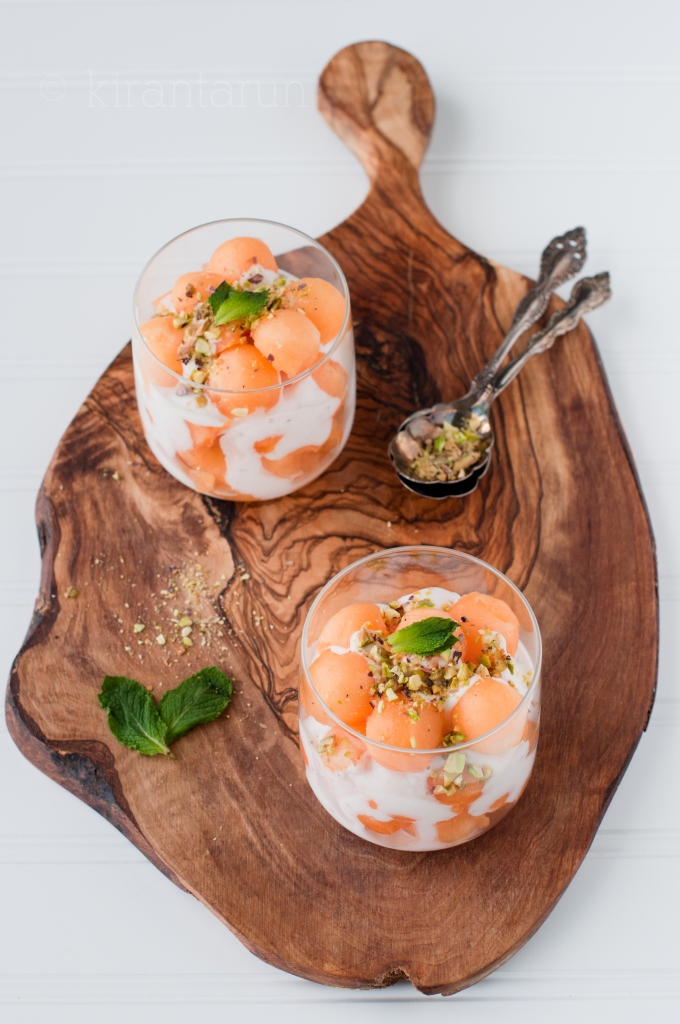 The idea for coffee was pushed aside when weather beckons for something cool and crisp. Its a great reminder of how much I love summer and it's offerings. My mind begins racing with possibilities of fixing something out of the refrigerator. Something thoughtful rather than a cup of coffee and a few cookies.
Not that any one of us mind. But a thought put into creating foods for your loved ones (friends too!) is so worthwhile. Especially when the recipe calls for a handful ingredients.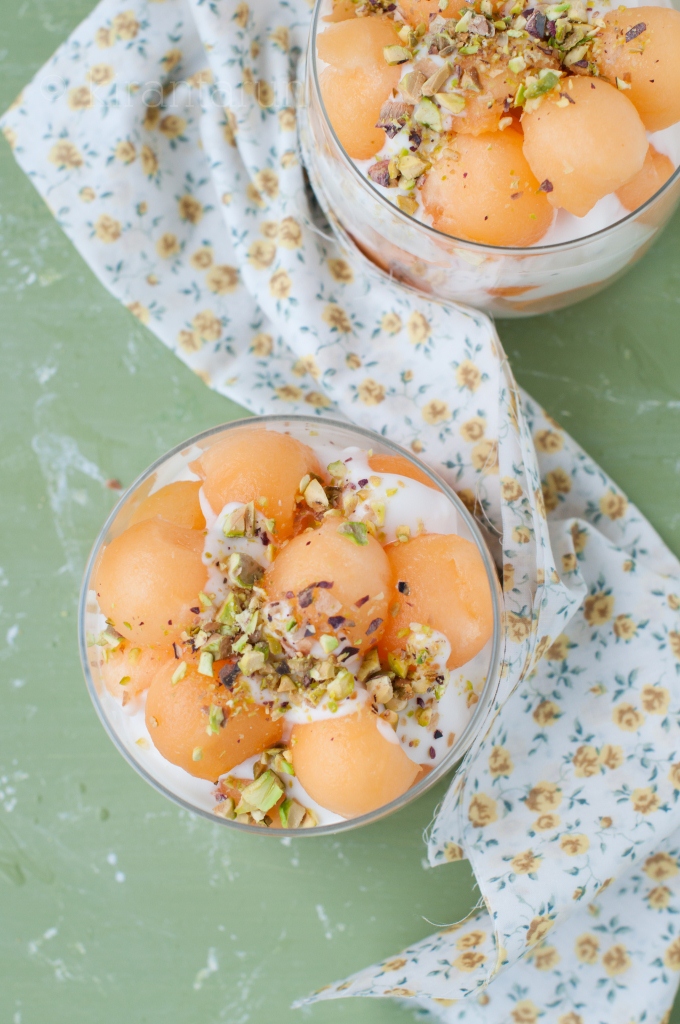 As I gazed into the refrigerator for inspiration, this is what I came up with. And I had to kick myself for not coming up with it sooner.
Well, better late than never. Huh?!

Print This Recipe
Ingredients:
1 small organic cantaloupe
1 cup coconut cream
1/2 tsp cardamom powder
2 tsp rose water
2 tbsp agave nectar/honey
Garnish: chopped pistachios and fresh mint.
Directions:
Using a melon baller, scoop out the flesh from cantaloupe in a bowl. Refrigerate to cool.
In a small bowl, add coconut cream, cardamom powder, rose water and agave nectar. Stir to combine and refrigerate to cool.
To serve, layer cool cantaloupe's with chilled coconut rose cream and top it with chopped pistachios and mint.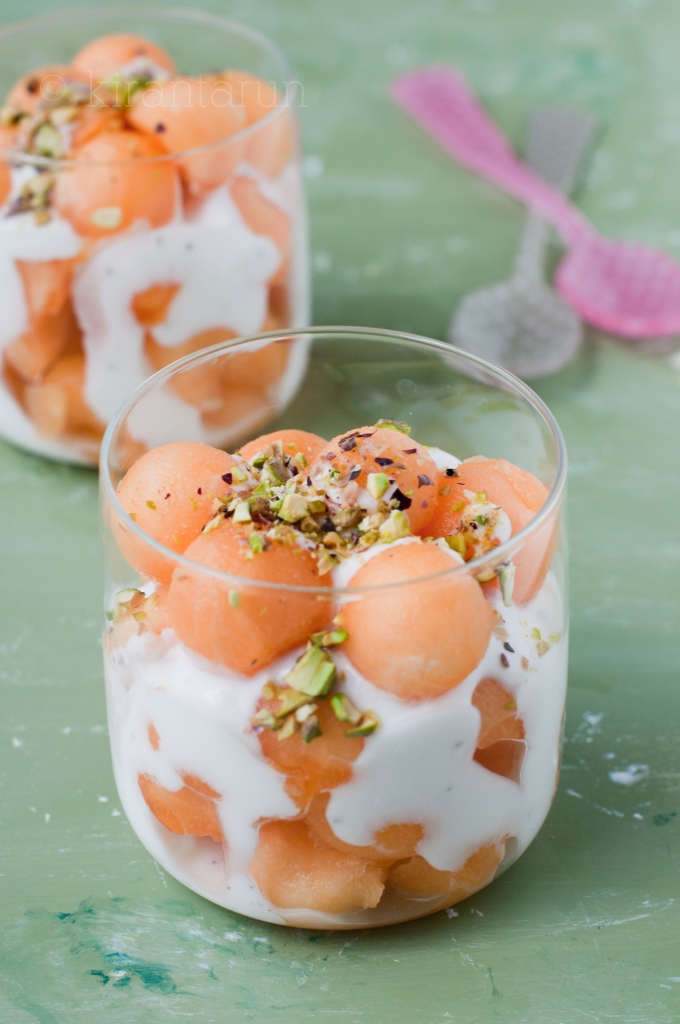 Dessert cannot be more simpler, refreshing and tasty. Off to enjoy it with my girlfriend while watching more antics on the Olympic coverage. Geez, everything seems to be so politicized these days.
What are your favorite summer dessert recipe(s) whenever you have a guest over on a very short notice?
Something to ponder:
Bread for myself is a material question. Bread for my neighbor is a spiritual one — Nikolai Berdyaev