H
i friends! Happy Friday 🙂
Today I want to discuss about left-over produce.
What do you do if you have a fridge, sparse with ingredients? Like a crusty day ol' bread, handful of grape tomatoes, a few mushrooms and some vegetables lying around awaiting to be utilized?
You should bake it all into perfect bowls of roasty deliciousness.
Did I just invented another word? Roasty sounds very "gourmet-ish".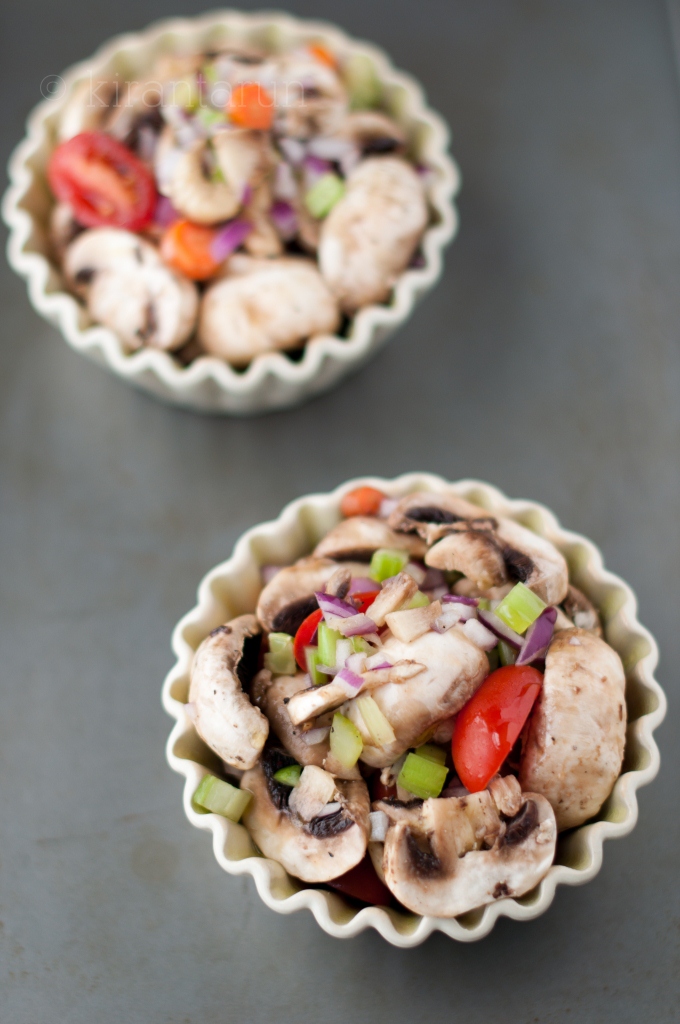 So, this walking "dictionary" would be teaching you all about using up sparse produce that is left in the refrigerator for anything but grand.
Yes folk, grand is not a word to describe this recipe. Sublime is the way to go.
Now I'm teaching grammar? I can be so predictable. Continue following my cue, because I want to introduce you to bowls of sublime brunch idea.
It's so easy, you can make it now. This instant.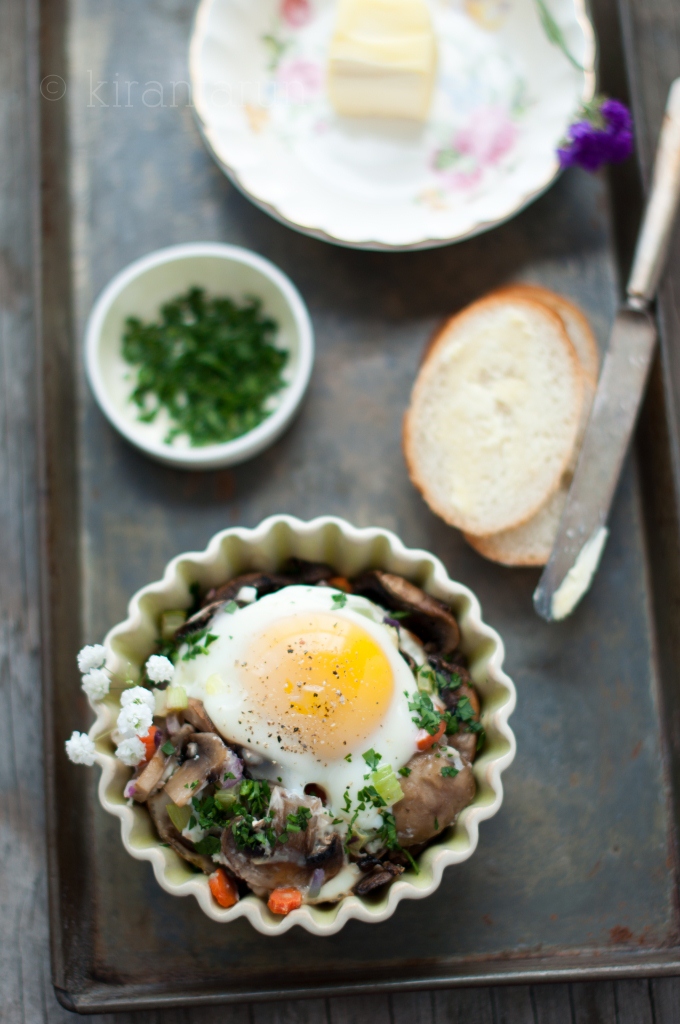 Chopping everything into itty-bitty bite size, throwing it all into fancy dishes, drizzling of evoo and other spices — makes a perfect concoction for something tasty, easy and different for your next brunch party.
In fact, lay out all of the ingredients (or condiments), including oven-proof dishes. And get your guests to partake in making their own fancy brunching "eggs". Once everyone assembles their preference in the dishes, get it into the oven. Get busy again by preparing mimosa's and coffee's to rejoice.
Or even better — toast it with sangrias.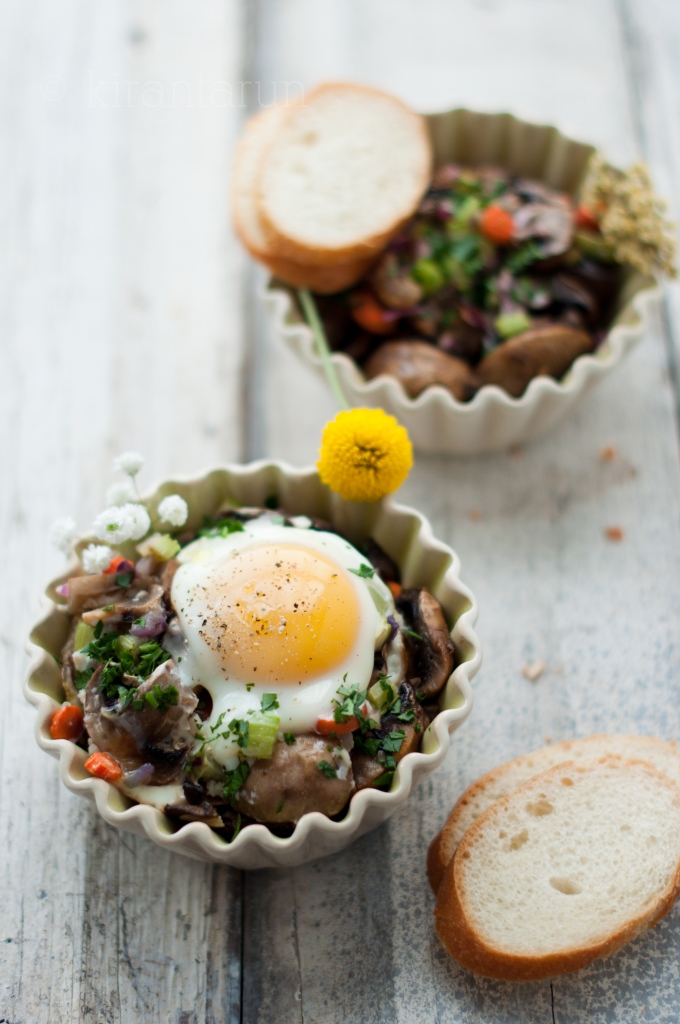 Print This Recipe
Makes 2 servings
Ingredients:
10 white mushrooms, sliced
8 grape tomatoes, quartered
1 shallot, minced
1 celery, cubed
1 tiny carrot, cubed
1/4 tsp salt
1/4 tsp black pepper
1 tbsp truffle oil
2 tbsp light olive oil
2 eggs
Chopped italian parsley for garnish
Crusty bread
Directions:
Heat oven to 400F.
In a bowl, mix all ingredients, with the exception of eggs, garnish and bread.
Divide mixed ingredients into 2 ramekins (or any oven proof bowls). Place ramekins onto a baking sheet and bake for 15 minutes.
Remove ramekins from oven. Crack eggs on each and return the ramekins to the oven to bake for another 5 minutes.
Once eggs are done, remove from the oven and serve garnished with italian parsley and crusty bread on the side.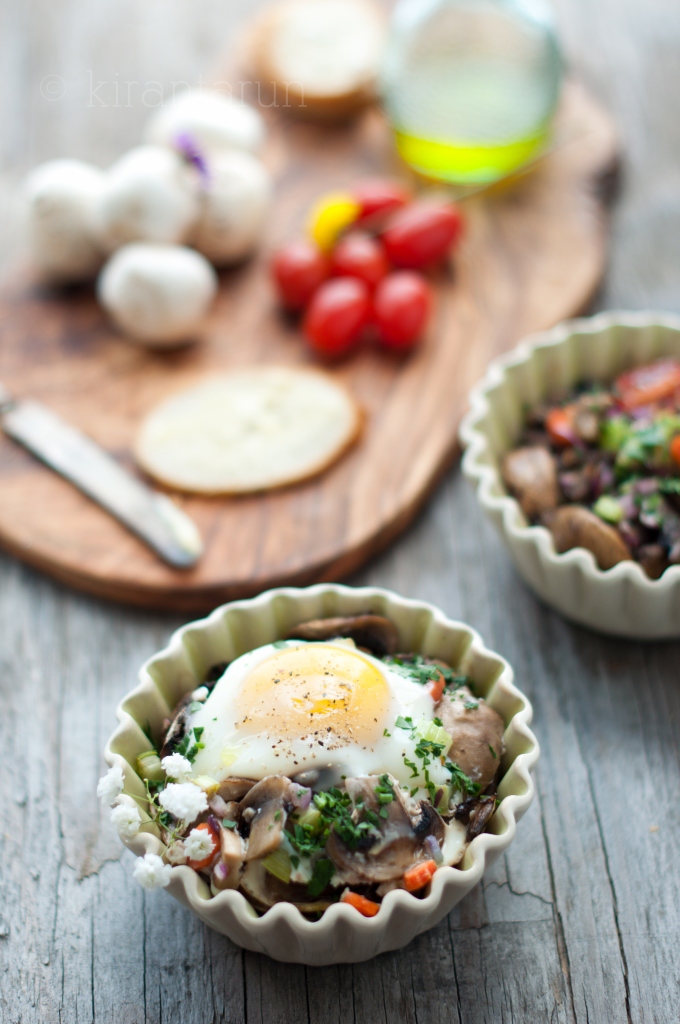 This brunching delights reminds me of Spanish style, "tapas". Grab a day ol' bread and mop up all the liquid delicious that is, resulting from roasting.
Mmmmm… 😀
What's your idea of a perfect brunch? How do you consume leftover produce?