I
love discovering unfamiliar produce in the market. Although rhubarb is something many have been feasting for a while now, I'm afraid I can't share the same enthusiasm.
This is one "party" that I'm definitely late to. Well, better late than never, right?
And I'm so happy to report that we can't live without rhubarb.
Or crepes. And brown butter. We simply cant.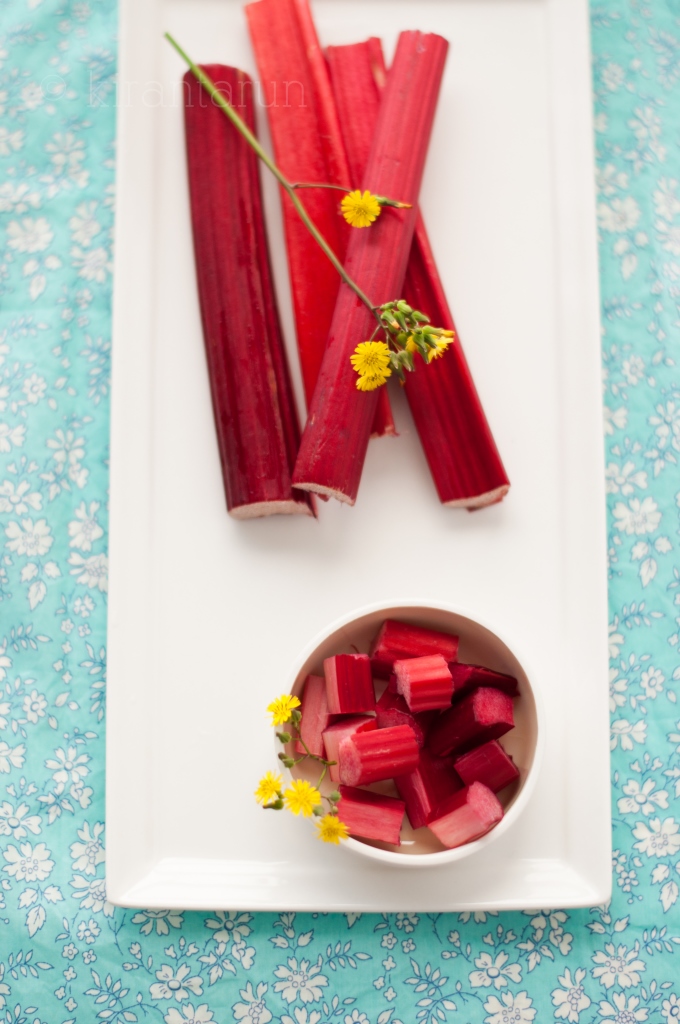 On the other hand, crepes is something we are pretty familiar with. In fact, we had a gastronomical adventure of tasting our first crepes ever a few years ago in Washington, DC at a cute cafe aptly named Crepe Amour 😉
We had a sweet and savory crepe which I hope to recreate soon. Who could forget the flavors of "Dhaba" — savory crepes that is stuffed with marinated tandoori chicken strips and fixins. We ended on a sweet note and opted for a mango and coconut crepe.
Oh my. Pretty mind-boggling if you ask me.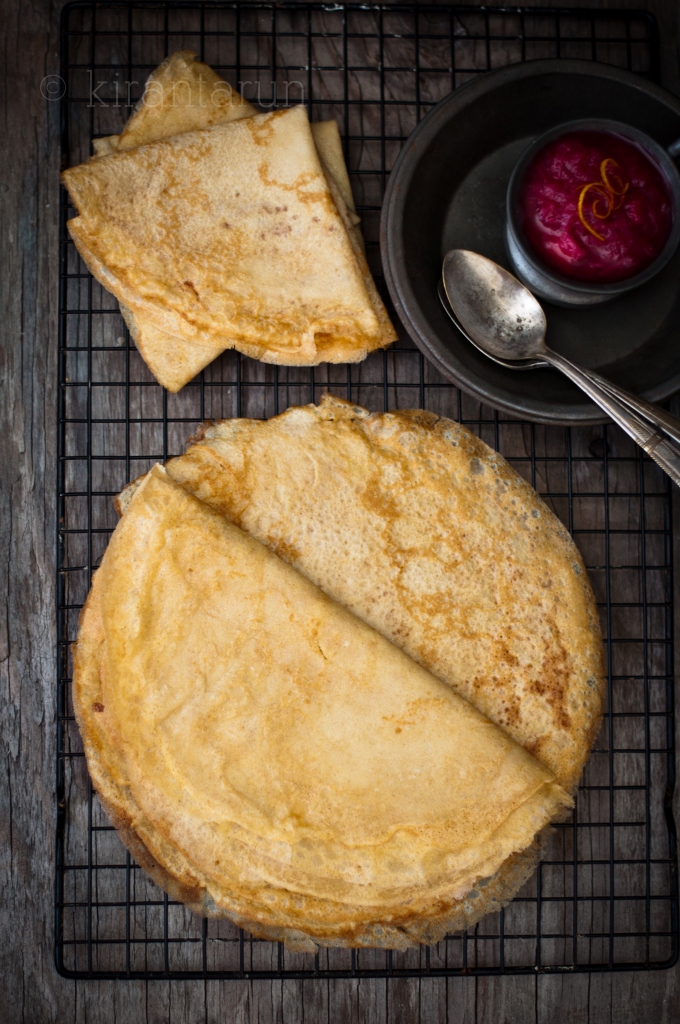 Onto homemade crepes.
And so, the quest of discovering the unknown begins in the kitchen. And when it comes to experimenting with flour, it's a painstaking endeavor. By the end of it, the kitchen and I are almost "snowed" in. From sprinkling of powdered sugar to flour all over the place.
Worth every morsel. Just send over a maid and in return, I'd happily hand over some homemade brown butter crepes and fresh rhubarb compote.
You don't agree? Then go and make it all by yourself. And I promise you — it's worth every bit mess 🙂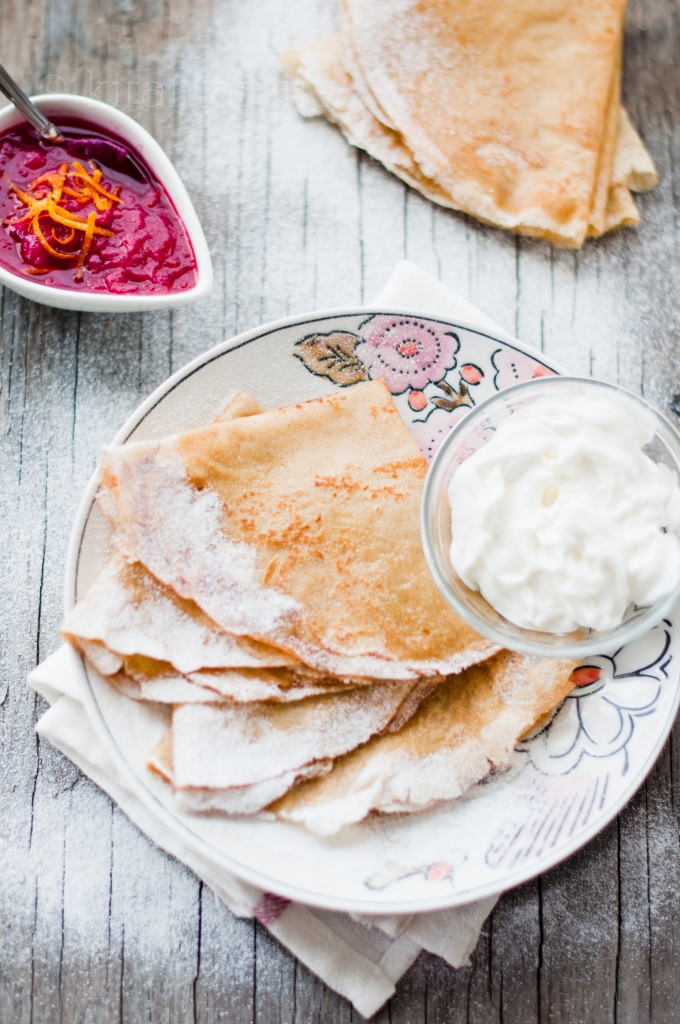 Print This Recipe
Ingredients:
Crepes — adapted from Alton Brown.
2 tbsp butter
2 tbsp sugar
2 large eggs
3/4 cup reduced fat milk
1/2 cup water
1 tsp vanilla extract
1 cup whole wheat pastry flour
Almond oil or butter to coat pan
Rhubarb compote —
1/3 cup sugar
2 heaping cups of rhubarb, chopped roughly from 10 stalks.
1/4 cup water
2 tsp orange zest
Directions:
Heat a small non-stick skillet on medium. Once hot, add 2 tbsp butter. Stir to melt and bubble until browned and toasty, about 2 minutes. Remove brown butter from heat to cool.

In a medium bowl, add sugar and eggs. Whisk to combine. Add milk, water and vanilla extract. Whisk until combined, before adding cooled brown butter.
Slowly fold in whole wheat pastry flour into batter. Whisk to combine but avoid over-mixing. Refrigerate batter for at least an hour to "rest".
Prepare rhubarb by heating a saucepan on medium. Add sugar, chopped rhubarb and water. Stir to combine and cook rhubarb until it thickens for 5 minutes.
Remove rhubarb from heat and add 1 tsp orange zest. Stir to combine and set aside.
Heat a small non-stick pan or a crepe pan on medium-low. Add a little butter or almond oil to coat.
Once butter is heated, pour 1 ounce of batter onto the center of pan and immediately swirl the pan to spread evenly.
Cook crepes for 30 seconds and gently flip. Cook for another 20 seconds and remove to stack on a plate.
Repeat steps 6 to 8 until all batter is gone.
Before serving, garnish rhubarb compote with 1 tsp orange zest. Serve it up with fresh brown butter crepes dusted with some powdered sugar.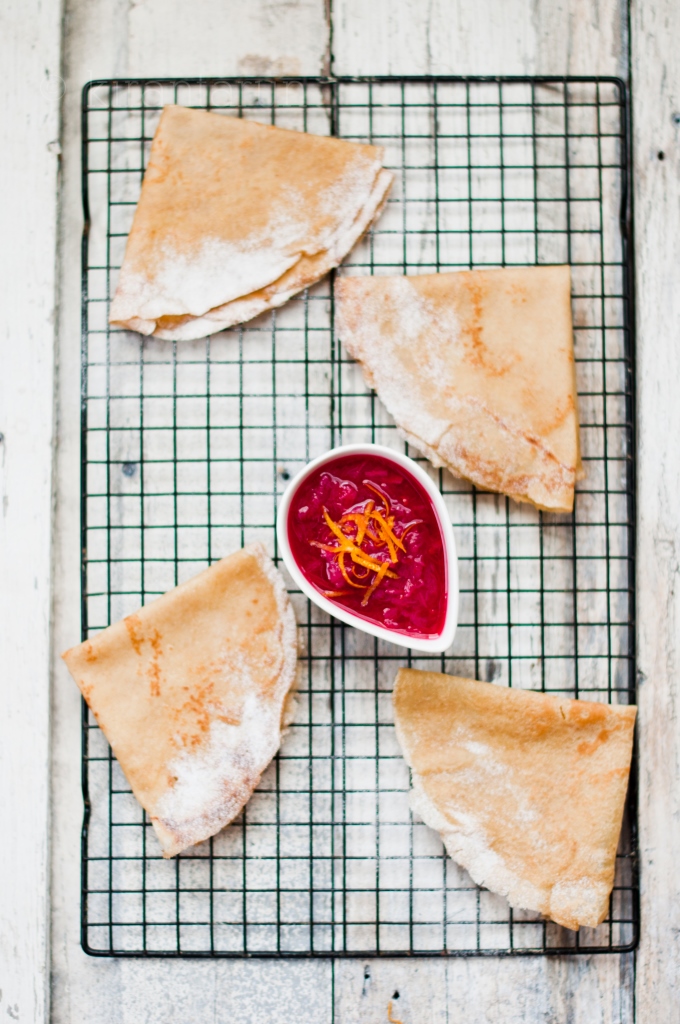 Out to dust powdered sugar off me. I'm pretty good at making a mess, of myself 😀
Have you tried making crepes from scratch before? What would you prefer: sweet or savory?