C
onfession: I've never baked bread pudding before. Ever.
Scratch that.
I've never tasted bread pudding before. Ever.
I think the nice people at Bauducco somehow knew this secret. Low and behold, they sent me two pillowy and fluffy panettone specialty cakes. People here do take their bread pudding seriously.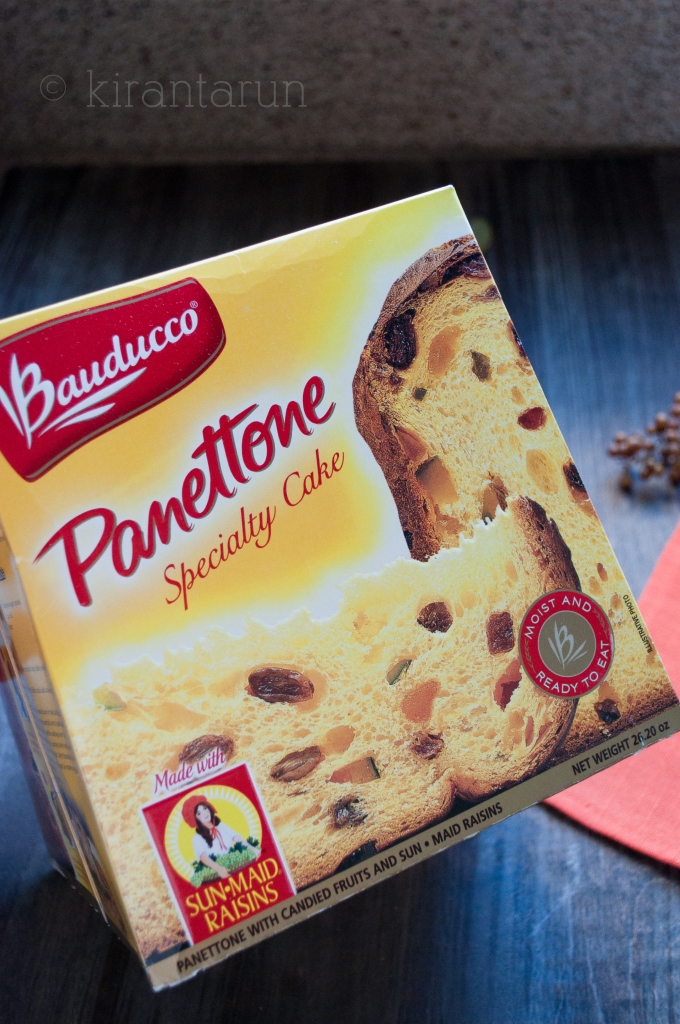 Honestly, these specialty cakes are so delicious. Apart from candied fruits, sun maid raisins and chocolate chip, I want to guess there's orange peel and all spice in it? Sweet and scrumptious.
So, what did I do to break into these delicious stash? Between hosting a brunch with friends and saving it all for myself with the risk of not fitting into my pants?
I chose the brunch.
A girl gotta eat. We not only shared a delicious meal, but gossiped. Winners all around.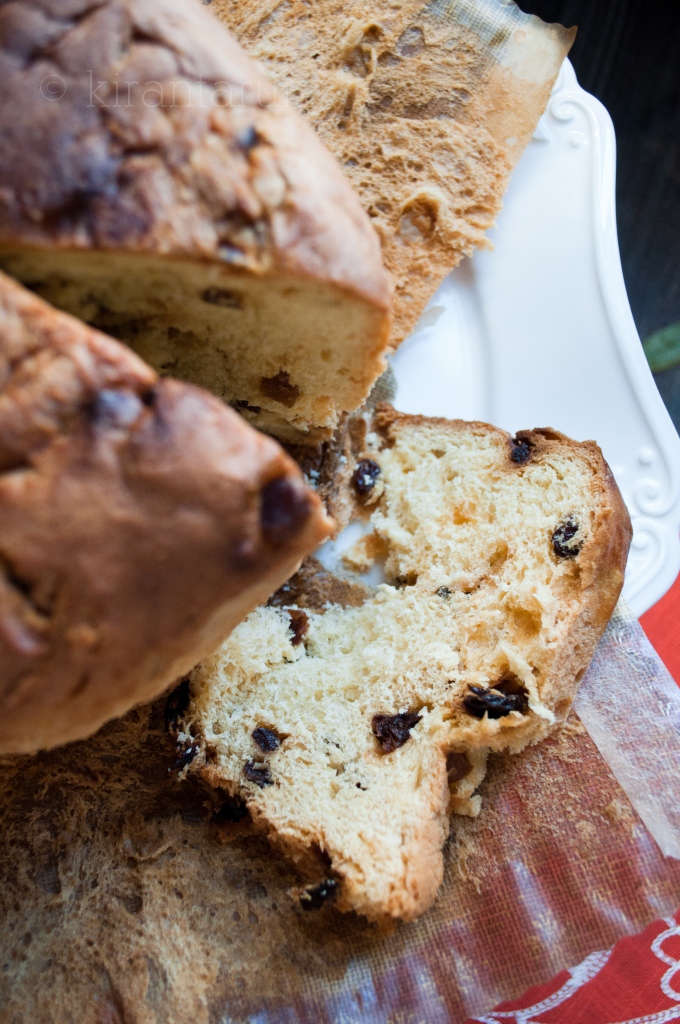 Let me cut to the chase – no doubt, I love baking. But there are moments I break down by going through short-cuts. Well, you are about to lecture me on that subject, aren't you? But having a huge load off your shoulder from baking up a storm can totally make your day.
Take this panettone bread for instance. Would you imagine me baking this bread from scratch only to spend more time turning it into a delicious french toast or bread pudding?
Hell, no 😀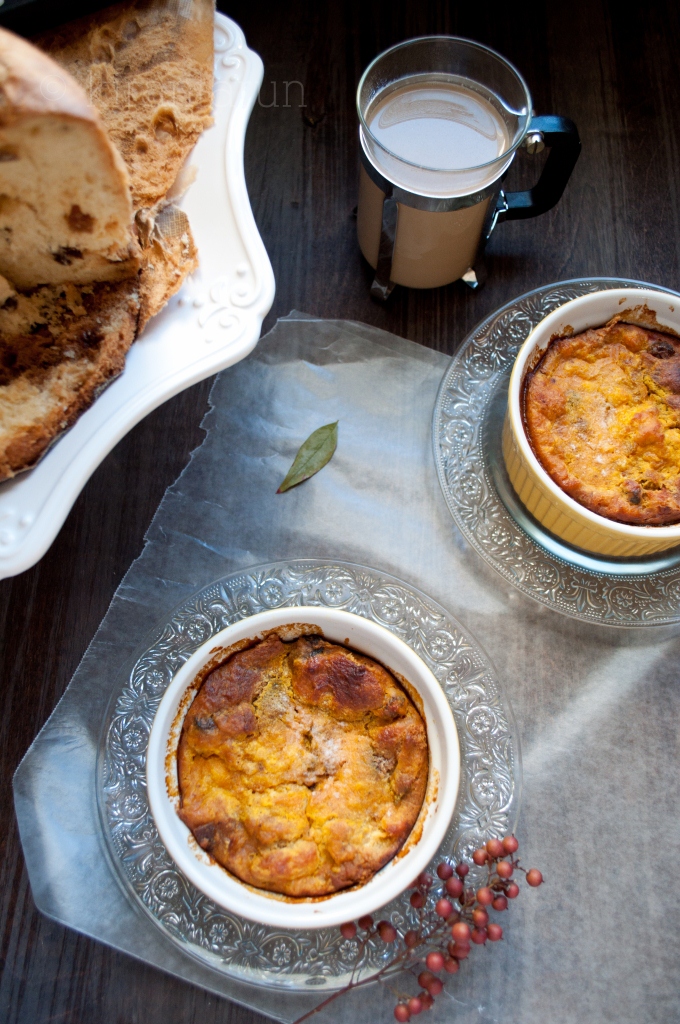 Since we are on the "confessing" subject:
I'm not ashamed to admit this – I've been adding pumpkin into everything! It's so comforting and delicious.
Still having trust issues with me? Try it, I dare you. It's a life changing experience.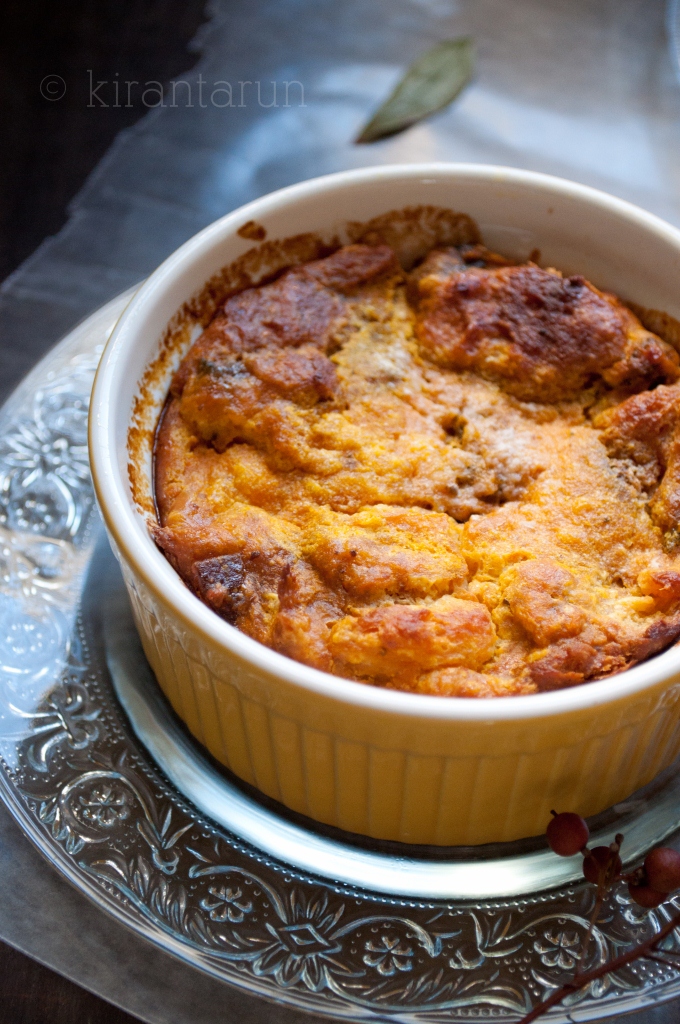 Print This Recipe
Pumpkin Bread Pudding
Ingredients:
8 oz Bauducco Panettone candied fruits and Sun-Maid raisins specialty cake, cubed bite size
1 cup whole milk
2 eggs
3 heaping tbsp pumpkin puree
1/2 tsp pumpkin pie spice
2 tbsp butter
Confectioners' sugar
Directions:
Preheat oven to 375 degrees. Butter ramekins and layer panettone slices.
In a bowl, beat eggs and slowly stir in milk.
Add pumpkin puree and pumpkin pie spice. Mix till incorporated.
Pour mixture over panettone slices, pressing the panettone down to keep it submerged. Let stand for 10 minutes.
Place ramekins on a baking sheet. Dot bread pudding with butter pieces and bake for 30 minutes, or until a toothpick inserted midway into pudding comes out clean and the top is golden.
Serve warm or chilled, sprinkled with confectioners' sugar.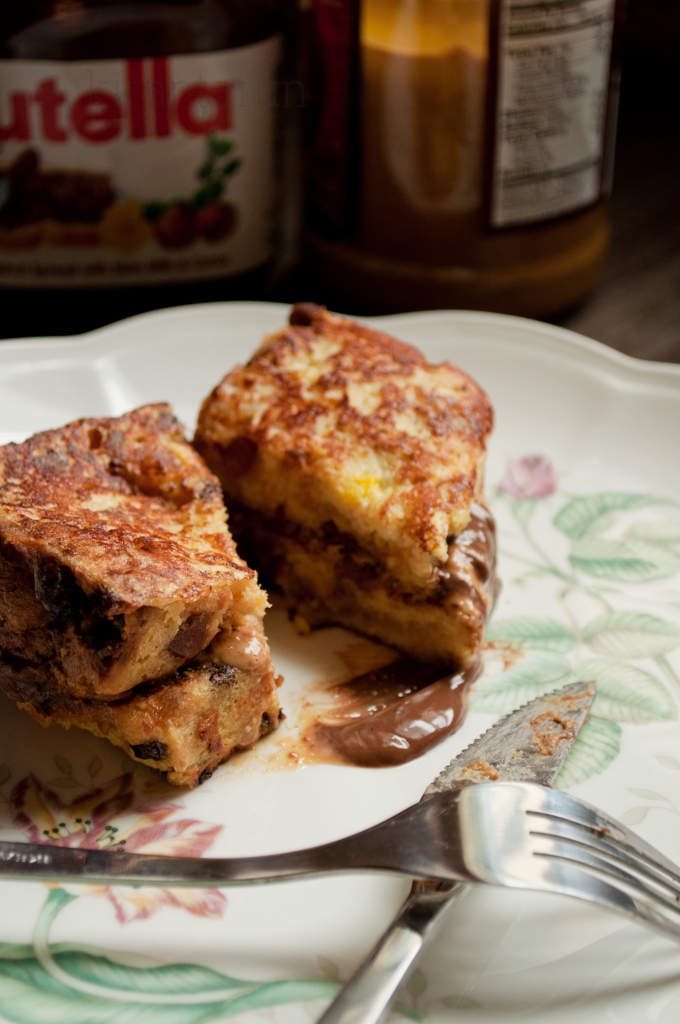 Print This Recipe
Nutella & Peanut Butter Stuffed French Toast
Ingredients:
4 thick slices of Bauducco Panettone Hersey's milk chocolate chip specialty cake
2 eggs
1/3 cup of milk
1/2 tsp vanilla extract
Butter
1 tbsp peanut butter
1 tbsp Nutella
Directions:
Beat eggs, milk and vanilla extract in a shallow, flat-bottomed dish.
Place panetonne slices in the dish for a minute, then turn over to soak both sides completely.
Warm skillet or griddle over medium heat.
Add butter to grease the skillet and gently place panettone slices onto heated skillet.
Cook for about 2 minutes per side and flip. Spread peanut butter on one side and nutella on the other.
Sandwich both slices while hot on the skillet. Serve immediately, pipping hot.
It didn't need any drizzle of maple syrup, an extra pat of butter, a spoonful of jam or a spread of cream cheese. But who am I to judge if you compel to drench it all in maple syrup? Go at it!
Excuse me while I polish off this delicious plate of french toast and squeeze in a run thereafter – well, this wouldn't be my last bite of french toast. Gotta' run to keep sweets in my life and off the waist 😉
What's your comfort-food breakfast staple? Anything I should try baking from scratch, soon?
__________________________________________
This post is a part of a Foodbuzz Tastemaker program with Bauducco Panettone. I received one 26oz sample of Sun-Maid raisins and one 26 oz sample of Hersey's chocolate chips Bauducco speciality cakes. In no way I was compensated to give a positive review. Read my disclosure policy for more details on my role as a food blogger.