H
ello!
I have quite an interesting recipe for you today. And it involves slices of bread. Allow me to warn you that it has nothing to do with sandwiches, french toast, bread pudding, crumbs etc.
Nada.
It's a savory recipe that I'm obsessed with ever since my sister-in-law taught me how to cook it while visiting India a few months ago.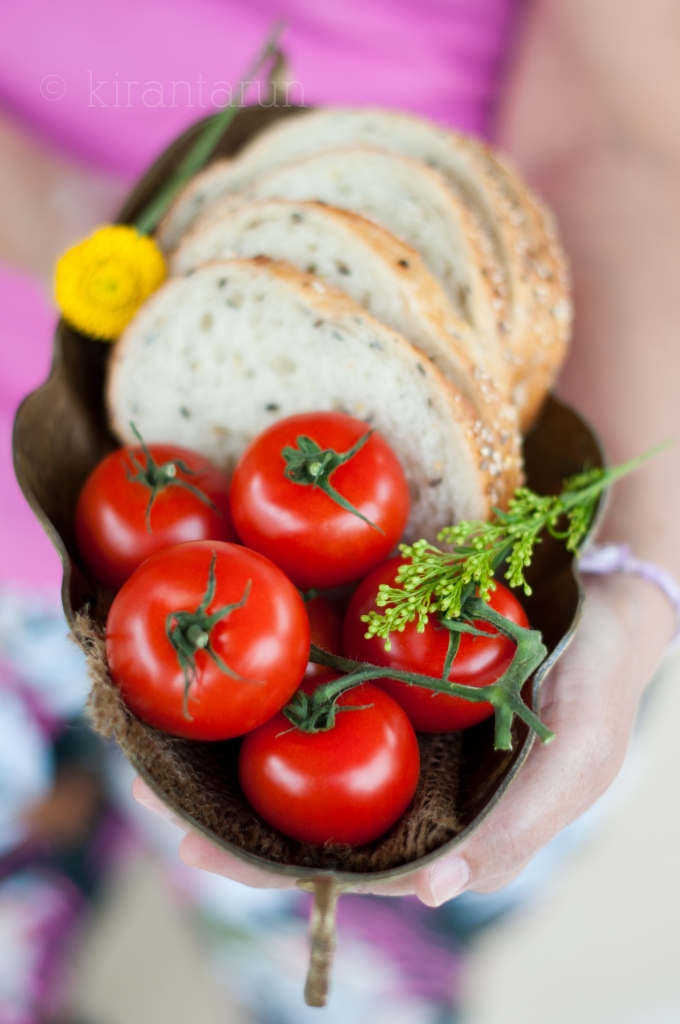 The whole trip was filled with delicious home-cooked meals, street foods and everything in between. Most importantly, I did very less cooking, so it was definitely a bonus to be enjoying someone else's cooking for a change.
I'm still learning a ton from my new family (the in-laws). Their way of life, culture and everything about them is so uniquely different.
Especially the menu. Who knew there's a lot more ways to enjoy slices of bread?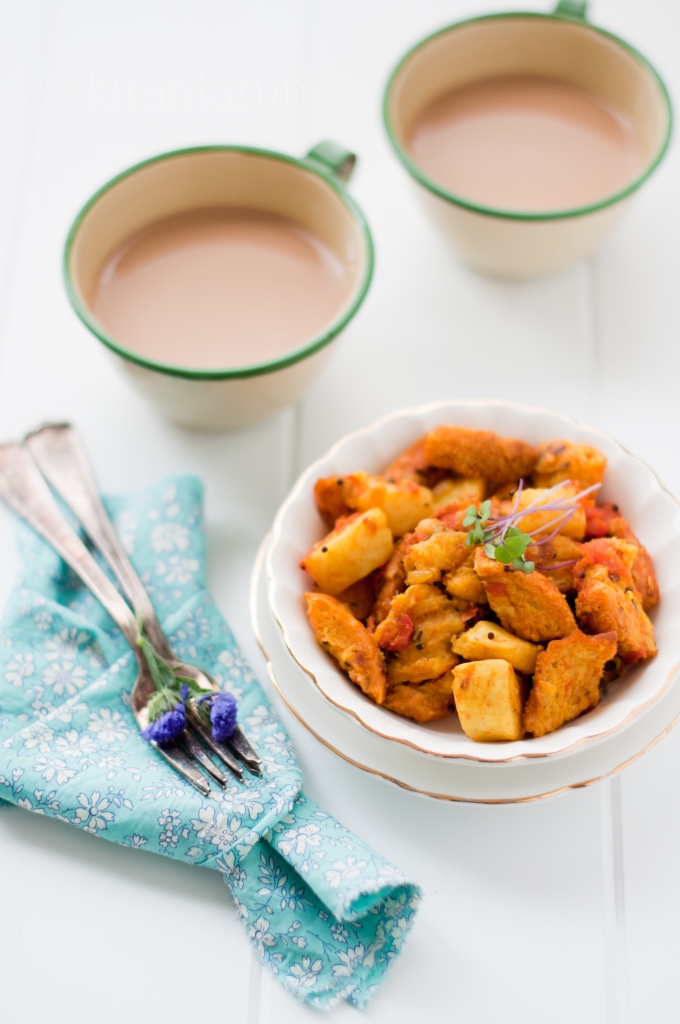 A very important note to make: this recipe uses fresh and juicy tomatoes. There's no short-cut here. Please do not even attempt to use canned tomatoes. It'll never do any justice to this recipe.
Assemble all of the usual suspects ingredients and you are ready to enjoy this recipe in no time. A perfect Mothers' Day brunch menu with the family 🙂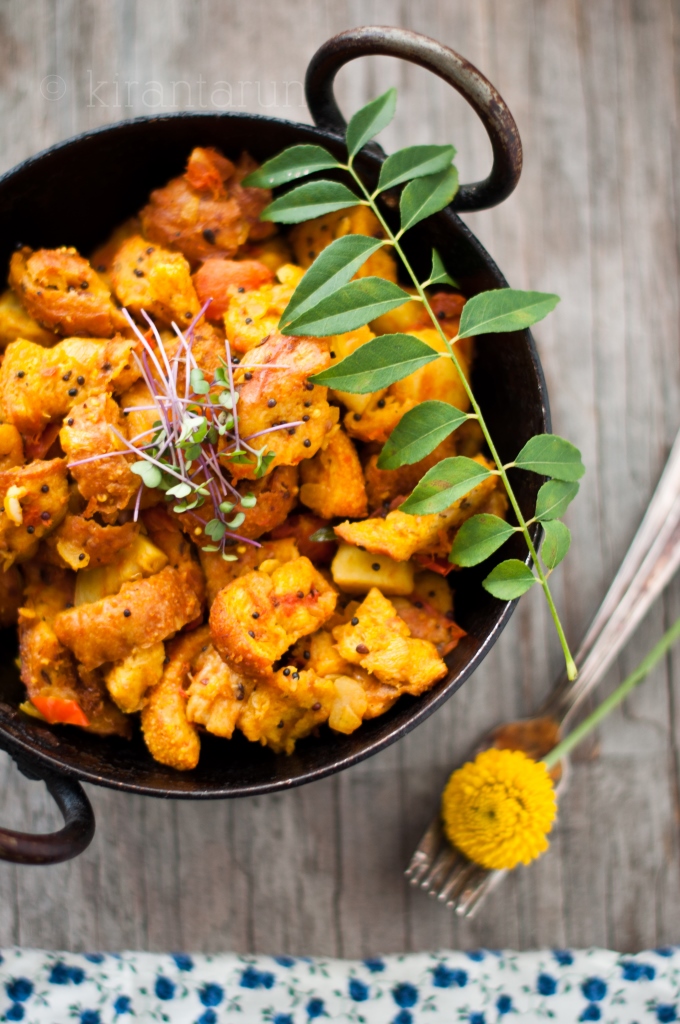 Print This Recipe
Ingredients:
12 bread slices, cubed
3 tbsp extra virgin olive oil
1 medium onion, diced
2 green chilies, chopped
1 sprig of curry leaves
1 tsp mustard seeds
1 tsp turmeric powder
4 plum tomatoes, chopped
2 medium cooked potatoes, chopped
1/3 cup water
1 tsp salt
1/2 tsp black pepper
Directions:
Heat a large skillet on medium.  Once heated, add oil. Wait for the oil to heat, add mustard seeds.
Once mustard seeds sputters, add diced onions. Cook for 2 minutes or until onions are translucent and fragrant.
Add curry leaves, green chilies, turmeric powder and plum tomatoes. Cook for 10 minutes or until tomatoes are mushed and forms some gravy.
Throw in chopped cooked potatoes and some water. Gently simmer for 5 minutes until tomato sauce thickens.
Sprinkle salt and black pepper. Stir.
Add cubed bread and stir everything to combine. Reduce heat to low, cover and gently simmer for 5 more minutes or until cubed bread soaks in all of the moisture and ingredients.
Serve hot with a cuppa homemade chai. Enjoy!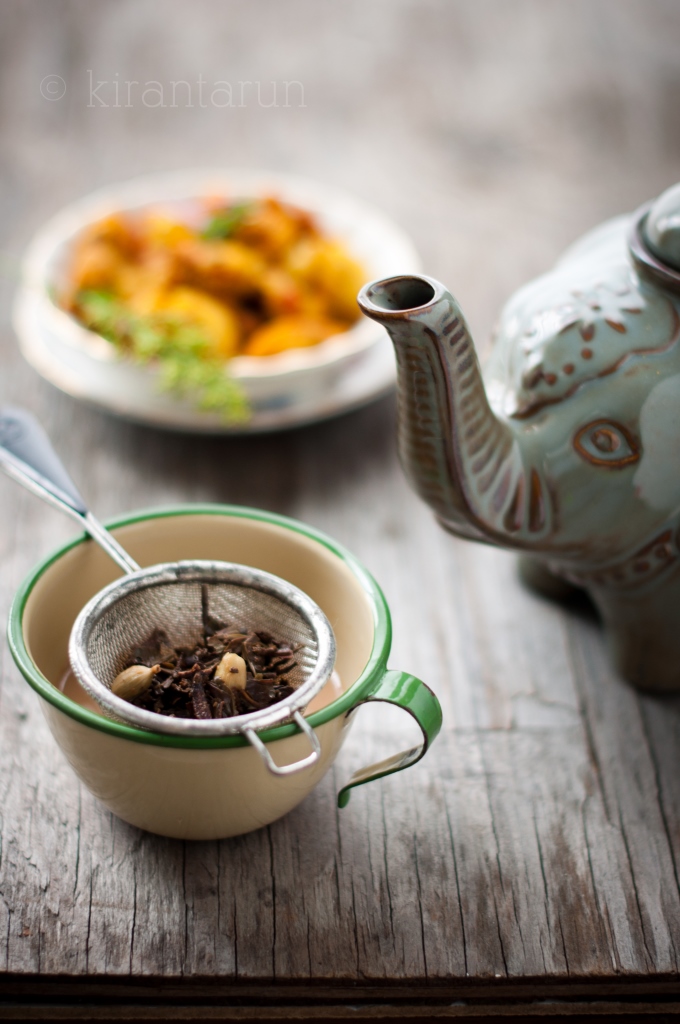 Happy Mothers' Day to my sister-in-law who is a proud mama of two angels. I love you and thank you for teaching me all about being patient in the kitchen. I still have a lot more to learn and I know I can count on you and everyone in the family for guidance 🙂
Let's get interesting with the question: Do you have any heirloom recipes from your in laws? What was the first meal you cooked after marriage?
One of many Indian tradition for newly wedded brides is to cook something sweet for the very first time after marriage. The husband loves rice pudding, so that's what I made!