Ingredients:
1 cup all purpose flour
1 cup almond flour
1.5 tsp baking powder
1/2 tsp salt
1.5 sticks (3/4 cup) unsalted butter, softened
1 cup sugar
3 large eggs
1/2 tsp vanilla extract
1/3 cup low-fat buttermilk
zest from 2 whole large lemons (about 1 tbsp)
1 cup blueberries
2 tsp all purpose flour
Directions:
Place rack in the center of the oven. Preheat oven to 325F. Grease and line a large loaf pan with parchment. Set aside.
Sift flours, salt and baking powder into a bowl. Set aside.
In a small bowl, toss blueberries with 2 tsp all purpose flour. Set aside.
In a stand mixer fitted with a paddle attachment, cream sugar and softened butter on medium low speed, until fluffy (for about 2 minutes).
Stream in vanilla extract and add one egg at a time, beating for 1 minute after each addition. Scrape the sides of bowl, when necessary.
With the mixer on low, stream in low-fat buttermilk and lemon zest. Beat for a minute. Mixture will look like it has curdle, but thats okay.
Add flour mixture and beat until just incorporated. Do not over-beat. With a spatula, gently fold in blueberries.
Spoon and level batter into prepared loaf pan. Gently tap the pan to evenly distribute the batter.
Bake in the preheated oven for 1 hour to 1 hour and 10 minutes, or until skewer inserted in the center of the cake comes out clean. If loaf cake is browning too quickly, tent it with a piece of foil.
Allow cake to cool in pan for an hour before inverting onto a plate.
Best enjoyed with a cup of tea or coffee. Unsweetened, of course 😉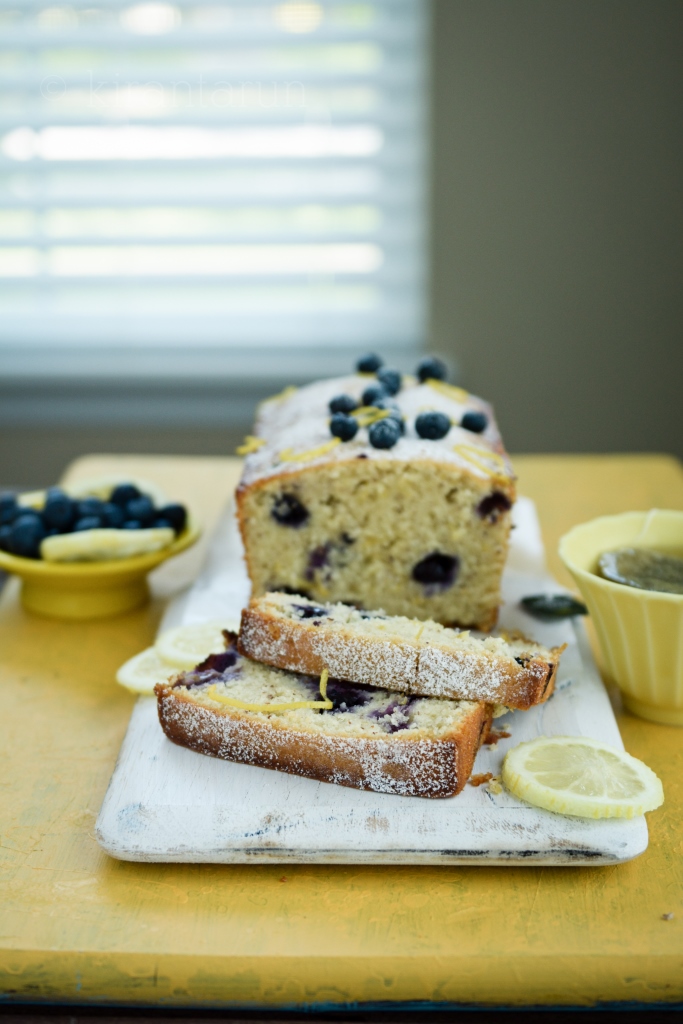 Have a great weekend, my friends. Enjoy summer bounty while it lasts. I'm off to mindlessly snack on blueberries. Again. And again. Can't stop, will not 🙂
What excites you the most, recently?