Makes 24 madeleines
Ingredients:
1/2 cup (1 stick) unsalted butter, melted & cooled
1/2 cup sugar
3 eggs, at room temperature
1/2 tsp orange blossom water
1 small blood orange, juiced
1 small meyer lemon, zested & juiced
1 cup whole wheat pastry flour
1/3 cup almond flour/meal
1 tsp baking powder
pinch of salt
White Chocolate Ganache:
1/2 cup white chocolate chips
1/8 cup heavy cream
Directions:
Preheat oven to 375F. Grease madeleine pan. Set aside.
In a stand mixer, beat melted butter and sugar on medium speed.
Gradually add 3 eggs and continue beating until liquid is pale and ribbony. It would take about 1 minute.
Drizzle in orange blossom water, blood orange and meyer lemon juice & zest. Beat to incorporate.
Sift all the dry ingredients and with the mixer on low, gradually add dry ingredients to incorporate into wet ingredients.
Remove bowl from stand mixer. With a spatula, scrape batter from the sides & bottom. Do not over-mix.
With a spoon, evenly fill batter into madeleine pan. Do not fill to the top.
Bake madeleines for 10 minutes or until the center sets and the edges are lightly browned.
Remove pan from oven and cool madeleines in the pan for 5 minutes, before removing to cool on cooling rack.
Meantime, make white chocolate ganache. Heat heavy cream until hot. Pour hot cream over white chocolate chips. Stir and let sit for 5 minutes. Stir until smooth. If need be, microwave for 10 sec intervals until white chocolate is melted through. Do not over-heat.
Once madeleines are completely cooled, dunk each madeleines into warm white chocolate ganache. Decorate with a sliver of fresh blood orange segments and place it on a cooling rack.
Serve it up with a side of tea or coffee!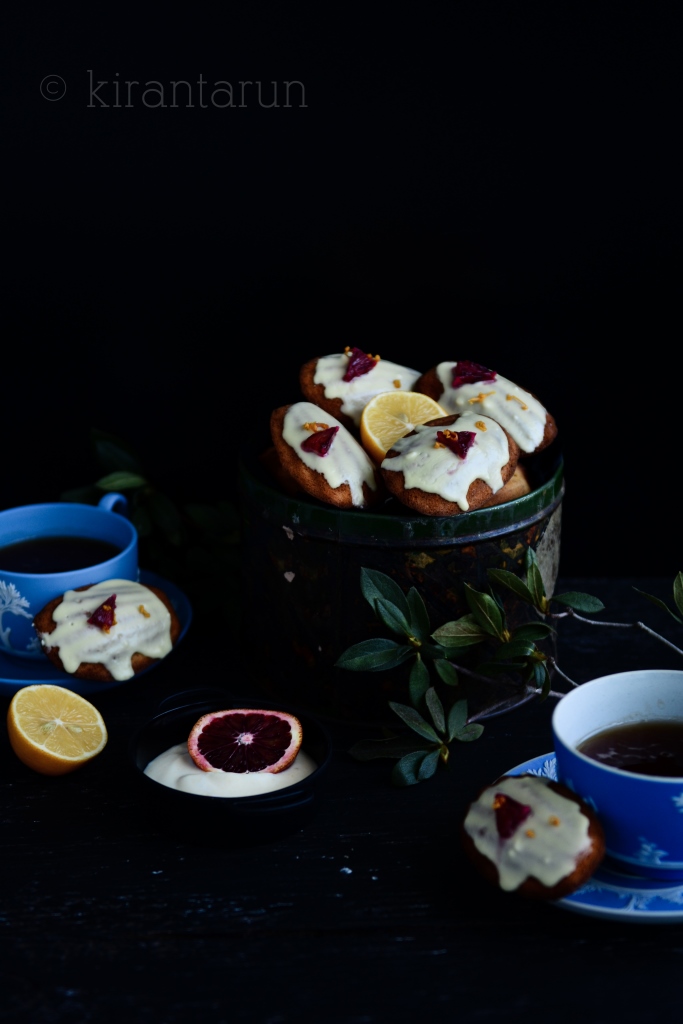 Hope your week is off to a great and cozy start. Family & friends up North East, stay warm and safe.
Are you tired of blood oranges and/or meyer lemons already?