G
lorious citruses everywhere. From blood oranges to meyer lemons….
So, its only natural to put it on a cake! In a cake! Or drizzle it all over a cake?! Right?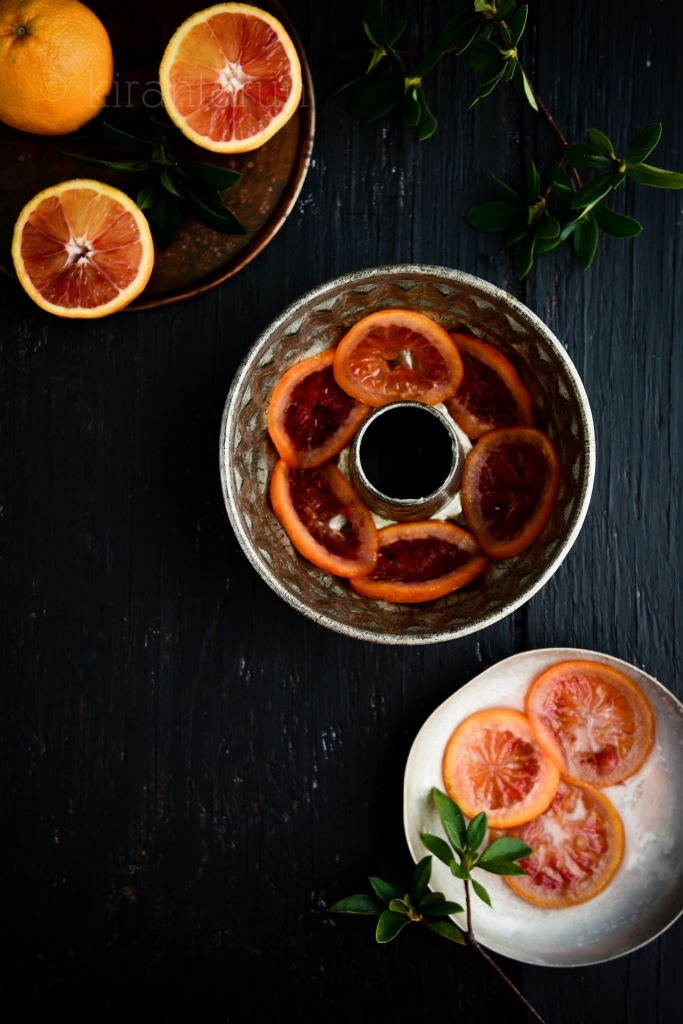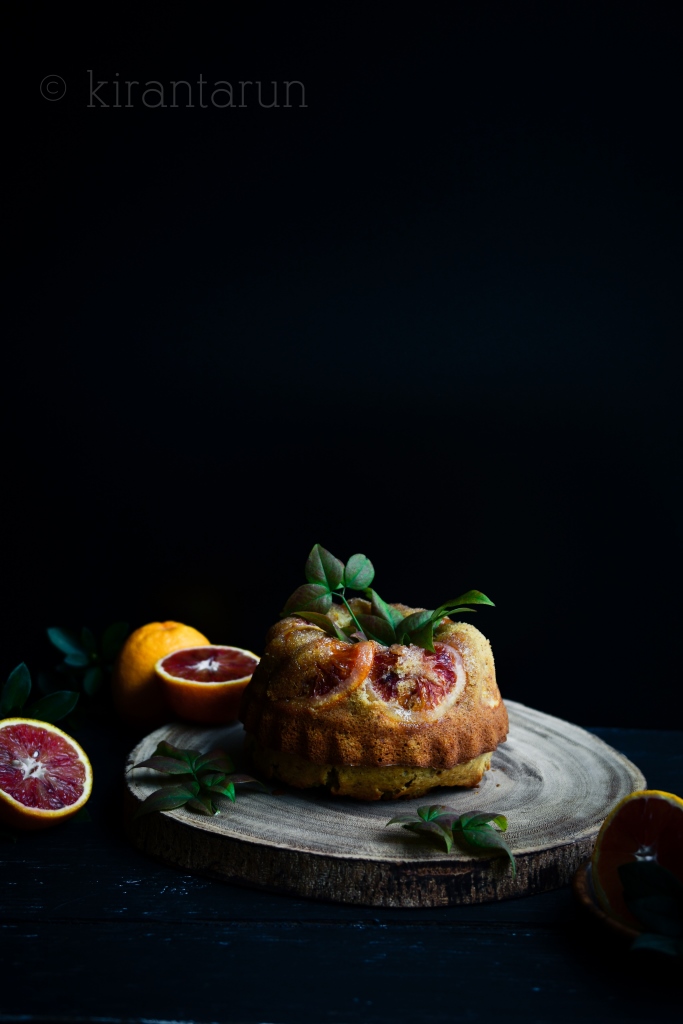 I went bonkers over styling this cake. And finally found a fantastic use of my favorite antique bundt cake pan. The only problem I had was with the lighting. It shifted every minute the whole time I was shooting.
Gah! It was so frustrating. Clearly, gloomy weather had to pay a visit at a very wrong time.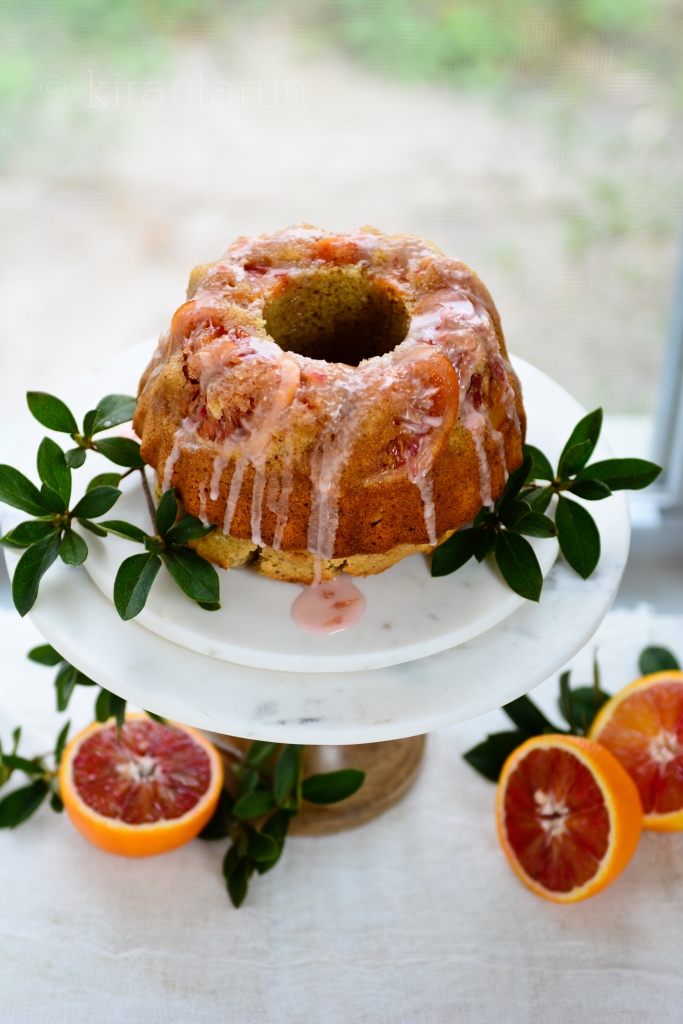 Not only the lighting was bad, but the cast came in multiple colors. Sometimes, it was bright white others had a blue and orange cast thrown in.
*insert pulling my hair emoticon here*

I just did what I could and impatiently sliced into the cake in order to bury my frustrations in a few slices, accompanied with a strong espresso.
The whole eating experience definitely lifted my mood 😀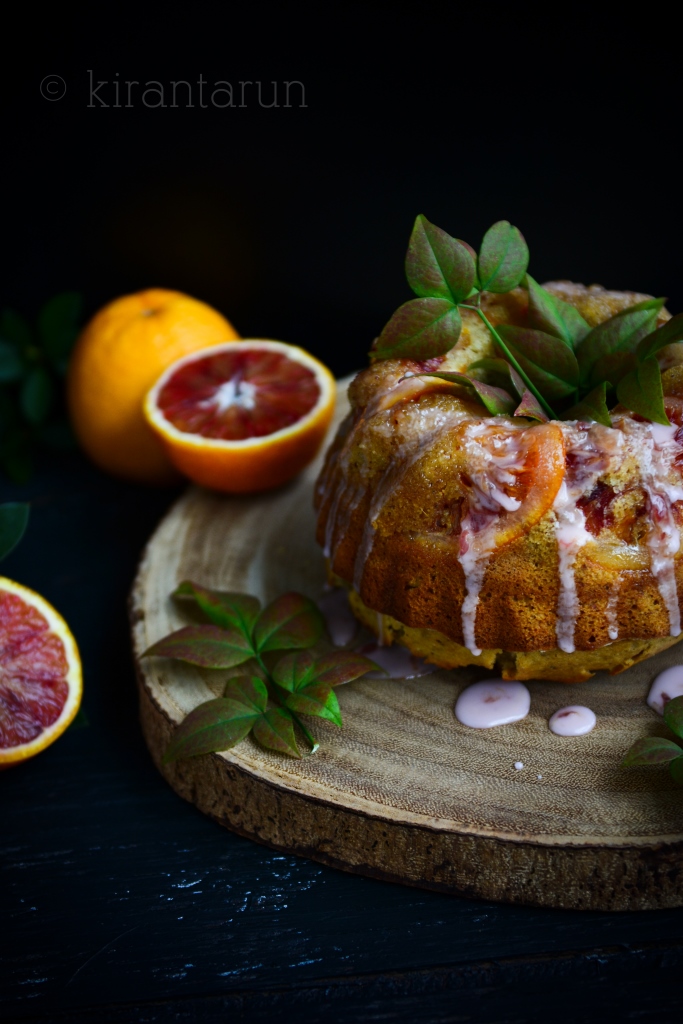 Print This Recipe
Makes one 6 inch x 3.5 inch bundt cake
Ingredients:
Glazed blood orange:
1 blood orange, thinly sliced
1/4 cup sugar
1/4 cup water
Cake:
1 stick (1/2 cup) unsalted butter, softened
1/2 cup sugar
2 large eggs
1/2 cup buttermilk
1 tsp orange blossom water
2 tsp orange zest
1 cup whole wheat flour
1/2 cup almond flour
1/2 tsp baking powder
1/4 tsp salt
Blood orange glaze:
1/3 cup powdered sugar
1 tbsp blood orange juice
1/8 tsp orange blossom water
Directions:
Add sugar, water and thinly sliced blood oranges into a skillet. Heat skillet on medium high. Once sugar melts and begins to simmer, lower heat to medium and gently soften sliced oranges until glaze thickens. This should take 8 to 10 minutes. Once done, allow to cool while preparing cake batter.
Preheat oven to 350F. Lightly grease a 6 inch x 3.5 inch bundt pan. Once glazed orange slices are cool, arrange and layer it to cover the bottom of bundt pan. Set the pan aside.
In a stand mixer fitter with a paddle, cream softened butter and sugar for 2 minutes on medium. Cream until butter is pale. Using a spatula, scrape the sides of stand mixer bowl whenever necessary.
Add eggs one at the time to fully incorporate into the batter.
Drizzle in buttermilk, orange blossom water and zest. Beat on medium-low speed until combined.
In a separate bowl, sift all the dry ingredients (whole wheat flour, almond flour, baking powder & salt).
With the mixer on low, add the sifted dry ingredients. DO NOT OVERMIX.
Remove the stand mixer bowl and using a spatula, make a few folds to combine all the ingredients.
Spread batter into prepared bundt pan that is lined with glazed orange slices. Bake for 40 to 50 minutes or until tooth pick inserted, comes out clean.
Cool cake completely in the bundt pan before inverting the cake on a cake stand.
To prepare the glaze: Add all ingredients into a bowl. Stir well to combine.
Once cake is completely cooled and inverted, drizzle glaze and allow to set before slicing and serving with tea or coffee.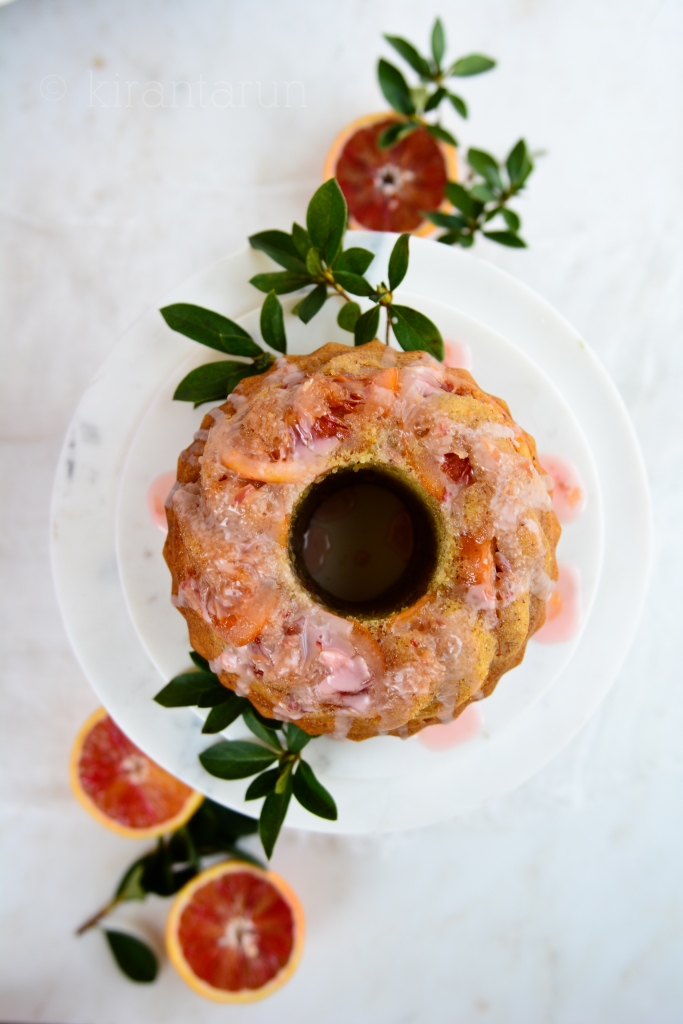 Lighting issues aside, I had a blast decorating this cake and eating it, obviously 😉 Hope your weekend is filled with sunshine. If not, bake with citrus!
What's your favorite time of the day to shoot? Food, lifestyle or any forte, it doesn't matter.