G
ood morning!!!
It's rare for a foodie/recipe post early Sunday morning. But I've been unwell these past few weeks and there's a lot to catch up from my kitchen into yours. The star of today's recipe is OKRA! Not everyone loves this slimy and tasteless vegetable, albeit there are many recipes out there to zone out the sliminess. Some old-school methods are:
Adding something acidic such as vinegar, lemon juice, mango powder or tomatoes to help reduce sliminess.
Cooking with the pod, intact. No chopping.
Salt is used only at the end of cooking.
Quick stir-fry's and deep fried!
Wash and pat dry thoroughly before usage.
Avoid using water during cooking process, unless okra is used …
for soups/stews/gumbos as the sliminess actually acts as a thickening factor.
BTW, if you are curious about my recent NASA TweetUp adventures, read all about shuttle Endeavour's lift-off on the blog.
I would recommend using a shallow huge skillet to allow even cooking of okras instead of cramming it on top of each other, that would eventually create steam and convert into moisture. And you don't want moisture to create slime, or do you? Don't say I didn't warn 😉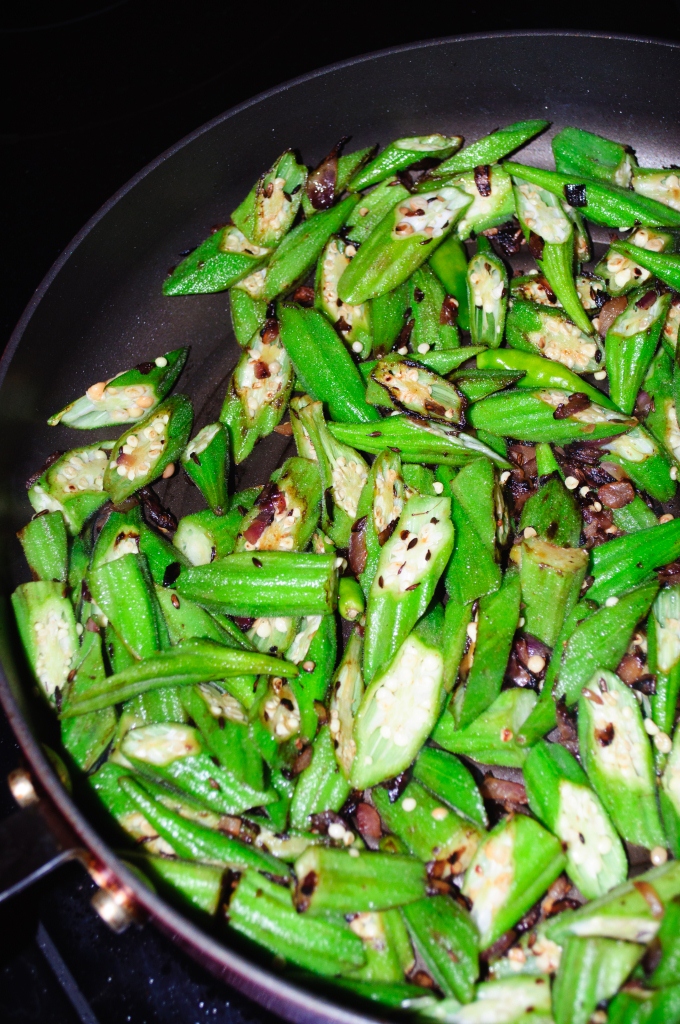 Come to think of it, okra was a turn off while growing up. I mean, who loves okra during childhood? Anyone?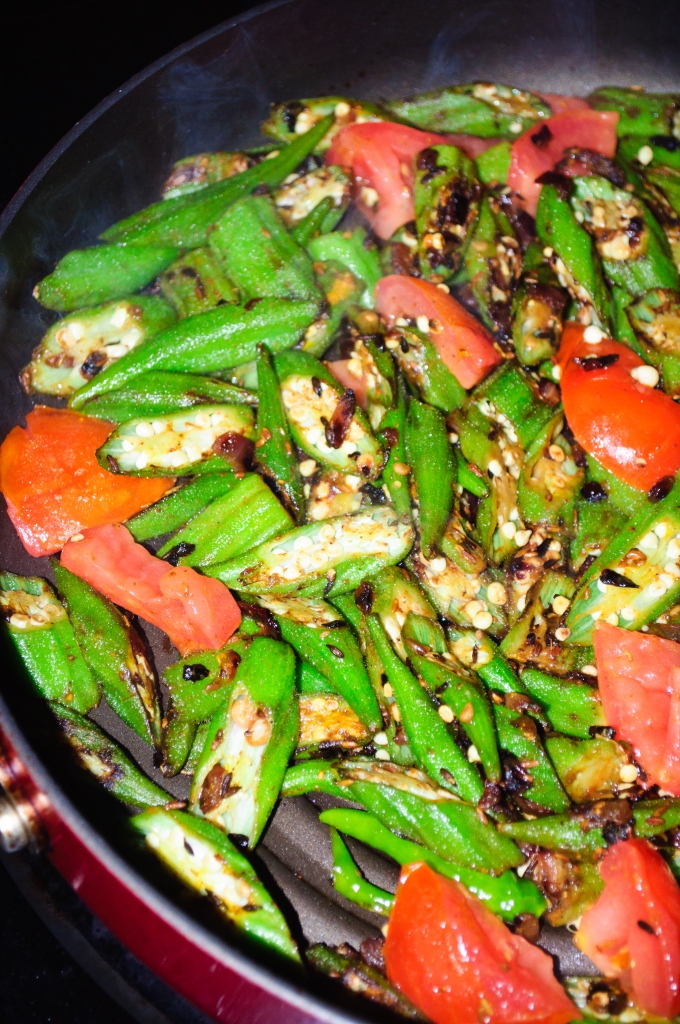 I've said it before, and I am saying it again. My kitchen has poor lighting. It badly needs windows. Or a Kitchen Aid stand-mixer *hint* 😉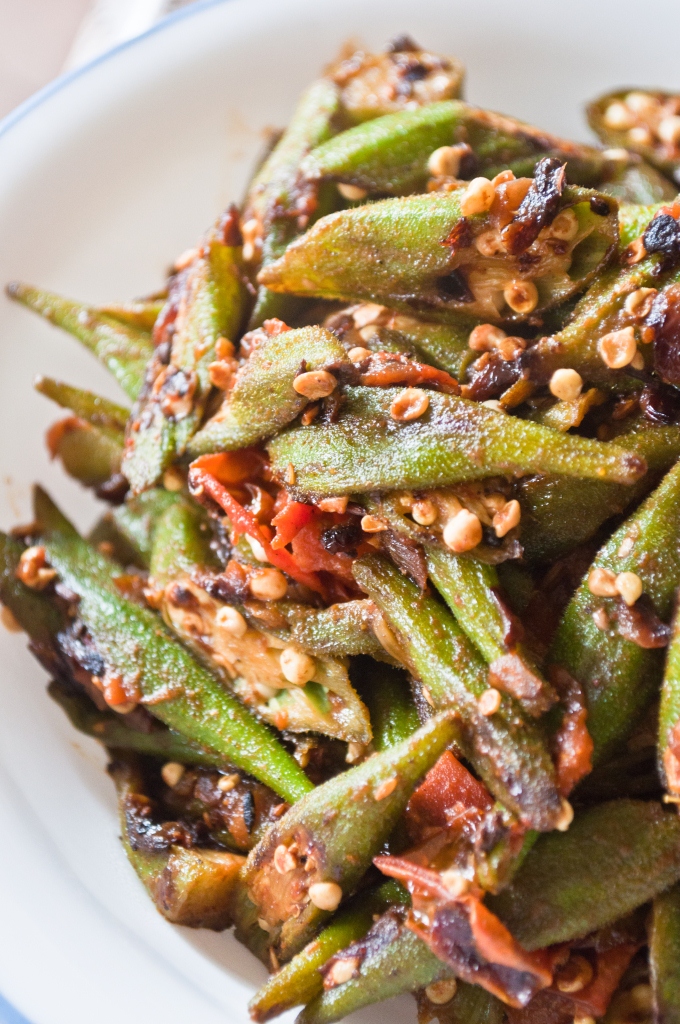 Deliciously spiced okra best eaten with chapati, bread or rice. Heck, it's delicious on its own.
Need to post a chapati recipe soon. Might involve a video.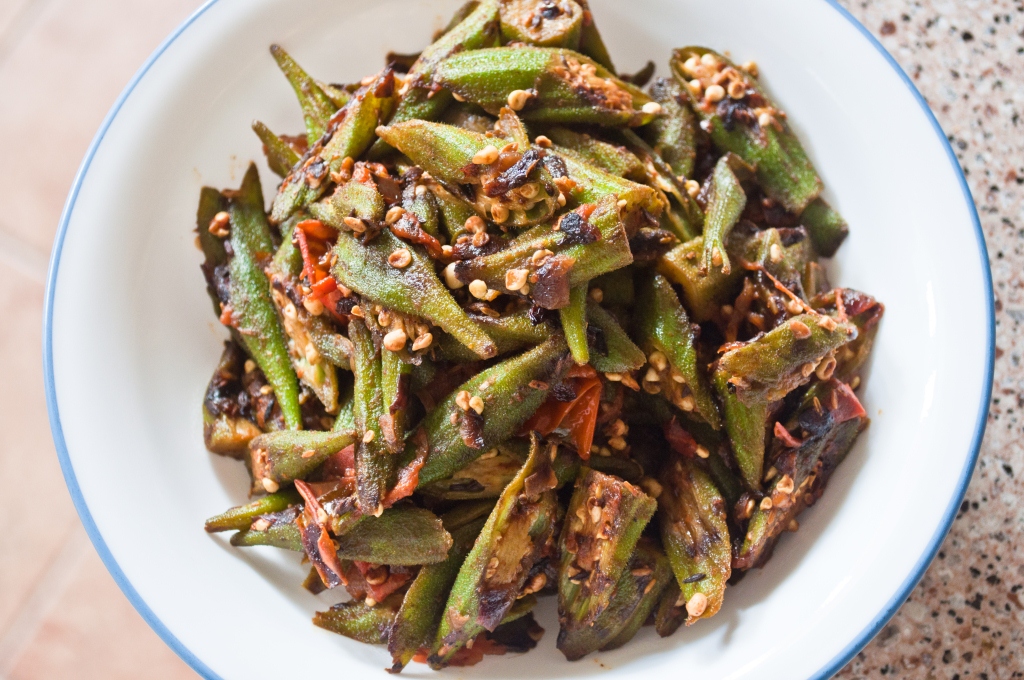 If you love Okra, you would love this recipe. Oh, did I mention, Bhindi Masala translates to Spiced Okra? 😀
What's your favorite Okra recipe?
Ingredients
1/2 lb okra, cleaned and diagonally sliced.
1 1/2 tbsp cooking oil
1/2 tsp cumin seeds
1 small red onion, chopped
1 tsp grated ginger
1 tomato, chopped
1 tsp mango powder/lemon juice
1-2 slitted green chilies or (1/2 tsp red chilli powder)
1/2 tsp turmeric powder
1/2 tbsp garam masala
salt to taste
Directions
Heat cooking oil in skillet on medium heat. Wait for oil to heat before adding cumin seeds.
Add onions and fry till fragrant and slightly caramelized. This would take about 5 minutes.
Sprinkle turmeric powder and grated ginger. Fry for a minute.
Throw in okras, mango powder and chopped tomatoes. Cook for a few minutes until tomatoes are soften.
Add green chillies and garam masala. Fry till okra is tender to bite.
Sprinkle salt to taste, stir and serve hot with chapati, roti or rice.

Print This Recipe