Serves 2, generously
Ingredients:
250 gm bhindi/okra (preferably the thin and long variety)
4 tbsp besan (chickpea flour)
2 tbsp corn flour/rice flour
1/4 tsp garam masala
1/2 tsp chaat masala
1/2 tsp aamchur (mango powder)
1/2 tsp red chili powder
1/8 tsp turmeric powder
1/4 tsp freshly ground black pepper
3/4 tsp salt
very little water
oil for deep frying
Directions:
Wash bhindi and dry it thoroughly. Trim, slice lengthwise into quarters and add it into a large bowl.
In a small bowl, add the rest of ingredients (minus water and oil), stir and sprinkle the seasonings onto sliced okras. With clean and definitive dry hands, gently coat sliced okras with the seasonings. Allow okras to "marinate" in the seasoning for at least 30 minutes to an hour, to allow the secretion of moisture.
Add enough oil into a deep saucepan for deep frying. Heat oil until hot. Once heated, turn down temperature to medium.
Line baking sheets with paper towels.
Wet hands with very little water. Shake off excess. Gently toss okra with the seasonings.
Gently drop small quantity of seasoned okras into hot oil and deep fry for 2 to 3 minutes or until golden, tossing in between.
Remove okra fries and allow the excess oil to drain on paper towels. Continue frying the rest.
Serve with hot sauce/chutneys or as a side dish with rice and dal.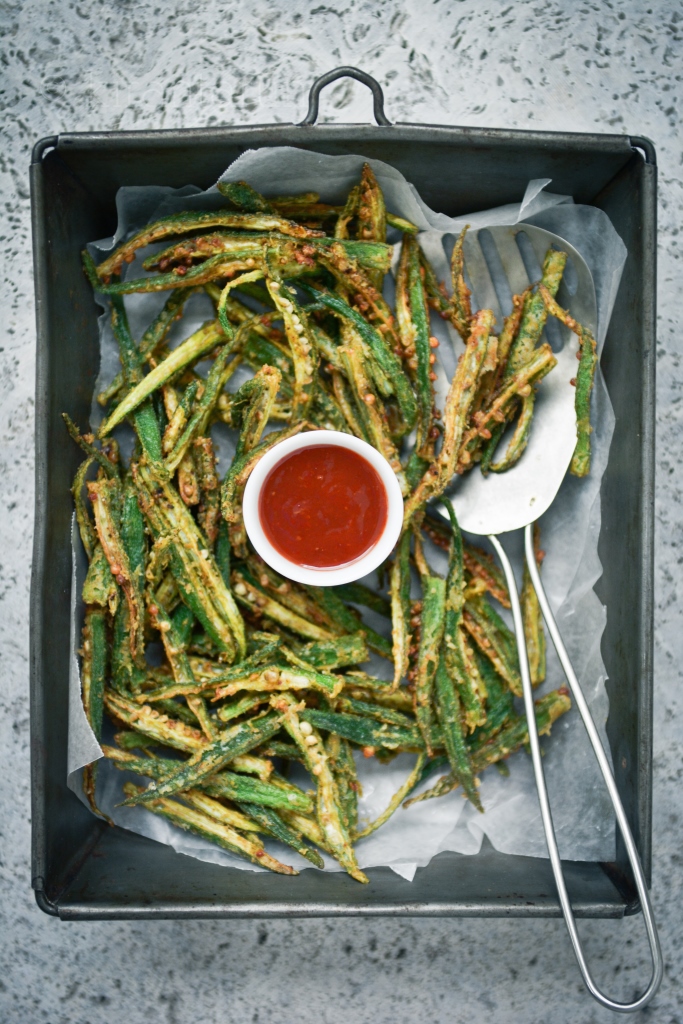 I did all the hard-work of measuring out this recipe. The only thing you need to do is gather the ingredients, make it and gobble! It's so good, I promise 🙂
What is your favorite okra recipe?