Hey hey hey…
It's end of March 2017 and this is my first post thus far. Ooopppsss… Guessed I've been enjoying the much needed break from routined life.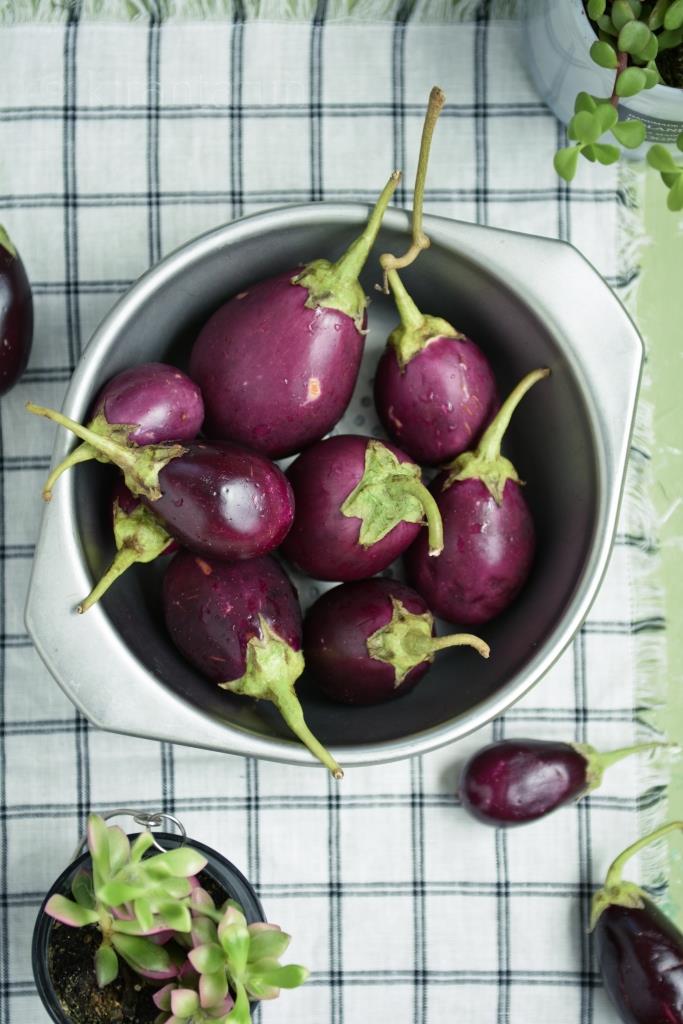 I packed my bags for a 2 week trip to Mumbai, India that stretched to 3 months!!! Ooooopppssiiees… So random and unlike me. But randomness and spontaneity definitely sparks so much adventures.
Doing things at the spur of the moment, it was a fresh breath of air. No planning whatsoever.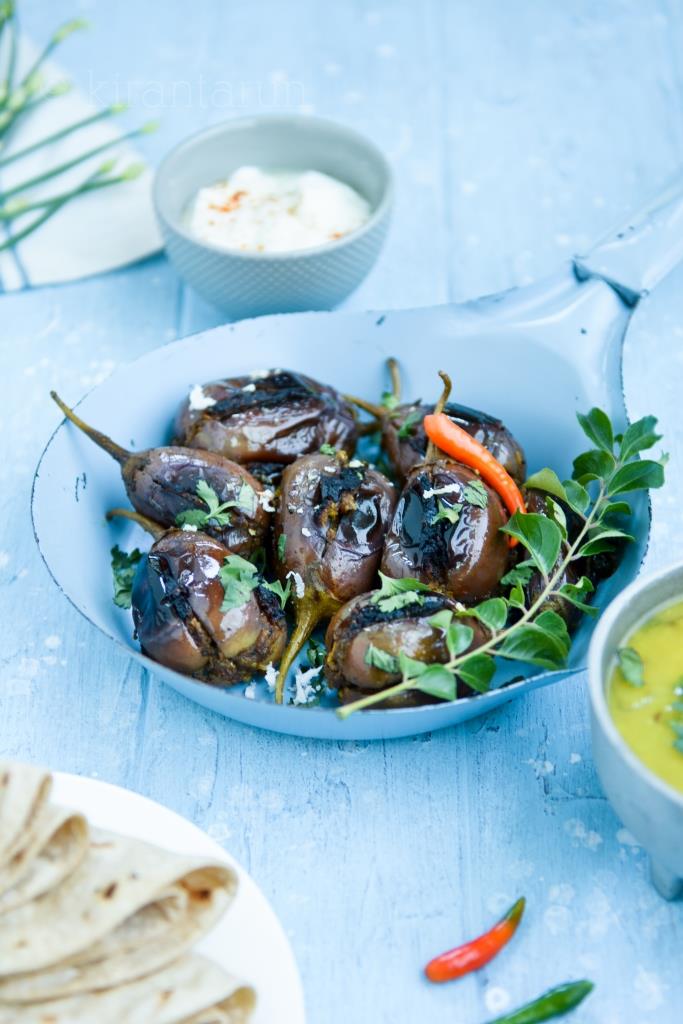 But truth to be told, I missed this fun space of mine. I missed interacting with you all 🙂 It's been long and I am definitely back with renewed enthusiasm, fun ideas and much more. You all inspire me so much, it's time to break out of this very long hiatus and share what I've learnt in my trips.
First order of business are these adorable eggplants. I mean, how do you slice into these jewels? YOU MUST!
And then stuff it.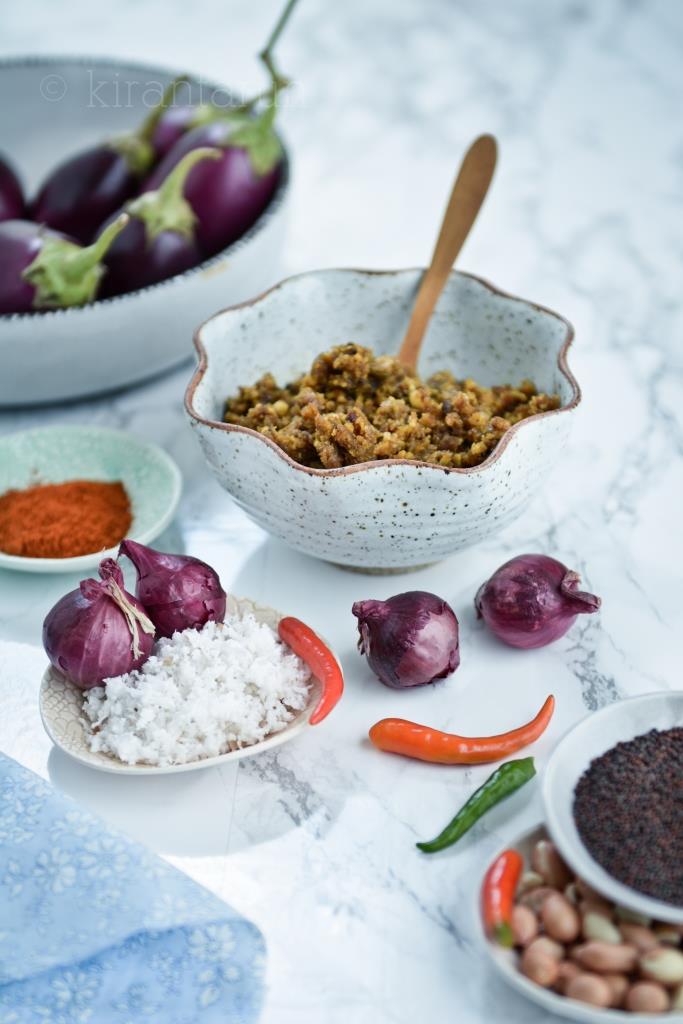 I love the South Indian palate. From curry leaves to freshly grated coconut — it truly permeates in my version of bharwa baingan (stuffed eggplants). Any recipe can be customize to your tastebuds. You can totally omit a lot of ingredients here and yet, the flavors would still shine through.
Go ahead, try this recipe and make it your own!
Serves 4
Ingredients:
8 to 10 small eggplants/brinjals
4 tbsp of mustard/coconut oil
8 to 10 curry leaves, minced
1/2 tsp mustard seeds
1/2 tsp cumin seeds
1 cup of onion, diced
a small pinch of asafoetida/hing
2 green chilies, slitted and minced
1/4 tsp turmeric powder
2 garlic cloves, minced
3/4 tsp red chili powder
2 tsp tamarind water
1 tsp jaggery/sugar
1/2 tsp cumin powder
1/2 tsp coriander powder
6 tbsp freshly grated coconut
4 tbsp peanuts, pounded/crushed
1/2 tsp garam masala
3/4 tsp salt
garnish: freshly chopped coriander leaves and chilis.
Directions:
On a low-medium heat, add 2 tbsp of oil in a non-stick skillet. Wait for mustard oil to lightly smoke, before adding mustard seeds. Once seeds crackle, add cumin seeds.
Sprinkle in diced onions, minced curry leaves and a tiny pinch of asafoetida (hing). Cook for 2 minutes, or until onions are translucent.
Add green chiles, turmeric powder, red chili powder and minced garlic. Cook for 30 seconds, before adding tamarind water and jaggery. Stir and add cumin and coriander powder.
Toss in grated coconut, pounded peanuts, garam masala and salt. Cook for 2 minutes, stirring everything in between. Remove from heat once stuffing is left lightly moistened. Allow stuffing to cool completely.
Meanwhile, rinse small eggplants and pat it dry. I like the eggplants "as is", with the stems intact (optional). Slit each eggplant into four, making sure that you don't slice through the eggplant.
Stuff eggplants with the spiced stuffing evenly and set aside.
Heat a heavy bottomed skillet on medium-high. Add the remaining 2 tbsp of mustard oil (or any oil of your choice) and wait for the mustard oil to lightly smoke before adding the stuffed eggplants.
Using thongs, gently sear the eggplants on each sides. Put a lid on and gently cook eggplants on low heat, stirring it a couple of times in between. Eggplants should cook through from anywhere between 20 to 25 minutes.
Once the eggplants are cooked through, add the remaining stuffing (if any) and sauté for a minute.
Garnish with freshly chopped coriander leaves and chilis. Gobble it up as soon as possible, with chapatis and dal. Yum!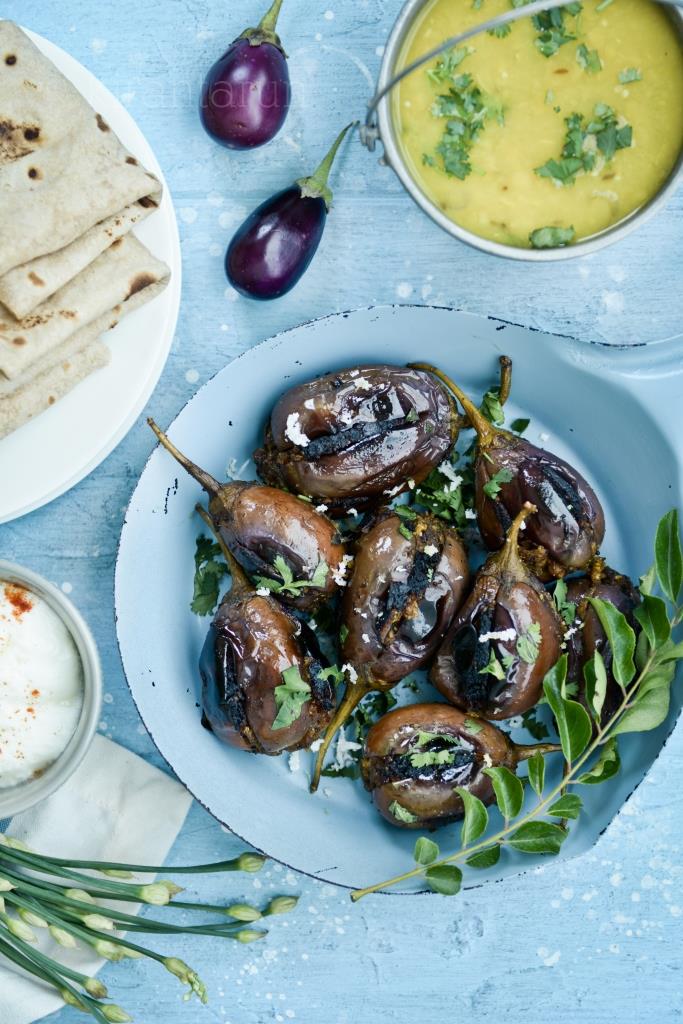 It's so nice to be back after so long. For those who are still around, thank you so much for your patience. I've been pretty active on Instagram so if you want to see what I've been up to, click here 🙂
What are you up to these days? Or are you on a break as well?