Serves 2
Ingredients:
2 very ripe bananas, mashed
4 large egg whites, room temperature
2 tbsp coconut oil, melted and cool
1 tsp vanilla extract
2 tbsp chia seeds
2 tbsp flax seeds
1/3 cup coconut or almond flour
pinch of salt
Directions:
Using a spice grinder, ground chia and flax seeds. Set aside.
In a huge bowl, mash 2 very ripe bananas with a back of a fork or a masher. Whisk in egg whites, melted coconut oil, vanilla extract, grounded chia and flax seeds. Stir everything until combined.
Whisk in coconut flour. Stir until well mixed in.
Set "batter" aside to bloom and rest for at least 20 minutes. It will be a very thick batter, so be prepared for a little elbow grease.
Heat griddle or a large non-stick skillet on low.
Once griddle is heated, swirl in very little coconut oil or butter. Do not go overboard here.
Spoon 2 heaping tablespoons of thick batter (per pancake) onto hot griddle. Using the back of the spoon, spread batter evenly to the shape of pancakes, with the desired thickness in mind.
Increase heat to medium-low and cook pancakes until lightly browned before flipping. This should take about 2 minutes.
Once flipped, cook for 2 more minutes.
Remove pancakes onto a parchment lined baking sheet.
Reduce heat on the griddle back to low, and repeat the process of making pancakes from the rest of batter.
Serve immediately with a nice dollop of thick yogurt, fresh berries, coconut chips and a healthy drizzle of maple syrup.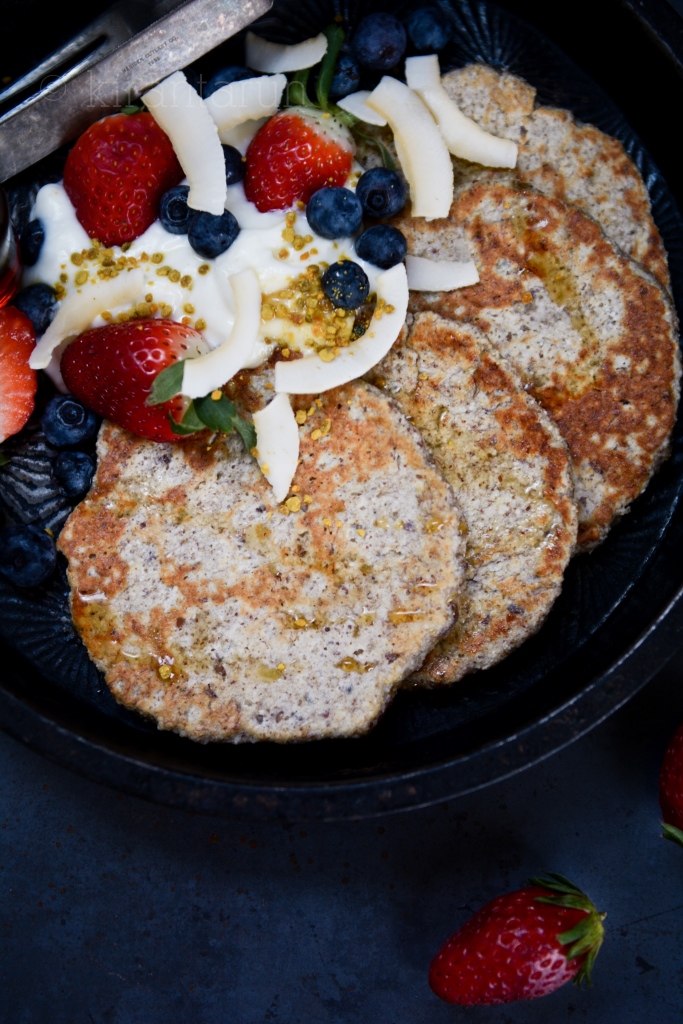 We have regrets about growing up way too fast. Remind your kids to enjoy every moment of being just, a kid. Don't be in a rush for adulthood, because trust me, it can get ugly 😀
I'm super excited to be back. How frequent? Hopefully as much as I used too!