G
reetings from Scottsdale, Arizona!! We are calling it home for a few months, and I'm already missing Orlando too much.
The typical days leading up to my flight yesterday pretty much sums up to CRAZY-BUSY!! So if I've yet to respond to emails/comments/etc, promise to get back to normalcy soon.
Meantime, don't just gawk at this photos. If you are like me, and haven't tried artichokes ever, this is the recipe to begin the culinary journey of "introduction to artichokes".
But before you get all too excited, I want to warn you of the repercussions.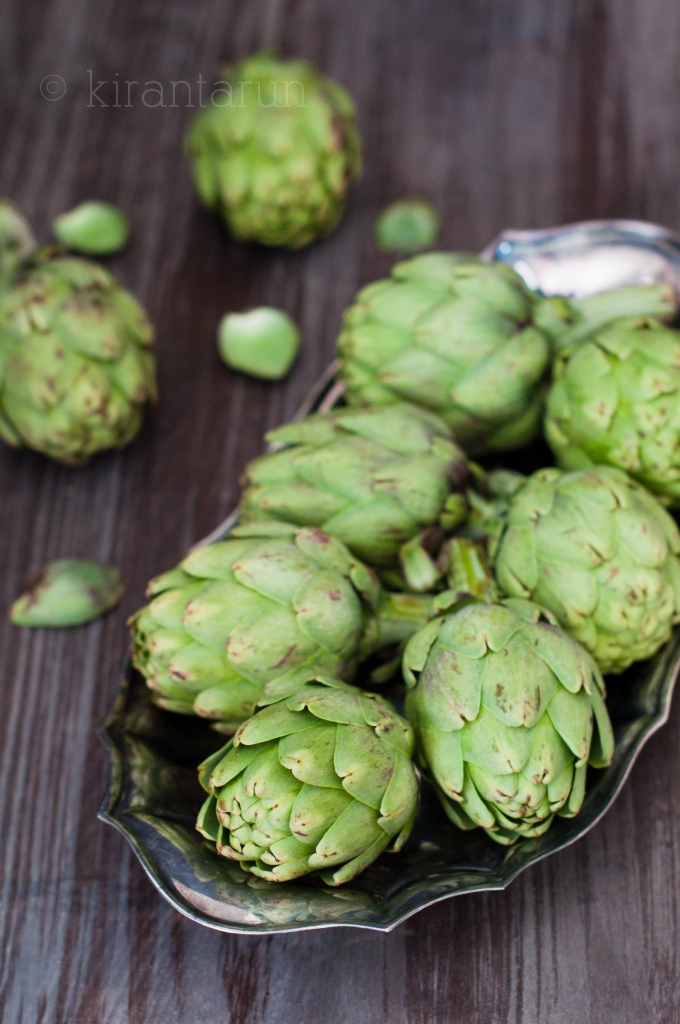 The repercussions of cleaning and prepping artichokes are mind boggling. It takes a whole lotta attention to detail. But once you get the hang of things, it can be as easy as A-B-C.
Or you can always forget about getting the prickly stuff and approach the frozen ail in your local grocery store to grab a bag of artichoke hearts.
It'll do you good.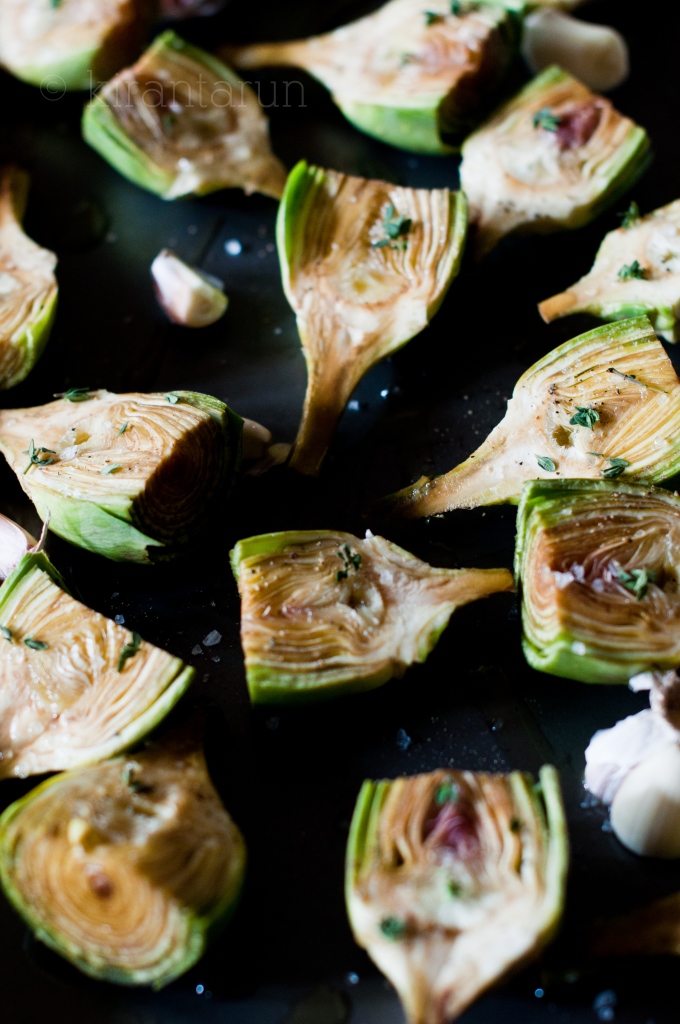 I've shaved precious time prepping the artichokes from scratch. So if you are using store-bought, don't tell me. Because I can guarantee of being ENVIOUS.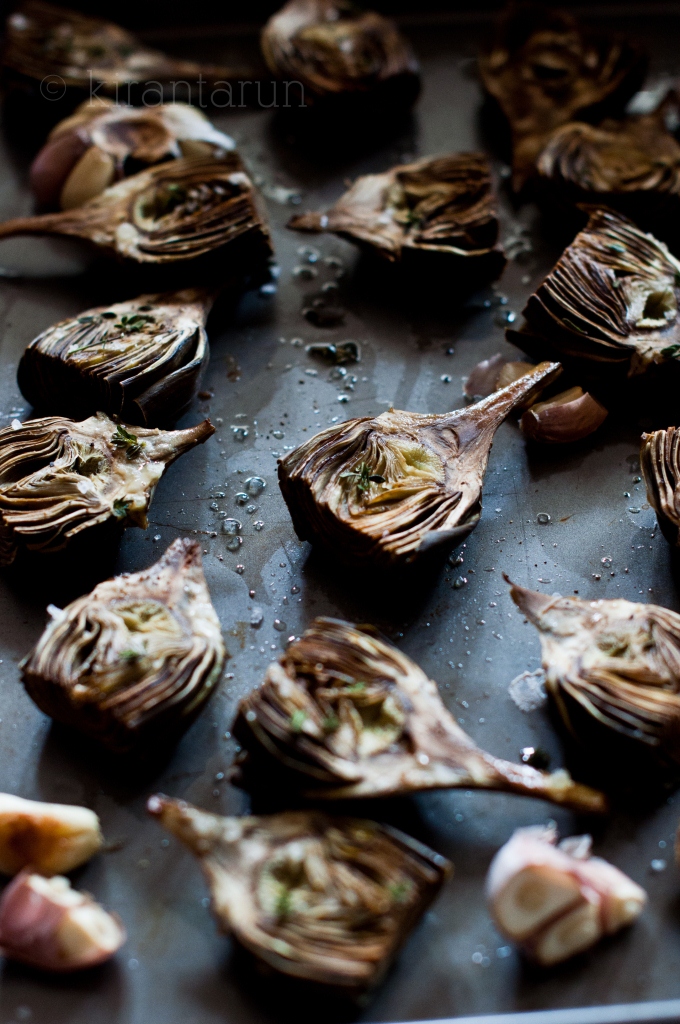 Let's talk about my flight to Scottsdale. Well, it was so bumpy. There was turbulence almost 90% of the time and it was a miserable 5 hours journey.
But I made it and cannot wait to explore this new place. There's so much to share with you, especially the landscapes since Arizona is so different from Florida.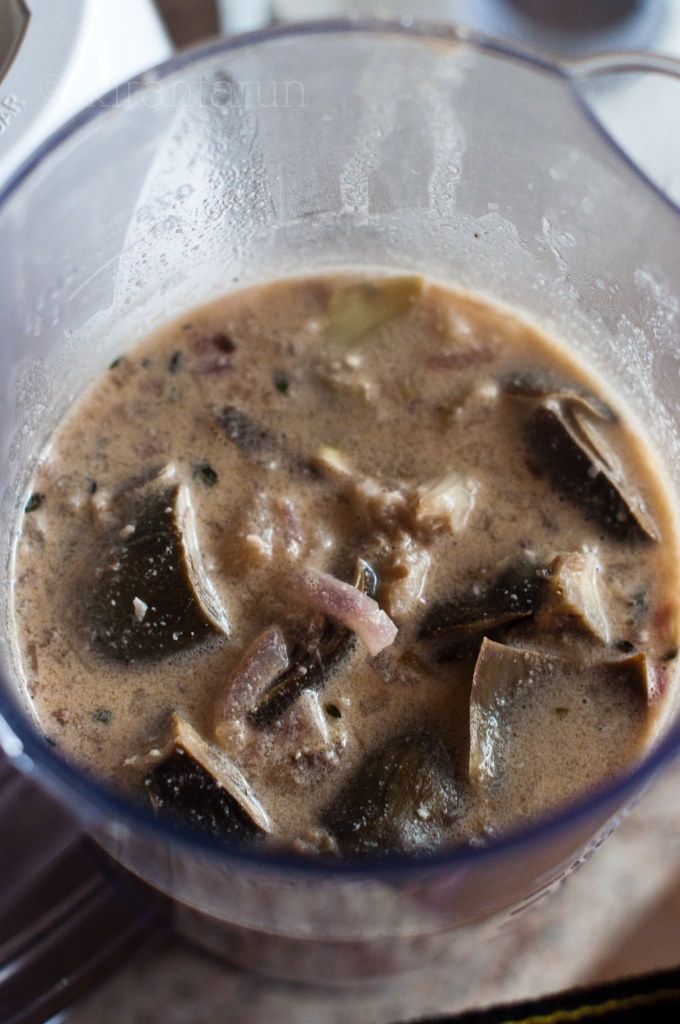 Let's just say that this is a warning to future posts that might or not feature cactus. There's plenty of cactus and sand over here.
Not your typical beach sand (i wish!). It's more desert-y.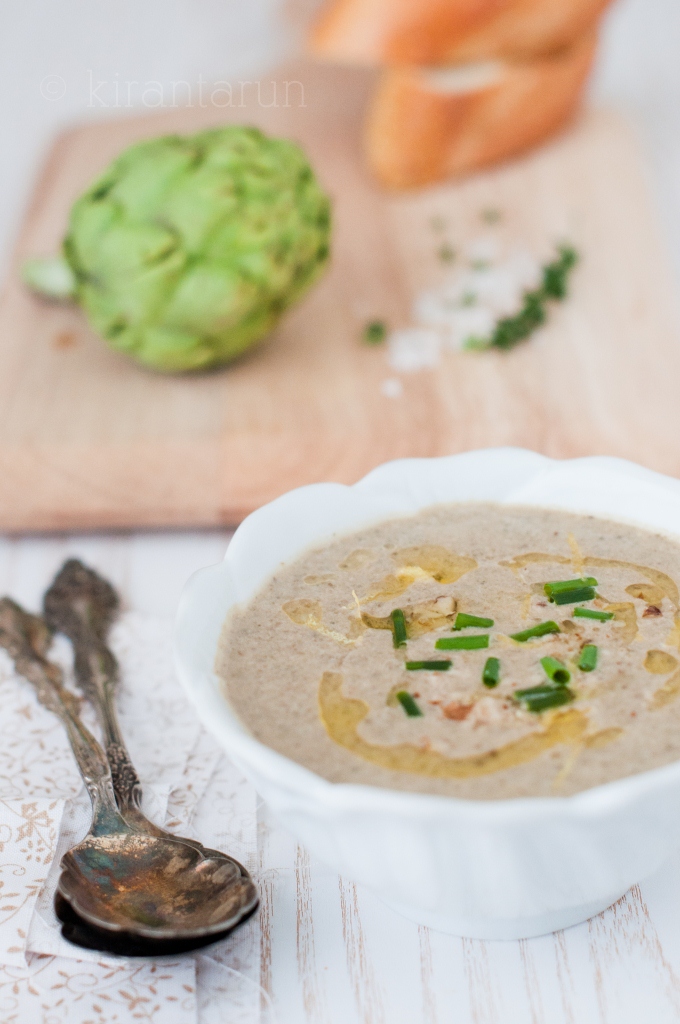 Print This Recipe
Ingredients:
12 baby 'chokes
4 tbsp extra virgin olive oil
2 sprigs of fresh thyme
1 garlic head, halved
1 tsp sea salt
1/2  tsp black pepper
1 shallot, sliced
1/2 cup raw walnuts
3.5 cups vegetable broth
2 tbsp lemon juice
extra virgin olive oil, sea salt, walnuts & fresh chives.
Directions:
Preheat oven to 325F.
Soak raw walnuts in some hot water for a minimum of 30 minutes.
Prep fresh artichokes or use store-bought artichoke hearts.
Place artichoke hearts on a cookie sheet with a head of garlic, halved. Drizzle 3 tbsp olive oil and sprinkle 1/2 tsp sea salt. Mix everything to coat well.
Sprinkle fresh thyme and roast for 25 to 30 minutes, or until baby artichokes are cooked through & garlic are soft and browned.
Heat a non-stick skillet on medium. Drizzle 1 tbsp olive oil in the hot skillet and add sliced shallots. Cook for a few minutes  or until fragrant and translucent.
In a small spice blender, blend raw walnuts with a few tablespoons of vegetable stock. Blend until smooth and creamy.
Add roasted artichokes and 5 cloves of roasted garlic in the skillet with shallots. Sprinkle 1/2 tsp sea salt & black pepper.
Drizzle vegetable broth, creamy walnuts and lemon juice. Stir to combine.
Check soup for seasoning. Add more salt if needed. Remove thick concoction from heat to cool.
Using a hand blended, blend thick soup until smooth and creamy.
Serve hot, warm or chilled with a drizzle of extra virgin olive oil, sprinkling of sea salt, walnuts & fresh chives.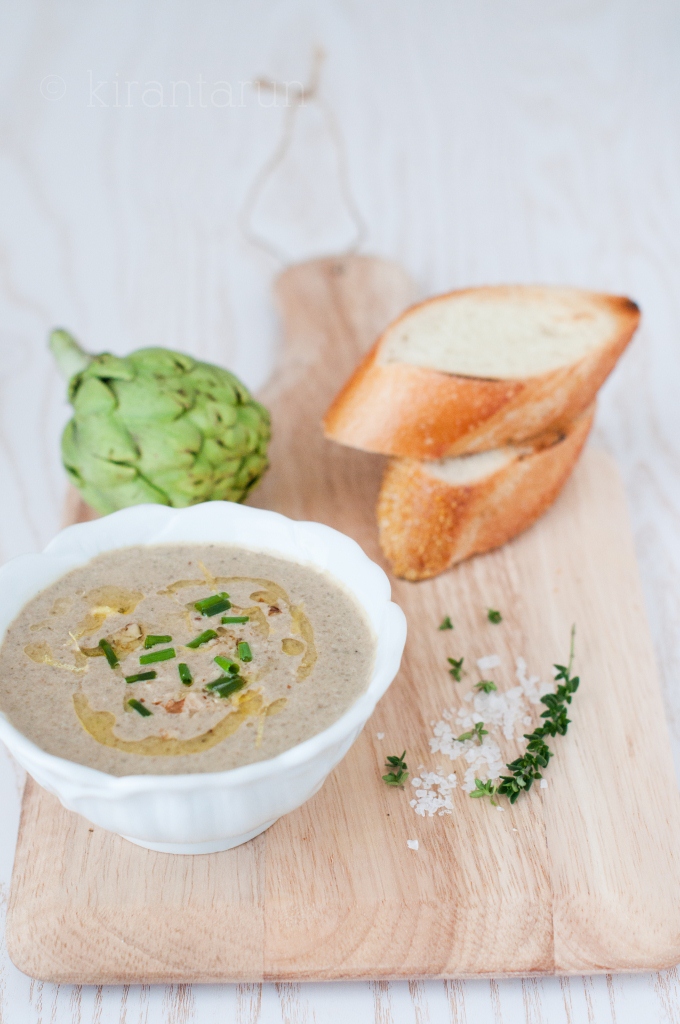 We are putting up in a hotel at the moment and need to go home hunting now. Cannot wait to unpack and return to normalcy from this unusual and interesting location.
Promise to talk about it all soon. Have a Happy Weekend 🙂
What's your favorite artichoke recipe?