H
ey friends! Hope your week is off to a great start. Mine is typically busy, which includes wasting precious time tackling chores that I absolutely detest. Can you make a guess?
No?
Let me help you navigate through the bane of my existence: folding laundry, unloading the dishwasher and packing/unpacking for travels.
It's minute and so boring.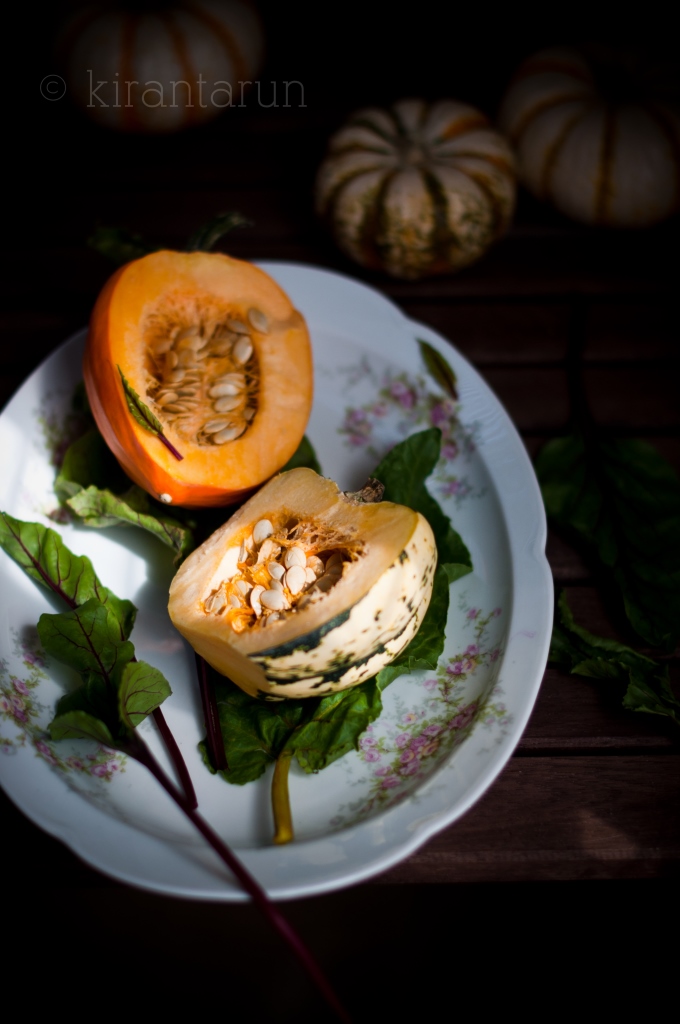 Boring aside, let me tell you what I'd rather do: daydream about walking through the night markets in Kuala Lumpur while savoring delicious street foods with my family. Or visiting my childhood friend that I've known for more than 25 years now.
Time flies, savor it as much as you can.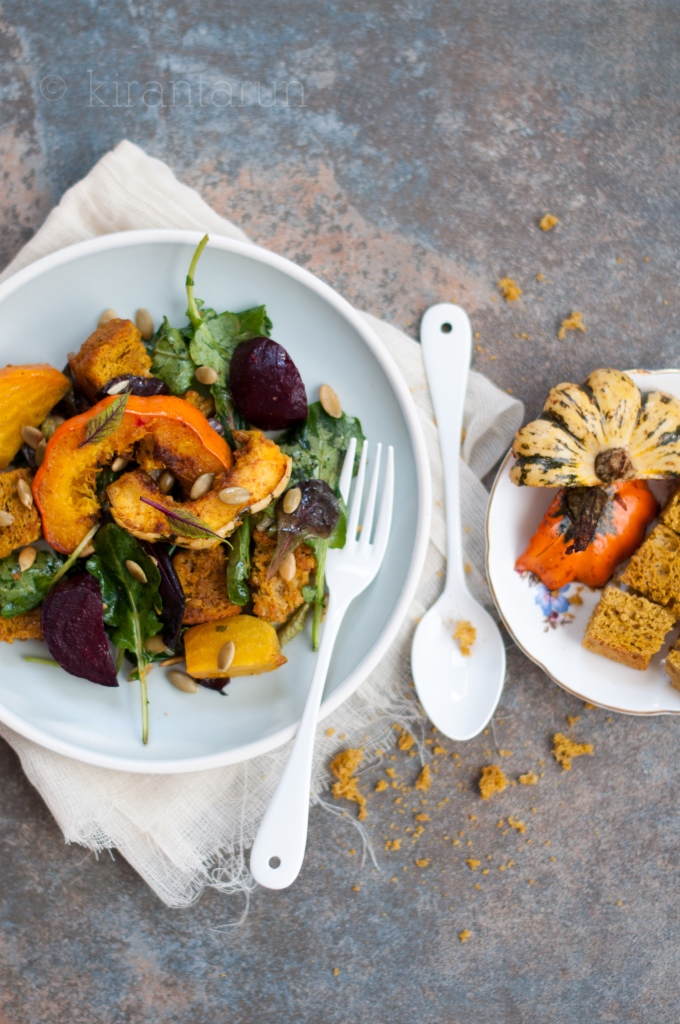 Take this salad for example. Before you know it, autumn is gone, pumpkin and squash is no longer significant. Put the laundry, dishes and packing on hold. Make use of the day old bread and squashes lying around, begging for attention.
And before you know it, there's a big bowl of autumn salad so flavorful, you'd want autumn to linger.
Forever.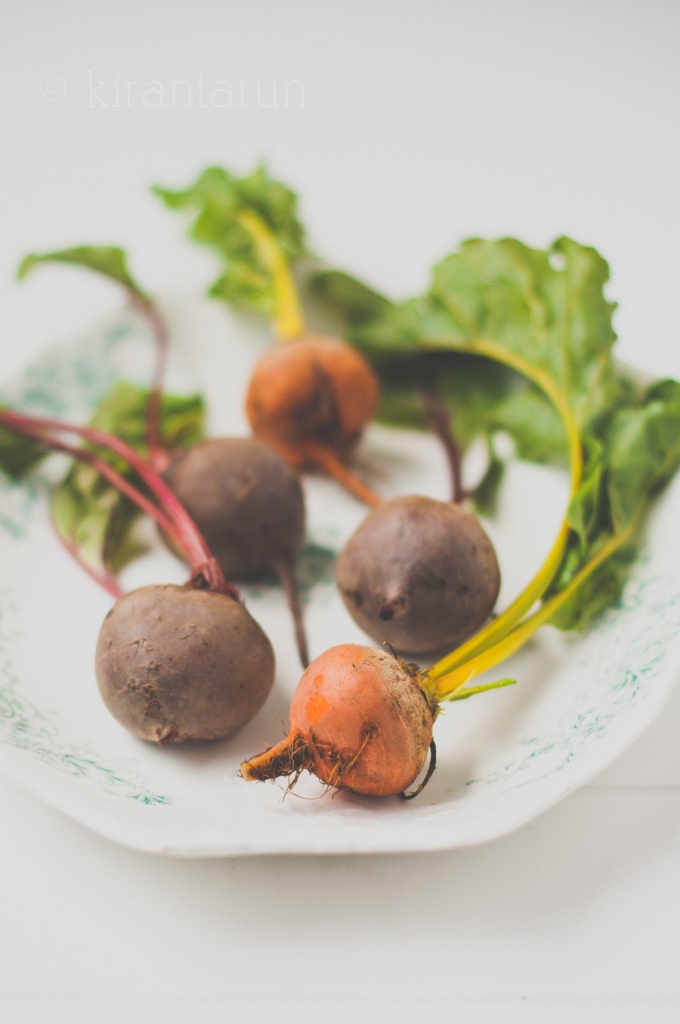 Apart from slathering pumpkin butter over toasted pumpkin beer bread — why not try toasting and cubing up the leftovers? Instead of tossing it with oil and baking it to make croutons, toasting does the same job as well! Without the unnecessary added fat. Toss it into this salad, and of course, with some pumpkin beer in tow.
Too much of pumpkin? Never. It's NEVER too much when it comes to pumpkin.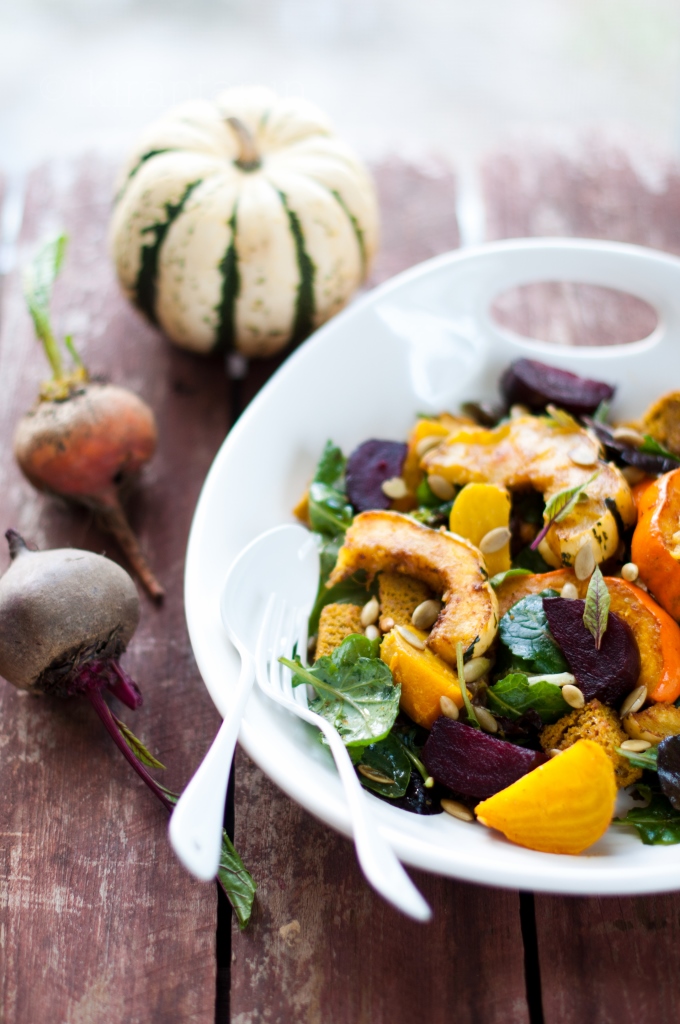 Print This Recipe
Ingredients:
4 medium beets, quartered
pinch of salt and black pepper
1 tbsp extra virgin olive oil
2 small squash (i used sweet dumpling & gold acorn), sliced
2 tbsp extra virgin olive oil
1/2 tsp salt
1/4 tsp black pepper
1/2 tsp smoked paprika powder
1 tsp cinnamon powder
3 handfuls of tender greens
3 thick slices of pumpkin beer bread (or any bread), toasted and cubed
some pepita seeds
Maple Dijon Vinaigrette:
1 tbsp maple syrup
1 tsp dijon mustard
1/2 tsp salt
1/4 tsp black pepper
1 tbsp apple cider vinegar
2 tbsp walnut oil
2 tbsp extra virgin oil
Directions:
Preheat oven to 400F. Line two baking sheet's with parchment paper. Throw on quartered beets on one and toss it with pinch of salt, black pepper and 1 tbsp olive oil. Roast it for 45 minutes.
Meantime, add sliced squash in a huge bowl. Toss it with the rest of ingredients (olive oil, salt, black pepper, smoked paprika and cinnamon) and spread it onto the second baking sheet. Roast it for 20 minutes, in 400F.
Remove roasted veggies from oven to cool.
Add vinaigrette ingredients into a mason jar, secure the top and shake vigorously to emulsify.
In a large salad bowl, add tender salad greens, cubed toasted pumpkin beer bread, cooled roasted veggies and drizzle on some vinaigrette. Toss to coat. Serve at room temperature garnished with pepita seeds.
Enjoy!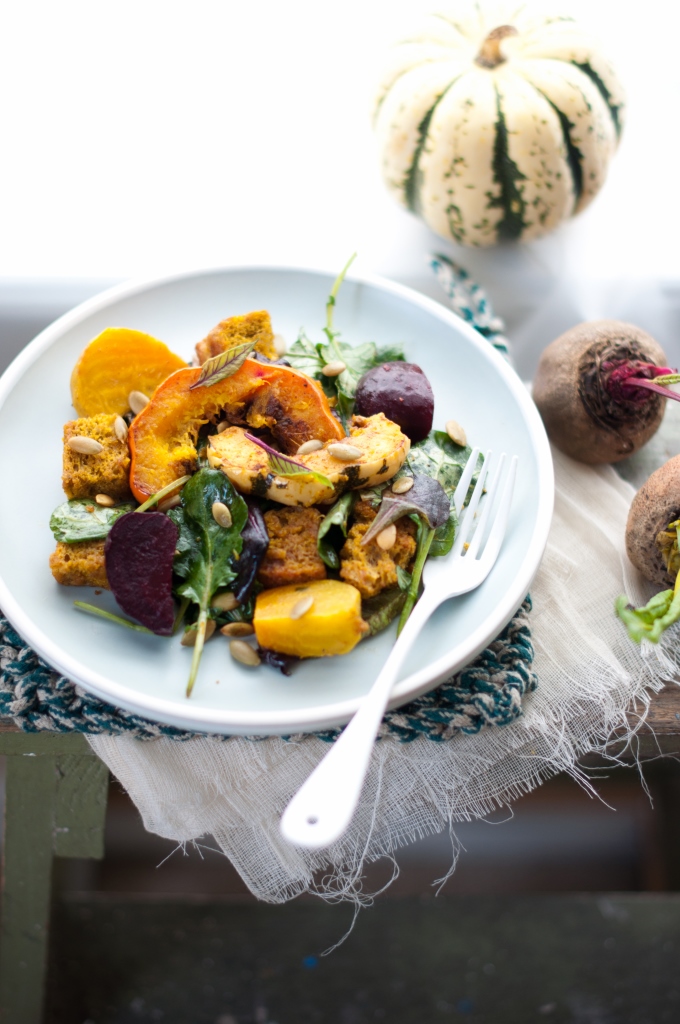 Have a great week, friends. I'm off to Malaysia and India today. Can't wait to spend time with the family. It's been a while and there's so much catching up to do!
See you from the other side of the world!!
What's your favorite recipe to utilize day-old bread?