Hi friends! Hoping your week is off to a great start 🙂
L
et's talk about eating habits.
Growing up, I'd despised the idea of eating anything green on my plate. My mom wouldn't take no for an answer. So how did she forced vegetables into my diet?
Plain and simple. I wasn't allowed to leave the dining table until every morsel of food were completely eaten.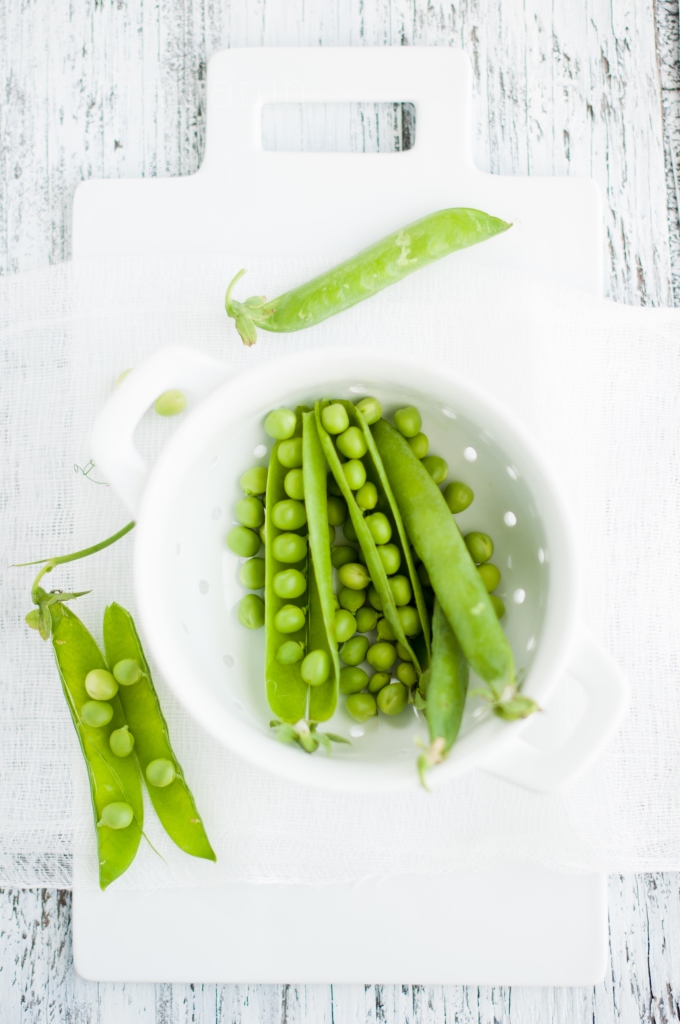 With thanks to my mom for her persistent and stern upbringing, greens are a part of who I am. I love my greens in smoothies, simple stir-fry's, saute, grilled, baked etc.
In fact, parting with greens is a huge NO to me.
Wait. Unless it's peas….. Aaaahhhh…. Sorry mom, there's something about peas that just doesn't sit well with the overall love I have for greens!!!
I know, it's so mind-boggling and equally true. Just the sight of peas makes me shudder from anxiety.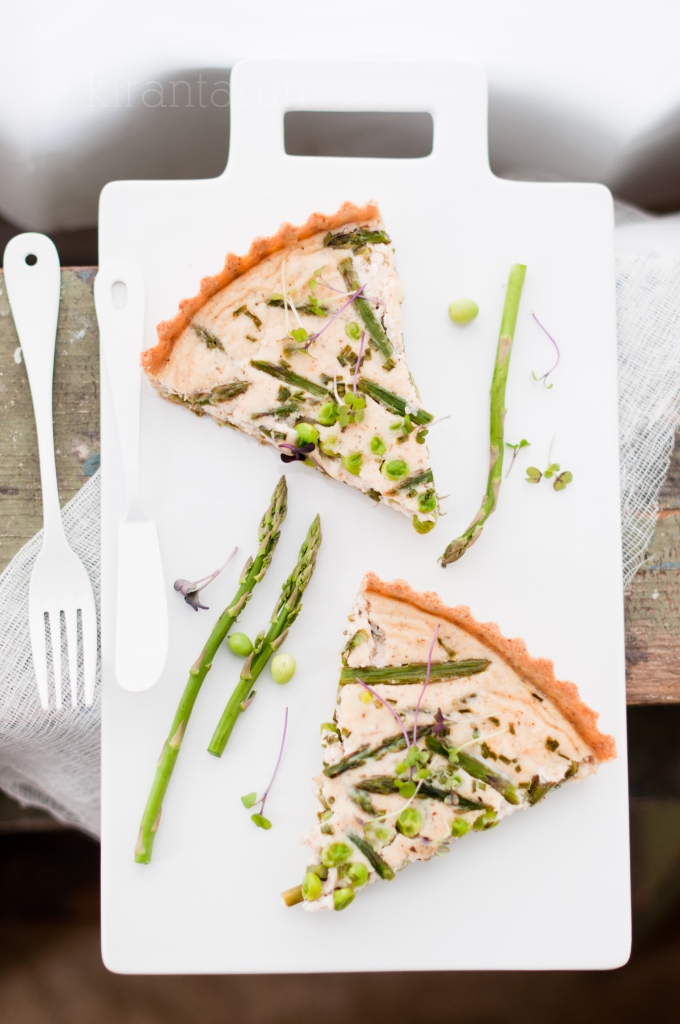 So why am I baking with peas today?!? Because there's redemption in my world of "greens". Like relationships, foods should also be given a fair chance to redeem itself.
And the idea of shelling fresh peas also had everything to do with me chancing it with peas all over again.
The verdict?
A well-deserving and yummy redemption! Don't believe it? Try it and let me know how it tastes.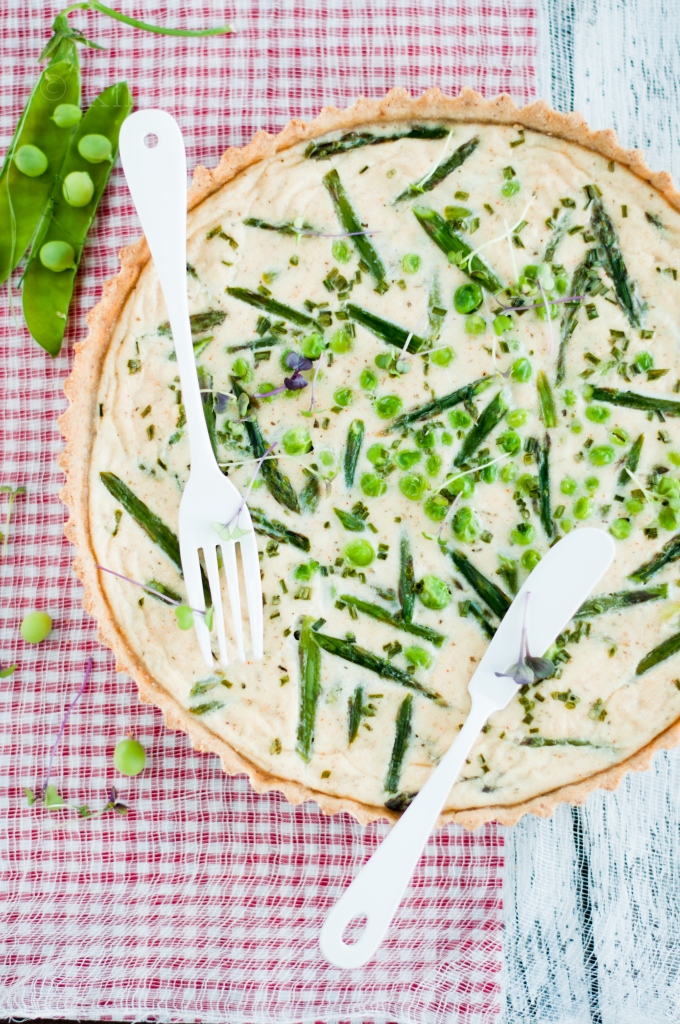 Print This Recipe
Ingredients:
Quiche tart:
1 cup whole wheat pastry flour

1 cup almond meal
1/2 tsp salt
4 tbsp cold butter, cubed
1/4 cup + 1 tbsp icy cold water
Quiche Filling:
2/3 cup fresh shelled peas

1/2 lbs fresh asparagus, sliced diagonally
water
some salt
4 egg whites
8 oz goat cheese, at room temperature
1/4 cup low-fat milk
1/4 tsp freshly ground nutmeg
1/4 tsp ground cardamom
1/2 tsp red chili powder
1/2 tsp salt
1/4 tsp black pepper
2 tbsp chopped chives
Directions:
Sift whole wheat pastry flour, almond meal and salt into a food processor.

Add cubed cold butter and pulse until flour resembles course crumbs. Do not over-pulse.
Gradually add icy cold water and pulse until dough comes together into a ball.
Gather dough ball, cover with a cling-wrap and chill dough to rest for 30 minutes.
Preheat oven to 350F.
Lightly dust dough ball with some flour. Place dough ball in between two large parchment paper. Using a rolling pin, roll the dough to fit a 9 inch tart pan. Roll the dough out quickly to avoid melting butter and overworking dough.
Remove top parchment paper. Lightly flour rolling pin to pick up the rolled dough and gently lay it into a tart pan.
Using your fingers, gently mold the dough to the shape of the tart pan and trim any excess dough.
With a fork, gently prick small holes onto tart shell. Cover/line dough with parchment paper and add dried beans to blind-bake tart shell for 15 minutes.
Remove tart shell from the oven. Carefully discard parchment with dried beans and return tart shell to bake for another 5 minutes or until lightly browned.
Tart shell mush be completely cooled before adding the filling.
While tart shell cools, heat a saucepan with some water on medium high to boil. Salt the water before adding in freshly shelled peas and sliced asparagus. Blanch for a minute. Add the blanched greens into an icy cold water bath to stop cooking and set the color. Drain greens in a colander and set aside.
In a large bowl, add 4 egg whites and whip until foamy (about 2 minutes). In a separate bowl, add goat cheese and low-fat milk. Whisk until smooth.
Add smooth goat cheese into foamy egg whites. Stir to combine. Sprinkle in the rest of ingredients, i.e nutmeg, cardamom, red chili powder, salt, black pepper and chives. Whisk everything until smooth and combined.
Using some paper towels, pat blanched greens to completely dry.
Fill cooled tart shell with half of the creamy quiche filling and top it with half of peas and asparagus. Repeat.
Bake in the preheated 350F oven for 40 minutes or until quiche is nicely set and lightly browned on the edges.
Allow quiche to cool on a cooling rack. Serve it warm or room temperature on a bed of house salad.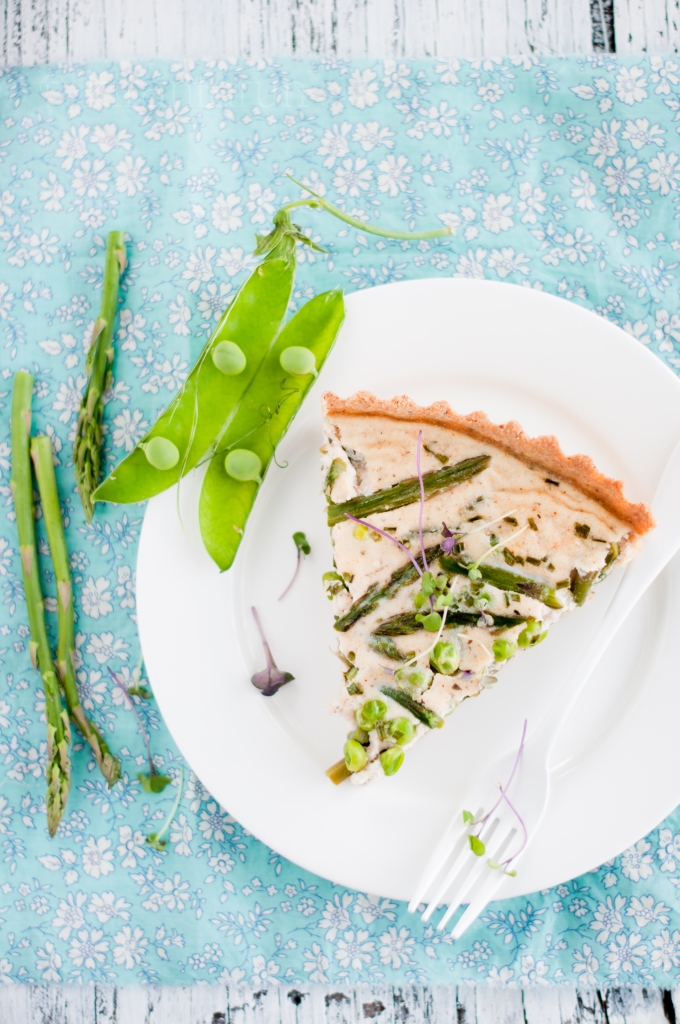 I'm left feeling inspired with the possibilities of including more peas to highlight the best quality of being "green"!
I make it sound all too dramatic, huh? Well, food is part of life. So, make it as interesting and challenging too!
Do you love peas? Which greens would you allow for redemption?