H
ey friends!! It feels so amazing to be home with the family in Malaysia. After traveling for almost 30 hours, fully jet lagged and sore, I'm just so glad to be enveloped with so much warmth and love from everyone.
There's nothing in comparison to being surrounded and loved by the family 🙂
A yearly visit is never enough when having tons of fun. Memories of childhood is reminisced during a gathering of friendships bonded all these years.
Its a feeling like no other. Its indescribable.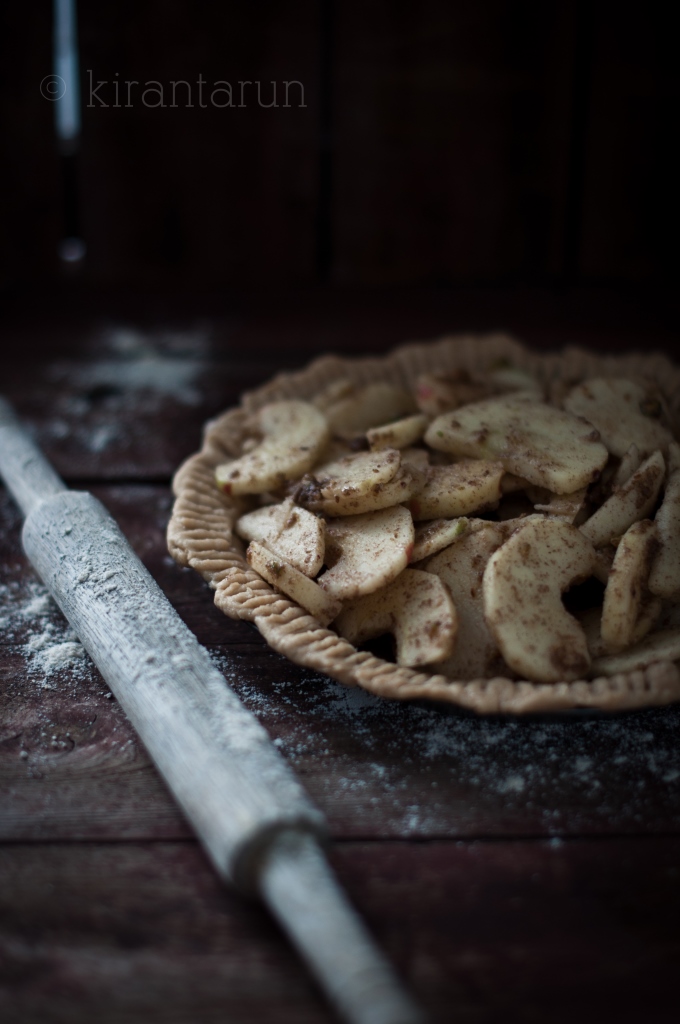 Lovely memories are often made, cherished and centers around food. Food does bring people together, paves ways for communication and bridges gaps.
Food is so minuscule yet very essential to our being.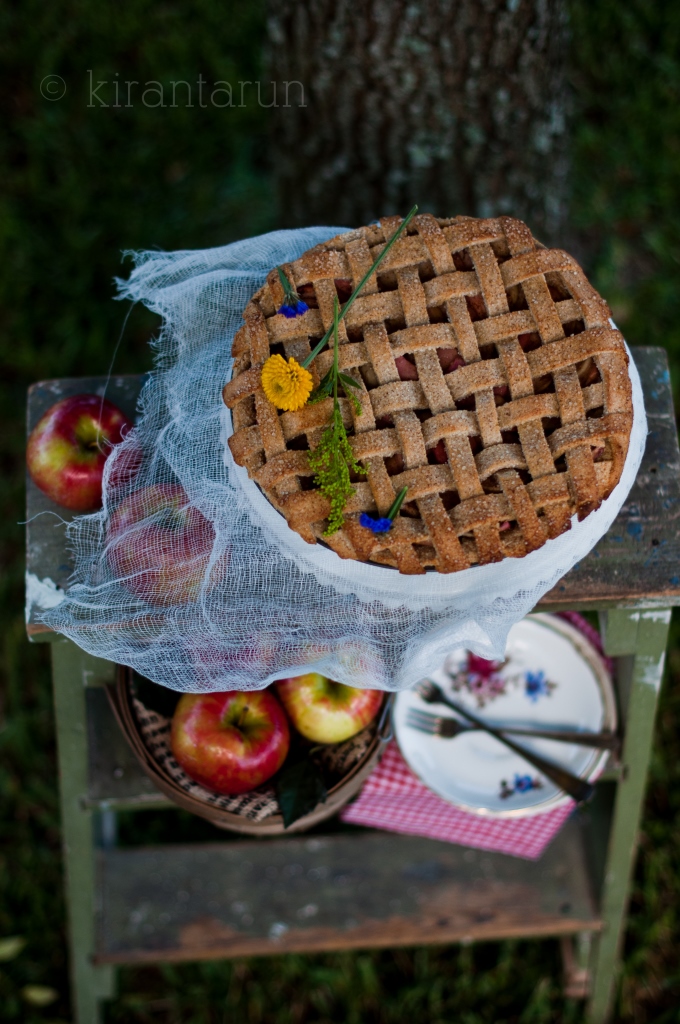 Pretty much this time of the year, mom's kitchen schedule gets out of hand. She's busy baking her signature pineapple jam tartlets for us to enjoy as soon as we land.
She's busy making a list of ingredients to cook our favorite meals. She's busy as a bee can be. Or dare I say, even more? 😀
As for me, I became busy enough to bake you an apple pie. Enjoy it as much as you should, with your loved ones, making sweet memories with each morsel.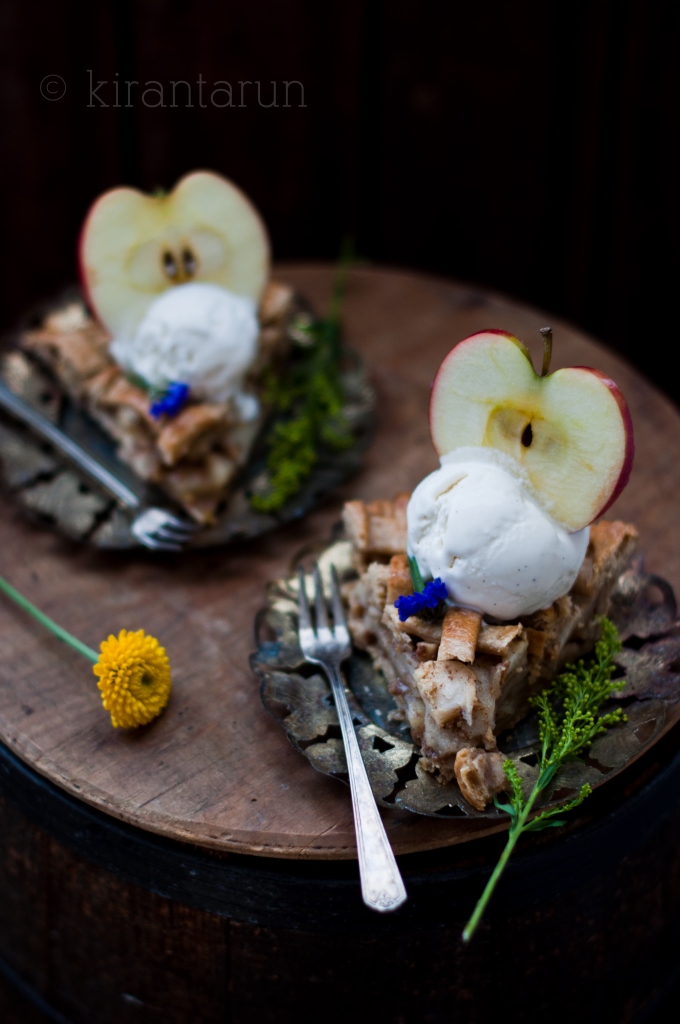 Print This Recipe
Ingredients:
Pie Crust:
2 cups whole wheat pastry flour
2 tbsp sugar
1/2 tsp salt
1 stick (8 tbsp) very cold butter, cubed
1/3 cup + 4 tbsp buttermilk, chilled
Filling:
3 medium honey crisps or any favorite apples, thinly sliced
3 tbsp fresh lemon juice
2 tbsp flour
2 tsp ground cinnamon
1/2 tsp all spice powder
1/4 tsp ground cardamom
2 tbsp sugar
vanilla bean ice cream.
Directions:
Sift whole wheat pastry flour, sugar and salt into a food processor fitted with a blade.
Add cubed cold butter and gently pulse until flour resemble course crumbs. Do not over-pulse.
Gradually drizzle in very cold buttermilk and pulse until dough comes together into a ball.
Lightly knead dough to form a round disk, cover with a cling-wrap and chill dough to rest for a minimum of 30 minutes.
Meantime, prepare filling by adding all the ingredients into a large bowl and gently toss it with your fingers. Keep it aside.
Preheat oven to 400F. Place rack in the center of oven.
Remove chill dough from refrigerator and using a sharp knife, evenly halve the dough.
Lightly dust the rolling pin and surface with some flour. Roll one halve dough to fit pie pan. Do this quick to avoid melting butter and overworking the dough.
Lightly flour rolling pin to pick up rolled dough and gently lay it into pie pan. Trim excess dough. Using the back of a fork, gently press on the edge of dough to secure it on the pie pan.
Lightly dust the rolling pin and work surface with more flour. Roll out the other dough as thin as possible. Do this quick to avoid overworking the dough.
Using a pizza cutter or a small sharp knife, make several long strips of dough to weave a lattice pattern over the pie. If you prefer a more rustic route, just roll out a round crust.
Add filling onto the prepare pie shell. Using dough strips, begin weaving a lattice pattern over the pie filling. Of if using a rolled out round crust, just place it over the filling and secure the edges by crimping. Make a small slit over the round crust to allow steam to escape. Sprinkle some sugar atop the crust to give it shine and dazzle!
Bake pie for 15 minutes. Reduce heat to 350F and continue baking for 20 to 30 minutes or until the crusts are lightly browned and filling bubbles.
Remove pie to cool on a cooling rack.
Serve pie warm with scoops of vanilla bean ice cream. Divine.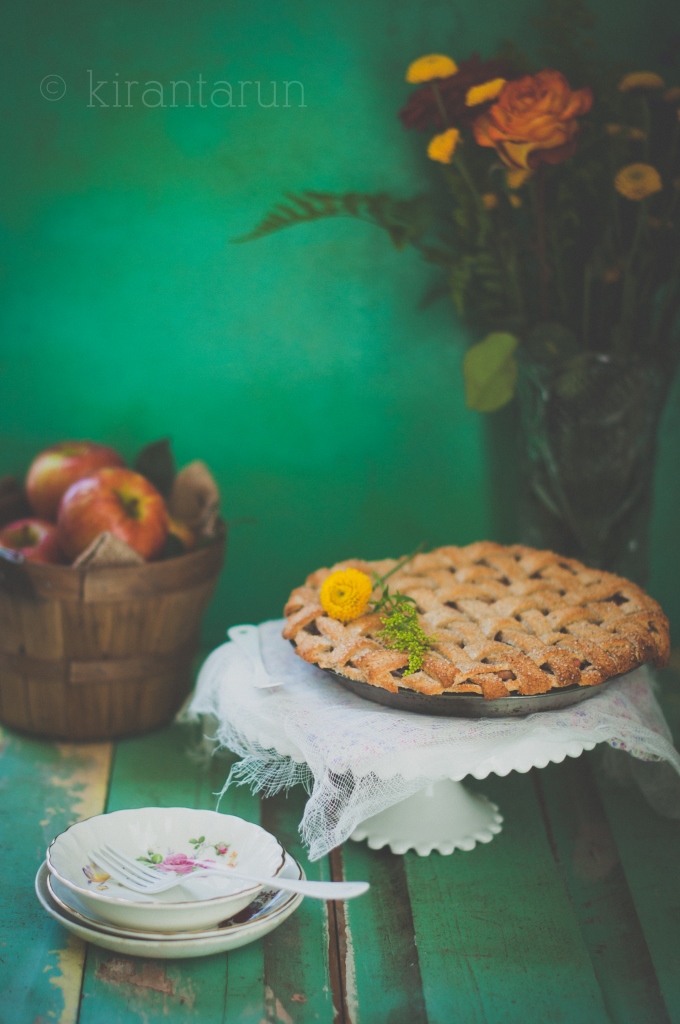 Off to continue sleeping… it's almost 4 am local time here! Hate you, jet-lag!
What is your favorite conversation food?